« Ed Henry Lawsuit: Fox is a Leftwing Organization
|
Main
|
Quick Hits: Ultimate Karen Edition »
July 02, 2021
Patriot GAINZZZ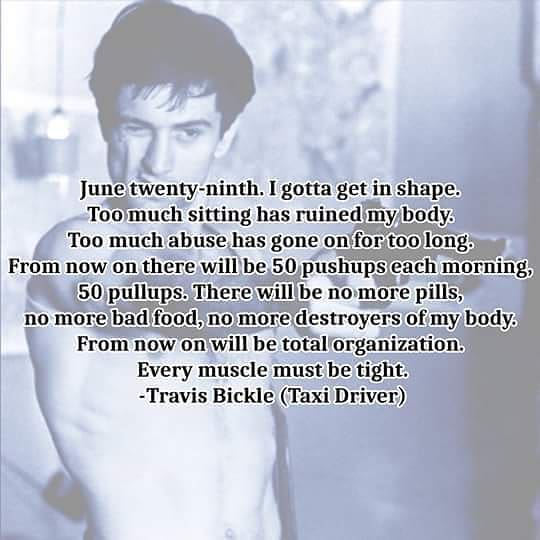 I literally lolled at the inspirational meme by Travis Bickle.
More doctors are realizing that fixing type-2 requires not just adding insulin, but fixing insulin resistance in the body.
Today, Type 2 diabetes is 24 times more prevalent than Type 1. The rise in rates of obesity and incidence of Type 2 diabetes are related and require new approaches, according to University of Arizona researchers, who believe the liver may hold the key to innovative new treatments.

"All current therapeutics for Type 2 diabetes primarily aim to decrease blood glucose. So, they are treating a symptom, much like treating the flu by decreasing the fever," said Benjamin Renquist, an associate professor in the UArizona College of Agriculture and Life Sciences and BIO5 Institute member. "We need another breakthrough."

In two newly published papers in Cell Reports, Renquist, along with researchers from Washington University in St. Louis, the University of Pennsylvania and Northwestern University, outline a new target for Type 2 diabetes treatment.

Renquist, whose research lab aims to address obesity-related diseases, has spent the last nine years working to better understand the correlation between obesity, fatty liver disease and diabetes, particularly how the liver affects insulin sensitivity.

"Obesity is known to be a cause of Type 2 diabetes and, for a long time, we have known that the amount of fat in the liver increases with obesity," Renquist said. "As fat increases in the liver, the incidence of diabetes increases."

This suggested that fat in the liver might be causing Type 2 Diabetes, but how fat in the liver could cause the body to become resistant to insulin or cause the pancreas to over-secrete insulin remained a mystery, Renquist said.

Renquist and his collaborators focused on fatty liver, measuring neurotransmitters released from the liver in animal models of obesity, to better understand how the liver communicates with the brain to influence metabolic changes seen in obesity and diabetes.

"We found that fat in the liver increased the release of the inhibitory neurotransmitter Gamma-aminobutyric acid, or GABA," Renquist said. "We then identified the pathway by which GABA synthesis was occurring and the key enzyme that is responsible for liver GABA production--GABA transaminase."

A naturally occurring amino acid, GABA is the primary inhibitory neurotransmitter in the central nervous system, meaning it decreases nerve activity.

Nerves provide a conduit by which the brain and the rest of the body communicate. That communication is not only from the brain to other tissues, but also from tissues back to the brain, Renquist explained.

"When the liver produces GABA, it decreases activity of those nerves that run from the liver to the brain. Thus, fatty liver, by producing GABA, is decreasing firing activity to the brain," Renquist said. "That decrease in firing is sensed by the central nervous system, which changes outgoing signals that affect glucose homeostasis."

To determine if increased liver GABA synthesis was causing insulin resistance, graduate students in Renquist's lab, Caroline Geisler and Susma Ghimire, pharmacologically inhibited liver GABA transaminase in animal models of Type 2 diabetes.

"Inhibition of excess liver GABA production restored insulin sensitivity within days," said Geisler, now a postdoctoral researcher at the University of Pennsylvania and lead author on the papers. "Longer term inhibition of GABA-transaminase resulted in decreased food intake and weight loss."
I've heard Dave Asprey claim that some actual cures for obesity (as well as for extending the human lifespan) are within reach.
My own GAINZZZ: Good! I've hit my goal, or at least my first, main goal, which is to no longer be fat.
This does not mean I'm fit. I'm far from that. But I'm not actually fat now-- or, at least, no fatter than the average guy who isn't actually in good shape.
I'm going to keep it up for another two or three weeks to try to get closer to fit.
What about your GAINZZZ? Any MOVIEZZZ to recommend? Or BOOKZZZ?
On the BOOKZZZ front, I read Dave Asprey's new "Fast This Way" book. It's Eh!, If you've kept up with Asprey's general schtick, or with the idea of intermittent fasting generally, then there's not much for you here. Maybe read it if you're very much a n00b.
One tip I got from it is to get red-bulb nightlights, particularly for your bathroom, if you're prone to waking up to pee. Red lights won't wake you up much.
It does seem to work.
And what about July 4th BBQ PLANZZZ?
Dream big, guys!

posted by Ace at
05:10 PM
|
Access Comments