« First-World Problems...
|
Main
|
Gun Thread: Sunday, June 27th - 7pm Edition! »
June 27, 2021
Food Thread: Ersatz Food And Ersatz Pans...A Match Made In Hell
That's a carbon steel pan. A well-made pan from a reputable company, seasoned exactly how they say to do it (and I am a compulsive when it comes to that stuff). And that is the result of cooking two eggs in it.
I have a couple of cast-iron pans that are spectacular. One is a modern Lodge pan, and one is an antique Griswold, and both are seasoned well enough to be able to cook scrambled eggs without leaving half of the eggs stuck to the damned things.
But carbon steel is different, and I am not sure why. The design of the pan lends itself to cooking, with a good curve so one can toss food, and it is light enough to maneuver without causing serious injury. But it still has enough heft to maintain temperature. And the stupid things are amazingly difficult to season. I have tried several times, using a few different techniques, and only once did it work well enough for me to enjoy the fruits of my labors (seared scallops!).
I think my next step will be to strip it to bare metal, then sand it with the finest paper I can dig up. Or maybe polishing compound. I figure if it has a mirror finish it might be easier to season. But really...I have no idea.
******
"You Suck At Cooking" is one of the funnier and more clever YouTube cooking channels. He's mostly a filmmaker and a comedian, but sometimes the food is actually pretty good.
But not this time. I have always been puzzled by the desire of some people to make ersatz food. I remember making zucchini crab-cakes (it was a long time ago and I was even stupider then) for some now unfathomable reason. It was a fair amount of work, and in the end I had crispy zucchini fritters that tasted like...um...zucchini and Old Bay.
If you want to make a vegetable burger, then make a vegetable burger. Don't try to pawn it off as "better than meat!" or some such nonsense.
That being said, this is pretty damned funny!: Carrot Bacon

******
I had a cocktail last night that was so good I ordered another, and I am really picky. In fact I have a standing request of my wife, that if I order an Old Fashioned at a bar she is to kick me in the shins, because they are so rarely done well.
But this was excellent...sort of a Mexican Old Fashioned...I guess?
I asked for the recipe, but never got it. Which is too bad because the drink is the only reason to go back to the restaurant, because the service sucked!
EXIT STRATEGY
Mezcal Old Fashioned with Yuu Baal Reposado Mezcal | Union Joven Mezcal | Five Spice Agave | Orange + Angostura Bitters

served on the rocks
This is cut & pasted from the menu. I am going to try to make it, and it's going to be a process, but definitely worth it. If any of our resident bartenders have some suggestions, I am all ears. Even better, perfect it and then get back to me. There's a Platinum Membership in it for you!
******
Say what you will about the Brits (and I say plenty), they do not screw around when it comes to certain food.
19 of our best melted cheese recipes
It's not that any of them are particularly intriguing; it's the sheer volume of cheese required.
I respect that.

******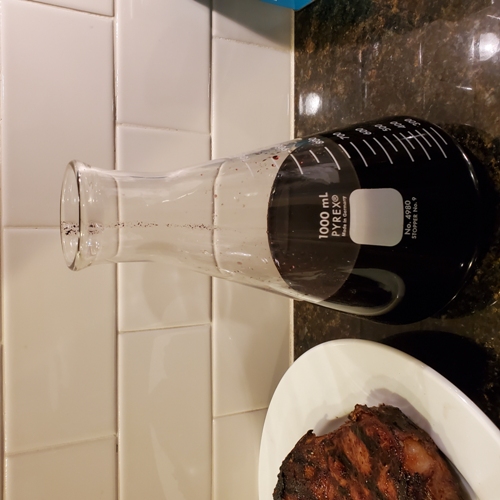 For those of you who remember chemistry classes from high school or college, that is an Erlenmeyer flask, and more useful vessel is hard to imagine. Of course that isn't a chemistry lab, that is the kitchen of Chez Dildo, and that flask is being used as a decanter for a very old Petite Syrah from Turley Vineyards.
It is a superb decanter; hands down the best one around, particularly if price is part of the evaluation. You can easily spend $100 on a fancy decanter, but that Erlenmeyer cost me about $8 a long time ago. It's more today...about $15, but still a bargain.
And why is it perfect for wine decanting? It is designed to allow swirling liquid without splashing, so you can gently aerate whatever you are drinking without agitating it and causing froth and bubbles and other unwanted things. The neck is perfect for holding and pouring, and the lip is well designed so it doesn't drip wine all over your nice tablecloth. Or lap. And it also looks awesome on the table!

******
Here's a nice little introduction to wild game cooking. And for those of you who have been given a nice chunk of venison or elk or a couple of pheasants, and then overcooked them (like I have), it's a worthwhile read.
Most game is less fatty than most domestic animals, so the cooking process is different. Although...that Jaccard knife thingy has always disturbed me. all of those tiny knives (needles really) pushing through the exterior of the meat seems to me to be the perfect way to seed the entire cut of flesh with whatever bacteria is on the surface. You know, the bacteria that is normally killed by the high heat of cooking.
Your Summer Wild Game Grilling Guide
[Hat Tip: redc1c4]

******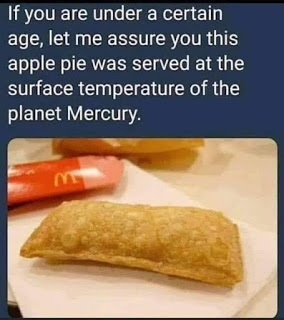 [Hat Tip: JT]

******
Tender Broccoli Rabe that isn't bitter, beef short ribs that have meat on them (not the stupid little sliver of bone they sneak into the packages), Snap Peas (apparently they are no longer grown in quantity), spare bottles of Van Winkle Special Reserve 12 Year Old Bourbon, an herb garden that actually produces herbs, well-marbled NY strip steaks and elk backstrap to:
cbd dot aoshq at gmail dot com.
And don't think that you are off the hook with maple syrup and French Toast: I'm watching you...all of you! And I am watching you perverts who shake Manhattans and keeping a list for the Burning Times.

posted by CBD at
04:00 PM
|
Access Comments