« Loudon School Board Ends Public Comment To Avoid Being Criticized by Parents Who Have Every Legal and Moral Right to Criticize Them, Then Calls the Cops to Arrest Them
|
Main
|
Insurrectionist Cafe: Sea Lions and Seal Pups Edition »
June 24, 2021
Quick Hits: You're All On Notice Edition
Netflix -- fresh off its Cuties triumph! -- now brings you Q-Force, an all-queer superhero team.
Gee why didn't anyone think of that before? Because they did. Like five thousand times already.
Andrew Neil has started "GB News," a conservative-leaning news channel to serve Great Britain. (We should probably have such a thing in America, no?)
Even though the channel debuted to big ratings, the left played its only card -- the corporate censorship card -- and lobbied #Woke corporations to stop advertising on a channel that was outdrawing the BBC.
Andrew Neil proposes something that the Americans in Conservative, Inc. won't due: He says to boycott these woke fascist corporations until they stop boycotting the right.
Andrew Neil @afneil

All the corporates boycotting GB News issued this reply. The wording suspiciously similar. It's spin and nonsense. Boycott until you see them advertising with us. Their agency already has our viewing figures and they're better than Sky News of BBC News Channel.

Of course we can't do that in America, because the "True Conservatives" will deliver religious homilies to the absolute inviolability of the corporate conscience. We must never do anything to corporations to force them to treat us with respect-- and we must always just grin and bear it when the left forces them to treat us as criminals and degenerates.
Now, if you think there's a connection between Conservative, Inc.'s never-harm-a-corporation-that's-intentionally-harming-you position and its being funded almost 100% by corporations: Well, you've kinda got it.

Buckhead -- a wealthier, mostly white area of Atlanta-- is about to split from Atlanta because while Atlanta takes all of its money to spend in areas which are not Buckhead, they've also reduced police presence to such a state that Buckhead residents are being terrorized by criminals, and Atlanta will not arrest criminals and, if arrested, will not put them behind bars.
They've had it, and they're seceding -- along with all their White Privilege tax dollars.
Buckhead, a portion of Atlanta, Georgia, is looking to break free from the rest of a city in rapid decline. After decades of increased safety that started ahead of the 1996 Olympic Games in Atlanta, it took one woman and a single summer to ruin it. Not even New York City Mayor Bill de Blasio can beat Mayor Keisha Lance Bottoms' time for running a city into the ground. It took de Blasio two terms. Bottoms has been so spectacular she's announced she won't even run for a second one.

As a result of her rank incompetence, Buckhead, a wealthier section of Atlanta with about 100,000 residents, has decided to control its own destiny. There are two bills in the state legislature to affect the split, and the group has raised the required amount of money to move forward. Buckhead is petitioning to become wholly independent and establish and enlarge their own police force under different leadership.

Tucker Carlson interviewed Bill White, the leader of the movement to create an independent Buckhead. White told Tucker that residents feel as if they are living in a war zone. They are filing for divorce, according to White, and it will be final. He expects there will be an initiative on the ballot in 2022. If it is successful, Atlanta will lose at least 20% of its tax base.
Tucker Carlson covered this a couple of weeks ago: Murders in Buckhead are up 50%, thanks to Atlanta's free-the-criminals policies.
In Buckhead, murders year-to-date are up almost 50 percent--that's a lot of new dead people. Robberies and aggravated assaults are up by nearly 40 percent. Car thefts are up 65 percent. Lenox Square mall in Buckhead, one of the first indoor shopping malls in the United States, is now too dangerous to visit. Beginning last year, someone was getting shot at the mall virtually every month. In December of 2019, a Macy's employee was shot during a robbery. The following January, a man trying to defend himself from an armed robber was inadvertently shot by a cop. In February, a drug deal led to a gun battle outside of Bloomingdales. In March, a dispute over a parking space outside the Cheesecake Factory led to more gunfire and killed someone. And so on. People in Buckhead stopped going to the mall.

Ultimately, authorities decided they needed security metal detectors. They put police dogs throughout the mall. They set up a network of security cameras with software to detect firearms. It seemed like it would work but it didn't, there was just too much violence. This past April, a gunman beat a 60-year-old woman next to her car in the mall's parking lot and stole her purse. Atlanta police said somehow none of their cameras caught the crime. A witness called James Glass, says he never saw any police officers or security during the assault, even though the attacker took his time beating the woman because he was enjoying it so much.

...

Something similar happened to a woman called Valerie Kasper on a trail in Brookhaven, near Buckhead. She was stabbed in the back four times by a stranger in broad daylight while she was walking on a trail. Kasper was pregnant with her second child at the time. Her injuries forced doctors to deliver her baby more than 3 months early because she was stabbed by a stranger. What were these attacks about? They weren't robberies. The only point was physical injury-it was terror, it was brutality. The victims appear to have been chosen purely for how they look. But don't call these hate crimes. That's not allowed. You can't say that.

...

Privately, many people in Buckhead suspect [racial targeting of whites in Buckhead is] exactly what's going on. They've been attacked by reckless politicians for years. Politicians have ginned up hatred of Buckhead for political reasons. Why wouldn't others take them seriously? Why wouldn't shootings and stabbings be the end result? Some people have had enough of this, they don't think it's going to get better. Two bills currently in the Georgia state legislature would allow Buckhead to leave the city of Atlanta, run its own competent police department and resume being a safe, nice place.
Woke Cultists attend a cult religious service, and chant worship to their Weird Gods.
The term "trigger warning" is now itself officially "triggering," claims Brandeis University, because it reminds young psychologically brittle mental invalids of guns.

Iowa teacher -- misidentified below as a Texas teacher -- calls on her fellow socialist useless-eater teachers to "rise up" and teach critical race theory even when their bosses -- the taxpayers -- are ordering them to stop.
Megan Geha, a special education teacher at Des Moines East High School who goes by the name "Ms. Magoo" on TikTok, voiced her displeasure at the law Republican Iowa Gov. Kim Reynolds signed on June 8 prohibiting the teaching of CRT in schools.


"My governor has put into place some ridiculous legislation that many governors have put into place such as I can't teach anything divisive, I can't teach Critical Race Theory, and I can't teach about racial equity," Geha said.

"So, teachers, in the past, we've been activists, and after this sh**show of last year, we really need to stand up and do what's right for our kids right now," she said. "This is a call to action. We need to stand up and fight for our kids because this is bulls**t."
This obviously psychological defective knows what's best for your children.
How many cats -- "fur children" -- do you think this pyrsyn hoards?
Note that the leftist Democrat/corporate propaganda media's go-to spin is that teachers aren't teaching CRT, and that this is all a right-wing confabulation.
And yet this woman is saying she does teach CRT, and furthermore, will continue doing so even when it becomes a condition of her continuing employment that she cease.
Like a lost old man who wandered into Target and can't remember how to get home:
And finally, because you've all angered me -- you know what you did -- here's a Japanese waifu sex pillow, bearing the likeness of Hot Twink Mitch McConnell.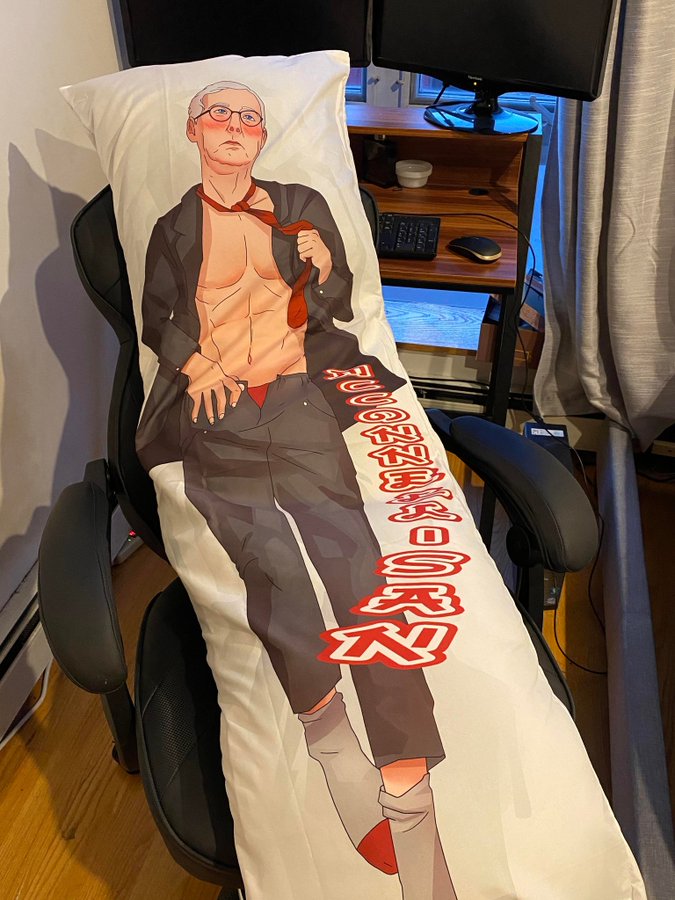 posted by Ace at
06:07 PM
|
Access Comments