« Food Thread: Getting Handsy With The Dough
|
Main
|
Sunday Overnight Open Thread (6/20/21) »
June 20, 2021
Gun Thread: Father's Day Edition!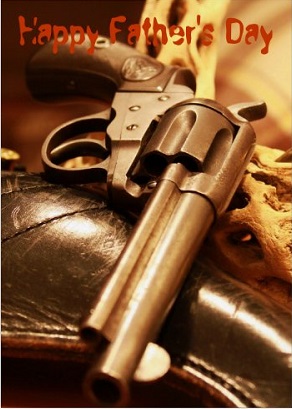 Howdy, Y'all! How's things? Welcome to the Sunday Gun Thread. Whether you're a grizzled Gun Thread veteran or a gun-curious lurking newcomer, a bigly hearty welcome to all of you! I'm glad you have decided to visit our little online Happy Place where we talk guns 'n shooting on Sunday evenings. So sit back, relax and pop open a Prune Fizz while we discuss our fav-O-rite hobby.
Not much going on this week. Rain cancelled farm plans for last weekend, and I really need to get back down there soon to cut the grass. Again. We have had several inches of rain here recently, which is only going to encourage the grass and vegetation to grow. I have to admit that high summer isn't exactly my favorite time to be down there given the list of chores I seem to always have, which interrupt the serious work of organic tree farming.
Finally, Happy Father's Day to all you dad's out there. It's not too late to take your kids shooting! With that, let's get to the gun stuff below, shall we?
******
Gun Thread Pop Quiz!
Q: So what do you need besides a gun to go shooting?
A: Ammo!
Q: What has your 'ol pal Weasel been suggesting you buy for nearly three years?
A: Ammo!
Q: What has been in rilly, rilly short supply for the last year and a half?
A: Ammo!
Beginning to see a pattern? Is a theme beginning to emerge? Hello?

Good news! I am cautiously optimistic we're seeing an improvement in the ammunition supply situation. This isn't the result of any super scientific study, but rather simply my anecdotal observations of the resurgence of email offers I receive from retailers. I am not only seeing offers for in-stock items, but the price seems to be coming down as well. My baseline has always been 115gr 9mm ball ammunition at $200 per 1,000 rounds. I shoot lots of other calibers, but this seems to be about average when times are normal. We're still hell and gone from 'normal' whatever that is anymore, but I am seeing good availability down from about $1 per round at the height of the insanity, to between .60 and .70 cents, or $600 - $700 per 1,000 rounds for good quality ammunition. That is still 3 or more times average, but it seems to be headed in the right direction.
So what do you do? I suppose the answer continues to depend on how well stocked you are, and for the sake of argument, let's say you're either very low, or worse completely out of ammunition. In that case, I would begin to make opportunistic purchases and establish a reserve. I would not try and cure the situation all at at once by making a massive purchase, and I would also not wait in an attempt to perfectly bottom-tick the prices. Rather, set a numeric goal; 500 rounds, 1,000 rounds or whatever, and begin making purchases and establishing a reserve over time. If you're buying online, make these incremental purchases in a quantity where shipping doesn't offset all your savings. Believe it or not, free shipping offers do still exist at places like Ammoman for orders as low as $99 which isn't very hard to do. Now is the time to do this. I can virtually guarantee you there will be another crisis, and it might come sooner rather than later. We are absolutely not out of the woods, but we are seeing a little glimmer of sunshine for the time being. Please take advantage of it while it lasts.
So what the heck has been going on, anyway? Why did the supply dry up? Is it the danged gummint? Are the manufacturers in cahoots to drive up prices? Simultaneous global warming and cooling? Magnetic pole reversal? Aliens?
I happen to think this is another periodic scare arising from current events and exacerbated by the resulting flood of new gun owners in the last 18 months. Shortages have happened before, and with as little impetus as simple anti-2nd Amendment rhetoric from lawmakers. However, when people start seeing riots and their city streets on fire, they tend to become concerned and start thinking about protecting themselves, their families, and their shit. Which brings us to today.
Here is an interview with Jason Hornady, Vice President of Hornady Manufacturing, and here is another with Winchester President Brett Flaugher on the subject of shortages.
So while the ammunition situation appears to be improving, it's just a matter of time before the cycle repeats. What do you all think? Agree or disagree? Are things getting better based on your observations?
******
First up, our pal Neon Madman has done some load testing in .30-06 and shares his progress.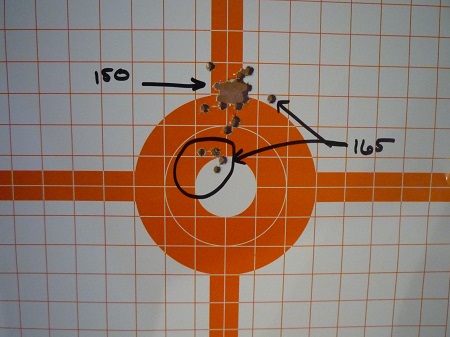 I got out to the range this week with my .30-06 High Wall, to shoot a few more rounds thru it. I had previously roughly sighted it in with some 165 grain commercial rounds. This time I took a mix of 165 and 150 grain reloads, nothing special, just some textbook loads with H4350. The gun has had less than 50 rounds thru it, and 20 of them are in this target. I was shooting "front bag only" at 100 yards, actually not even a bag but a wood block with some carpet on it, with a scope at 10X. I do need to re-sight it using a real front and rear bag, because the front bag only method is not as stable as it should be. Right now, I'm just trying to get a feel for how it is going to shoot.

Actually, I think that it is going to shoot quite well. The 150 grain loads grouped pretty well, considering that they weren't anything special and I wasn't as rock solid as I could be. The next time around, I'm going to fine tune the scope on some more of the 150 loads and then start looking at tuning the ammo. I think that I'm going to like this gun, and better not take it canoeing with me this summer.
I don't know about the rest of you, but it looks like the 150gr load is promising! Nicely done, Neon Madman!
******
Next up we have a nice write-up on the PA-63 from our pal A.H. Lloyd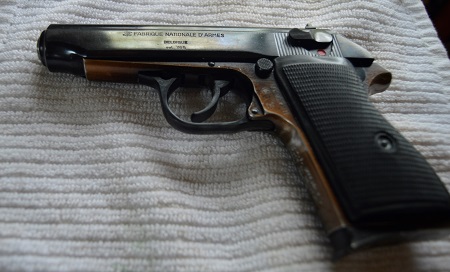 The other day I came across a really strange pistol. It appeared to be a copy of the Walther PP made by FN in Belgium. However, upon close examination it is actually a copy of FEG's copy of the Walther PP, known as a PA-63.

The PA-63 was one of several pistols based on the Walther PP, which was something of a sensation in central Europe. Originally chambered in.32 ACP (aka 7.65mm Browning), it set the standard for police firearms all over the Continent and was the inspiration of the USSR's Makarov pistol, which saw local variants made in Czechoslovakia (CZ-50/70), Poland (Radom P-64), and our Hungarian variant. Of note is that only the CZ-50 and PA-63 had versions chambered in calibers besides 9mm Makarov.

Here's a photo of actual Walther PP (top) with the FEG below. Overall, very much alike, but the FEG's lines are just slightly off. The biggest clue, however, is that it has an aluminum frame. There's no question that this is a Hungarian design.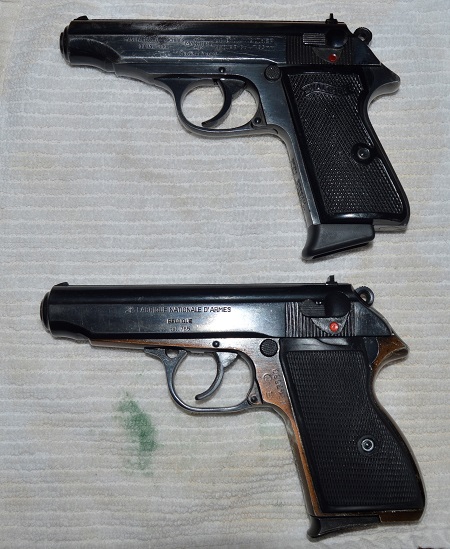 So why did FN copy it? Well, the answer is: they didn't, but someone wanted to make you think they did. Note the overall quality of the engraving, which includes the FN logo. This isn't a hack job, it is quality, professional work - the kind you would expect of FEG. But they made some mistakes. The left slide inscription should read: "Fabrique National D'Armes deGuerre Herstal Belgique." The bold parts were left out.

Could it have been a joint venture between FEG and FN like the one between Manurhin and Walther? No. The PA-63 was entering production just as the Berlin Wall was going up. To even suggest the Communist-controlled FEG would enter into a partnership with one of NATO's main weapon suppliers less than seven years after the Hungarian uprising is completely absurd. Moreover, FN had its own John Browning-designed pocket pistol (the Model 1910) which resumed production in 1955.

Clearly it's a fake. The question is who it was trying to fool. Western intelligence would pick up on its origin pretty quickly, but maybe Hungarian rebels could be gulled into thinking the guys carrying it were NATO-backed. That at least would explain why it was in a police inventory. Because that's how it was sold into the US, being part of a shipment of police turn-ins from Eastern Europe. The dealer who sold this one said that there were five of these available so he bought them all and kept one for himself because it was so interesting.

As to performance, the PA-63 is more comfortable to hold than an actual Walther PP, but not quite as comfortable to shoot, due to the lighter frame. Still range performance was comparable, and with the PA-63 costing much less than a Walther, advantage: FEG.

If you would like to own a regular PA-63, they are plentiful and relatively cheap, being chambered in both 9mm Makarov and 7.65mm Browning (aka .32 ACP). They are simple to use, easy to take apart and clean, compact and with that aluminum frame could make a legit carry gun if one was so inclined. As for the fakes, maybe more information will come out as other people dig into their mysterious origin.
Very interesting! Thank you for the lesson A.H. Lloyd!
******
Our pal ERF posted a comment on last weekends gun thread, which is worth repeating.
My dad was an NRA Safety Instructor and he shot competition in the late 60's and early 70's. He used to tell me that if you want to cure flinching while shooting, you needed to learn how to shoot a flintlock. Even if you slow pull the trigger and don't know exactly when it will fire, you still have the time for the hammer to hit, the sparks to fly, the pan to flash, and the slight delay for when it burns through the touch hole. There is plenty of time to get off of a bullseye at 100 yards. When I upgraded to inline with deer hunting, the difference in time was one of the first things I noticed.
Although we don't all have a flintlock to use as a training tool, this is really a very good suggestion! Thanks ERF!
******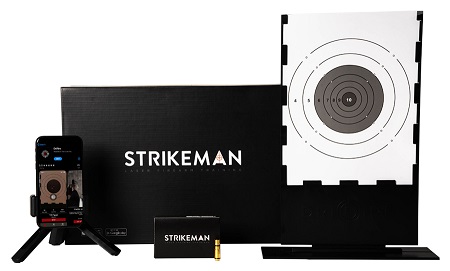 Speaking of training tools, and despite the ammo situation improving, there is always a place in your training for a laser based system. I don't have any particular experience with the Strikeman system, but a lot of people seem to like it. Better still, it's $10 off thru June 30th with the promo code 10OFFSTRIKEMANJUNE
******
Last week I featured a YouTube video made by a young woman who is doing a really good job with her channel on firearm instruction, concealed carry and personal safety. It's called "She Equips Herself" which seemed popular here, so here is another one!
You clowns behave yourselves. I invited her to stop by and say hello.
******
Next up, our pal fungus boy sends the following instructional video on opening a safe.
******
Ax Weasel
This week we have an Op/Ed and question from our pal Super Lurker, who isn't just axing Weasel, he's axing all of you for your opinion on the upcoming NRA board elections.
"Who among the current board candidates do you believe should be elected, or should not be elected, and why"

In my opinion, Wayne LaPierre and his cronies have turned the organization into their personal piggy bank, have seriously mismanaged things, and need to go. The only way to make that happen, short of prison sentences, is to replace Wayne's board members with independent members who will clean house. The problem I have is, with one exception, I don't know the candidates, and don't know who will start to fix things, and who will continue with business as usual. I'd like to hear suggestions from other AOS-GT readers on that topic.

I've been an NRA member for almost 40 years and I'm old enough to remember the battle for control in the late '70's. In my opinion, the present situation is much more serious. I believe that Wayne and Co. don't realize the existential threat to the Association and are only concerned with keeping themselves out of jail. If they aren't ousted the NRA will cease to exist. The NRA isn't the only game in town and I don't believe it's been as effective as it could be on the legal front, but they do a lot as far as training and organizing competitions, over and above lobbying.
I have to admit my personal opinion of the NRA isn't the greatest anymore. Although I think their competitive shooting division does a good job, I have never been a fan of Wayne LaPierre. I don't know him, but he seems to exist in a constant cloud of controversy which is a problem. A little of that is to be expected in any large organization, but when it becomes too much it becomes a distraction and makes a leader ineffective. I think LaPierre is considerably past that point now, and on the basis of that point alone, I agree it's time for a change.
I do know a couple of other NRA board members who are good guys, die-hard shooters and unquestioned 2nd Amendment advocates. I have done quite a bit of shooting with the two, and consider them friends. Since I do not know their opinion of LaPierre I am going to refrain from mentioning their names here. I'm not certain if a complete house cleaning is in order, or rather just an overthrow of the LaPierre regime whatever that entails. However, if making a substantive change means throwing all of the babies out with the bath water, so be it.
What do you all think?
******
ATTENTION NoVaMoMe 2021!!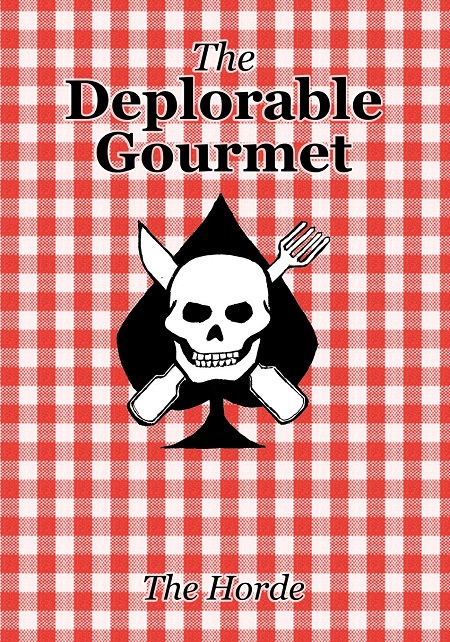 The social and cultural event of the season, NoVaMoMe 2021 is on the calendar! That's right, you people have a chance to meet many of your online pals on Saturday, July 24th beginning at 1pm until dark, or such time as it gets busted up by the cops. We have an exciting new location in the Northern Virginia area which we think will be more better than before and allow extended time for visiting. Admission is $25 which includes food and soft drinks, with a cash bar. This year all of the food is prepared from the greatest non-fiction literary work in modern history, The Deplorable Gourmet. Want to find out if your recipe made the cut? Want to be one of the cool kids? Just send an email to novamome at protonmail dot cee oh emm, pass the rigorous screening process to obtain registration details, then sign up to attend! Easy-Peasy!
It promises to be a great day, including our customary raffle of AoSHQ themed gift baskets. That's right! Each of the AoSHQ weekend threads has a specially themed gift basket chock full 'o theme related gifts!
Registration closes at midnight, July 10, 2021
Win a Dream Date with Weasel!
This year, a separate raffle for the Gun Thread gift basket will be held. This fabulous prize includes an entire day of shooting and personalized one-on-one handgun & rifle coaching and instruction at Weasel Acres on a mutually agreeable date with yours truly. The lucky winner will be able to not only bring and shoot their own weapons, but also try out a variety of WeaselWeapons using WeaselAmmo! The winner will take home 150 rounds of quality 9mm ammo to practice what they have learnt, a signed photo of WeaselDog and Fun Size Joe, and a complimentary video of the WeaselAcres experience, as parting gifts.

We will end the day with dinner at a good Mexican place in nearby Appomattox. Pretty much a dream date with Weasel! The winner will be responsible for their travel to and from Central Virginia, hence the separate drawing.
Don't be a pathetic girly-man loser, register today!
******
Link-O-Rama
I'm really very seriously not kidding around anymore. Buy Ammo
AmmoSeek - online ammo search tool
GunBot - online ammo search tool
SG Ammo
Palmetto State Armory
Georgia Arms
AmmoMan
Target Sports USA
Bud's Gun Shop
***Mail Bag***
This week's Maibag entry comes to us courtest of Sharon(willow's apprentice).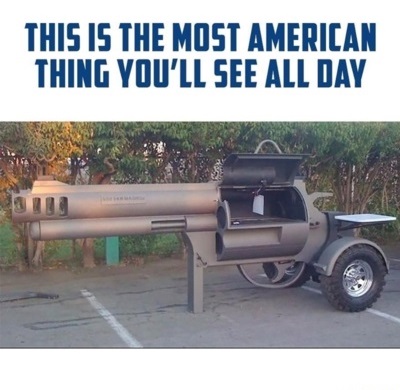 ******
Please note the new and improved protonmail account gunthread at protonmail dot com. An informal Gun Thread archive can be found HERE. Future expansion plans are in the works for the site Weasel Gun Thread. If you have a question you would like to ask Gun Thread Staff offline, just send us a note and we'll do our best to answer. If you care to share the story of your favorite firearm, send a picture with your nic and tell us what you sadly lost in the tragic canoe accident. If you would like to remain completely anonymous, just say so. Lurkers are always welcome!
That's it for this week - have you been to the range?


posted by Weasel at
07:00 PM
|
Access Comments