« Saturday Morning Coffee Break
|
Main
|
Saturday Gardening and Puttering Thread, Memorial Day Weekend [KT] »
May 29, 2021
Mediocrity, Competence, Excellence [KT]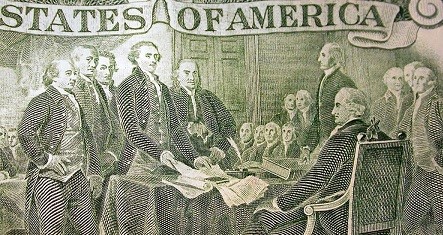 We did not need mediocrity among the Founding Fathers.
Last night, as the Memorial Day Weekend was starting, I ran across an article from the BBC, explaining how to be mediocre. It expounds on how giving up high standards can lead to a happier life. I think that there is a time and a place for mediocrity, but this piece hit me wrong, because I have been sort of involved the the struggle against today's leading Cultural Revolution, Critical Race Theory, which holds that characteristics such as perfectionism, objectivity and even timeliness are evidence of the malign effects of white supremacy. Which explains Venus and Serena Williams perfectly.
Sorry if I am starting to sound like a broken record on this issue, but when you have the "Zinn Education Project" circulating a petition in which teachers misrepresent and pledge to ignore new state laws prohibiting CRT indoctrination, while calling this "Critical Thinking", we have a serious problem on our hands.
Howard Zinn was not exactly a sterling example of critical thinking, but he has shaped the perceptions of American history for two generations. Vigorous criticism should have come earlier:
Howard Zinn isn't the only person who has gotten rich off of anti-Americanism, but he is surely one of the most galling.

Properly, though, Grabar's chief emphasis is on the book itself, and on the debunking of its claims to historical verisimilitude. Zinn, of course, explicitly and fervently denied the possibility of objectivity in history--as the title of his autobiography would have it, You Can't Be Neutral on a Moving Train--a position that has become all too commonplace in our public culture, particularly as adopted by identity groups that claim a unique outlook to which outsiders cannot be privy. It is a book animated by an intense spirit of debunking: debunking of classic American heroes, from Columbus to FDR, and debunking of American claims to altruism or exceptional virtue. . .
There is too much in Grabar's jam-packed book to summarize here, and the reading of the book is itself an absorbing, if at times disconcerting, journey through American history, rather like a journey across a fever chart of the worst historiographical errors and excesses of the past 40 or more years.

Through it all Grabar is unsparing in her treatment of Zinn's historical distortions. From his unfair depiction of Columbus as a genocidal maniac, to his comic-book romanticizing of American Indians as residents of nonviolent hippie communes, to the depiction of the Founding as the creation of a preserve for wealthy white males, to his depiction of the "good war" of World War II as a war between morally equivalent sides, he had to play fast and loose with the facts to support his fantastical assertions--and Grabar calls him on every one of them. She is devastatingly effective. . .
Back to the Zinn Education Project and other offended leftists:
Specifically, the Missouri bill bans teaching that: identifies people or groups of people, entities, or institutions in the United States as inherently, immutably, or systemically sexist, racist, anti-LGBT, bigoted, biased, privileged, or oppressed.
"Inherently, immutably or systemically". This is a key problem with Critical Race Theory. Its proponents often teach that negative characteristics of people, groups of people, and institutions cannot be changed. They can only be eliminated and replaced with leftist doctrine. This leads in some unfortunate directions.
Remember,
Nobody is talking about arresting people who loan out Kimberle Crenshaw books, they're talking about banning third-grade struggle sessions in public schools.
And Critical Race Theory explicitly rejects Critical Thinking. As did Critical Theory before it, to a large extent. Which partially explains some of the degradation we see in our society today, I think. Looking forward to a utopia run by statists is not working out well.
Mediocrity (and worse) in government seems to grow as the government grows. Steven Hayward takes a look at this phenomenon in the issues of homelessness and climate change.
You can find synoptic leftists who say that climate change requires solving every other social problem in human history, but there is in fact a lesson to be drawn between the explosion of homelessness over the last few years and the renewable energy mania proffered as a solution to climate change.

Let's start with this NPR (NPR!!) report on the $1 billion Los Angeles is spending on homelessness, with no apparent effect on actually reducing homelessness:

The high public cost of LA's first sanctioned campground - more than $2,600 per tent, per month - has advocates worried it will come at the expense of more permanent housing. [Emphasis added.]
I'd love to see a genuine audit of this homelessness spending to see how much the bureaucracy, consultants, administrators, and others in the 'caring professions" chain of being skim off the top. When I read, two or three years ago, that Seattle's "homeless policy coordinator" is paid close to $300,000 per year, it was easy to predict that not a single person would be brought out of homelessness, but that the ranks of the homeless would increase. . . .
Hayward also wrote about the C.S. Lewis addendum to the Screwtape letters which we discussed on Easter weekend. He pulled out a segment that starts with this:
(Keep in mind, if you aren't familiar with the ironic literary device Lewis employed in Screwtape, that the speaker is a devil-figure instructing other junior Satanic agents on how to corrupt humans):

What I want to fix your attention on is the vast, overall movement towards the discrediting, and finally the elimination, of every kind of human excellence - moral, cultural, social, or intellectual. And is it not pretty to notice how "democracy" (in the incantatory sense) is now doing for us the work that was once done by the most ancient Dictatorships, and by the same methods? You remember how one of the Greek Dictators (they called them "tyrants" then) sent an envoy to another Dictator to ask his advice about the principles of government. The second Dictator led the envoy into a field of grain, and there he snicked off with his cane the top of every stalk that rose an inch or so above the general level. The moral was plain. Allow no preeminence among your subjects. Let no man live who is wiser or better or more famous or even handsomer than the mass. Cut them all down to a level: all slaves, all ciphers, all nobodies. All equals. Thus Tyrants could practise, in a sense, "democracy." But now "democracy" can do the same work without any tyranny other than her own. No one need now go through the field with a cane. The little stalks will now of themselves bite the tops off the big ones. The big ones are beginning to bite off their own in their desire to Be Like Stalks. . .
The rest of the quote is also great.
It brings me to this clip from Into the Storm.
Hope your Memorial Day Weekend turns out well.
This is the Thread before the Gardening Thread.
Serving your mid-day open thread needs
Memorial Day community observances may be better this year than last year's largely virtual observances. Here's a rundown for Central New York. Anything going on where you live?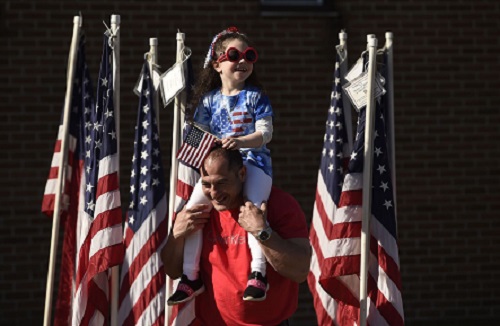 posted by Open Blogger at
11:18 AM
|
Access Comments