« Daily Tech News 24 May 2021
|
Main
|
Mid-Morning Art Thread »
May 24, 2021
The Morning Report - 5/24/21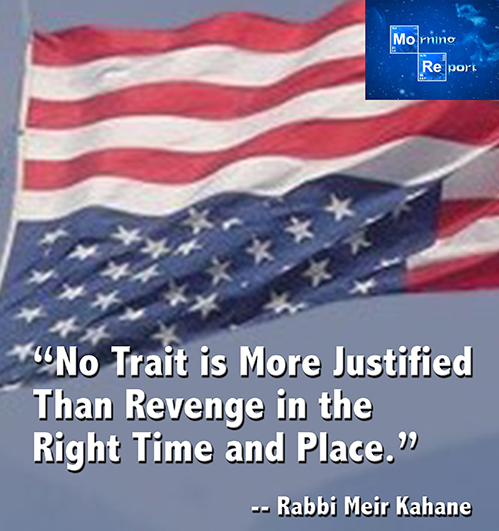 Good morning kids. Monday and with the ceasefire evidently holding between Israel and the terrorists, the focus returns to the land of the freebie and the home of the enslaved. That being us. Along with hypocrisy, one of the prime traits of Democrats and Leftists is projection. Every crime, outrage and evil throughout our history (now concluded) that they have blamed us for, is in point of fact what they have inflicted or intend to inflict on us. It is an article of faith that America's cities are pockets of sanity, tolerance, enlightenment and civilization amidst an ocean of Bible-thumping, inbred, redneck, white supremacist racism that is "flyover country."
In the wake of the latest round of madness out of Gaza, American Jews in this country have been assaulted and threatened. No, not out in the wilds of Deliverance country or up in the Idaho Bitterroots, but last week in Los Angeles and now, over the weekend in Brooklyn. Right in the neighborhood where I grew up and felt absolutely safe and about the furthest away from any kind of serious threat against me and my co-religionists. That is, until now.
The New York Police Department (NYPD) received a report Saturday night that an 18-year-old and 17-year-old were walking near Ocean Parkway in Brooklyn when they were approached by "two unidentified males who demanded that the victims repeat anti-Jewish statements."

The New York Police Department (NYPD) received a report Saturday night that an 18-year-old and 17-year-old were walking near Ocean Parkway in Brooklyn when they were approached by "two unidentified males who demanded that the victims repeat anti-Jewish statements."

The 18-year-old victim's father spoke to the Daily Caller under the condition of anonymity and said his son and nephew were told to chant "Free Palestine," but refused to do so. The teens, who the father said were both wearing their yarmulkes, refused and were immediately assaulted, according to police. Both victims were punched in the head and the 17-year-old was placed in a chokehold, police said.

As the victims attempted to flee, police said they were chased by an assailant "brandishing a baseball bat." The victim's father told the Daily Caller an unidentified ride share driver saw the incident unfolding and offered the boys a ride...

[Former Dem State Assemblyman Dov Hikind said] "Something is out of control, and it's not being dealt with," Hikind said. "You know what's amazing, how few elected officials in New York have spoken out on this. You have case after case of people being beaten up. How few Democratic elected officials have spoken out."

"Schumer lied to the Jewish community for 25 years. He said he was the protector, he would run around saying 'I'm the Shomer,' and he lied to us."
There's a reason why so few Democrats have spoken out about this; because their party and much of its base is not only rabidly anti-American but rabidly anti-Semitic. In point of fact, they go hand in hand for a whole host of reasons. The closest Chuck "Cuck Schemer" Schumer comes to being a Jew is a plate of matzo ball soup at a Passover seder. He and the other old bull Democrats are now trying to triangulate within their own party to save their political necks by not going against the freak-show of the Bro-Fo Omar/Nur/Burqawitz/Ikeelyou contingent. Especially Titty Caca Ocasio Cortez who has a hate on for the Yids every bit as lit as her friends in the Squad. And if Eliot Engel can get primaried by Jamal Bowman, Schumer might actually be in for a real fight. Gillibrand for sure would be (white) toast.
Brad Sherman has surprisingly been brave enough, or perhaps foolish enough, to openly opposed the move to prevent Israel from that arms package as well as stating Dems who don't support Israel "don't really have an understanding" of the history. Oh boy, that is going to get a reaction. He's either really stupid or perhaps knows his seat is fairly safe; suffice it to say the socio-economic factors of his constituents are quite different from that of Titty Caca's. But, I'm getting into the weeds here.
We've imported alien, violent cultures and people, legally and illegally, into this country for nearly 60 years who for the most part have not assimilated into the American culture, and in some cases have a hate on for it, while at the same time, we've brainwashed several generations of our own children into hating the nation they were born into and are working with our enemies to destroy it. It is only a matter of time that the thuggery that turned several dozen urban areas into Dresden '45, and that is now evidently being turned on Jews because "occupation" "diamond merchants" and "white interlopers" will be turned on the rest of normal, decent American society because "anti-vaxxer science denier" "white privilege" and "Trump supporter."
Look what's going on with the police and now military. Yes, the danger to our national security for having soldiers more prepared to fight climate change while tucking their junk inside their BDU and their feet into stiletto heels instead of boots is serious. But what's more serious is their being indoctrinated and trained to turn their weapons not on the Chi-Coms, Russkies, NorKs or Islamos, but on the next Ashli Babbitt. At some point the BLaM-tifa and Muslim street thugs are going to outlive their usefulness to the Junta. And who do you think is going to replace them?


ABOVE THE FOLD, BREAKING, NOTEWORTHY
ISRAEL POST-CEASEFIRE ANALYSIS
NOTE: The opinions expressed in some links may or may not reflect my own. I include them because of their relevance to the discussion of a particular issue.
ALSO: The Morning Report is cross-posted at CutJibNewsletter.com if you want to continue the conversation all day.
Follow us on Twitter: @CutJibNews
Follow us on Instagram:@Cutjibnewsletter

posted by J.J. Sefton at
07:22 AM
|
Access Comments