« Food Thread: Pizza! All Kinds; It Doesn't Matter
|
Main
|
Sunday Overnight Open Thread (5/23/21) »
May 23, 2021
Gun Thread: Big Announcement Edition! [Weasel]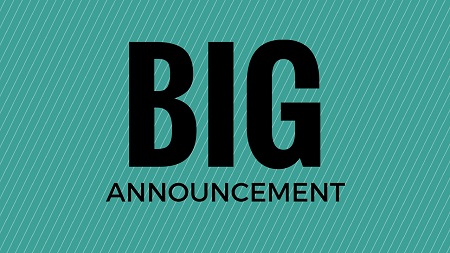 Howdy, y'all! Welcome to the good ol' Gun Thread! Time to gather 'round and swap tall tales of range excellence and generally carry on about guns 'n shooting. So grab a sarsaparilla and settle in for the next few hours of fun. If you're new here, please don't be scairt, jump right in and introduce yourself! We have a great group of regulars and new participants are always welcome. We all love answering questions and if you have one, all you have to do is ask!
Taxes are done and now the creepy-ass 17 year cicadas of Brood X are in full bloom here. WeaselDog and Fun Size Joe are cicada curious but so far have refrained from eating any of them as far as I can tell. Hmmm.. what else to we have...?
Oh! A Big Announcement! We have an Announcement-o Grande! Whatever can it be you ask? Well let's pop below and find out together, shall we?
******
ATTENTION NoVaMoMe 2021!!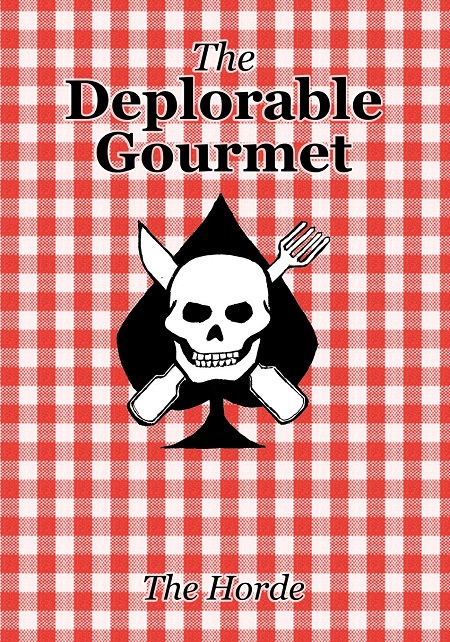 Announced mere hours ago in the Food Thread, the social and cultural event of the season, NoVaMoMe 2021 is on the calendar! That's right, you people have a chance to meet many of your online pals on Saturday, July 24th beginning at 1pm until dark, or such time as it gets busted up by the cops. We have an exciting new location in the Northern Virginia area which we think will be more better than before and allow extended time for visiting. Admission is $25 which includes food and soft drinks, with a cash bar. Although the BBQ was great last year's NoVaMoMe, this year all of the food is prepared from the greatest non-fiction literary work in modern history, The Deplorable Gourmet. No kidding! We found an outfit who went through all the recipes and found appetizers, main dishes, sides and desserts from the cookbook which blubell then reviewed and approved or disapproved based on whether or not she liked the author. Want to find out if your recipe made the cut? Want to be one of the cool kids? Just send an email to novamome at protonmail dot cee oh emm, pass the rigorous screening process to obtain registration details, then sign up to attend! Easy-Peasy!
It promises to be a great day, including our customary raffle of AoSHQ themed gift baskets. That's right! Each of the AoSHQ weekend threads has a specially themed gift basket chock full 'o theme related gifts!
Win a Dream Date with Weasel!
This year, a separate raffle for the Gun Thread gift basket will be held. This fabulous prize includes an entire day of shooting and personalized one-on-one handgun & rifle coaching and instruction at Weasel Acres on a mutually agreeable date. The lucky winner will be able to not only bring and shoot their own weapons, but also try out a variety of WeaselWeapons using WeaselAmmo! The winner will also take home 150 rounds of quality 9mm ammo to practice what they have learnt, a signed photo of WeaselDog and Fun Size Joe, and a complimentary video of their WeaselAcres experience, as parting gifts.

But wait! There's more! Meals are included! We'll start with the classic WeaselAcres bologna 'n cheese sammich, chips and pickle wedge for lunch, and end the day with dinner at a good Mexican place in nearby Appomattox. Pretty much a dream date with Weasel! The winner will be responsible for their travel to and from Central Virginia, hence the separate drawing.
******
First up, we have a very nice report from our pal and delightful 'ette lin-duh. Rumor has it a number of 'ettes gathered at an undisclosed location this past week for a couple days of shooting, so let's see some of what was up.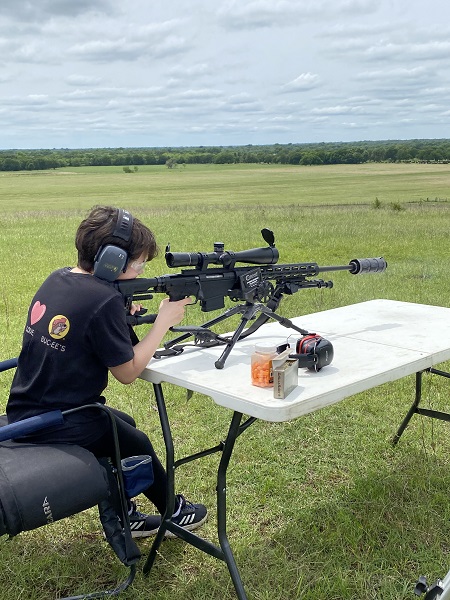 Mom explains:
This is my 11 year old daughter, she is 4' 9" and about 90lbs. In this picture she is shooting at steel from 200 and 600 yards using a Ruger 6.5 Creedmoor with a suppressor. She was also shooting a CZ457 .22lr with steel sights and ringing steel at 100 yards before the Creedmoor, then jumped on an AR-15 afterwards. This is only her third time shooting real rifles, her first two times were at an indoor range at 50 & 100 yards with the .22lr. She had excellent guidance from Jim and Rancher Bob's/Cow Horse Queen's son. By all accounts she was a very receptive and easy to teach student.

She really seems to enjoy shooting and is good at it. I'm trying to keep her interested in shooting. There are worse hobbies for a girl to have. Who knows, maybe she'll want to compete. She also enjoyed the company and is looking forward to October when she can show her older brothers up some more. I think she'll make a fine 'ette one day.
And how was she doing?
Here is her target shooting the .22lr with the steel sights at 100 yards. She took 10 shots.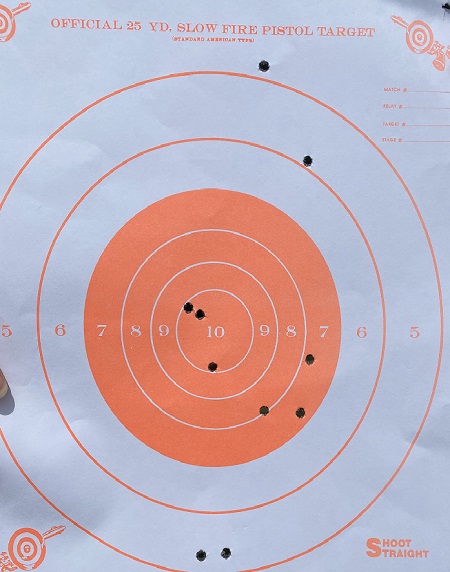 Outstanding, lin-duh!! This is very cool and I can't wait to do some shooting with you both at the TXMoMe!
******
Next up, our pal That Guy What Always Says Yeah Buddy shares a range report with his Taurus G2C 9mm.
So I finally got my replacement pistol from Taurus, a G2C 9mm with two 12 round magazines. It replaced the recalled PT-111 Pro I turned in a few months ago.
*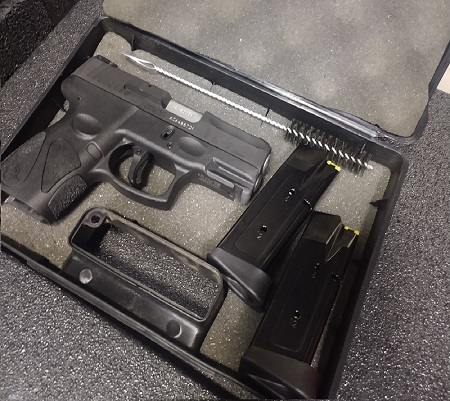 It looks good. The fit and finish is acceptable for what it is, a low priced compact pistol. Its light weight and felt kind of small in my hand. The springs in the magazines are really stiff and I was sorry I didn't bring my magazine loader along with me. I had to fight to load them up and got a little frustrated with it. It has an external safety as well as the trigger safety.

I scrounged up around 40 rounds of ammo so I didn't have to dive into the safe and I sure didn't want to pay $35 bucks a box for practice ammo at the indoor range.

I numbered my targets in order. Didn't bring a screwdriver with me so I couldn't adjust the elevation of the rear sight. The windage was probably bad trigger discipline on my part as I haven't been to the range in over a year.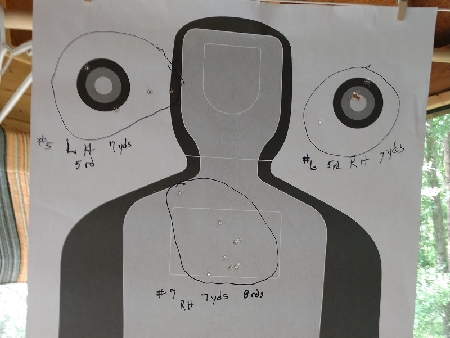 Nice shooting, TGWASYB! Looks like you and the Taurus work well together!
******
Next up, our pal Schnorflepuppy sends us an excellent report on the Strikeman Laser Firearm Training System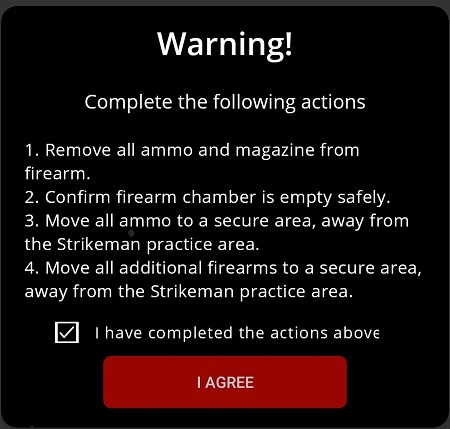 Because of the COVID-19 ammo shortage and price inflation, I acquired a dry-practice setup - the Strikeman system to augment my range training using an actual firearm vs. a SIRT or other "blue gun" simulation weapon. A smartphone is required to run the app, which is free to download. The Strikeman site and the app provide tutorial videos to learn how to set everything up.

The package includes a phone holder, target holder and target paper, and laser cartridge. Strikeman has 9mm, .380 ACP, .40 S&W, .45 ACP, .38 Special, .357 SIG, and .223/5.56 laser cartridges available, you may select one caliber when you initially order, and then add more as necessary. The laser cartridge requires three LR626 button batteries (included), and provides a rubber striking surface for the firing pin.

I found the phone holder to be too fragile to reliably hold my 194g (161.6x75.2x8.3mm) phone; luckily, I had a sturdier tripod and a phone tripod mount available. I also didn't use the target holder, preferring a music stand on which I placed the target paper. In my installation, both the tripod and the stand are on the floor, so your mileage may vary with different configurations (e.g. on a table or counter). The ideal configuration is to have the phone in the line of fire, slightly below the target. Calibration gets more difficult and shot accuracy drops the further the phone is angled off of the firing line.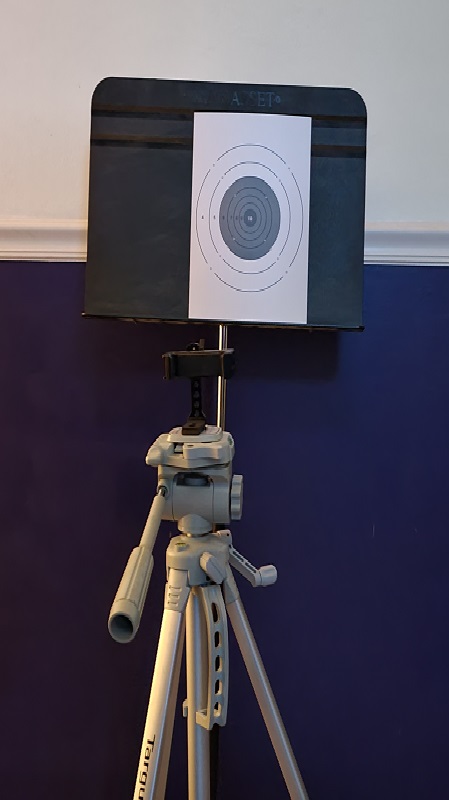 To prepare the gun, unload both the magazine and the chamber, move any live ammo and magazines to another room, then insert the laser cartridge in the chamber. To remove the laser cartridge after practicing, you'll need to push it out using a pencil or other long, skinny object that will fit down the "business end" of the barrel.

In the app, you will need to register using a phone number to create an account. Once you click Start, you will have to click on the safety instructions (attached) each time to start a new session. You will choose the distance to target (in 20-foot increments); night/day mode (night works best for me); time or number of shots; and the option to choose multiple sessions, the number of sessions, and the break between sessions. I highly recommend using multiple sessions to avoid having to calibrate too often.

The next step is to calibrate the app using the phone's front-facing camera. You zoom in or out using a slider, then place the outside boundary of the target circle using a circle on screen which can be moved around and resized by "pinching". This is a key configuration -- the more accurate your calibration, the more accurate your scores will be. It may be frustrating, but I suggest taking the time to calibrate carefully. Once you calibrate and touch Start, the app gives you a three-second countdown before shots are recorded.

The app gives immediate feedback after each shot with both a shot sound and voice feedback, which I listen to via a Bluetooth headset (the phone's speaker is another option, and you may toggle either option off in settings). I recommend leaving the feedback on to check if the app is "seeing" your shots -- if you don't hear the shot or the score after you place a shot on target, you may need to exit the session, fiddle with the day/night mode setting, and recalibrate.

After your session is complete, the app provides scoring and visual placement on the target paper for each practice round, along with elapsed time, average rating, and total score as depicted in the image (attached). The app retains history of training sessions for 30 days, and allows sessions to be deleted if you don't want them to "count". The accuracy of the scoring of each shot is entirely dependent on your calibration prior to shooting.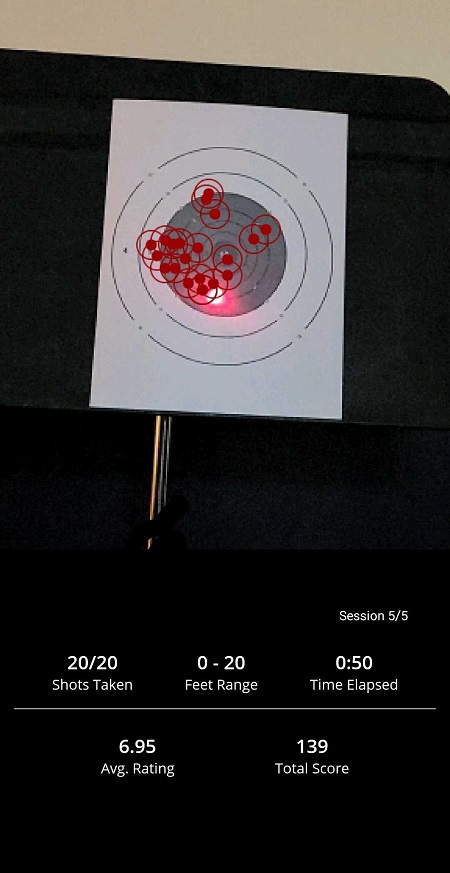 I should note that this system does not cycle the action of the gun, so with a semiautomatic pistol, you need to rack the slide after every shot and re-establish your grip afterwards. Also, at least on some gun models, you may shred your finger/thumb racking the slide. In preparing for this report, I did 5 sets of 20 shots at 12 feet/4 yards, and lost a little bit of epidermis on my left thumb for my trouble. The constant racking of the slide does create "muscle memory" about how to place a semiautomatic in battery and establish a good grip afterwards, so learning is occurring regardless.

The main feature request I have for the app is to retain settings between "shooting" sessions. All settings return to the default values between sessions, including the zoom level and calibration circle. I highly recommend enabling multiple sessions, with 90-100 seconds between, to get the maximum value out of your training session. I also wish that the app retained more than 30 days of practice session data, although you can download the image of each session or share it on the Android app before it disappears (if you remember).

That said, I have gotten a lot of value out of the Strikeman system. I practice dry-fire after drawing from various concealment options, which isn't permitted at my local indoor range. The system allows practice of all important mechanics - draw, placement on target, arm extension, sight picture, breath control, trigger press - and lets you adjust each until you find what works for you.
Excellent report, Schnorflepuppy! What do you guys think? Anyone else tried the Strikeman system?
******
Here's a video starring Jerry Miculek's daughter, Lena, on must have drills before your first range trip.
Is Lena great, or what?! She seems like a natural shooter and instructor to me. Must be in the blood!!
******
Finally, our pal GWB shares some info on the .50 cal guy you might recall from a few weeks ago. Here's the original vid from that May 2, 2021 thread.
GWB tell us:
You posted the video of the guy whose .50 exploded. Well, it made Insty. One of the commenters there posted a video from Ian McCollum at Forgotten Weapons, explaining how and why guns go boom, instead of bang.
He does a really great, if long, explanation of why bad things happen in firearms, particularly rifles. There's lots of information in there I didn't know. For instance, I now think I know why there's a little tab-like thingy on the back of the bolt of my .303 British. Also very glad Browning(PBUH) made a change from the predeccesor to the 1911 - for the very reason sometimes guns go boom. And he does it without any sort of denigration of Scott, the 'splodey rifle guy.

The Insty post is here with the comments.
Great follow-up info, GWB! Thank you!
******
Link-O-Rama
I'm really very seriously not kidding around anymore. Buy Ammo
AmmoSeek - online ammo search tool
GunBot - online ammo search tool
SG Ammo
Palmetto State Armory
Georgia Arms
AmmoMan
Target Sports USA
Bud's Gun Shop
***Mail Bag***
This week, our pal and delightful 'ette Sharon (Willow's Apprentice) shares a Mail Bag funny.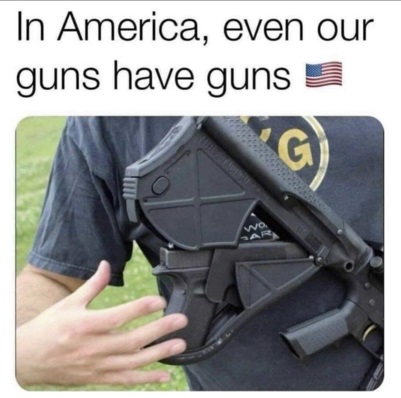 ******
Please note the new and improved protonmail account gunthread at protonmail dot com. An informal Gun Thread archive can be found HERE. Future expansion plans are in the works for the site Weasel Gun Thread. If you have a question you would like to ask Gun Thread Staff offline, just send us a note and we'll do our best to answer. If you care to share the story of your favorite firearm, send a picture with your nic and tell us what you sadly lost in the tragic canoe accident. If you would like to remain completely anonymous, just say so. Lurkers are always welcome!
That's it for this week - have you been to the range?


posted by Open Blogger at
07:00 PM
|
Access Comments