« First-World Problems...Part 197
|
Main
|
Gun Thread: Big Announcement Edition! [Weasel] »
May 23, 2021
Food Thread: Pizza! All Kinds; It Doesn't Matter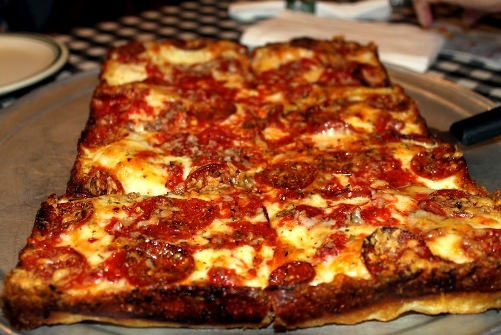 One of the brats brought the remnants of her dinner from the night before, and while she claimed it was a "Detroit Pizza," it really wasn't. Central Jersey is a hotbed of 'Tomato Pie," which while similar to the Detroit style is a bit thinner and uses more traditional cheeses. And since this pie came from just a few miles from the northern-most infiltration of the style, I am going with that name.
But it was damned fine eating, and reminded me that the general style is a very good thing. Thicker dough in a pan with lots of olive oil, baked in a hot oven so the dough crisps and browns in the oil. And pepperoni...lots of pepperoni. Pretty good stuff!
Detroit style calls for cheddar, or you want to be perfectly authentic, Wisconsin Brick Cheese, which is made from bricks discarded from construction sites. Or not. But cheddar works really well and is easier to get for most people. I have mixed it with a low-moisture mozzarella, and that works really well too.
Oh, you will need an authentic auto plant parts tray if you want to make the real thing, but any 9"x13" or 10"x14" pan with high sides will work just fine, and won't taste of milling lubricant.
******
Here is a leftist web site that's amazingly full of shit about food, politics, biology, statistics, and my bet is that the writers live in mom's basement and still wet the bed.
Eat-Drink-Politics
is everything I hate about society's insistence that EVERYTHING is political.
Our industrial food economy, led by an increasingly small group of transnational food conglomerates and buffeted by corporate-influenced government policies, is the root cause of a host of preventable public health, environmental, and social justice problems. Over the past century, this system has helped move whole plant foods away from the center of the plate, replacing them with a highly processed, animal product centered diet rich in salt, sugar, fat, and chemical additives. The social costs of this development have been profound. They include a worldwide epidemic of diet-related diseases such as heart disease and diabetes; ecological devastation stemming from unsustainable agricultural practices; and the widespread exploitation of farm and food industry workers. Because of these troubling social, public health, and environmental costs, a diet based on whole, unprocessed plant foods, and policy reforms that would make such a diet accessible and affordable to all, are what's needed.
There are dozens of quotations that are as stupid as this one...and that's just the first page of the site!
What I find fascinating about this attitude is the total ignorance of what industrial agriculture has done for the world -- namely; feeding it! There is one reason why there is hunger on earth, and it has nothing to do with the food supply; agriculture solved that problem already. No, for the "root cause," we must look to governments."

******
I had sworn off "Epicurious" because of their overtly leftist political blather that they insisted they throw in my face instead of just -- you know -- talking about food and cooking.
But Misanthropic Humanitarian sent me 6 Classic Cocktails --and the Riffs That Take Them Up a Notch, and it is a fairly good article making a reasonable point.
There is a reason that Old Fashioneds are made with rye and Margaritas are made with tequila...they taste good! But trying other spirits in classics is acceptable to the cocktail gods, as long as you don't do something crazy like shake that Old Fashioned or even...shudder...a Manhattan!

******
"Cheese makes everything better." Well...duh! In fact, I have extended that axiom to; "More cheese makes everything more better!"
I made a cauliflower gratin for a birthday dinner last night, and I think I used about two pounds of cheese for four pounds of cauliflower.
And speaking of cauliflower, I roasted it in preparation for mixing it with the cheese béchamel, and I think it improved the flavor. The classic technique is to parboil it in salted water, but that seems to make the gratin a bit mushy. Roasting dries the cauliflower a bit, and the results were quite pleasing, though it did require more salt because it wasn't cooked in salted water. Yup...cooking is a never-ending process of learning from one's mistakes.

******
Don't be suckered by the wine industry or wine writers or liquor stores; they are selling product, and what they recommend and what is actually interesting and worth the money are rarely the same wines.
For instance, In Chez Dildo we have been drinking a fair amount of a Spanish wine called "Albarino," after the name of the grapes used in its making For those of you who don't speak Latin, that means white rhino, because it was discovered while some hunters were chasing a rare white rhino through western Spain and stumbled upon a patch of these heretofore unknown vines.
Anyway, it is nothing like the typical Chardonnay/Sauvignon Blanc wines that are too often touted at most wines stores. It is very crisp and a bit acidic, but with just enough fruit that it is a pleasure to drink on its own. And yes, it is inexpensive. Around here it can be had for $11-$12/bottle, though there are examples that are much more than that (and not worth the money).
Try something different; you might love it, you might hate it, in which case you can always cook with it!

******
I made Sous Vide beef short ribs for dinner last night, and this time I followed the recipe that I
thought
I was following: 48 hours at 140 degrees. I have made the dish several times and recalled it as 145 degrees, so I figured this time I would check, and lo and behold! I was wrong! But I was really correct, because that five degree difference didn't render the fat as much as I would have liked. They still tasted great, but next time I am going with the incorrect-but-better temperature.
This highlights the the big problem with Sous Vide; there are no authoritative cookbooks, and damned few chefs who specialize in it. Ah, so what are the conventional authorities?


The Joy Of Cooking

Mastering The Art Of French Cooking

The Classic Italian Cook Book
(Marcella Hazan)
That's the beginning of my list. What's on your list?
******

Photo credit: The Daring Gourmet
I was poking around for a good recipe for Ropa Vieja, which is a really, really good dish from (among other places) Cuba. But far too many of the ones I found were slow-cooker versions, and they were all pretty much the same: pile everything into the slow cooker, turn it on, and come back in six hours.
Yuck. The real dish has wonderful layers of flavor, and is done a real disservice when simplified to that point.
But here is a good one, even though the writer simplifies it just a little bit.

******
Tender Broccoli Rabe that isn't bitter, beef short ribs that have meat on them (not the stupid little sliver of bone they sneak into the packages), Snap Peas (apparently they are no longer grown in quantity), spare bottles of Van Winkle Special Reserve 12 Year Old Bourbon, an herb garden that actually produces herbs, well-marbled NY strip steaks and elk backstrap to:
cbd dot aoshq at gmail dot com.
And don't think that you are off the hook with maple syrup and French Toast: I'm watching you...all of you! And I am watching you perverts who shake Manhattans and keeping a list for the Burning Times.

posted by CBD at
04:00 PM
|
Access Comments