« Impromptu Garden Thread
|
Main
|
Saturday Afternoon Checkers (And Any Other Games You Like) Thread »
May 08, 2021
Ace of Spades Pet Thread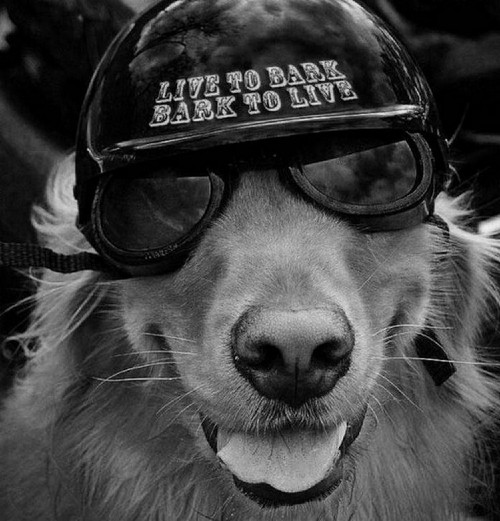 (Reminds me of our youngest)
***
Good afternoon and welcome to the almost world famous Ace of Spades Pet Thread. Another jammed pack thread this weekend. Kick back and enjoy the world of animals.

***
A Little of This. A Little of That.
Cats and science, who knew that they liked sitting inside squares?
***
Have you bonded with your dog? Have you really bonded?
***

This Afternoon's Feel Good Story of The Day.
Meet The PetMorons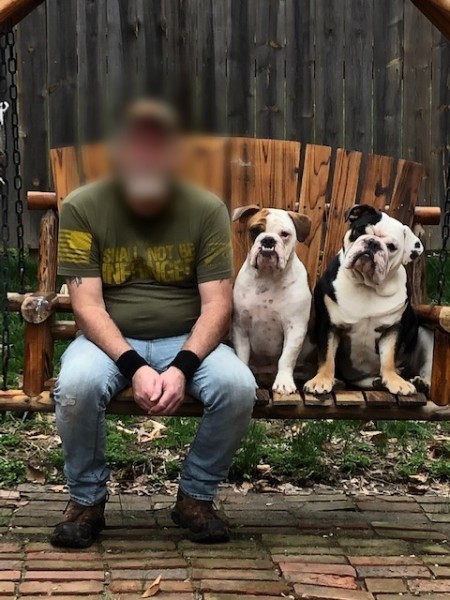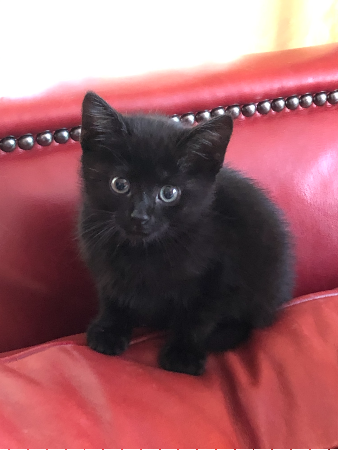 MisHum, thanks as usual for the pet thread.

I've attached a picture of my "3" bulldogs--Mr. Apri, Sarge, and Tank. If you can pixellate out Mr. April's face, you can use that one.

The other two are of Wu, the kitten I rescued last July. I was sitting on a bench outside of my office, when this tiny black ball of fur darted out from under a car, and made a kamikaze run toward the building. She threw herself at the door, bounced off, picked herself up, and made a run for the next one. Well. I wasn't having that. I herded her into a corner and took her inside, where she hid behind my printer until it was time to go home. The gals in the office said she looked like a bat, and we named her Wuhan, because we are terrible people. We just call her Wu.

When I got her home, I took her into the bathroom with me so the dogs wouldn't eat her. She disappeared in about two seconds. Turns out, the person who "remodeled" the bathroom left a giant gaping hole under the sink vanity. She had gotten down there under the floorboards and wouldn't come out. I was terrified that she would die down there.

Mr. April suggested finding video or audio of a mother cat, and that was pure genius. I found a YouTube video of a mama cat purring to her kittens, and sat on the floor playing it until she came out. It was heartbreakingly pitiful. I'd play the video, Wu would cry and come out from under the sink, and dart back under when I reached for her. It took half an hour or so while I shoved towels into the hole behind her every time she ventured out, until she couldn't get back into the hole.

Almost a year later, she now terrorizes the dogs and runs the household. We love her. - April
Quite the family you have there April. So that little cutie kitteh runs the home? It sounds like those doggehs are big softies. Thanks for sharing with us.
***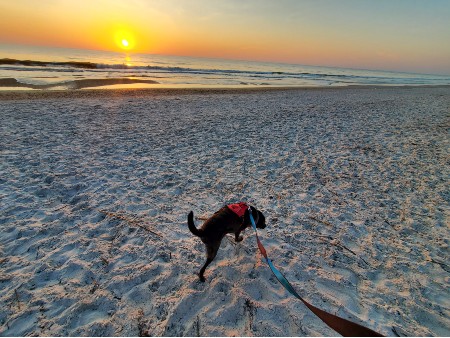 Zuko has been featured twice before but we recently took him to the beach for the first time. Turns out hes quite the beach dog and loves sunrise walks on the sand. Thanks, Roger
The Pet Thread is always happy to see repeat stars such as Zuko. I really like that you have him on a long leash. Its been my experience over the years that owners do not have control of their pets on the beach. Which leads to bad experiences.
***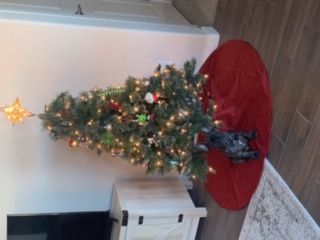 This is my grand dog, Roscoe, last Christmas. He's a French bulldog and has grown a bit since this picture. Nothing slows him down. AlmostYuman
So just how many "T-R-E-A-T-S" were you holding to get Roscoe to pose so perfectly? Lovely photo. We appreciate your contribution today. And I'm sure our pal Conor will approve.
***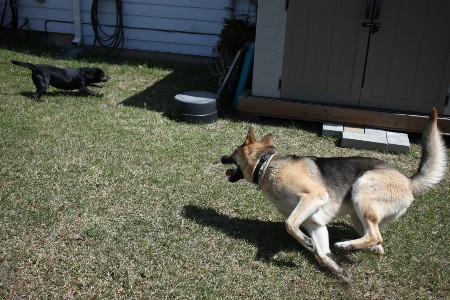 Scout and Bruno on the hunt for cats. - f'd
This has to be one of the briefest submissions in the history of the AosPT. Nevertheless, we are happy to see the pooches on the prowl. Thanks.
***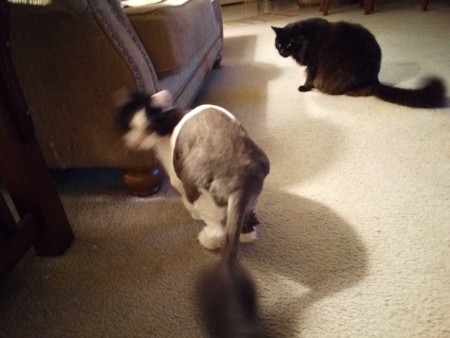 MisHum,

Pics of my Siberian cat Chekov just after his shearing, so everyone can point and laugh. His mats had gotten out of control and he would not let me brush or comb him, and several were in spots where it would be tough to cut them out. So off he went to the groomer. He looks like a white-and-black Chihuahua in these pics. I've been making jokes about Capillus for Kitties, Bosley, and the Hair Club for Cats ever since. Miss Linda says that my big black cat Wolf should also get shaved in solidarity with Chekov. My answer: "Solidarity was a political movement in Poland in 1980. Nothing to do with cats." - Wolfus Aurelius
OK, shaved cats are a rarity. That must have been a chore? Did you bath him as well? If so that must have been one interesting adventure. Thanks for sharing with us.
***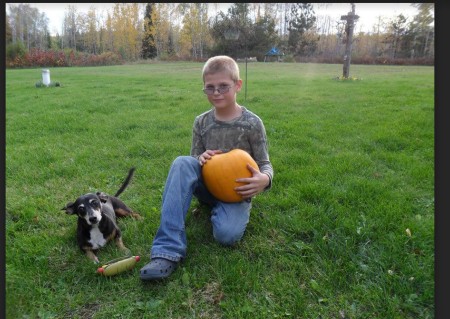 Hello MisHum, attached is an obit, and a few pics of our dog Reece. Many Thanks, Dandor the Realanator

We helped our little Reese go to her heavenly home today....I believe we will see our beloved pets in heaven. After all, we know there are horses there. She is a quiet loving little dog. She is sweet natured and content. But that is who she became. She became very old and left her old self somewhere behind....all but her nose!

She was brought home to be a fun energetic dog for our young son. Wow, what an understatement. She learned that running after balls was the best thing in the world, to be constantly & incessantly pursued. Hide the ball, inside the house, in the drawer, on top of the frig, in the bedroom, utility room, whatever....her nose could find it. She would sit in front of where you hid it, without her being anywhere around to see and she would smell it and know it was there. When we said no, we were obviously lying or so she implied!

When the balls finally all disappeared, she found rocks! Seriously! Take a rock she would bring you to throw, throw it into the woods, she would go in the woods & bring back the EXACT rock. No, really. Tried, tested and true. She could smell them I guess, because even in these last quieter years, her nose never stopped.

The nose knows....did you just put a piece of chocolate in your mouth? Is that an egg you are frying? What are you cooking on the stove now? I know you have something you are snacking on.....She could smell it.

What an exasperating, loving, fun, energetic, softest fur coat in the world wonderful dog she has been. Oh my goodness....she is missed.
So sorry to hear of your loss. It is amazing how such small creatures can be the biggest parts of our lives. Our condolences on your loss.
***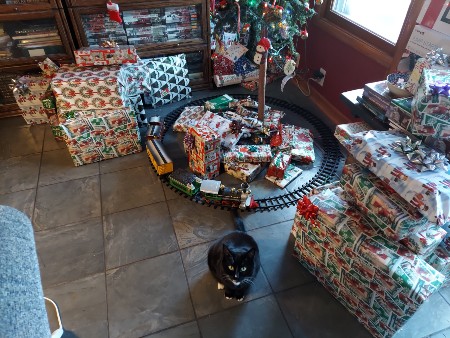 Hello Again MisHum,

Here is a picture of our sole remaining pet in front of the Christmas tree. Her name is Bella and she is about 7 years old. We rescued her from a mental halfway house. She hid for two years before she got up the nerve to jump on my lap late one night. She has turned into a very territorial cat and has attacked, nay, ambushed the feral cats we have been feeding. It's apparent that we will not be able to domesticate any while Bella stalks the abode. Best Regards, "Beartooth"
I know why Bella doesn't want any other critters around. Look at that Christmas Spread there at the Casa Beartooth. That kitteh is living in paradise. We appreciate your contribution today.
***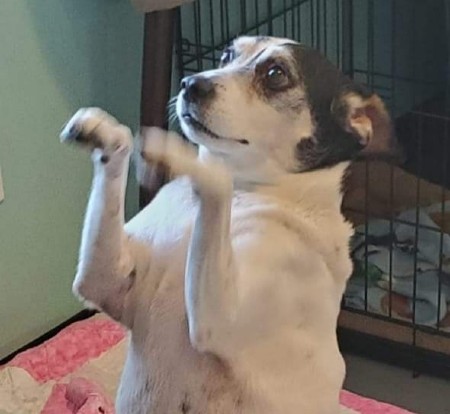 This is our newest addition, Harley a 10 year old terrier mix. He's a chunky monkey and he's very lovable but is having a hard time adjusting. We put him on some meds to help calm him down a bit. He has no health issues so we hope to get him adopted soon! - Jewells
Another wonderful rescue story Jewells. Hopefully the chunky monkey Harley starts mellowing out soon. Thanks again for all you do in the rescue world.
***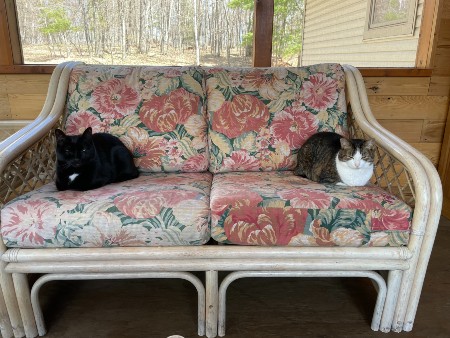 Our cats are new to the screen porch at our cabin in MN, but they are learning how it works! - From Annie's Stew.
Get those cats some spinning gear and take them walleye fishing. There is moar to northern MN then snoozing on the porch. But until then, Enjoy! Thanks for the email and photo.
***

Once again the Horde comes through with PetMoron stars. Thank you! The In-box was full again this week and we will get to all of the pets soon.
If you have something you wish to share you can reach us here at petmorons at gmail dot com.
God willing and the creeks don't rise we will be back next Saturday. Have a great week!

posted by Misanthropic Humanitarian at
03:00 PM
|
Access Comments