« Food Thread: We Are Never Too Old To Try New Things; Especially When It Comes To Cocktails!
|
Main
|
Sunday Overnight Open Thread (5/2/21) »
May 02, 2021
Gun Thread: Attitude Adjustment Edition! [Weasel]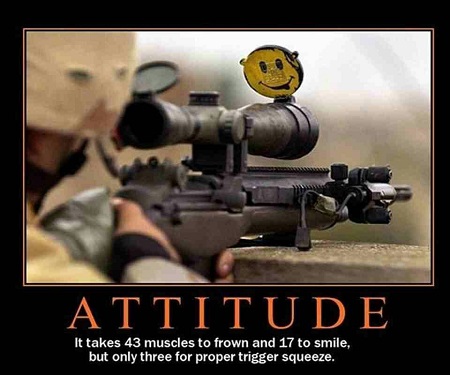 Howdy everyone! Are you ready for another wacky installment of the good ol' Gun Thread? Been doing any shooting? I haven't been to the farm in a few weeks so I suspect I'm pretty rusty. Hopefully I will get down there this coming week for a couple of days and remedy that.
I added the top picture just for a laugh, but realized it actually contains a pretty good message, and that's about attitude; specifically attitude when shooting. What in the hell am I talking about? Your guess is as good as mine, so let's see if there are any clues in the thread below, shall we?
I have mentioned this before, and having no better ideas for content today, think I will mention it again. Your attitude influences your shooting, and no, I'm not going all metaphysical on you. WeaselDoctrine teaches us a positive attitude and outlook really does influence performance.
Really! I am not making this up! Ever notice when you feel like crap or do not want to be somewhere doing a specific thing, your performance tends to suffer? When I was coaching, a shooter's attitude played a not insignificant part in my squadding decisions for a match. All things being equal, if a shooter dragged themselves up to the line and appeared to not really want to be there, they very often found themselves on the bench for team matches that day. Why? First, a lackluster attitude can be infectious, and I didn't want anyone spreading a non-winning attitude. Secondly, someone who isn't focused on the job isn't giving their best or living up to their potential. I wanted good shooters who were focused and on top of their game. Plain and simple.
Everyone has bad days and I get that. I had bad days as a coach, too. However, it is imperitive you find a way to shake that off when it happens. If you are properly equipped and have the requisite skills, then any failure in performance is coming from your head. If you are confident in your gear and abilities you will perform well. If you are tentative and unsure, you're probably wasting ammunition. Even if it's just a day of casual plinking, think about what you are doing. Think about the target and imagine the bullet's flight. Form a mental image of the bullet going into the center of what you're shooting. Before you load up, mentally rehearse your stance, grip, sight alignment, and trigger squeeze. Concentrate on not flinching or anticipating the shot. For rifle shooters, observe the wind, then double and even triple-check your firing solutions. Finally, you will perform best when rested, alert, and again, focused. If you're hurried or rushed or if your head just isn't into it, perhaps save the range trip for another day.
******
First up, we have an instructional video sent in by our pal Scuba_Dude. It's over 17 minutes long, but the inportant part is in the first half. It is not graphic, and I encourage you to watch it.
This guy is lucky to be alive. That's not hyperbole, he really is very, very lucky to be alive. Two takeaways from this; always wear eye protection when shooting, and always be certain the gun you are shooting is rated for the ammunition you are using. Do not ever shoot someone else's reloads, or any mystery ammo with an uncertain provenance. That is the mistake this guy made, and he almost paid a very dear price. As it is, I bet he wishes he had a do over.

You do not have to e shooting a 50 caliber rifle to get into trouble. The operating pressures of just about all small arms ammunition is high enough to cause serious and possible fatal injuries in the event of a catastrophic failure. Yes, even a 9mm round can blow up your hand or poke out your eye if the gun fails. It's not worth it people. Especially now with ammunition in short supply, the temptation to shoot whatever you can find is great. Don't do it. Stick with commercially manufactured ammunition that is intended for your gun. If you are unsure, ask someone more experienced, and go home with ten fingers and two eyeballs.
Thanks Scuba-Dude!
******
Next up we have a great question from our pal One-eyed cat peepin' in the seafood store regarding .357 Magnum ammunition.
I am a new shooter/owner; heeding your recommendation (for non-complex operation for my wife and me), my first (and only, so far) purchase is a 7-shot .357 magnum 4" barrel Ruger GP100 revolver. I recently found some .357 ammo at what seemed a decent price (~ $1.30/round with shipping, etc. included): 110 gr JHP. Doing a little reading, I thought, perhaps, the high muzzle velocity resulting from light weight would deliver a lot of energy (ft-lbs) and good expansion, but have also read that the light round can be problematic.

So, am thinking this would be a round to keep in a couple speed-loaders for home defense, but to avoid using on the range.
First, congratulations on the new gun, and that is an excellent question One-eyed cat!
I recommend not using a steady diet of light, high velocity rounds in .357 Magnum. Using them for self-defense is fine, just practice with something heavier and slower at the range.
POP QUIZ! Now for all of the rest of you, why do I reccommend this?
******
Next we have some content for our pal NZFrank who is a student of the John C Garand School of Excellence.
Loading your M1


Principles of Operation

Who doesn't love these old instructional videos?!
******
What's better than a regular MoMe? A Gunshow MoMe! Our pal blaster reports:
Sitrep after a meetup at The Nations Gun Show which is held at Dulles Expo Center in Chantilly VA. First, the cast of characters: sharon(willow's apprentice), Iris, JesseinDC, Hrothgar, myself (blaster), and sra blaster, and a friend of the blog, or at least friend of people on the blog, Rick. I think he has a Cafe Americain or something.

Anyway, we went off to The Nations Gunshow. A bit about that. I recall hearing advertising for this show in the past, over 900 tables! One and half miles of guns, knives, and ammo! Well, not so much in COVID world. Governor Coonman McKlanhood really doesn't want gunshows, so there are...restrictions. In this case, you have to pre-purchase tickets online and provide a significant amount of personal detail presumably for contact tracing. And you have to buy for a particular 2 hour period - and be there 15 minutes early so they can pre-check your tickets. A lot more pre-planning required to go. And as good morons we planned for a time and met up. Well, mostly. We eventually got all in one place in the Expo hall!

Also, the show was smaller. Cause or effect, hard to say. But smaller than in the past. Certainly not 900 tables. But there were some.

Ammo prices were...eh. Boxed ammo was not particularly at special gunshow prices. Pretty much $1 a round for boxes of 50 9mm that weren't Wolf or Tula or RedArmyAmmo. FMJ, $1.50 on up for hollowpoint and defensive ammo. There were some deals to be found - I picked up some loose bagged 9mm FMJ for $35/50 (bought 3 bags - tried to do a bundle 3 for $100 no deal). Not reman so seemed like a good idea to pick some up if it was cheaper than usual.

Gun prices really ranged by the seller. Some had good prices. Some had not so good prices. I used a Heritage Rough Rider 22LR revolver as a gauge - one seller had them for $139 another had the same model for $199. If you wanted a Lewis gun that was emi-automatic there was someone there who could hook you up.

sharon wanted to look at gun cases and they were there for her to look up. She wants a hard case so she can take her 22 rifle to the TXMoMe this year. She found most cases are roughly her same size so a little hard to handle, but the important thing was being able to see things in person. Also a Glock G44 caught her eye seems like one of those may be in her future, too.

I also picked up a long eye relief scope for my Mossberg Scout Rifle. Sent a pic of it all tacced up to Weasel not sure if it will accompany this writeup. Also picked up an IWB holster for sra blaster for her P365. Mother's Day is coming up, and, well, I'm romantic like that.

Afterward we went to dinner and groused about the fraud in the White House and how we should never, ever, talk to the FBI without a lawyer.

A great Moronic Day!
Excellent report blaster, thank you! Sounds like great company and a great time. I went to the Chantilly show a few times back in the day, it just became too crowded, even when going on Friday when the doors opened, and rarely were there deals to be found. On the plus side, the thing was enormous!!
Also from our pal blaster is a pic of his new rifle!

a picture of my Mossberg Scout. Picked up a long eye relief scope and put the tac light on the side rail
Nice looking rifle, bro! Congratulations!
******
Prices of Yesteryear
This week our pal f'd hates and taunts us with ammo prices from the Before Time.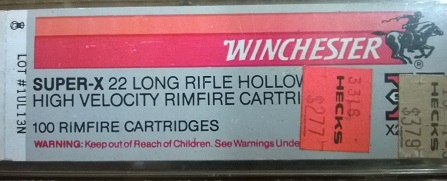 ******
And finally, speaking of rifles, our pal Scuba_Dude has been making range trips and working on his rifle skillz. Here's a recent 100yd target.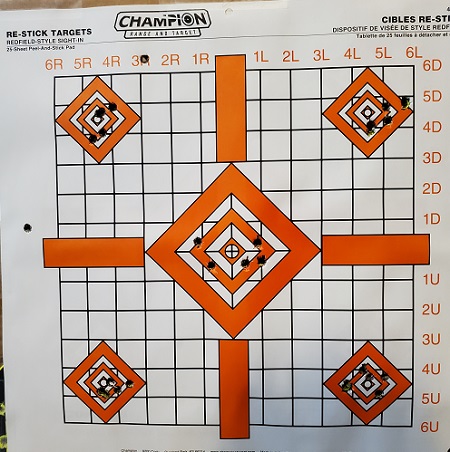 Making some nice progress there, bro!
******
Link-O-Rama
I'm really very seriously not kidding around anymore. Buy Ammo
AmmoSeek - online ammo search tool
GunBot - online ammo search tool
SG Ammo
Palmetto State Armory
Georgia Arms
AmmoMan
Target Sports USA
Bud's Gun Shop
***Mail Bag***
This week's entry again comes from our pal FungusBoy.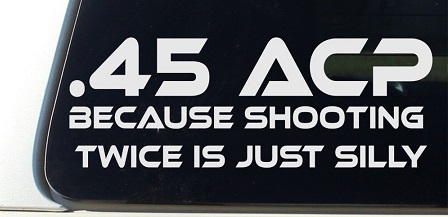 ******
Please note the new and improved protonmail account gunthread at protonmail dot com. An informal Gun Thread archive can be found HERE. Future expansion plans are in the works for the site Weasel Gun Thread. If you have a question you would like to ask Gun Thread Staff offline, just send us a note and we'll do our best to answer. If you care to share the story of your favorite firearm, send a picture with your nic and tell us what you sadly lost in the tragic canoe accident. If you would like to remain completely anonymous, just say so. Lurkers are always welcome!
That's it for this week - have you been to the range?

posted by Open Blogger at
07:00 PM
|
Access Comments