« First-World Problems...Part 863
|
Main
|
Gun Thread: Attitude Adjustment Edition! [Weasel] »
May 02, 2021
Food Thread: We Are Never Too Old To Try New Things; Especially When It Comes To Cocktails!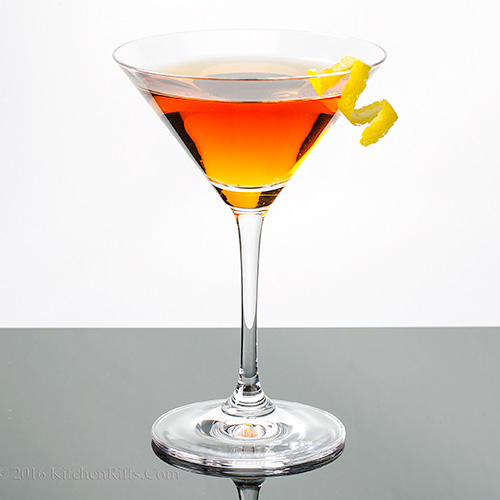 That is a Martinez, a classic cocktail that is coming back into favor. Well, actually I have no idea if that is true, but I am drinking the hell out of them and am a very happy camper.
Its base is nothing more than a martini with red vermouth, but the addition of a bit of sweet liquor and some bitters adds a complexity that is really pleasant. I am not a big fan of red vermouth, and use it only in cocktails. I cannot imagine drinking it straight or on the rocks or whatever unpleasant concoctions bartenders have devised to get rid of their spoiled vermouth.
It's nothing like a martini, which I think depends on mouth feel; the crisp, cold feel of the icy gin. This is a more complex drink, and one that I recommend to those looking for something a bit out of the ordinary. The link goes to a good place to start, although I have increased the gin in my recipe.
By the way, do not neglect the twist; they are vital to some drinks, and this is absolutely one of those that benefit from a large twist of fresh lemon, hopefully with lots of essential oils.
******
I have been having a few discussions with commenters and lurkers about temperature, and how vital it is to be aware of it. I see it as another ingredient in my food, and it should be measured as carefully as the salt or the pepper or the baking powder
or the maple syrup.
Obviously the best way to do that is with an accurate thermometer, whether you use an instant read one or a probe thermometer with an alarm. But even if you don't have those tools, just feeling how hot your pans are will provide some good information. I am not suggesting that you smack your hand down in the middle of your blazing hot cast-iron pan to check the temp before you sear a steak, but having some sense of how much heat is radiating from the surface is a useful bit of data.
I use an infrared thermometer for pans and for checking the temperature of big pots of water and the oil when I am frying. It's convenient and quick and gives some accurate temperatures.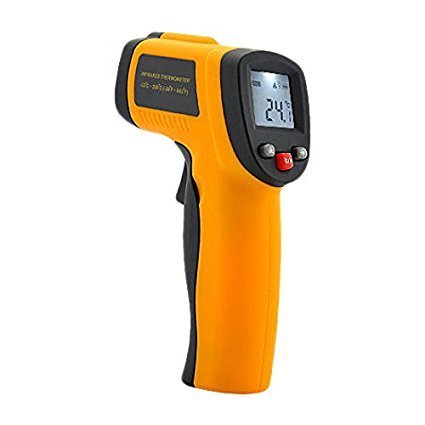 Once you get a sense of temperature those settings on your burners will be much more useful. I know it sounds simplistic, but I use that thermometer all of the time, even when I am making scrambled eggs. It's another way of learning more about that vital ingredient (heat) and how it improves the food. And it helps timing too. For instance, I know that when I am making a large batch of caramelized onions that as they get closer to 212 degrees they will cook much more quickly. All of the water in them is keeping them from browning, but as soon as it evaporates they are off to the races!

******
There really isn't much good cooking information available for people who cook for one and who aren't interested in learning how to modify recipes. And I get it! As much as I think that food and cooking are vitally important things, some people just want to eat three meals each day and not worry too much about it. Which is a long-winded way of pointing out that while Chef John might have the most irritating voice in the western hemisphere, his recipes are always pretty good, and this one looks pretty tasty!

******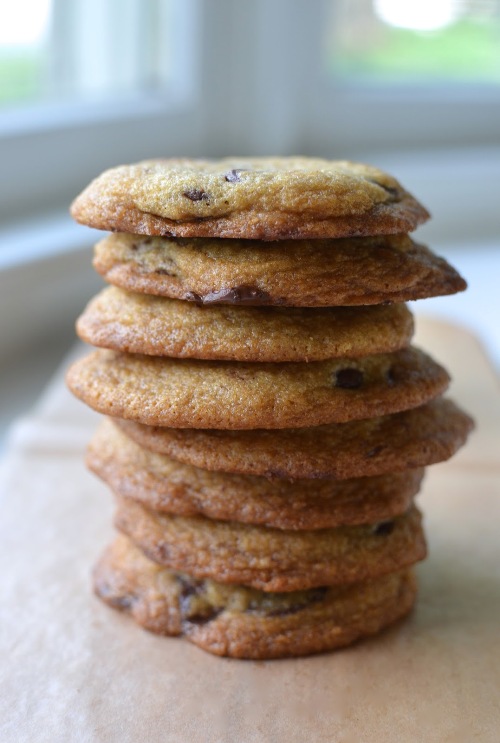 This recipe for Brown Butter Bourbon Pecan Chocolate Chunk Cookies isn't anything out of the ordinary, but it piqued my interest because it illustrates (illuminates?) how easily the basic chocolate chip cookie recipe can be modified to include some fun flavors. Brown butter is wonderful, and bourbon is wonderful, and pecans are not wonderful in cookies! What were they thinking? I am unalterably opposed to nuts in any kind of chocolate chip cookie, and I will fight you on this!

******
I have linked to AmazingRibs in the past, and every time I poke around there I am struck by how seriously he takes cooking, but also how much fun he has. And isn't that the key to managing the undeniable fact that we will be cooking, or paying someone to do it for us for the rest of our lives?
Anyway, here is a recipe for some Crispy Grilled Buffalo Wings that look pretty good. And easy. And a lot less messy than frying those wings.

******
Well, here is a fine example of people with more money than brains.
Real Water Inc. still not cooperating fully with outbreak team; more people sick
Water. It comes from the tap. And if you don't like the taste, buy a water filter for the stuff you drink. But no, that's not hip enough for some, so they buy adulterated water because...uh...why? Water tastes fine. Just drink it when you are thirsty and don't worry so much about it, and definitely don't buy into the nonsense about it.

******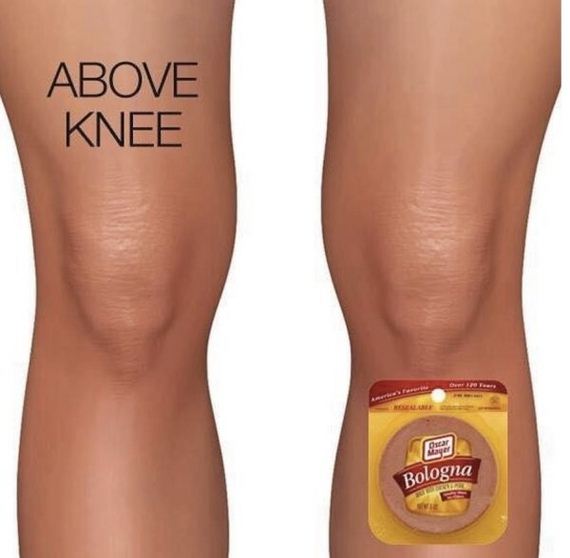 ******
Tender Broccoli Rabe that isn't bitter, beef short ribs that have meat on them (not the stupid little sliver of bone they sneak into the packages), Snap Peas (apparently they are no longer grown in quantity), spare bottles of Van Winkle Special Reserve 12 Year Old Bourbon, an herb garden that actually produces herbs, well-marbled NY strip steaks and elk backstrap to:
cbd dot aoshq at gmail dot com.
And don't think that you are off the hook with maple syrup and French Toast: I'm watching you...all of you! And I am watching you perverts who shake Manhattans and keeping a list for the Burning Times.

posted by CBD at
04:00 PM
|
Access Comments