« Joe's Address to Congress and Alexis de Toqueville
|
Main
|
Ace of Spades Pet Thread »
May 01, 2021
Saturday Gardening and Puttering Thread - May 1 [KT]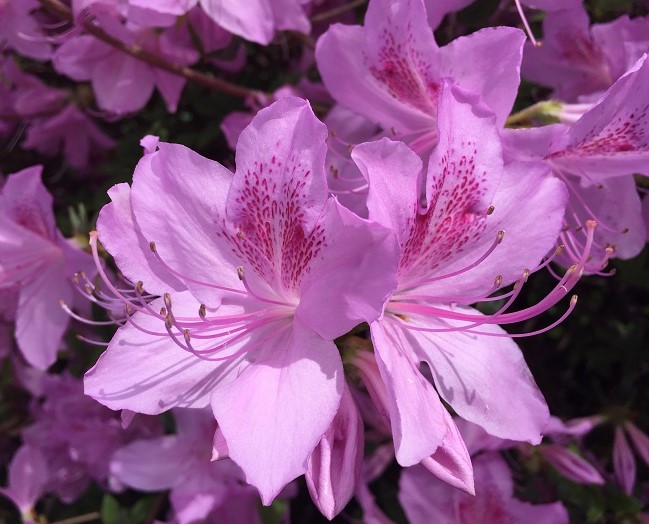 Happy Saturday! We have some great photos and great plants today for the First of May! Plus this unusual plant story:
Hi KT:

Thought I'd send along pictures of an azalea that grows in my front yard since every year there are people who stop to snap a photo of it. It really is a beautiful specimen, but truthfully, I can't stand it. LOL. It's the color--not pink, not lavender, just some mutant blend.

I've offered it to a couple of neighbors who absolutely love it, but since it stands about six feet high and eight feet wide, it's too much of a challenge to transplant. I've taken care of it for 17 years, and every year I wait impatiently for the foul blossoms to fade.

~~IrishEi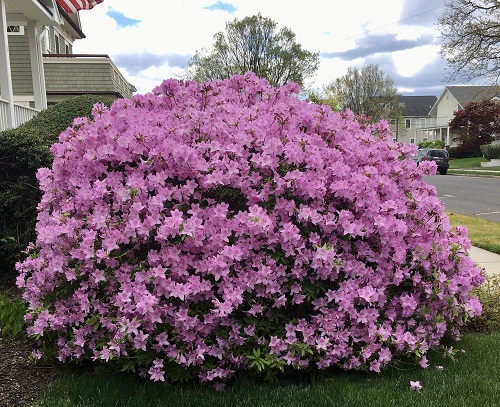 I think it's great. How about you?
Bulbs
From Krebs v Carnot not long ago:
These are among the many clumps of daffodils in our garden beds. This grouping is around one of the maple trees of which I spoke last week.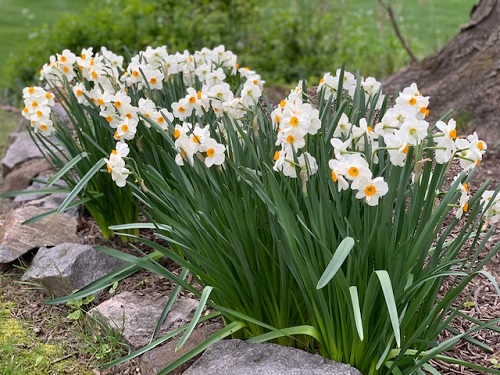 Poppies n more
From 40 miles north:
Bicolor. Sometimes you see these in the wild.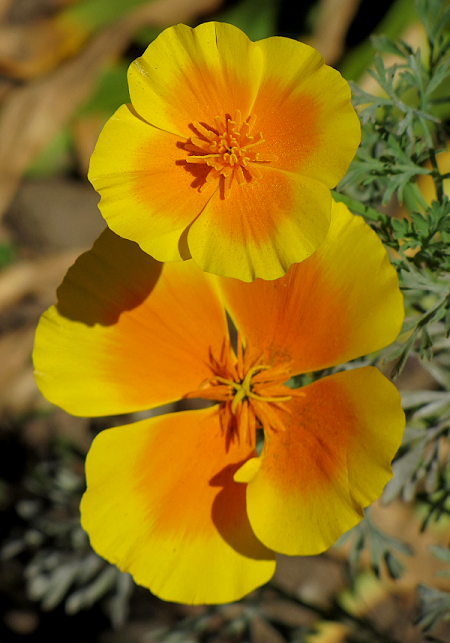 Typical California Poppy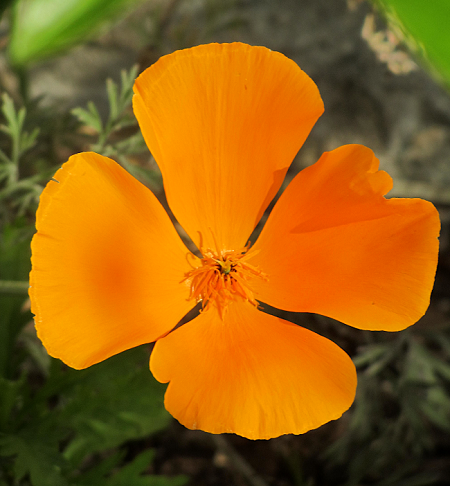 Seven Poppies of Power. The foliage is great.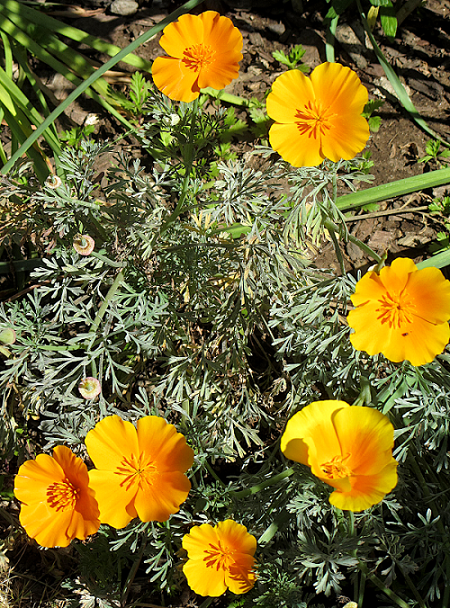 Probably bred in England.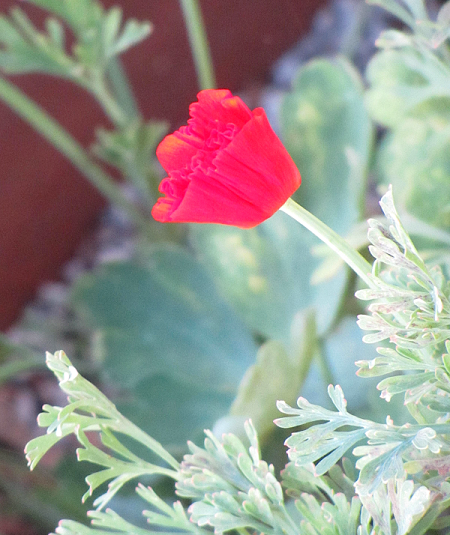 Not poppies.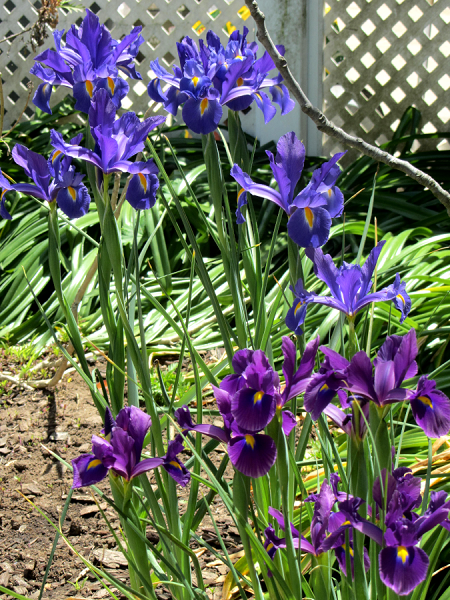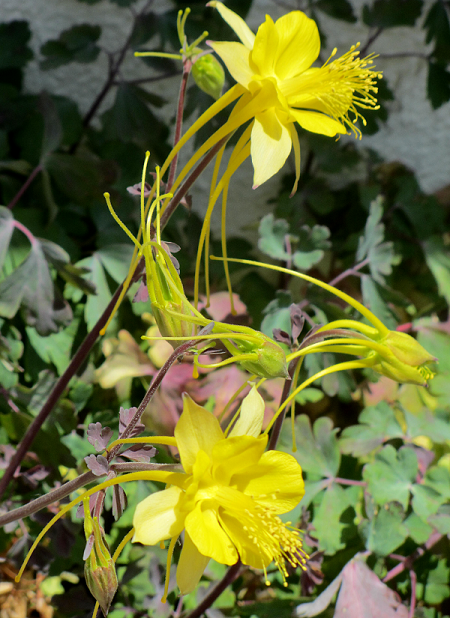 Spring comes in Israel
A few weeks ago, Neal in Israel sent us some photos which were emblematic of winter leaving and spring starting:
Early in winter mushrooms sprouted on their own in shady spots in the garden. The first type appeared at a few points under our olive tree.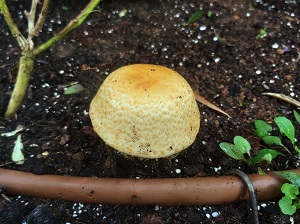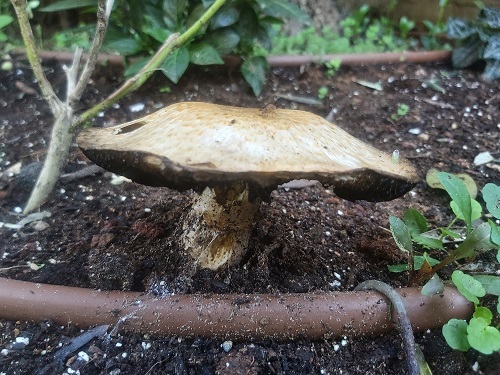 We need a toad or a fairy.
The second type grows colony-style on what's left of a tree we cut down without uprooting. The common growth principle seems to be a compact, rounded head to break through to the surface, which later fans out to the sides.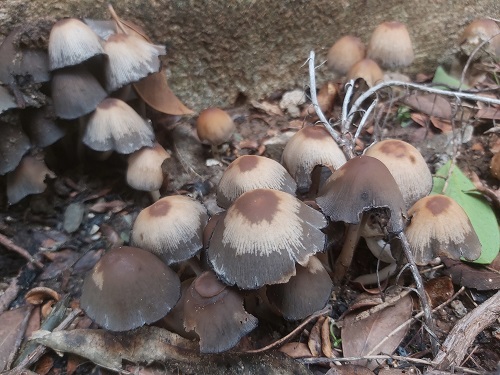 New in the garden this winter were a few madonna lilies (shoshan tzachor in Hebrew - pure-white lily) which I planted. Some commentators think this is the lily mentioned several times in the Song of Songs.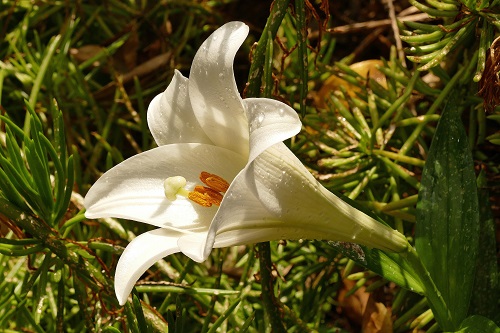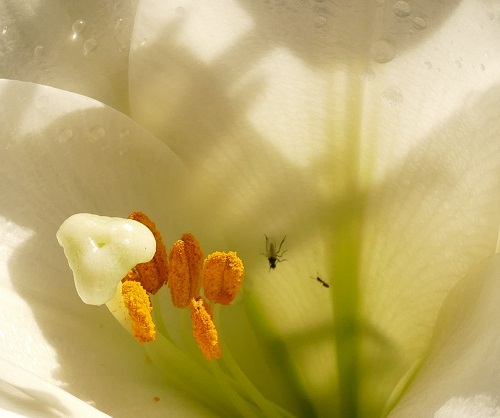 Early bloomers include our stand of African daisies. The daisies had to be given a serious pruning at the end of the past summer to clear out dead and diseased undergrowth, but have come back pretty strong, reinforced by self-seeding and a few new arrivals which I planted.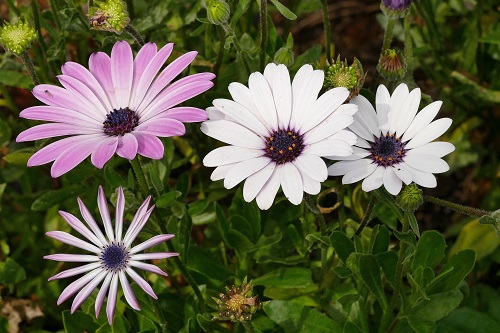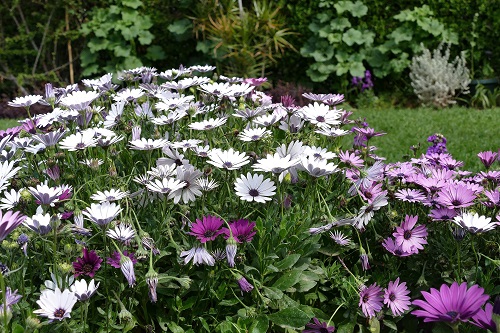 The blossoming of our lime tree a good number of weeks ago was one of the earliest signs of spring's arrival. The fruit which we'll be picking in the fall has already set all over the tree.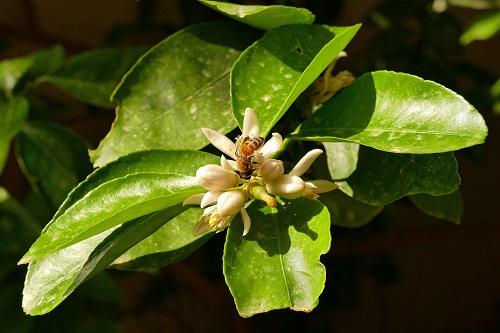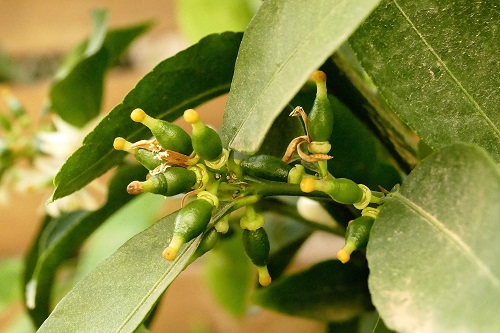 Edible Gardening
Sergeant Major here with a pic of my re-cycled raised bed. The horses don't need it anymore but the green and red Romaine and the spinach does. The mineral tubs in the back are getting green beans planted. I'm tired of bending over for a harvest.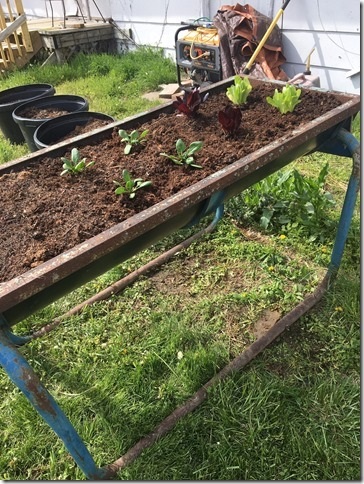 I know the feeling. Nice beds.
If you would like to send information and/or photos for the Saturday Gardening Thread, the address is:
ktinthegarden
at that g mail dot com place
Include the nic by which you wish to be known when you comment at AoSHQ,
unless you want to remain a lurker.


posted by Open Blogger at
01:37 PM
|
Access Comments