« Saturday Morning Coffee Break
|
Main
|
Saturday Gardening and Puttering Thread - May 1 [KT] »
May 01, 2021
Joe's Address to Congress and Alexis de Toqueville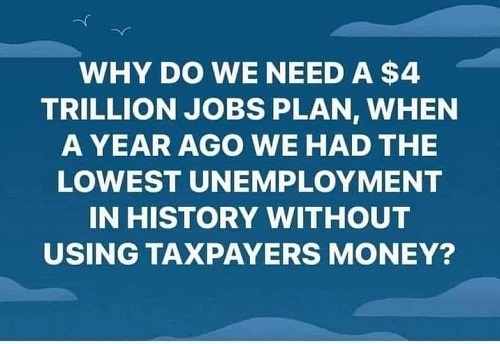 I recently had an interesting thing happen on social media. A "friend of a friend" who is quite liberal wanted to be my "friend", too. He doesn't seem like a troll. Could be trying to convert me. Anyway, after the "address to Congress", he wrote:
Joe did a great job.

Of course, not a word from the conservatives who watched Trump deliver one train wreck after another after another after another. I am so 'bleep' over it.

Got 12 "likes". They really expected kudos from conservatives for Joe's speech. Don't know why they think conservatives would have watched the speech voluntarily.
Various "friends" wrote:
AND! He's DOING a great job!

Feeling safe listening to Biden.
Do they really think he is running things?
There was also a bit on Fox News twisting "facts". They are so stuck on Fox News. Anyway, the next day I copied in the CNN tweet about Joe's "Moderate Radicalism" and asked why it would make conservatives want to watch the speech. He deleted the comment. Heh.
There's a Newsbusters piece out now on how lefties are trying to portray that "moderate radicalism" as "not socialism".
In the midnight hour on MSNBC, New York Times reporter Elaina Plott guessed "he delivered what was really the most progressive address, I would say, at a joint session, maybe since LBJ." But he still didn't give "Republicans a lot to latch onto" and that "Joe Biden's brilliance in some ways is that he's kind of boring." Host Chris Hayes said this was because he was white. NBC reporter Sahil Kapur added Biden's "superpower" is "He makes massive multi-trillion-dollar FDR-size liberal policies sound moderate and middle of the road."
As we creep ever closer to their dreams of European socialism, the media whisper sweet nothings that this is merely "smart policies most Americans want." They insist Biden is difficult to "latch onto" and "villainize" because they are energetically working to prevent the argument that Democrats are ever extreme on anything.

This isn't "news." It's just sales.
I didn't watch the speech myself, but I looked through Stephen Green's drunkblog, and this resonated with me:
Stephen Green | Apr 28, 2021 9:35 PM est

This is the part of the speech I'd been tipped off about, despite my best efforts to come in spoiler-free.

But for Joe Damn Biden to tell us this is a contest between democracy and autocracy, when everything he proposes takes control and money away from the individual, is the saddest and most sickening demagoguery I've heard in 40 years of following politics.

I truly despise this lying SOB.
Somehow, this made me think of Alexis de Toqueville and Soft Despotism. He wasn't right about everything, but he was right about this: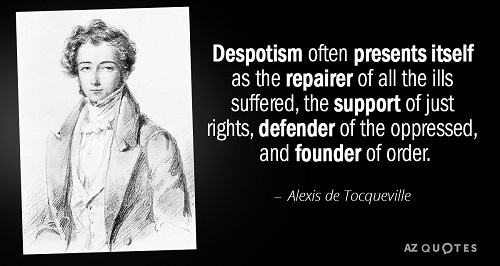 Alexis de Tocqueville
What an interesting, complex man. Great grandson of a liberal aristocrat who lost his head to the guillotine in the French Revolution, he had a complicated relationship to later constitutional monarchies. His trip to the USA was apparently partly to escape a period of political discomfort. It was supposed to be a tour and evaluation of the prison system here. He and his traveling companion didn't follow the script.
Later:
Briefly imprisoned for opposing Louis-Napoleon's coup d'etat on December 2, 1851, Tocqueville was deprived of all political offices for refusing his oath of loyalty to the new regime.
But this was not the end of his political career. There were a lot of twists and turns in his life. Interesting reading.
He gave us some warnings about perils inherent in democracy. I'm not sure his writing covers what is happening right now, but I think "soft despotism" is a good description for how our current despotism presents itself.
Alexis de Toqueville died kind of young, of tuberculosis.
Louis-Napoleon (Napoleon III)
That Constitutional Monarchy thing kind of breaks down when you have to execute a coup d'etat, I think. Napoleon III was really interested in style, though.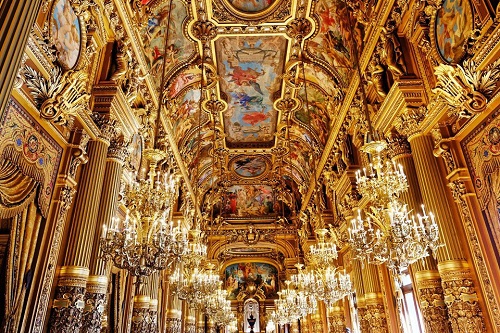 A basic principle of Napoleon III interior decoration was leave no space undecorated. Another principle was polychromy, an abundance of color, obtained by using colored marble, malachite, onyx, porphyry, mosaics, and silver or gold plated bronze. Wood panelling was often encrusted with rare and exotic woods, or darkened to resemble ebony. The facade of the Opera Garnier employed seventeen different colored materials, including various marbles, stones, and bronze,

Architecture
The dominant architectural style of the Second Empire was eclecticism, drawing liberally from the Gothic style, Renaissance style, and the styles dominant during the reigns of Louis XV and Louis XVI. The style was described by Emile Zola, not an admirer of the Empire, as "the opulent bastard child of all the styles.". The best example was the Opera Garnier, begun in 1862 but not finished until 1875. The architect was Charles Garnier (1825-1898), who won the competition for the design when he was only thirty-seven. When asked by the Empress Eugenie what the style of the building was called, he replied simply, "Napoleon III." At the time, it was at the time the largest theater in the world, but much of the interior space was devoted to purely decorative spaces: grand stairways, huge foyers for promenading, and large private boxes. Another example was the Mairie, or city hall, of the 1st arrondissement of Paris, built in 1855-1861 in a neo-Gothic style by the architect Jacques-Ignace Hittorff (1792-1867).
There is much more on architecture, landscape design, museums, art, city planning, etc.
And music, music, music. Opera, light opera, popular music and more.
Napoleon III intervened personally to have Richard Wagner come back to Paris; Wagner rehearsed the orchestra sixty-three times for the first French production of Tannhauser on March 13, 1861. Unfortunately, Wagner was unpopular with both the French critics and with the members of the Jockey Club, an influential French social society. During the premiere, with Wagner in the audience, the Jockey Club members whistled and jeered from the first notes of the Overture. After just three performances, the Opera was pulled from the repertoire. Wagner got his revenge in 1870, when the Prussian Army captured Napoleon III and surrounded Paris; he wrote a special piece of music to celebrate the event, Ode to the German Army at Paris."
Hmmm. Maybe Napoleon III should have paid more attention to foreign affairs.
Music
Offenbach was a favorite during the reign of Napoleon III. He started his career as a cellist.
Les Contes d'Hoffmann: Barcarolle

Hope you have a good weekend.
This is the Thread before the Gardening Thread.
Serving your mid-day open thread needs

posted by Open Blogger at
11:15 AM
|
Access Comments