ę Despite Claims by the Democrats and the Media (But I Repeat Myself), Iran's Foreign Minister Clarifies: I Only Learned of Israel's Covert Attacks on Our Operatives in Syria from John Kerry
|
Main
|
Conservatism's Overdue Divorce From Corporatism & Its Sleaziest Characters
[Buck Throckmorton] Ľ
April 30, 2021
DOJ Puts Grandma on Wanted Poster -- While Sealing the Records of Antifa/BLM Rioters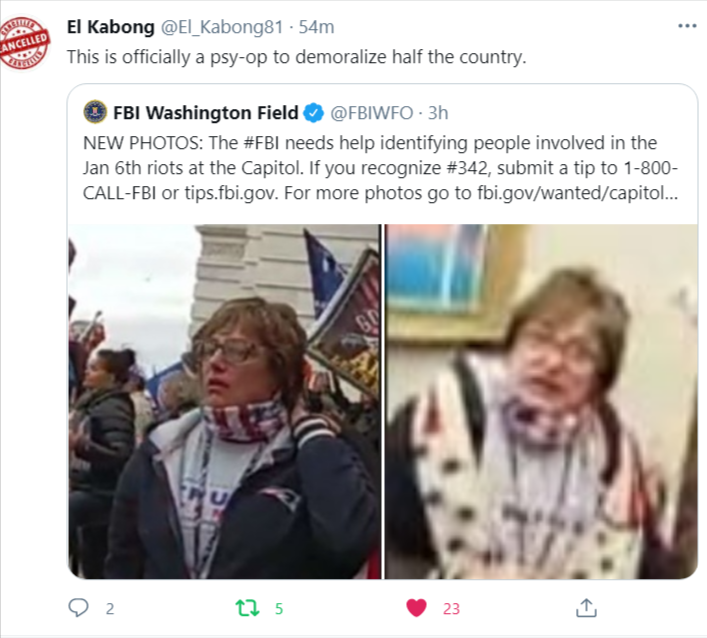 While the FBI has a dragnet out for people who took Unauthorized Selfies while trespassing, the Biden's DOJ is now offering to seal the records for George Floyd rioters, essentially granting them pardons, because no employer can ever find out about their rioting and violence.
The office of D.C. Attorney General Karl A. Racine said that it would offer to seal the arrest records of roughly 220 people detained for violating curfew orders in June during protests over the police killing of George Floyd.

Racine, a Democrat, in his announcement Thursday, said his office would send letters about the offer to those arrested in June 2020 in Washington, D.C., according to The Washington Post.

Those who receive the letter already know they are not being prosecuted, and an affirmative response to the offer will result in the office filing a motion to seal the person's records.

The attorney general's office prosecuted only five people. Eighty others were arrested in the protests but are ineligible for the offer because they may have had previous arrest records.
Don't expect that offer to be made for the Four Hour Insurrectionists who were arrested for merely being present at the Capitol.
If you remember, there were massive riots at Trump's inauguration, designed to shut that process down.
An "assault on our democracy," if you will.
Washington DC has made a powerful statement about those riots -- they're paying money to the rioters, pretending that money is owed to them for the police being too aggressive about stopping a riot during a transition of power.
The city of Washington has reached a $1.6 million settlement in two lawsuits that included allegations of arrests without cause and excessive force on protestors during the inauguration of former President Donald Trump in January 2017.

The two lawsuits were brought by the American Civil Liberties Union of the District of Columbia and attorney Jefferey Light, on behalf of protesters.


The ACLU said in a statement about the settlement Monday that the lawsuit alleged that then-Police Chief Peter Newsham and more than 20 officers "engaged in or supervised constitutional violations including mass arrests of demonstrators without probable cause, unlawful conditions of confinement for detainees, and/or use of excessive force."

The ACLU said that even though just a few protesters caused damage and engaged in violence, police rounded up more than 200 protestors and "detained them without access to food, water, or restrooms for up to 16 hours."
Note well that the federal government is currently holding around 50 to 60 people accused of being Four Hour Insurrectionists in solitary confinement and unending pretrial detention -- prison without any conviction.
They've been held without trial, without bail, since January.
I don't expect the federal government to pay these "Insurrectionists" for brutal treatment.
Compare that to the Inauguration Rioters being held... for sixteen hours, and being paid taxpayer money for it.
Julie Kelly talks about some of these indefinitely-detained political prisoners:
As I've reported for the past few months, federal courts, at the direction of Joe Bidenís Justice Department, are denying bond to nonviolent protesters as their cases continue a slow slog through an intentionally overloaded D.C. judicial system. The presumption of innocence has been suspended for Trump supporters involved in the January 6 protest largely based on a supposed "thoughtcrime" of doubting the legitimacy of the 2020 election.

Before announcing his ruling, a federal magistrate berated Tanios from the bench. "Everyone in our country knows what happened on January 6," U.S. Magistrate Judge Michael Aloi lectured during a March 22 detention hearing. "We also generally know . . . that they were supporting the president who would not accept that he was defeated in an election. And so we have created this culture, radicalized by hate, and just refusal to really accept the result of a democratic process."

Aloi also suggested the bear spray killed Brian Sicknick--it was "surreal," the judge said, to see a video of the "officer who no longer is with us" -- and described what happened on January 6 "an assault on our nationís home."

He preached on: "I don't think I have ever seen anything play out in a way that was more dangerous to our community." Even though the judge admitted Tanios did not spray the chemical, Aloi nonetheless ordered Tanios, a business owner with no criminal record, to remain in jail indefinitely.

But the government's case against Khater and Tanios is weak if entirely nonexistent. The flimsy evidence in the Tanios-Khater prosecution, as in most of these cases, relies almost solely on various sources of video taken on January 6--and the Justice Department is seeking protective orders to keep the full body of video evidence concealed from defense attorneys.

Dangerous Evidence?

Law enforcement officials have argued in court pleadings that defendants shouldn't have "unfettered access" to tens of thousands of hours of video evidence because they might pass along the information to those who "wish to attack the Capitol again."

I won't be sure this is a scandal until Andy McCarthy starts vouching for strangers he never met in an organization he hasn't worked for in decades.
This is the assault on democracy -- a war conducted by an unpopular faction that controls government against the people they supposedly serve.
Question: Will President DeSantis be permitted to indefinitely detain antifa and BLM terrorists for the thoughtcrime of insisting on a conspiracy theory that cops go out at night to hunt black people?
Or nah? They're allowed to think something untrue, right? It's only the right that gets held in jail without trial for believing Dangerous Heresies, right?
Ashli Babbit's husband talks about the wife executed by police -- and the lawsuit he's launched against the Capitol Police:
No patriot can cooperate with lawless government agents any longer. No information, no interviews.
No convictions.
Not until these agencies are purged. The FBI and DOJ are essentially political persecution agencies -- Stasi USA -- and should be regarded as such and treated as such.
Say, by the way:
I seem to remember some largely Democrat-funded NeverTrumpers justifying their defection to the Democrats as a necessary step against "authoritarianism."
Weird that these True Conservative Super Patriots are silent on the permanent detention of conservative political prisoners, and equally silent about contriving ways to make taxpayers pay money tribute to antifa and BLM, huh?
Flashback: The armed wing of the DNC contacts its buds at CNN so that they can film a night raid on a 73 year old man:

posted by Ace at
02:14 PM
|
Access Comments