« Kristi Noem Exposes Herself as a Vapid, Sinecure-Seeking Corporate Whore on Tucker Carlson
|
Main
|
Quarantine Cafe: Now With 80% More Birds Edition »
March 23, 2021
Leftwing Propaganda Organs Begin Dying Post-Trump -- Especially CNN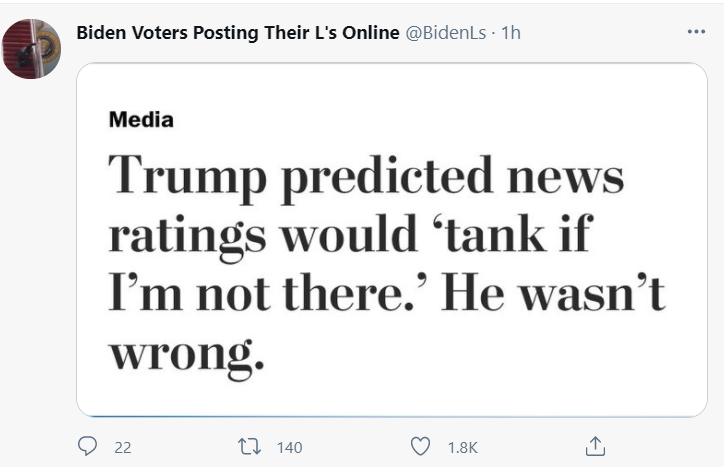 That's German!
Former President Trump's exit from the White House coincided with a slump in ratings for cable news channels and digital news sites, according to a Washington Post analysis.

Data from media tracking firm ComScore as well as the Nielsen company indicated drops in traffic across websites for the Post, which lost roughly one-fourth of its monthly web traffic, as well as The New York Times, which lost roughly 17 percent of its traffic over January and February.

In the cable news ratings wars, CNN lost nearly 50 percent of its prime-time audience over the first few months of 2020, according to the Post, while MSNBC lost more than a fourth and Fox News lost just 6 percent, causing CNN to lose its briefly-won ratings dominance for the month of January.

...

The former president himself also predicted a slump for cable news upon his exit from the public scene back in 2017, when he told The New York Times: "Newspapers, television, all forms of media will tank if I'm not there, because without me, their ratings are going down the tubes."
This could be the greatest gift Trump has given us.
So far.
If Little Fredo gets cancelled, that'll be a nice topper:
CNN's "Cuomo Prime Time" averaged 1.31 million viewers during the week of March 15, the show's smallest total since it averaged 1.3 million viewers during the week of March 2, 2020 -- days before coronavirus rocked America as the NBA shut down, actor Tom Hanks tested positive for the virus, and then-President Donald Trump addressed the nation about the virus from the Oval Office.

"Cuomo Prime Time" finished 2020 with a yearly average of 1.8 million viewers, making it CNN's most-watched program. However, the left-wing CNN show has dropped roughly half a million nightly viewers since then.

"Cuomo Prime Time" also struggled among the key demographic of adults age 25-to-54, averaging only 307,000 viewers for its worst performance since the week of Feb. 24, 2020 among the group most coveted by advertisers.

Cuomo's downfall could be impacting other CNN programs, too, as the liberal network failed to surpass Fox News among total viewers during any specific hour of the day from 6 a.m. through midnight last Monday through Friday.
By the way, Little Fredo's Mafia Killer brother Sonny picked up his eighth accuser.
His first accuser added this new detail: When a dog jumped up on her, the Forced-Luv Gov wittily said that if he were a dog, he'd "mount" her too.
How droll! What a charming aggressive pervert.
Oh, and from the sidebar: Sad shut-in Righteous Liberal AllahPundit continues hero-worshipping his Pretend Twitter Pal Fake Jake Tapper and insisting that CNN is the least ideologically biased of the three cable news nets:
"Why has CNN gotten it the worst? Ed speculated, correctly I think, that although it's liberally biased it's still the least overtly ideological of the three networks. If you're a conservative and you're hungry for criticism of the Biden administration, you know where to go. If you're a liberal who wants to hear a defense of the administration's policies and attacks on the GOP, you have an obvious option as well. Those audiences are relatively inelastic because ideological fervor will always drive a certain degree of interest in politics and current events. (And fervor tends to increase when your side is out of power, which may explain why MSNBC's audience has dipped more than Fox's.) CNN's audience is more elastic because casual viewers consider it to be the "newsiest" and least partisan of the three options."
What he means is: "I watch CNN, and I consider myself reasonable and centrist, therefore, my CNN Palz are reasonable and centrist."

You know who thinks the gonzo-partisan leftwing propaganda outfit is the "newsiest" cable channel? Gonzo-partisan leftwing idiots.

Like I always say: In the minds of the neocons -- who claim to be smart but are stupid; who claim to be educated but who are incapable of learning -- it's always 2003 and we're just one more surge away from turning Iraq into Iowa and Afghanistan into Alabama.
Make sure you sign up for Townhall's VIP program -- you want to make sure you support "conservative commentary" like this, which you can't find anywhere else (except CNN and Jake Tapper's twitter feed).


posted by Ace at
06:14 PM
|
Access Comments