« Quarantine Cafe: Flashback 1979 Edition
|
Main
|
The Morning Report - 3/19/21 [J.J. Sefton] »
March 18, 2021
Tonight's ONT Fights For Honor And Glory!
But before we get to that, I want to bring up something important. Take a look at this map and tell me if it doesn't perfectly encapsulate where we are in America today: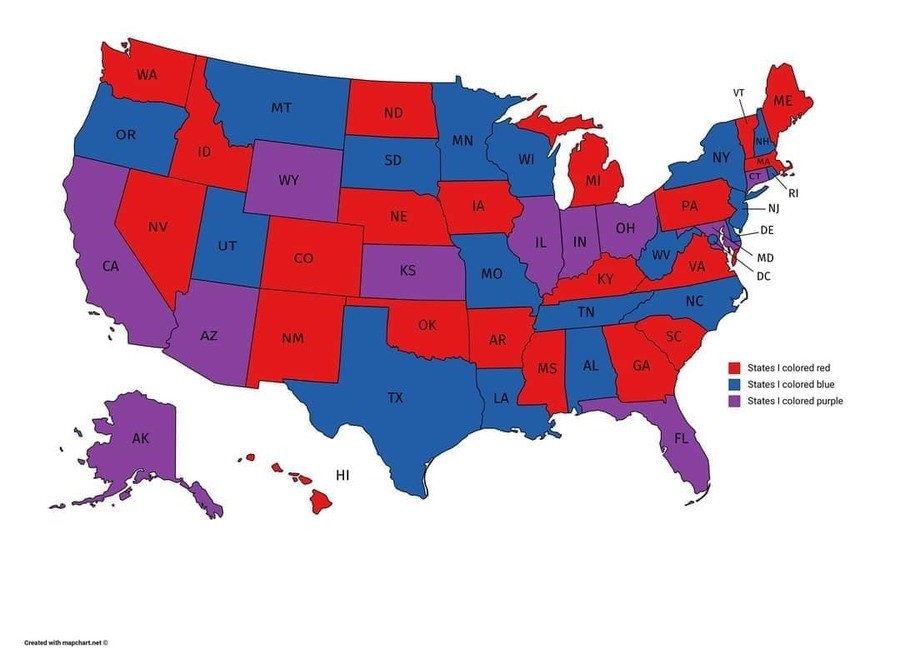 (Theme music for tonight's ONT)
Deus Vult!
I was today years old when I learned about the International Medieval Combat Federation. Apparently lots of European nations field teams in this martial art, where teams of knights fight in full armor with actual (blunted) weapons. They even have world championships each year, this year it's happening in Poland in May. I'd love to go but it's just a little too short notice, plus I'm not sure what the international travel situation will be. Sounds to me like it would be a hell of a time, like a Ren Faire without all the "edgy" Zoomer types. Here's a clip from a couple of years ago, check out the hit at right around 1:05. The guy with the bearded axe puts a major crease in the other guy's helmet.

This Is My Shocked Face
Milwaukee Judge and President of Drag Queen Story Hour Group Arrested, Charged With Child Pornography

Wait, you mean that a guy who works to expose children to sexually deviant people was found with child pornography? What are the odds? This has got to be a first!
(ETA I see Ace covered this today, so I'm going to cut the rest of this. Go read Ace's post)

Best And The Brightest In This Administration
Who's Afraid of Jennifer Psaki? (Link goes to The Moscow Times)
"The return of Jen Psaki to the team of the elected, according to preliminary data, U.S. President Joe Biden was expected, but the fact that such people occupy high government posts in a nuclear superpower is naturally alarming," Elena Panina, a member of the State Duma's International Affairs Committee, told the state-run RIA Novosti news agency.
It's all propaganda, of course, and she was referring to this administrations "confrontational" attitude towards Russia, but personally I find an administration that has a spokesperson who couldn't figure out how to pour piss out of a boot if you printed instructions on the heel to be "alarming" too.

A Smart Military Blog

Ok, this is actually an ad for World of Warships, but it's also an interesting rundown of the ebb and flow of the fleet strength of the various combatants in WWII. I did not know, for example, that, on average, Germany had a new sub entering service every 2 days. Of course, by 1943 the US and Canada were putting 3 transport ships into service every day, which more than counterbalanced the German sub fleet.

Magical Healing Tits
This is amusing. It would be even more amusing if the bird in question were also a tit, then you'd have a real tit on tit situation.

First World Problems
Potato letters ruin dinner for mum
I'm literally shaking, having a flashback to the time my alphabet soup called me a dick.

Amazing Information
30+ Everyday Items With A Secret Hidden Purpose
Guys, guys, guess what? Your watch pocket was originally designed to hold watches. I know, right? Lots of other "info" that you probably already know at the link.
Tonight's ONT has been brought to you by the Maned Wolf: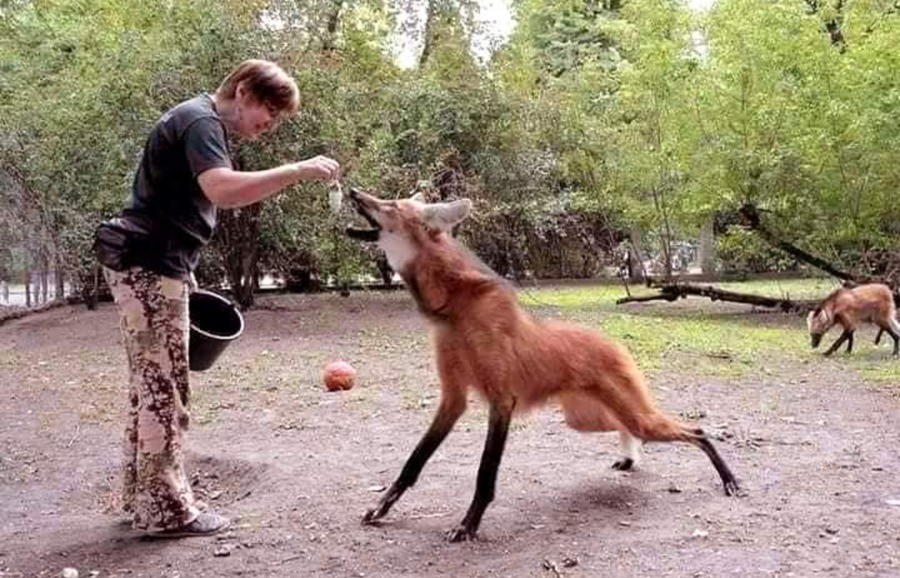 Leggy boi!

ETA, because it's come up in the comments "it is neither a fox nor a wolf. It is the only species in the genus Chrysocyon". From the Wiki link)

posted by WeirdDave at
09:58 PM
|
Access Comments