« The Washington Post Issues a "Correction" Which Clarifies That Every Claim Made In Their Story Stating that Trump Told the George Secretary of State to "Find the Fraud" Was a Lie
|
Main
|
Grammys Feature Anti-Semitic Hate Preacher Tamika Mallory, Women Showing Off Armpit Hair, and Literal Softcore Lesbian Scissorporn »
March 15, 2021
All Cable Nets Lose Ratings Post-Trump, But the Rabid Cvcks of CNN Lose the Most
Tucker Carlson hasn't even lost 5%.
His White House tenure may be over, but Donald Trump is sorely missed by cable news networks.

VIP has previously covered the initial ratings decline Fox News, MSNBC and, most of all, CNN, saw in President Biden's first week, as the nonstop controversies of the previous administration slowed down.

Our prediction that audiences would perk up for President Trump's second impeachment trial proved correct. But in the weeks after the trial ended, audiences for CNN have plummeted; MSNBC is seeing about half CNN's drop, while Fox News is down single digits. While the left-leaning networks may be losing steam without the ability to feed off of Trump being in office, conservative audiences have found new focal points for their concerns.

...

Beginning first with total audience, it's clear that CNN is the network that misses Trump the most. Trump-bashing tirades lack their zip with their protagonist taking on a much lower profile post-election, with "CNN Tonight with Don Lemon" and "Anderson Cooper 360" seeing their average audience in the first week of March one-third lower than the first week of December.
Trump is their antagonist, not their protagonist. Garbage-tier.
Some Pie Graphs, minus any pie because Brian Stelter ate them all, show how much CNN is losing through primetime. The first chart shows total ratings, the second chart is the ratings "in the demo" of people aged 25 to 54.
Supposedly that's where CNN makes up for its total-ratings disadvantage.
But now they're losing "in the demo" viewers like crazy.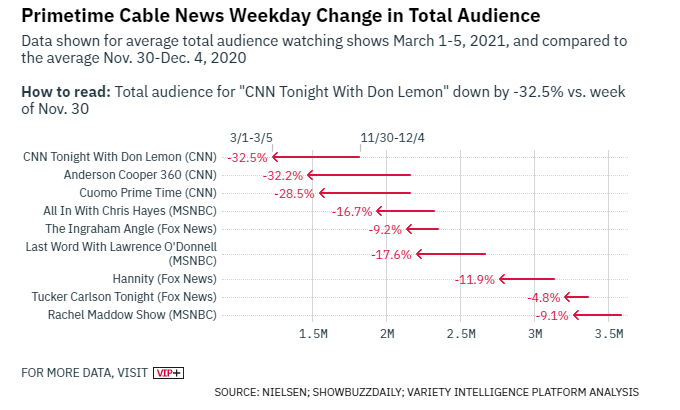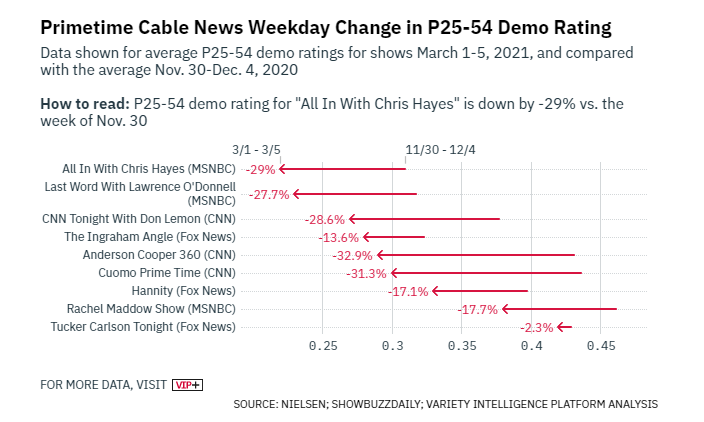 Maybe part of the reason that CNN is losing more than MSNBC is that CNN treated Cuomo as a savior.
Eric Wemple pointed this out to Brian Stelter -- after ridiculously claimed that very recent coverage of Cuomo proved that conservative charges that the leftwing media goes easy on Democrats is a "conspiracy theory" (have you noticed, everything the left doesn't agree with is a "conspiracy theory" now, and NeverTrumpers continue echoing the same claim?) -- and Tater refused to even answer.
CNN's ratings decline won't hurt its advertising revenue, though. Because corporations are now under the exclusively control of the Maoist left, and the Maolist left takes over every organization to turn into a propaganda arm, or funding mechanism, for other Maoist left ventures.
Be still my heart Update:
97 The interesting item here that *very* few people discuss is that this is clearly not a zero-sum game. Every single network is down and down badly. The audience didn't get redistributed, it *shrank.*

But here's the thing: it isn't just the news. TV shows - network and cable - are also down across the board. Sports are down. Movies are down. The audience is vanishing. Where are they going?

There are only two answers to that question that I can think of:
1. Streaming
2. Somewhere else entirely

If it is door number one, then it can be possible to adapt to. If it is door number two, though (the audience actually vanished and didn't replace this content with anything else), then that is entirely new territory and no one knows what the implications are. Since mass media was invented with radio, the overall audience has only increased. If the audience is actually shrinking, it is going to break virtually everything across the industry.
It moved.

posted by Ace at
02:49 PM
|
Access Comments