« All Cable Nets Lose Ratings Post-Trump, But the Rabid Cvcks of CNN Lose the Most
|
Main
|
Andrew Cuomo's "Vaccine Czar" Called County Officials Asking for Loyalty Pledges to Killer Cuomo -- Leaving Them With the (No Doubt Intentional) Impression That Their Supply of the Vaccine Could be Halted If They Did Not Pledge Loyalty to Cuomo »
March 15, 2021
Grammys Feature Anti-Semitic Hate Preacher Tamika Mallory, Women Showing Off Armpit Hair, and Literal Softcore Lesbian Scissorporn
Your periodic reminder that pop music is principally consumed by children and teenagers, and they're the only ones who give a shit if their current Fave Rave gets a fucking corrupt industry's Insider Award.
Hey Kids-- it's Baby's First Porn!
Check out the video of whore Megan Thee Stallion pantomiming scissoring and genital-spanking with whore Cardi B.
If you're not at work. Because seriously, this is just an X-Hamster video.
Here's a safe for work picture, taken just before they start pelvic thrusting into each other.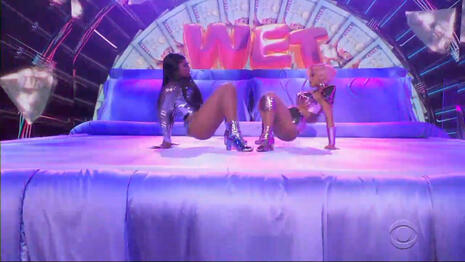 Still, performances by women such as Eilish, Brittany Howard and the just-anointed Best New Artist winner Megan Thee Stallion and Cardi B -- in their first ever live throwdown of their No. 1 smash ["Wet Ass P*ssy"] -- ruled the night.
Say the name, New York Post. Don't cover for your buddies in the media.
Cardi B's 2021 Grammys performance gets X-rated with stripper pole dancing The performance oozed sexiness as Cardi and Megan writhed, twerked and grinded together on a huge bed.
Including softcore lesbian grindporn didn't help much with the ratings.
As it stands right now, they seem to be about... half of what they were last year.
Early ratings from Nielsen have the awards drawing a measly 7.9 million total viewers, although the numbers are expected to climb a bit when adjustments are made for time zones. Still, they're not expected to do better than 2020's awards-- in fact, they may just be at record low levels, according to the Wrap. This article will be updated as the final numbers come in.

Last year, 18.7 million viewers tuned into the event, broadcast from the Staples Center in Los Angeles in pre-pandemic January.
Another crowd-pleaser was this person I never heard of "showing off" her armpit hair.
What an achievement.
Julia Michaels gave a whole new meaning to going au naturale[accent grave]...
Yeah that's not how that's spelled. Do a fucking spell-check at least. It's au naturel, no accent mark.
Garbage-tier media.
Though, all the media is "Garbage-Tier Media," isn't it?
... on the red carpet when she attended the 2021 Grammy Awards in LA on March 14. The Grammy-nominated singer, 27, attended the show, which took place outside Staples Center in downtown Los Angeles, in a strapless black dress that exposed her dark armpit hair -- a bold move that was purposely planned. In May 2020, Julia declared in a tweet, "I'm not shaving my armpits ever again." And, she kept her word.
What a hero.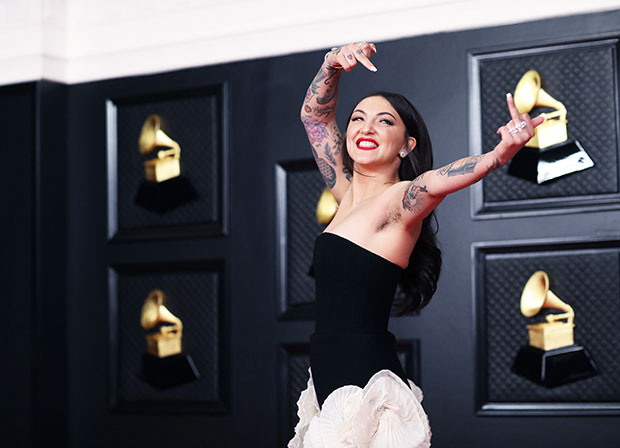 The only grace here is that she wasn't good-looking before growing out the pit-pubes. No net loss for team SuperStraight.

Speaking of heroes:
The very heroic Grammys also permitted radical anti-Jewish Farrakhan fangirl Tamika Mallory to speak.
Mallory: It's a state of emergency. It's been a hell of a year. Hell for over 400 years. My people it's time we stand, it's time we demand the freedom that this land promises. President Biden, we demand justice. Equity, policy, and everything else that freedom encompasses. And to accomplish this, we don't need allies, we need accomplices. It's bigger than black and white. This is not a trend, this is our plan. Until freedom! Until freedom! Until freedom!

You could certainly call it "a hell of a year" with billions in damage, many dozens of innocent lives killed by rioters, small businesses and communities destroyed, and livelihoods ruined. Mallory seems proud of this. Her use of "accomplices" instead of "allies" certainly sounds malignant.

Jewish groups condemned the Grammys for including Mallory, the anti-Semitic former Women's March co-chair who referred to Louis Farrakhan as the "G.O.A.T [greatest of all time]", in their program. After leaving the Women's March board in 2019, Mallory and other noted anti-Semite Linda Sarsour went on to found the social justice organization Until Freedom which has been especially active in the Black Lives Matter movement. Last year, Mallory trashed Daniel Cameron, the black Republican Kentucky Attorney General who oversaw the Breonna Taylor case, as "no different than the sellout negroes that sold our people into slavery."
Note that Gina Carano was fired by Disney/Lucasfilm or merely saying that the Holocaust began with dehumanizing those who would be later targeted for death, but this anti-Semitic (and anti-white, if anyone cares) bitch gets a prime slot to propagandize to the... single-digit millions of viewers watching the Grammys.
Joe Mannix posted this in the last thread:
97 The interesting item here that *very* few people discuss is that this is clearly not a zero-sum game. Every single network is down and down badly. The audience didn't get redistributed, it *shrank.*

But here's the thing: it isn't just the news. TV shows - network and cable - are also down across the board. Sports are down. Movies are down. The audience is vanishing. Where are they going?

There are only two answers to that question that I can think of:
1. Streaming
2. Somewhere else entirely

If it is door number one, then it can be possible to adapt to. If it is door number two, though (the audience actually vanished and didn't replace this content with anything else), then that is entirely new territory and no one knows what the implications are. Since mass media was invented with radio, the overall audience has only increased. If the audience is actually shrinking, it is going to break virtually everything across the industry.
It moved.

posted by Ace at
03:49 PM
|
Access Comments