« Aztec Daze [KT]
|
Main
|
Ace of Spades Pet Thread »
March 13, 2021
Saturday Gardening and Puttering Thread - Daylight Savings Time [KT]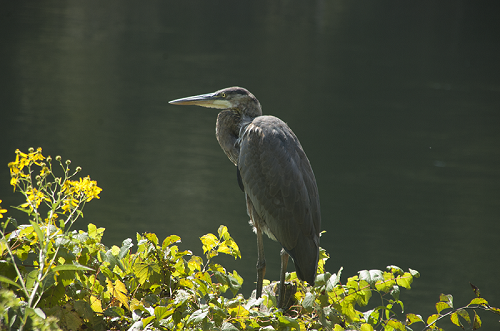 Well, the time change tonight is a sign that things are changing on the ground, too. We are seeing fewer winter scenes to come and more spring scenes. Birds may be more plentiful. The heron photo above is from BeckoningChasm:
Hi KT, attached find some photos of Great Blue Herons. They're pretty plentiful in East Tennessee. Anywhere there's a substantial body of water you can usually spot one. They tend to be skittish when humans spot them, so getting good pics is a matter of being quick with the camera.

The first two are of a female guarding her nest (I'm guessing). As I said, they tend to flee when a human approaches, but this one didn't (I got pretty close but not close enough to be a threat). I assume if I got any closer I'd have been attacked, so that's why I think eggs were involved.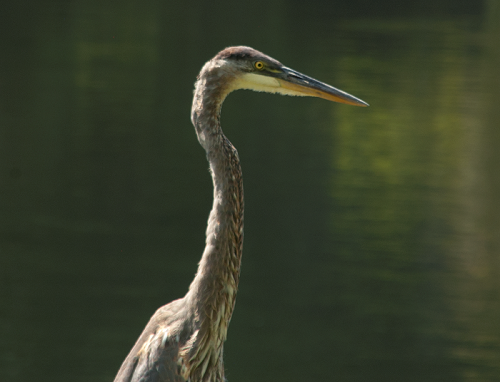 These two are at a different water park. The second I think shows that they can try to look dignified but still look a bit dorky. Like someone wearing a ceremonial suit that doesn't quite fit. Still pretty gorgeous to look at.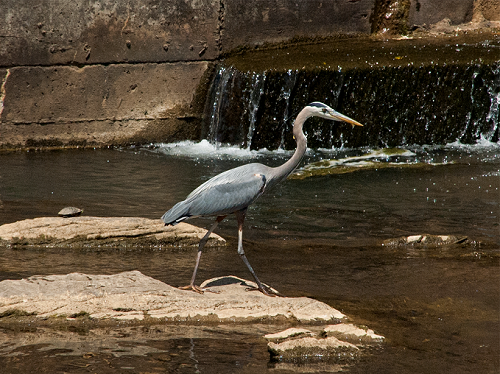 I like those descriptions.
Featured Plants for attracting wildlife - Agastache
Planting Agastache for hummingbirds or butterflies. An enlightening summary. A few excerpts here:
Eastern Types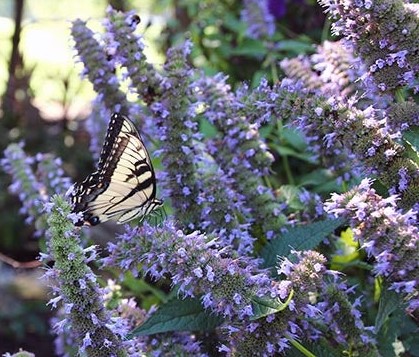 Blue Fortune
The various species found in the Eastern US have smaller flowers and are pollinated primarily by bees and butterflies. The various species found in the Western US and northern Mexico have larger, showier flowers that are pollinated primarily by hummingbirds.

In general, the blue-flowered varieties are more tolerant of moisture and a bit more tolerant of enriched soils. 'Blue Fortune' is a European hybrid hyssop known for its vigor, cold hardiness, and adaptability to grow across much of the US. Like Korean Hyssop, such as Korean Zest Agastache, this cultivar will also perform well outside of the West in the wetter winter climates of the Midwest and East. The Midwestern species Agastache foeniculatum (Anise Hyssop) is also reliably cold hardy.
Western Types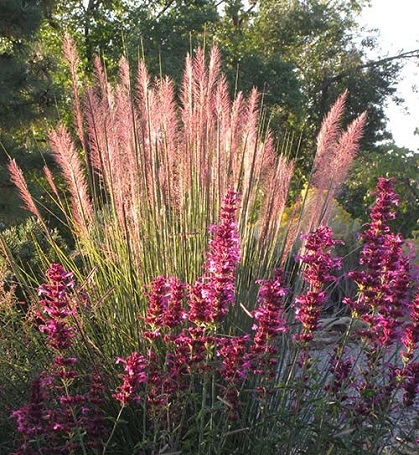 Muhly Pink Flamingo Grass with Agastache Ava
The native species and hybrids of Southwestern origin are famous for their large flower spikes in orange, pink, and red hues. These Agastache are unsurpassed at attracting hummingbirds. If you have them planted, the hummingbirds will find them!

Native to dry, hot, and sunny climates, these varieties are ideal for low-water landscapes. They need well-drained soil in the garden, and they are sensitive to cold, wet winter soils.
How To Grow Agastache: The Secret To Cultivation

The important thing to remember about successfully growing the Hummingbirds Mints is "tough love.". .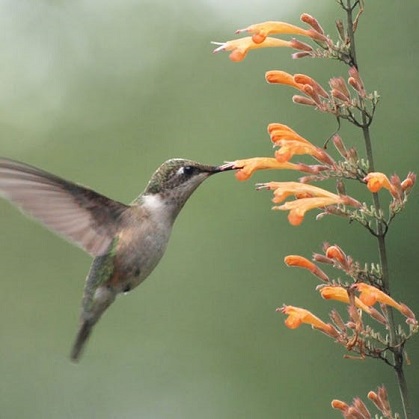 Apricot Sprite Hummingbird Mint
They are also featuring milkweeds for monarchs at this site right now. Be sure you don't plant the weedy ones where they can become a nuisance.
Interesting note: expect aphids with milkweeds. Don't worry. The ladybugs will eat them.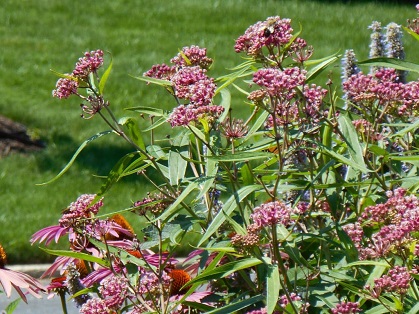 'Rose' Swamp Milkweed
Living off the Land
We got a suggestion about preparing for the hard times last week. Here's one interesting set of skills:
It's a nice time of year here in the Great White North. Temperatures are rising, the days are getting longer and its maple syrup time. When we bought this property over 40 years ago we knew we had some sugar maple trees so during one late winter weekend visit we decided to try making maple syrup for the first time. My problem was I couldn't tell which were the sugar maple trees without their leaves (I can now). I also didn't know that the ideal weather for maple sap to run is a few sunny degrees above freezing during the day and a few degrees below at night.

So, not knowing which trees were which, and having less than optimal weather conditions, we proceeded to tap a few trees near our camping shack. We got a little sap that dripped slowly from 2 or 3 of them, in total about a pint. We boiled it on our camp stove, still not knowing if it was maple sap and ended up with a bit of stickiness on the bottom of the pot. When we tasted it, eureka! Maple syrup! After that it was a favorite time of year for a family visit to the shack.

Over the years we progressed from camp stove and pot, to a giant blue porcelain canning pot on a roaring camp fire, then finally to proper boiling and filtering equipment which we have now that we live here full time. I just finished tapping our trees, early March being typical for our area. I use plastic food grade buckets with a MacGyvered lid for individual trees, and tubes for small groups of trees if they are close enough together and on a bit of a grade. The B&W photos show our old camping shack and official sap tester on that first syrup experiment 35 years ago. The other photos show how we collect now with buckets and tubes.

I'll send an update once we get rolling.

- PointyHairedBoss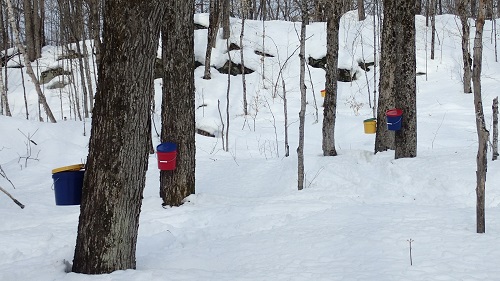 Buckets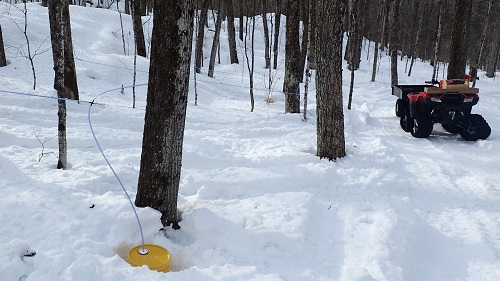 Tubes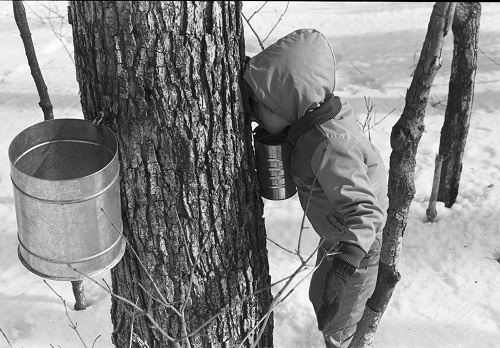 Sap Tester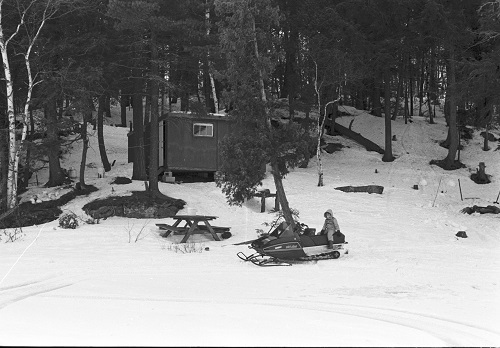 Camping Shack
Notable comments from last week
Perils of saving seeds - and depending on commercial sources to have seeds.
Being prepared may include sharing some of your seeds with friends!
Continuing the saga of starting hot peppers that take a long time to germinate (comment just above).
Note: Where to buy native seeds.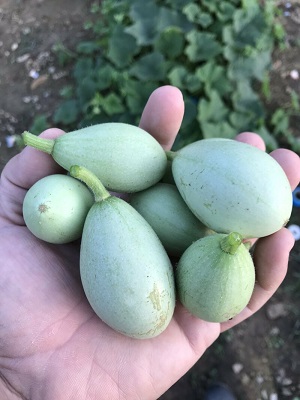 Chicken Egg Gourd
(Note: I don't think I would plant pawpaws from seed, except maybe to pollinate a named variety. Unless I had a lot of land.)
60 gallon harvest of raspberries! Sock Monkey* may want to look through these 70 recipes to make with fresh raspberries, including this award-winning recipe for raspberry cream pie.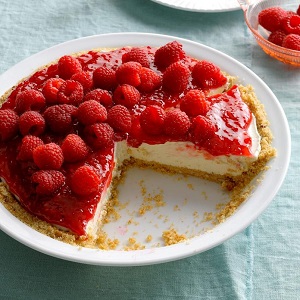 Wonder if he has some recipes for "putting raspberries by" for winter?
Edible Gardening
Something to serve with all those raspberries if you have a lemon tree:
How to eat Murcia lemon leaves
Puttering
It's National Jewel Day. Anybody in The Horde collect rocks or make jewelry?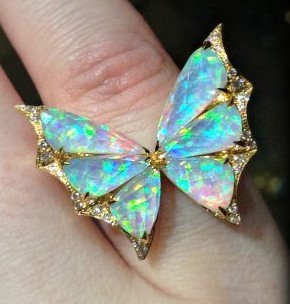 Gardens of The Horde
From 40 Miles North, purple plants:
An unlabeled penstemon recently purchased from Home Depot.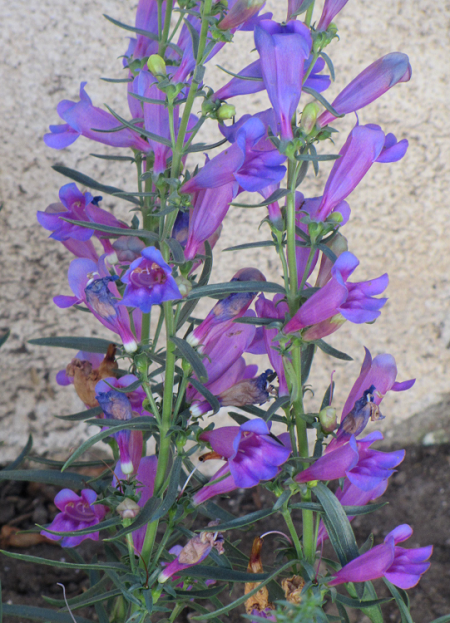 I have an African export with an unfortunate name: osteospermum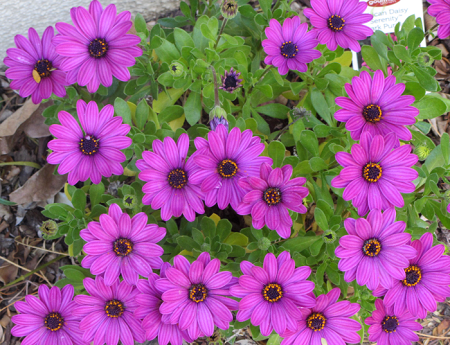 and one of your least favorite plants, Vinca Major: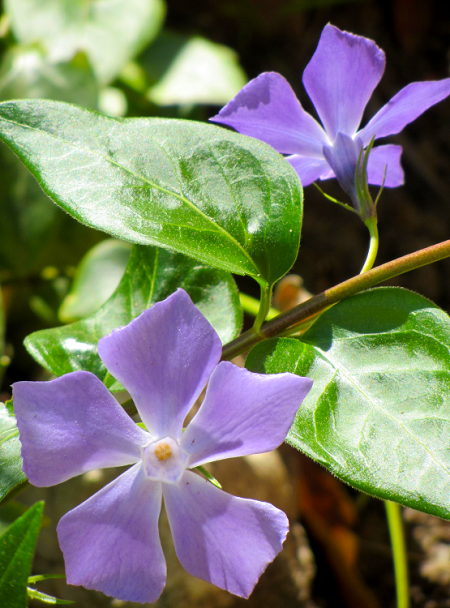 Okay, fine. Don't listen to me. Heh.
If you would like to send information and/or photos for the Saturday Gardening Thread, the address is:
ktinthegarden
at that g mail dot com place
Include the nic by which you wish to be known when you comment at AoSHQ,
unless you want to remain a lurker.


posted by Open Blogger at
01:25 PM
|
Access Comments