« Saturday Morning Coffee Break
|
Main
|
Saturday Gardening and Puttering Thread - Daylight Savings Time [KT] »
March 13, 2021
Aztec Daze [KT]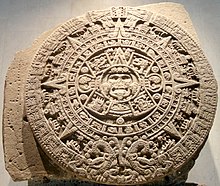 Aztec Sun Stone
Teaching Cultural Countergenocide in California Schools
I wonder what the Aztec Calendar would tell us for 2021.
J.J. Sefton picked up this shocking piece by Christopher Rufo:
Next week, the California Department of Education will vote on a new statewide ethnic studies curriculum that advocates for the "decolonization" of American society and elevates Aztec religious symbolism--all in the service of a left-wing political ideology.

The new program, called the Ethnic Studies Model Curriculum, seeks to extend the Left's cultural dominance of California's public university system, 50 years in the making, to the state's entire primary and secondary education system. . .
There's lots of really good detail about the ideology behind this proposal. Here are some of the suggestions for implementation:
"Students first clap and chant to the god Tezkatlipoka--whom the Aztecs traditionally worshipped with human sacrifice and cannibalism--asking him for the power to be "warriors" for "social justice." Next, the students chant to the gods Quetzalcoatl, Huitzilopochtli, and Xipe Totek, seeking "healing epistemologies" and "a revolutionary spirit." Huitzilopochtli, in particular, is the Aztec deity of war and inspired hundreds of thousands of human sacrifices during Aztec rule. Finally, the chant comes to a climax with a request for "liberation, transformation, [and] decolonization," after which students shout "Panche beh! Panche beh!" in pursuit of ultimate "critical consciousness."

The ultimate goal is to "decolonize" American society and establish a new regime of "countergenocide" and "counterhegemony," which will displace white Christian culture and lead to the "regeneration of indigenous epistemic and cultural futurity."
David Thompson in the UK took note of this proposed program:
Academic standards may not be quite up to snuff, but hey, look on the bright side. The kids can use class time to appeal to unseen demons, thereby bringing about "decolonization" and its "healing epistemologies."
as did his commenters. Two examples:
Call it Cultural Appropriation - hopefully their heads will explode
I'm imagining some California teacher actually teaching the pupils what proper worship of Tezkatlipoka entails, and then said pupils, a few years later, dutifully taking appropriate action.
P.P.S. My policy recommendation: radically decentralize the public school system and give parents the $15,000 a year per child to choose their own education. Families deserve the chance to educate their kids--not subject them to this taxpayer-funded poison.
Do you agree with him, or are you thinking more along the lines of, say, pitchforks?

In case the anti-white cultural "countergenocide" isn't enough:
When California Ethnic Studies curriculum was first devised, Jewish groups approached it the 90's way: lobby the State to remove antisemitic lessons, and add something nice about us Jews instead.

As a result, curriculum was rewritten even more viciously.
Oh, and then there's this. Lookin' at you, Bill Gates:
The capitalists who sell ethnic studies:
After circulating two widely criticized drafts of an ethnic studies curriculum, the California Department of Education must now determine whether to accept a third widely criticized draft this month. The common denominator across all three drafts is that they are based on "critical ethnic studies," which holds that capitalism is a form of power and oppression and is related to imperialism, White supremacy, and racism. The critical ethnic studies foundation in this program is the principal reason why more than 80 groups and organizations continue to object to one curricular draft after another.

Yet for all of capitalism's alleged faults, those who sell critical ethnic studies and its cousin, critical race theory, are using the capitalist model, which they criticize, quite well in their own enterprises and organizations. The San Mateo school district has hired an education consulting business to offer two-hour online webinars at $350 per participant to help teachers self-reflect on their journey to becoming anti-racist and to help them "dismantle racist mathematics education."

Participants receive a toolkit, which lists ways that "white supremacy culture" infiltrates math classrooms. This culture is allegedly problematic because it focuses on getting the "right" answer and on students needing to show their work. . .
The countries with the highest-performing math programs teach math traditionally. Students from Shanghai, China, often place first in international math assessments of students across countries, and the Shanghai kids learn math the old-fashioned way. As in, there is a correct answer, and with marks taken off an exam if proper notation is not used. The United Kingdom recently brought 60 math instructors over from Shanghai to teach.
Aztec Supremacy didn't start with the proposed Ethnic Studies program above
A couple of decades ago, the Mexican American student group MEChA (which has undergone some name changes over the years, heh) was prominent in a real effort to return "Aztlan" to Mexican, or at least Mexican-American, control. Part of that effort was to take control of small towns in Central California, where I live. The guy who headed up MEChA nationally was a racist and Mexican nationalist. Latinos (or, today, Latinx - or is it Latinxs?) who were not Mexican were not held in particularly high regard in that organization. Sounds like some of that vibe still persists in the proposed California Ethnic Studies Program. Why pick imperialistic Aztec gods to replace Christianity?
My personal experiences during those times were consistent with what I read and heard about this organization (which managed to send college students to Cuba before that was an easy thing).
In one town where I substitute taught occasionally, there was apparently at least one teacher who had some sort of degree in Ethnic Studies at Berkeley. A high school chapter of MEChA was started. People were elected or appointed to the school board and city council through aggressive action. Activist teachers were hired, with or without teaching credentials.
The award-winning English immersion program in the district was scrapped for one in which immigrant parents were cajoled into putting their kids into a program with minimal English instruction. Kids who were quite fluent in English entering kindergarten from the federal Head Start program knew little English by the end of first grade. ESL classes in high school were taught partly in Spanish. Arab kids carried dictionaries and learned both English and Spanish.
In one third or fourth grade ESL classroom, there were murals covering all the walls promoting the glories of the Aztec gods. I wondered what they told the little kids from Guatemala, whose ancestors may have been among those sacrificed to those gods. There were related murals in one high school classroom, with added Mexican nationalist art.
Don't little kids of Mayan (and other minority-Latino) heritage matter?
In older elementary grades, there were fights between the boys from Mexico and the boys from Yemen about whether Mexican or Arab culture was superior. One boy from Yemen, upon learning that I had met someone from the UAE, confided to me after class that he had watched a movie with his family about Arabs killing Mexicans with machine guns. I doubted the story, but the hostility was real. They never talked about American culture.
One of the activist teachers disabled the sound system during the Constitution Day program so no one could hear the kids' presentations.
There was some violence among high school students, with hostility toward white cheerleaders in particular. A new club was started to counter the divisiveness of the MEChA club.
I substituted in a high school class one day in which a student (who looked pretty white) declared to me that all totalitarians throughout history had been white. Wonder who taught him that?
The insanity extended into city government. Eventually the citizenry rose up and pushed back. But it took too long for that to happen.
When I wrote online about some of the things that had happened in this town, and connected them to MEChA, I was notified by the IS department at UCLA that someone on their system had tried to breach my computer's security.
Anyway, the town eventually recovered, mostly. I think. My computer didn't get destroyed by the MEChA club at UCLA.
But it only took a few people to radically change things very quickly in that town.
When the state government wants to start a program of cultural "countergenocide" I don't think we have the luxury of calm reflection on their intentions.
Anything like this going on where you live?
Music and Dance
A more refined counter-invasion of Europe.
Hope you have a good weekend.
This is the Thread before the Gardening Thread.
Serving your mid-day open thread needs

posted by Open Blogger at
11:23 AM
|
Access Comments