« Michael Anton: Why Do Those Who Claim The Election Wasn't Rigged Require Us to Confirm That Claim For Them?
|
Main
|
Oklahoma Man Released From Prison Due to Covid Murders Three More People »
February 24, 2021
South Dakota AG Accused of Lying About Fatal Car Accident Last Year
Last September, South Dakota's Attorney General hit and run a man, killing him.
Or, rather: He claims it wasn't a hit and run because he didn't know the thing he hit was a human. He says he didn't know it was a man until he revisited the collision scene the next day.
Problem: Prosecutors say the dead man's eyeglasses were found in his car.
Pretty sure deer don't wear eyeglasses.
From the Washington Post: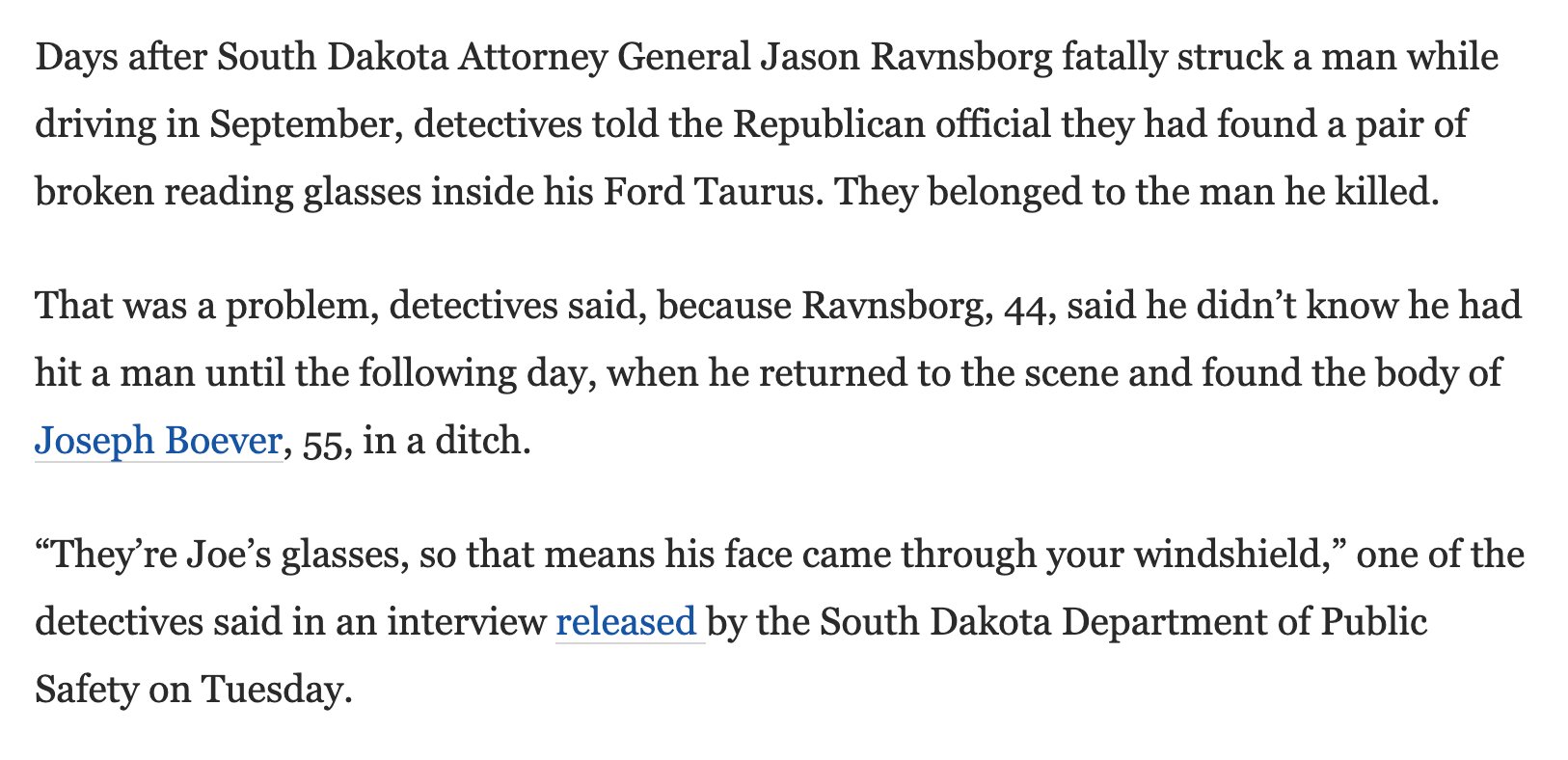 He's a Republican so believe me, you'll be hearing a lot about this!
Who's Andrew Cuomo? I'm not familiar with the name.
Impeachment charges have been filed against him, and Governor Kristi Noem says he must resign:
Governor Kristi Noem @govkristinoem

Now that the investigation has closed and charges have been filed, I believe the Attorney General should resign. I have reviewed the material we are releasing, starting today, and I encourage others to review it as well.
Did he run to take a Teddy Kennedy pause to clear the alcohol out of his system? He says he wasn't drunk, but... One wonders.
Here's the video of a police interrogation. I don't know when it's from, if it's from around the time of the incident or if it's from more recently.
It starts getting contentious at 1:10:00. They tell him the "face came through the window" at 1:11:00.

posted by Ace at
01:30 PM
|
Access Comments