« Food Thread: The Maple Syrup Fairy, And Other Myths.
|
Main
|
Sunday Overnight Open Thread (2/14/21) Romance Edition »
February 14, 2021
Gun Thread: Happy Valentine's Day Edition! [Weasel]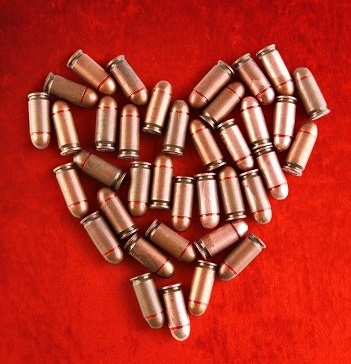 Well Howdy and Happy Valentine's Day, y'all! It's both Sunday, and Valentine's Day, and we all know what that means! Happy Valentine's Day Edition Gun Thread! I bought WeaselWoman some candy, which I promptly opened and ate most of, and also got the doggos and kitty some treats which I did not open and eat, in a rare display of personal restraint. It's a rainy, icy weekend here in the Mid-Atlantic, so no farm this weekend. I haven't been down there in weeks, mostly owing to my work schedule, but that has calmed down and I really need to check on things and to do some shooting. I have been wanting to do a .22 rifle video for a while, so that's next on the list.
So what, you may ask, does a Valentine's Day Gun Thread entail? Great question! We haven't had one before, according to the Gun Thread Archives, so I really have no idea.
Let's find out together down below, shall we?
We've been talking lately about bringing old and neglected guns back from the dead, and our pal DB Cooper starts things off with a teriffic rescue story.
A friend of mine brought me this 1911 with the story that he found it in the sleeper of a burned-out Peterbuilt when he was 6 years old. It was his toy gangster gun throughout his childhood. It had one round in the mag and had cooked off and buldged the frame. I threw it in a bucket of Kroil for about 2 weeks and beat the snot out of it with a mallet till things started moving. After I got it dissassembled I re-set the frame rail dimensions in a vise and jig. Worked all the crud off the rails by cycling it with valve grinding compound. I installed new parts and springs I had in stock and a set of Esmerelda Cocobolo grips I had. For the first test fire, I put on a heavy glove and aimed it around the corner of my heavy steel dump truck bed while I looked the other way. Success!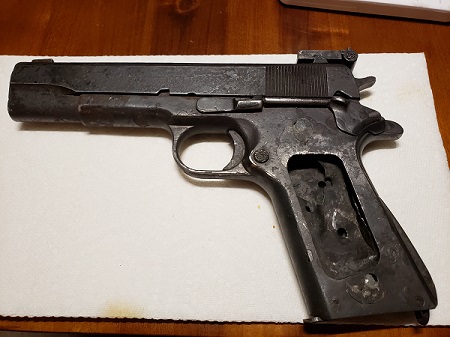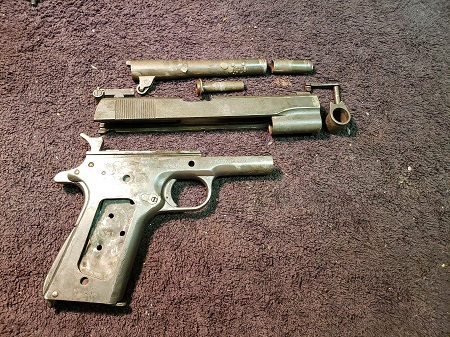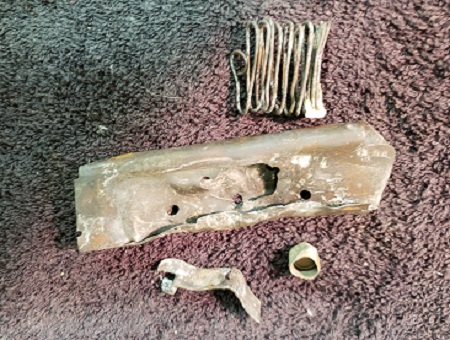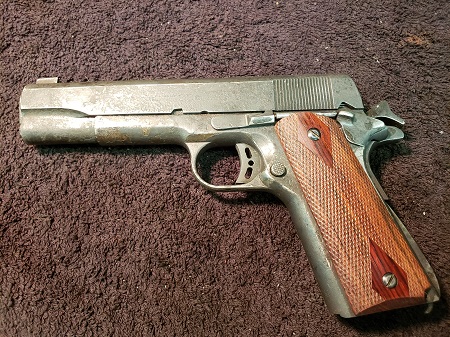 Had to do some polishing on the feed ramp and a trigger job and functioned perfect. I was somewhat concerned with loss of heat treat so I put 200 rounds thru it and re-measured everything. It was in-spec and no visible issues. It's pretty accurate too. I gave it back to my friend who was totally surprised. He didn't know I was working on it. It's kind of a funky back from the dead Rat-Rod gun.
Very nicely done, DB Cooper!! Thank you for sending this in!
******
I'm not a hunter and never have been, but I don't have anything against those who do hunt, it's just not my thing. I know it's something that countless gun owners do enjoy, and in some cases rely on to at least help put food on the table, so as long as it's done responsibly, hunters and hunting are A-OK with Weasel. I mention this because I recently received an email from our pal and delightful 'ette Sharon (One of the Quiet Ones) who while mostly a lurker on the Gun Thread, brings up a good point on the use of lead bullets or shot while hunting, and the effect it has on the food chain.
I received an email update today on one of the youngsters from the Decorah Eagle nest. I've been an avid watcher of their eagle nest cam for years and follow the growth of the babes from hatching to fledging. This update discusses the death of one of the transmitter-monitored young eagles, found dead of lead poisoning. It's quite an interesting read; most importantly it stresses the need for hunters to move to non-lead ammo.

"How did lead shot kill D35? Scavenging animals consume lead when they eat animal carcasses or gut piles that contain lead shot or lead shrapnel. This is completely preventable! Many hunters make a conscious decision to hunt ethically and change hunting traditions in their families for the better, which includes moving to non-lead options. We can and should buy non-toxic/unleaded ammo for all game hunting. It protects everyone who eats the game we put on our tables and prevents the lead-related death of non-target species, like bald eagles, that eat carcasses and gut piles."
Here is a link to the Raptor Resource Article quoted above, and a link to their eagle cams.
What are the alternatives to, as apparently was the culprit in this case, lead shot? Stainless steel? Copper? Manganese? Space-Age Polymers? Although I have heard it is an issue, I really do not have any idea what the options are and if they are better or worse than the plain lead that has been used pretty much forever. What do you all think? What are the arguments for and against using alternatives?
******
Next up, our pal Vartarg shares his story as a Benchrest competitor and shows us his very nice rifle setup! Benchrest competition is a lot like F-Class, except the Benchrest guys have the sense to get up off the ground and fire from a bench, hence the name. Here is a link to the International Benchrest Shooters website.
I received my first gun, a Remington bolt action .22 when I was ten, and my first shotgun, a Winchester Model 12, when I was twelve...both gifts from my parents. So I've been around guns for a long time. I'm now 81 years old.

Along with a great deal of handgun training and shootings, over time I became an NRA firearms instructor as well as an NRA Law Enforcement instructor for handguns and shotguns. I've been a legal concealed carrier since LA first past our CCW law in the mid-nineties and even taught the required course for two years in Houma LA.

Currently my attention, and my money, are focused on long range rifle competition known as Benchrest. Our local club holds matches for both 300 and 600 yards every month.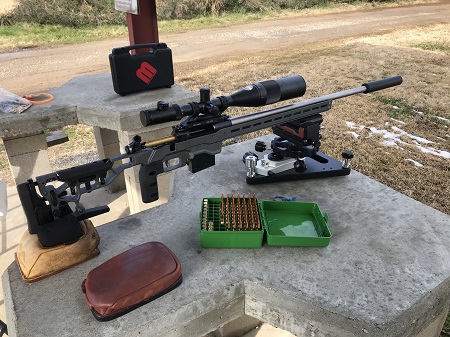 Here is a photo of the rifle I'm currently shooting with, a Savage 110 Elite in 6 Creedmoor. Although it's most often used with a bipod and rear bag in a "tactical" format, mine is set up as a benchrest gun with a mechanical front rest and rear bag suitable for allowing the gun to slide rearward during recoil. The aspect of this which I enjoy almost as much as the shooting is the hand loading process of loading my own rounds to suit my particular gun. I've hand loaded many calibers for many different guns over the years but now limit my self to the 6 Creedmoor and 9mm pistol ammo.

The range, btw, is the Prince Memorial gun range near Pioneer Louisiana....we also have PRS matches. We have shooters from several areas, from Arkansas, Mississippi as well as Louisiana. Male and female, old and young.
Very nice report Vartarg! And that's a very nice looking rifle, too. Thanks for sending this for us all to appreciate. I'm sure we'd all like to live vicariously through your match reports!
******
Next up, our pal GWB is looking out for those who are looking for ammunition.
I had a thought about procuring ammo. What if suppliers set up a subscription system? You would pay more, but you could, say, subscribe for 200 rounds of 9mm a month and 100 of 5.56, to be shipped on the 10th of each month. Then, when ammo came in to the supplier they would set aside your 300 rounds and ship it out when the 10th rolled around. Well, here's something that appears to be akin to what I was suggesting "Introducing Ammo Prime membership subscription program at Target Sports USA It's $95 for a year, and you get...

PRIME Discount on ALL ammo every time you shop for a whole calendar year
FREE Shipping on every order with no minimum order amount & no promo code required
Priority Inventory Alerts - Prime Members are notified prior to all other customers when new inventory is added to the site
Expedited order processing on all orders
Member Exclusive manufacturer deals & access to Prime Exclusive Products
VIP Phone Support - You will have your own direct line to a Prime customer support rep to help with anything you need.
Free Mystery Box - Prime members will receive their Mystery Box in the 4th quarter of their membership term

Those inventory alerts sound almost like a subscription for ammo. And I bet "expedited order processing" means you get your ammo before El Shmucko, who ordered the same ammo you did within 30 seconds of you. I've been scouring those links you put in each Sunday's thread, and there is just *nothing* available except in lucky finds at $1.50 a round for a box of 50, or $1.49 a round for 1,000. Also, that gunbot link? every single one of their links is to something out of stock. Several of the websites they link to won't even take you directly to the ammo and dump you on the home page, I'm sure primarily because that ammo is actually sold out. But gunbot keeps listing all of this $0.33/rd .357mag (and .38sp, 9mm, .223) that just isn't there.
Thanks GWB! If you subscribe to the premium service, I'm sure we'd all be interested in how it turns out.
******
A couple of weeks back we had a look at the unique Confederate Whitworth rifle. Our pal Fungus Boy sends a more in-depth look at this amazing rifle.
******
Link-O-Rama
I'm really very seriously not kidding around anymore. Buy Ammo
AmmoSeek - online ammo search tool
GunBot - online ammo search tool
SG Ammo
Palmetto State Armory
Georgia Arms
AmmoMan
Target Sports USA
***Mail Bag***
This week we have a great entry out of the 1902 Sears Catalog from our pal WTM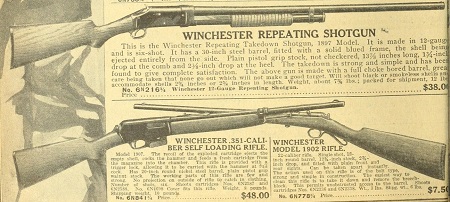 ******
Please note the new and improved protonmail account gunthread at protonmail dot com. An informal Gun Thread archive can be found HERE. Future expansion plans are in the works for the site Weasel Gun Thread. If you have a question you would like to ask Gun Thread Staff offline, just send us a note and we'll do our best to answer. If you care to share the story of your favorite firearm, send a picture with your nic and tell us what you sadly lost in the tragic canoe accident. If you would like to remain completely anonymous, just say so. Lurkers are always welcome!
That's it for this week - have you been to the range?


posted by Open Blogger at
07:00 PM
|
Access Comments