« First-World Problems...Part 2C (Base 15)
|
Main
|
Gun Thread: Happy Valentine's Day Edition! [Weasel] »
February 14, 2021
Food Thread: The Maple Syrup Fairy, And Other Myths.
I was visited by the Maple Syrup Fairy a few days ago! Like most of you, I didn't believe that it existed. I figured it was just a silly story that parents told their children when they wanted maple syrup on their French Toast, instead of butter and salt the way God intended.
But the evidence was undeniable...apparently some time during the night the fairy flitted and pranced down from the great maple forests of Wisconsin and deposited two large bottles of the precious stuff on my front porch.
And a note:
Who knew that The Syrup Fairy made marvelous maple syrup and was a smart-ass to boot!
I tasted this side-by-side with comparable Vermont maple syrup, and there were clear differences. I don't pretend to know much about the stuff, but both were very, very good. Plain. unadorned by French Toast or Manhattans. I thought that the Wisconsin version had a more substantial mouth feel, and I think it was more integrated (goofy but useful wine tasting term).
The Vermont syrup makers have done a very good job of convincing us that only Vermont Maple SyrupTM is the real stuff, and that all others are pretenders. But that obviously isn't the case. Whether I can taste the difference in a Manhattan remains to be seen; I doubt I can. But straight out of the bottle I would be very happy with either one, and I think it would probably come down to personal preference; the quality of the Wisconsin version is very obvious.

******
What to do when the lone ripe avocado in the house is already planned for dinner the next night, but loud, insistent, impossible-to-ignore-demands have been made for a dish that requires the richness and fat of an avocado.
And don't tell me to rush out to the market, because the only ripe avocados to be found have large thumb prints in them that hide mushy overripe and discolored flesh. People who stick their thumbs into avocados at the store are just slightly above politicians in my estimation.
Anyway, what to do...what to do? Use mayonnaise of course! So I made a tuna tartare dressing that replaced the avocado with a couple of tablespoons of good old American mayo; one of my all-time favorite foods. Yes, I have put it on chocolate on a dare, and it was fine.
The dish was quite different than my usual, but it worked fabulously. Just to make sure it had a fighting chance I made fresh corn tortilla chips. No, I didn't make the tortillas, but I fried them just before we ate, and that is as good as it gets. It's easy to do, and damn, they are so much better than the crap you can buy in a bag from the supermarket. It's worth the minimal effort.
And the moral of the story is that experimenting is often successful. Or unsuccessful, as we shall see in a few moments.

******
Here are a bunch of pretty good deals on cooking equipment. I can't vouch for the knives, because these companies have so many different models that it is impossible to keep them straight. But I can vouch for the Staub pots..they are excellent, and stupidly expensive.
The 32 Best Presidents Day Kitchen & Home Deals
******
it's easy to fall into the lazy conceit that we have the best stuff. I always assumed that we or the Italians were the masters of the tomato, but along comes a new reader who disabuses us of that notion!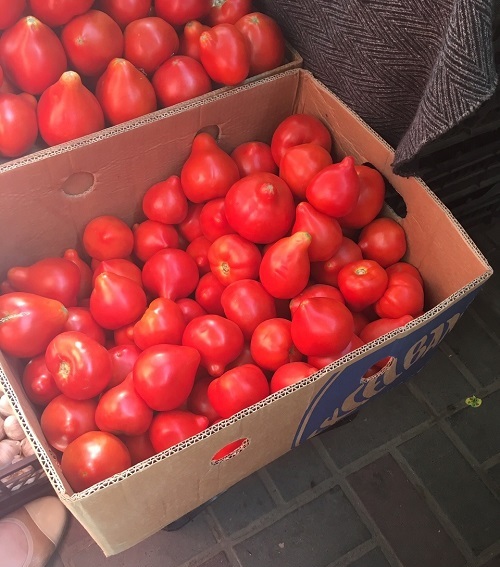 Fairly new reader. As an aside, if I had one criticism it's that your site has so much information it sometimes takes quite a while to load. The tribulations of success.

Had some nice beef short ribs last night, plenty meat on them (but bought by choice from the butcher, not out of the cooler).

But you mentioned tomatoes. My wife is Ukrainian and she looks forward every year to returning home to have some tomatoes. The recent outgoing Canadian Ambassador, when asked what he would miss about Ukraine, responded "The tomatoes. They're really the best in the world!"

Local farmers markets are fabulous and loaded with all manner of fresh vegetables, fresh from the farm milk, chickens, etc.

Here's a picture of a tomato I found there. Plump and flavourful. It's a common variety there that I've never seen here.
Any of The Horde know what variety that is? They're gorgeous, whatever they are!
******
And speaking of the wilds of central and eastern Europe....Here is commenter "Grimmy" with some great food photos from the Balkans.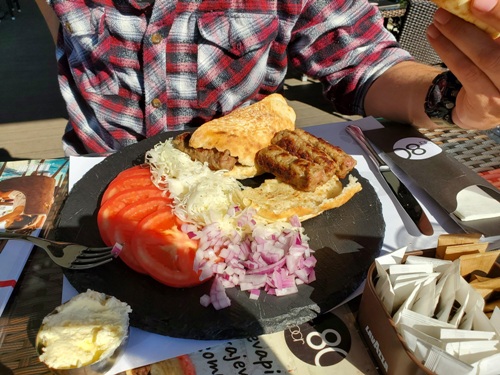 "Cevapi is something I bumped into in Bosnia and Montenegro. It's technically the little sausages, but is often served with flat bread, various greens, and sometimes a butter or cream spread."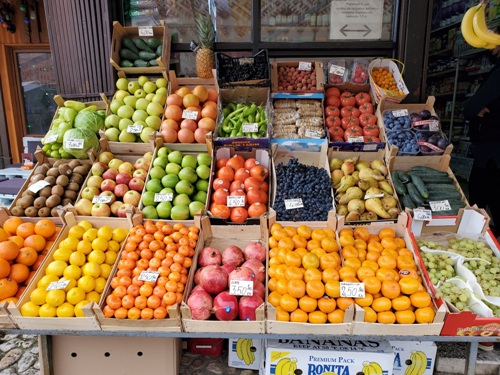 "The fruit stand in Sarajevo could go in the gardening thread...try to identify all the produce! Pricing is weird...2 KM = 1 Euro = $1.20, and 1 KG = 2.2 pounds....I was told there's no math at AoS, so I'll leave it there."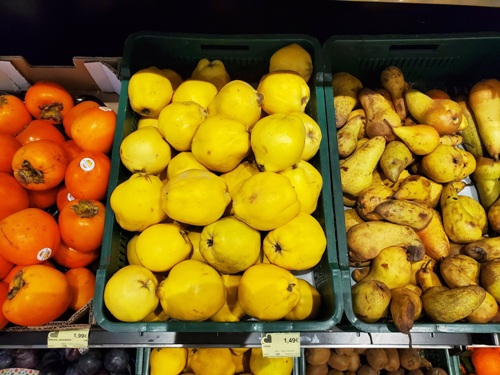 "The quince is a fairly common fruit in the Balkans, but rare most other places. It tastes like a very dry, sour apple, but has an incredibly unique and wonderful fragrance. They start off green, fuzzy and rock hard, and as they ripen, they lose the fuzz and turn bright yellow (but stay rock hard). Apparently they're full of pectin, so used to be very common all over, but once pectin was readily available, most people stopped growing them."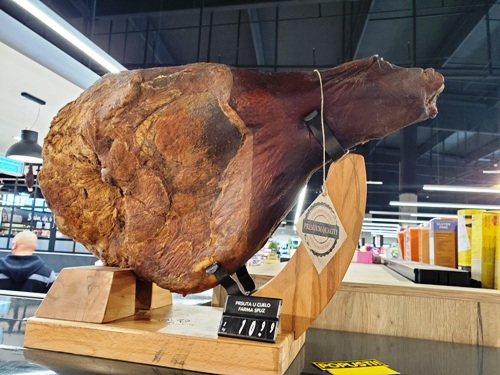 "I'd like to see a food thread on Jamon someday. Many of the international troops I work with vacation in Spain, and they all talk about how great it is, but I've never tried it. Saw it displayed in a grocery store in Montenegro, and took a picture of it."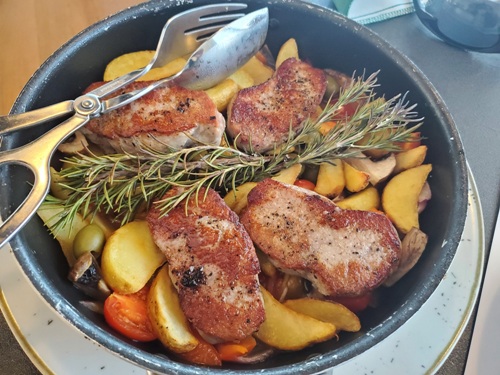 "The Veal House Special"

******
Bitter Clinger, one of our resident bartenders, is beating himself up for a failed experiment. He is probably being unnecessarily harsh, since I am sure that somewhere, someone would drink the crap that he made, But is sure won't be me!
Seriously, part of cooking is the failure. That's how we learn!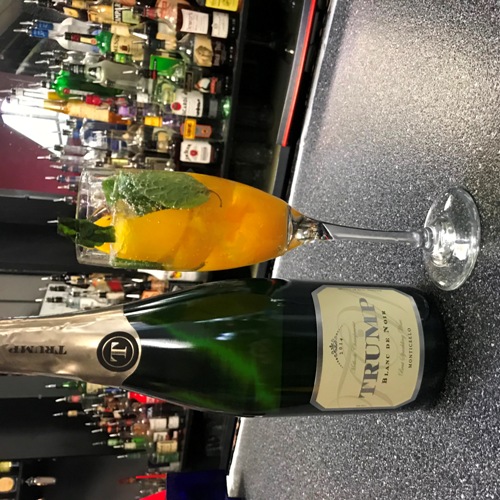 Part of the fun of cooking and making cocktails is trying new things and experimenting. Sometimes it yields delightful results and you have something new in your arsenal.

Ahh, but yet there are those other times when ideas are poorly thought out and things go horribly wrong.

Hey, there's nothing wrong with an honest mistake, we all try and come up short sometimes. But when an idea is doomed to failure and you try it anyway, well you just come off looking like an ignorant piece of shit

Take this Peach Bellini with mint that I tried tonight. It was a stupid idea to begin with and it would never work. You don't try to put mint in with champagne, that's just stupid.

There are so many things wrong with this drink that made it fail. First of all, peaches weren't even in season, so I was forced to use a bunch of canned bullshit. The mint was some wrinkly old, washed up spoiled garbage. Bruised up old bitter mint. But I just thought I'd try to mash it all in there like a big f*cking loser just in hopes of making a showpiece cocktail that I could wow my fans with.

But it was always doomed to fail from the outset. And anybody watching me make it or looking at the final, ruinous result must be thinking to themselves "What a f*cking idiot."

And the worst part is all the wasted time and money that went into this piece of garbage. I am a complete idiot and people should heckle me for my ridiculous clusterf*ck of a failure.
******
Speaking of maple syrup, this looks to be a solid dish, but just laugh and point at the 150 degree temperature for pork tenderloin. It's 140 degrees, otherwise it will begin to dry out. Trust me on this.
Maple Glazed Pork Tenderloin
I love the addition of sage, which I think is an underutilized herb, and one that goes marvelously with pork.
******
Food and cooking tips, Large-breasted Muscovy ducks, young wild pigs, bartenders who use vermouth in Martinis (but not too much), pork belly that doesn't have 5-spice, an herb garden that actually grows herbs, beef short ribs that have meat on them (not the stupid little sliver of bone they sneak into the packages) and good tomatoes that aren't square, pale pink and covered with Mestizo E.coli:
cbd dot aoshq at gmail dot com
. Any advocacy of French Toast with syrup will result in disciplinary action up to and including being
nuked from orbit.
And yes, shaking a Manhattan is blasphemy...it's in the Bible!

posted by CBD at
04:00 PM
|
Access Comments