« Saturday Gardening and Puttering Thread on the Day before Valentines Day [KT]
|
Main
|
Trump Acquitted in Impeachment Farce; Seven (Soon to be Ex-) Republicans Vote to Convict; Establishment Shill and Chinese Agent Mitch McConnell Votes to Acquit, But Then Openly Calls for Trump to be Prosecuted/Persecuted with Further Criminal Show-Trials »
February 13, 2021
Ace of Spades Pet Thread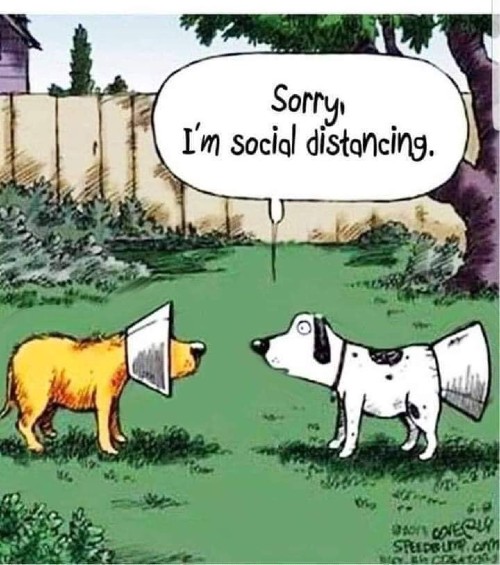 ***

Good afternoon and welcome to the almost world famous Ace of Spades Pet Thread. Kick back and escape the world of current events and politics.
Today's above the fold cartoon was submitted by a couple of Morons. Of course I forgot to make a note of them. Sorry about that contributors.

***
A Little of This. A Little of That.
(H/T Weasel)
***
You want to see a vicious GSD in action? Here ya go.(H/T Dyrck)
***

At least of one of these will make you smile. Almost guaranteed.
***

Do you want to give your pet's paws spa treatment? You can make your own paw balm.
***
Meet The PetMorons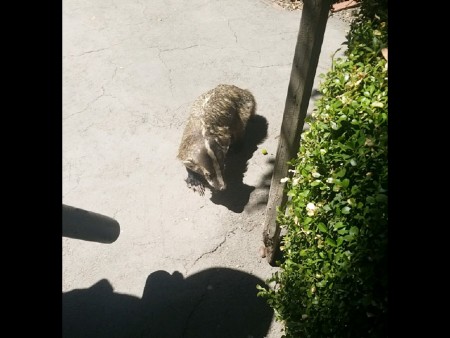 Hey Mis Him, not really a pet but this badger was by my house last year and my ranch guy actually caught him in a cage and moved him to the back of the ranch in the back of a truck. I have no idea how he did it. I told him it was a badger and dangerous. I think he felt sorry for it. - CaliGirl.

Quite the neighbor you have there CaliGirl. I've seen badgers in the wild but never as close as this guy. Your ranch guy was one brave guy at the time. Thanks for the peek at the badger.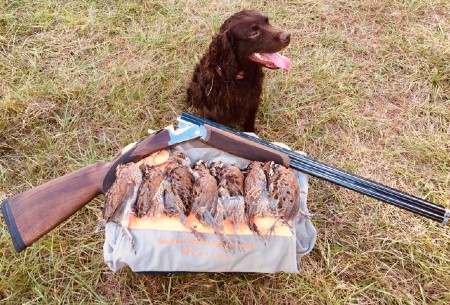 Thanks for including us on the Pet Thread.

Chief is as much a pet as a working dog but he loves to hunt. When he was younger (he's now approaching 15) we competed in field trials and hunt tests as well as hunting quail, dove, snipe, pheasant and ducks. perhaps the best thing I gained from the relationship are friends, mornings in duck blinds and a wall full of ribbons.

Another thing he gave me is a pup from his last litter. Finn is an outstanding field dog and has literally retrieved 2,200 + birds. Finn is a study in dedication and is single minded in his pursuit of birds.

You will find pictures of Finn attached.

Regards, Mike M
Now that I've posted Finn's photo and story I expect my payment. So let me know when and where we are going bird hunting. What a great story about a working sporting dog. Thanks for sharing.
***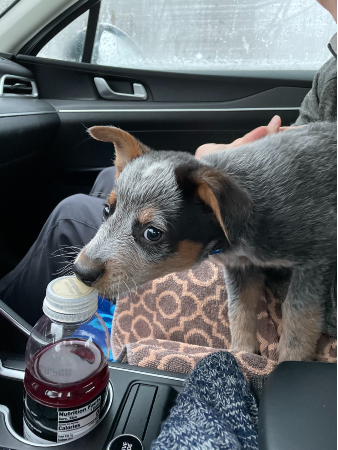 Hi MH,
Jimbro from the Hostages again. Sobek did that drawing of Ollie which was awful nice of him to do. I've sent you pictures of my two other ACD's in the past, Rowan and Lola. When our ACD Star passed in December, 2019 we waited a bit before putting a deposit on a puppy. By the time he was born in November we weren't sure we were ready for a third. That's when we heard that the breeders were calling it quits after his litter. Ollie is our older dog Rowan's half-brother (same sire). With that info in mind we knew that it was a go. The big dogs are letting him into the pack begrudgingly. He is a spirited pup who agitates above his weight class and has had reminders of who the alpha is from his brother on many occasions. He's still learning the ropes around here but he has great potential! I'll send some more pictures of the pack when he's done growing. Thanks, Jim

First of all, no thanks necessary Jim. Folks, Jim submitted a ton of Ollie photos. Tough to choose. He's an adorable puppy with a bright future in front of him. Also Sobek is one hell of an artist. I'm so impressed. Thanks for sharing.
***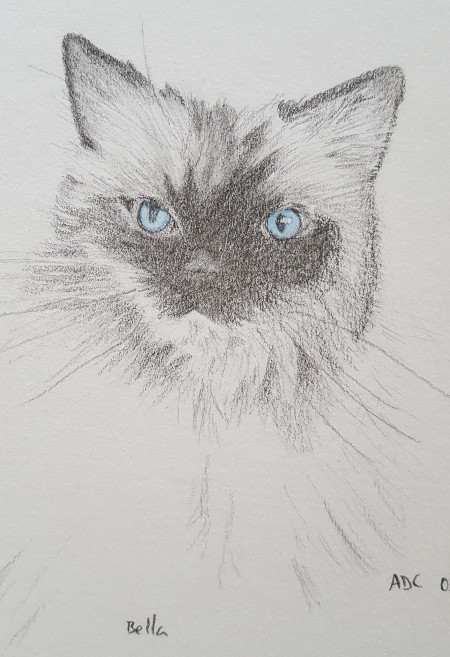 Great group of pets this week, thank you. Here's Bella, one of the featured kitties. What gorgeous eyes. - Sobek Pundit

Speaking of Sobek, here is another great piece of a PetMoron. Thanks for sharing today.
***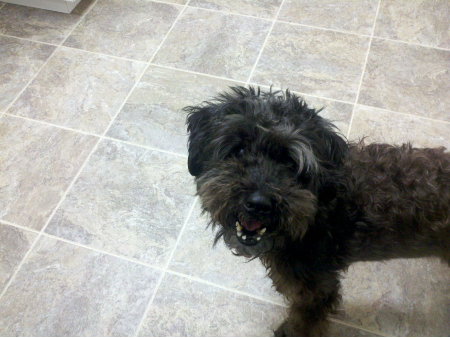 Long time lurker. This is our schnoodle (schnauzer poodle) Buggs. We got him from the humane society when he was 7years old and he is 16 now, deaf and blind but still spoiled rotten. When I do post my name is MammaB

Well, if anyone adopts a pet at age 7 from a shelter we expect no less than spoiling the critter like no tomorrow. Buggs is a handsome guy. Thanks for coming in out of the shadows today.
***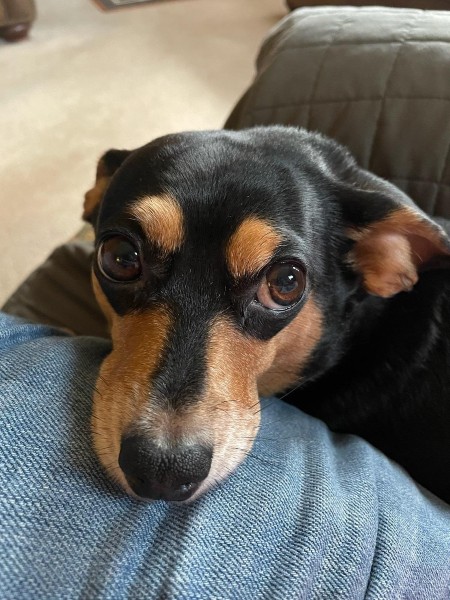 It's been a few years since my little grandpup was featured on the pet thread. Many days he gives me comfort and I can't imagine my life without him. Moose was a svelte 10 pounds when my daughter came to live with us and brought him into our lives back in 2015. He was barely 2 years old then. He turned 7 last November and the little dude has packed on a few pounds, now weighing in at 16 pounds. He's had a few hip problems but overall still pretty healthy. Took this picture of him this past Sunday. Look at that face! If that doesn't melt your heart, nothing will.

Thanks MisHum.. hope to see my little Moose on the pet thread. Daughter will be thrilled. Jewells

Are you sure it's your grandpup? Sounds like Moose is your puppeh ) Great close up shot of him. Cute pup. And we can really tell he is loved. Thanks for sharing today.
***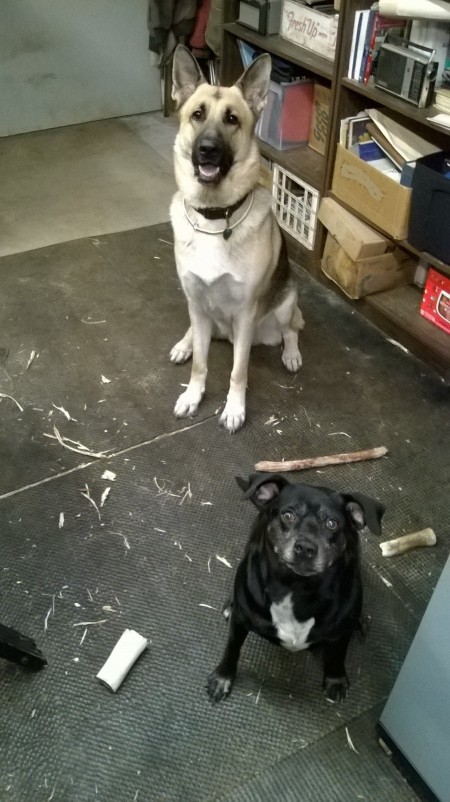 AND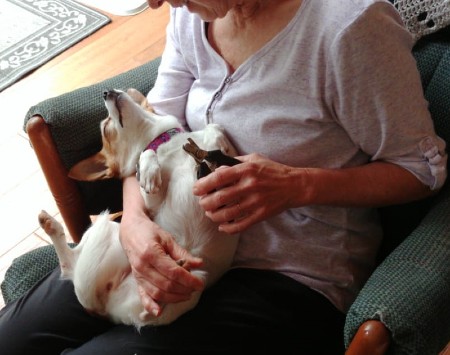 I've owned a number of dogs over the years. Not a one enjoyed their nails being trimmed. Your family portrait is cute. We appreciate your time and efforts for that. Thank you.
***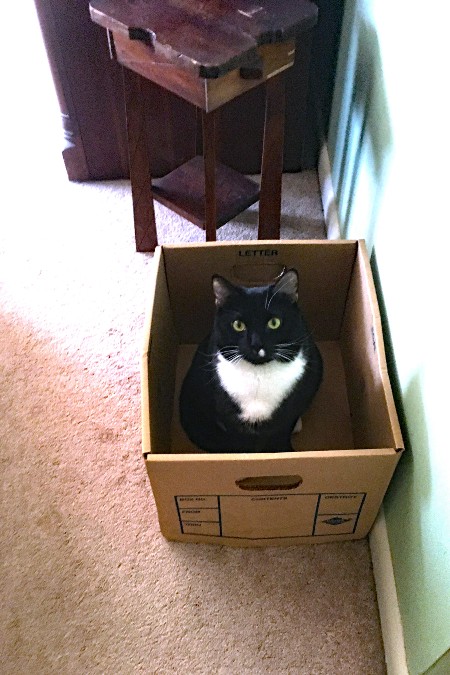 Magnificent Max claims this box! - John

Apparently John is a man of few words and Max's photo is worth a thousand words. Handsome cat. Thanks for sharing today.
***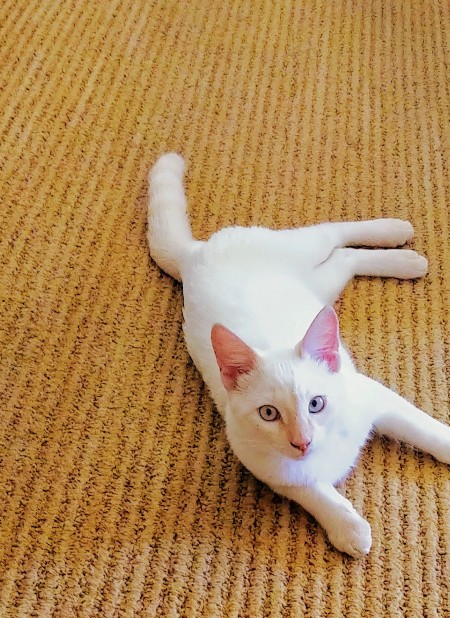 Hi ! This is our cat Aspen, he is 6 months old and is very vocal. He is a flame point siamese. All he wants to do is play and tear around the house a million miles an hour. Also a favorite of his is attacking any moving body part when you go to bed. We love him. -Hatari somewhere on Ventura Highway.
I don't think I've ever heard a pet named "Aspen". That is different and quite cool. Surprised you were able to get a photo of him still. We appreciate your contribution and good luck with your new addition.
***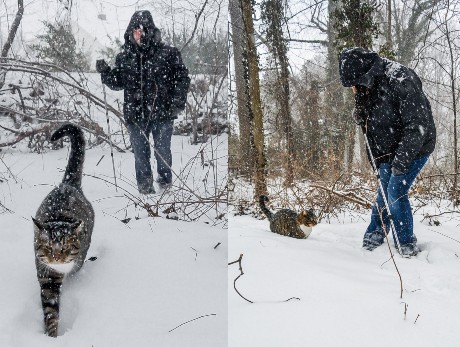 Wanted to get this out while we are still in winter.

The cat leading the wife on a snowy hike is Angus and had showed up sitting under a tree in the yard that summer. He sat and watched for a few weeks and scared us a bit as when you would take some food out he would come running and kind of bat your feet while screeching quite loudly to push you to where we fed him. A few weeks later after he came close enough for a pat on the head he jumped in my lap and stayed there. His happiest place is to be spawled on a lap and he will stay for hours till your legs get numb

This one is my cat. He is attached to my chest pushing the Kindle out of the way every bedtime. High chest, right up with his head at your chin staring you in the face is the way he demands. He absolutely has to reach out and touch my face a few times with gently placed claws that still hurt before he can get a good night's sleep. Don't get me wrong he loves my wife dearly and gets all cooey with her but I think I have some odor or something that draws him back.

One of the best and most affectionate cats we have ever had, the affection is tempered with a bit of grumpiness and orneriness that I think shows in his eyes. He is very loving yet serious, meek, aggressive and silly all at the same time. A good rough and tumble is his favorite morning routine.

The hike was really guided by him, he will walk when outdoors and lead the way where he wants to go. It was a short trip down back of the house and across the stream and back but the good bit of snow didn't slow him a bit and you can see the determination in his eyes. - Donald

Quite the story about Angus. Stunning cat and sounds like he has part doggeh in him as well. Enjoy winter! Thanks for contributing his story.
***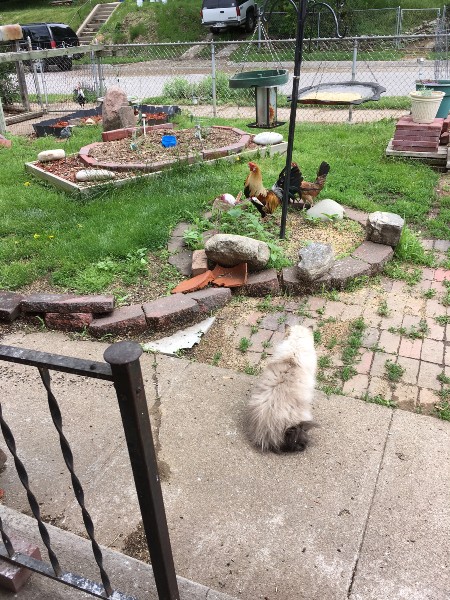 Seeing the chickens in this past week's Pet Thread, I decided to share my "Why you do not hire Persian cats as guard animals" picture.

The chickens belong to the neighbor three doors north of us. Omaha allows people to have six chickens properly confined. And no roosters. You can see how well the law in enforced.

The cat is KatyDid, the Himalayan I inherited. (She's been featured on the Pet Thread before.)That's about as close to the chickens as she would go. But she did love watching them and anything else that wandered into the yard.

Captain Josepha Sabin

Fried chicken for Cpt. and giblets for KatyDid? So you're saying that Persian cats don't make great guard animals? Thanks for the interesting photo and story.
***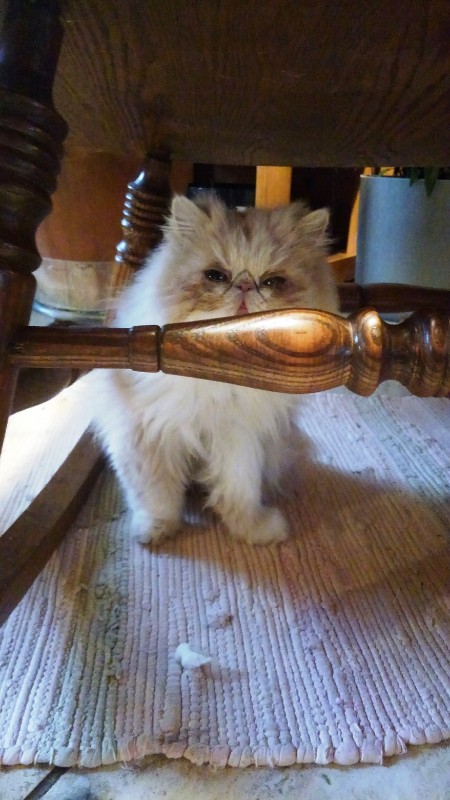 G'morning, MisHum.

I finally got a picture of my new kitten. Here she is hiding under my
big oak rocker. She's some sort of high-bred Persian but was found
stray at our local store. I inherited her not long after her mom died
unexpectedly at Thanksgiving. She's a bit wary of me because I've been
combing and cutting knots out of her for weeks. We're almost
there...one haunch to go. I resisted taking her for almost a month
while she bunked in with neighbors. As you can see from her nose, I'm
probably looking at some horrendous vet bills down the line. It's even
hard for her to eat, with that facial structure. But she's absolutely
adorable (WE don't think so! signed, Other Cats) and amazingly forgiving
considering what I've done to her. Her name is Ginger and her mom's
name was Christine. Thank you, Christine. I miss you. - Creeper

Oh the joys of long haired critters. Nothing like grooming, combing, brushing and cutting. Looks like an adorable little kitteh who we all know will be spoiled beyond spoiled. Congrats on your new addition.
***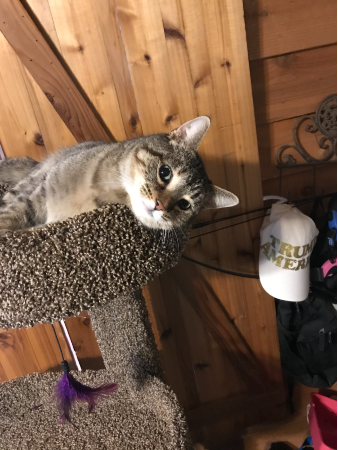 AND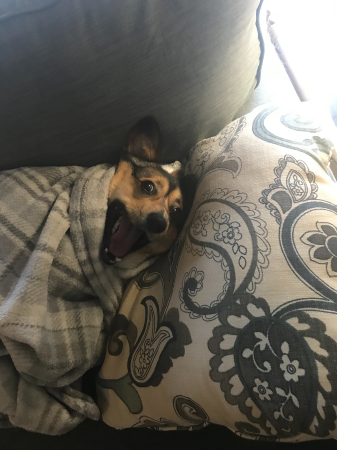 Little just turned 16, so I was pretty stoked to go pick her out a new ride.

She was staying at her mom's, so I sent her a text in the morning with a typo that said "Happy Birthday! Ready to go cat shopping?" instead of "car shopping". The curse of fat thumbs.

She replied "Yes, can we go to the shelter after school Monday."

I was a bit confused at the reply, so I looked at the text I had sent and then corrected it.

To my amazement, she said she'd rather have a new cat than a car. And so there you go, now I have a new mouth to feed for another 15-20 years.

She named her Froggy.

I woke up Snickers the corgi to break the bad news of a new cat, but apparently she hadn't had enough coffee yet to process the information. - Bitter Clinger
Hmmm. A pet or a car? Hard to say which one would be the most expensive over the years. But if Froggy gets treated as well as Snickers you folks are going to have one super pet for some time. Be careful with those fat fingers. Thanks BC.
***

My goodness what a wonderful variety of critters today. From badgers to chicken watching cats. Throw in a few K-9s and we have one heck of a Pet Thread. Thank you for your contributions.
If you want to contribute to the Pet Thread, you can reach us at petmorons at gmail dot com. Until next Saturday, have a great week!

posted by Misanthropic Humanitarian at
03:00 PM
|
Access Comments