« Ace of Spades Pet Thread
|
Main
|
Saturday Afternoon Chess thread 02-13-2021 »
February 13, 2021
Trump Acquitted in Impeachment Farce; Seven (Soon to be Ex-) Republicans Vote to Convict; Establishment Shill and Chinese Agent Mitch McConnell Votes to Acquit, But Then Openly Calls for Trump to be Prosecuted/Persecuted with Further Criminal Show-Trials
Here are the Handmaidens for the Leftist Totalitarian State that voted to convict:
-- Sens. Mitt Romney of Utah, Susan Collins of Maine, Lisa Murkowski of Alaska, Ben Sasse of Nebraska, Bill Cassidy of Louisiana, Richard Burr of North Carolina and Pat Toomey of Pennsylvania
Note the unremarkable presence of Deep State goon and Mark Warner's personal dick-warmer Richard Burr on that roll of shame.
@JackPosobiec
Massive throw-down

Mitch McConnell is now calling for Trump to be prosecuted as a private citizen "for everything he did while in office"

"He didn't get away with anything yet"
Here's China's Bitch Mitch calling for lifelong legal harassments for Trump, his family, and all of his staff.
We.
Will.
Remember.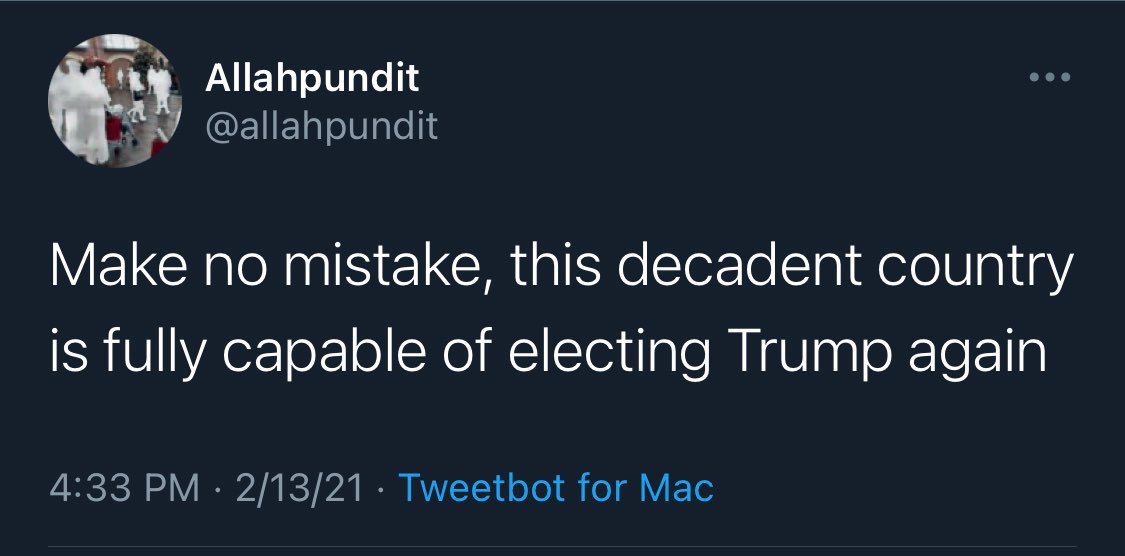 Cry moar, alcoholic shut-in Literal Cuck (TM).
Oh and be sure to send Salem some money for their simply outstanding VIP membership program, where you can read the Sizzling Hot Takes of AllahPundit, Ed Morrissey, and Dr. Guy P. Benson, Ph.D. that were just to Too Hot To Be Freely Available.
They will begin Fighting For You after you give them just a couple of more tens of thousands of dollars.
Will you answer the call, Patriots?!?! Send them your money! Send them your money!
SEND THE CHURCH OF TRUE CONSERVATISM ALL OF YOUR MONEY, POLITICAL LOST SOULS AND SINNING DEPLORABLES!
Your eternal salvation -- I mean, your political salvation -- is nigh! For the low, low price of just $10 per month!
The Kingdom of Romney is at hand, if you just SEND US MORE MONEY!!!
GRIFT GRIFT GRIFT GRIFT GRIFT GRIFT GRIFT GRIFT GRIFT GRIFT GRIFT GRIFT GRIFT GRIFT GRIFT GRIFT GRIFT GRIFT GRIFT GRIFT GRIFT GRIFT GRIFT GRIFT GRIFT GRIFT GRIFT GRIFT GRIFT GRIFT GRIFT GRIFT GRIFT GRIFT GRIFT GRIFT GRIFT GRIFT GRIFT GRIFT GRIFT GRIFT GRIFT GRIFT GRIFT GRIFT GRIFT GRIFT GRIFT GRIFT GRIFT GRIFT GRIFT GRIFT GRIFT GRIFT GRIFT GRIFT GRIFT GRIFT GRIFT GRIFT GRIFT GRIFT GRIFT GRIFT

posted by Ace at
05:21 PM
|
Access Comments