« Team Biden: Orwell or the Huxleys? [KT]
|
Main
|
Ace of Spades Pet Thread »
February 13, 2021
Saturday Gardening and Puttering Thread on the Day before Valentines Day [KT]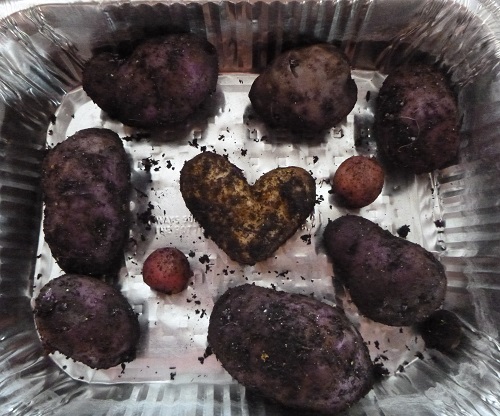 Hi, everybody! Did you expect roses as our top photo today? Well, The Horde is tough. Here is an example of a dedicated husband:
My husband grew potatoes on our deck in large plastic tubs. When winter came, one tub still had young plants in it, so he pulled it inside and put it in front of a large window. Today (Jan 16) we dug up these. The one in the center is the funniest! Now he's going to plant spinach seeds for me. (You can sign me bluegreen kayak). (Thank you for the weekly shot of cheery non-political talk, with wonderful pictures; I really enjoy what you do with it.)
Here's another romantic idea if you don't have any veggies in the garden right now: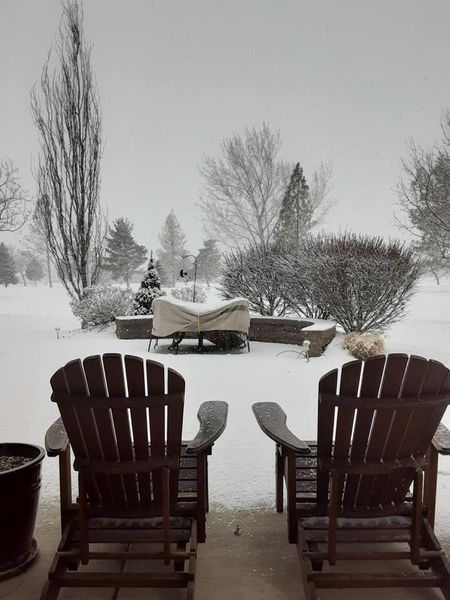 No roses from The Horde this week, but another beautiful hibiscus from Neal in Israel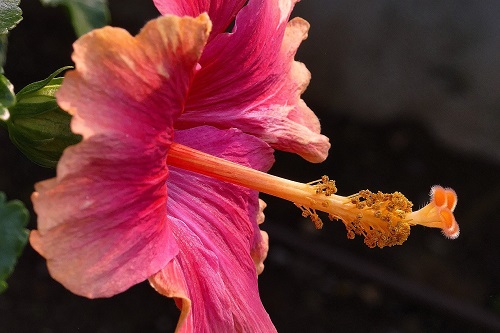 Last Week
SFGoth asked about shade plants for the Bay Area.
How about a White Bat Flower? Indoor or summer patio plant except in frost-free locations.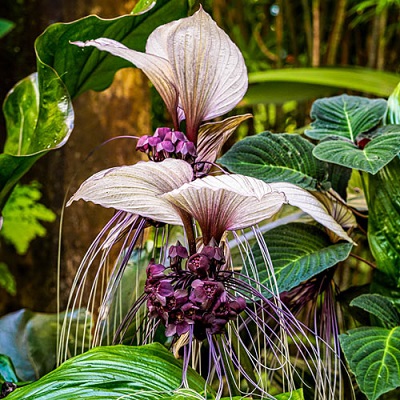 Here are 12 more. Fog is a real issue there. This is a little fuchsia native to cloud forests, to attract hummingbirds.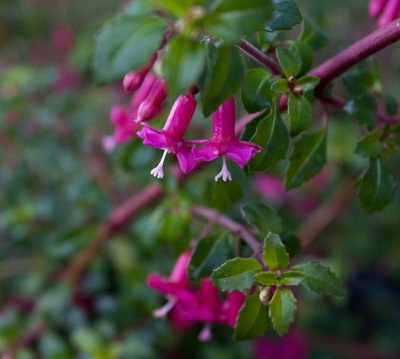 tcn in AK asked about growing lavender in Alaska. Here are some tips.
Here are 53 favorite perennials for Zone 3, too. Some beautiful things. Including peonies.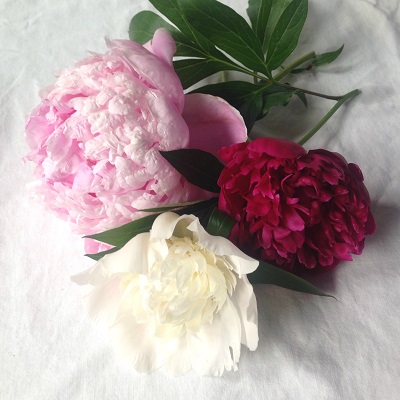 The Edible Garden
Do you dare serve Soothing Meat Loaf on Valentines Day? It includes winter veggies.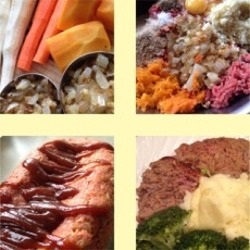 And here are some summer veggies in winter:
In my part of Florida it is often better to garden in the winter, it is the only time you can grow tomatoes and I have found planting in containers can extend the season even longer. I plant in early August and when the night time temps drop into the low 70's in late October the plants are starting to flower. On the odd chance that it gets too cold I bring the containers in for the night. One night close to freezing is about all we get per year.

This year I only grew superhot peppers.

A quick note, I started using cloth containers this year and am not too thrilled with them. I have been using a hybrid version of Kratky method starting in Solo cups and transplanting to the containers. Kind of because of my dislike of the cloth and lazy me, I cut a hole in a milk jug big enough to hold the Solo cup fill it with nutrients, then stick the plant I would be about to transplant in the milk jug and then put it in the cloth container. My first experiment worked so well I am doing it with the rest of my plants.

Thanks

Vmaximus

AKA Rick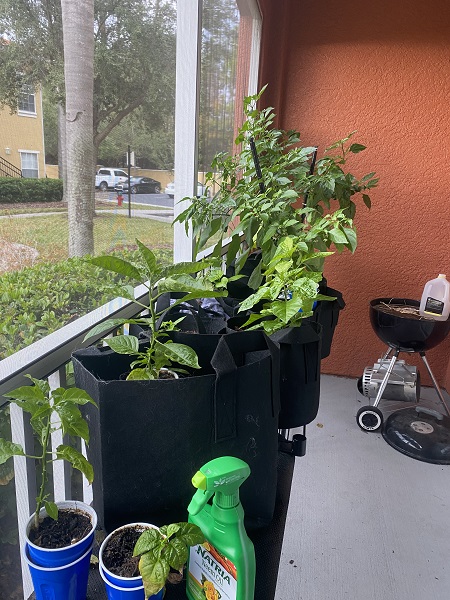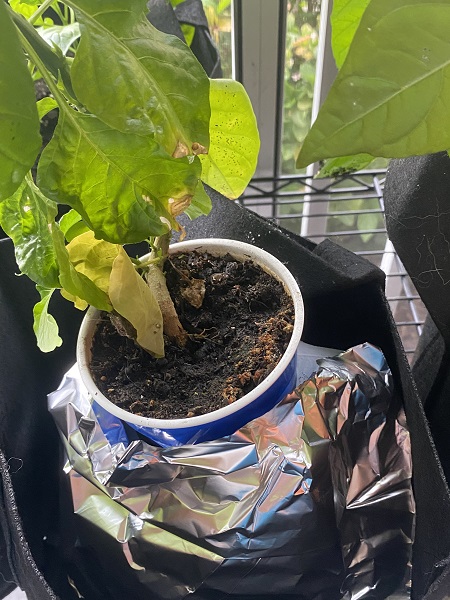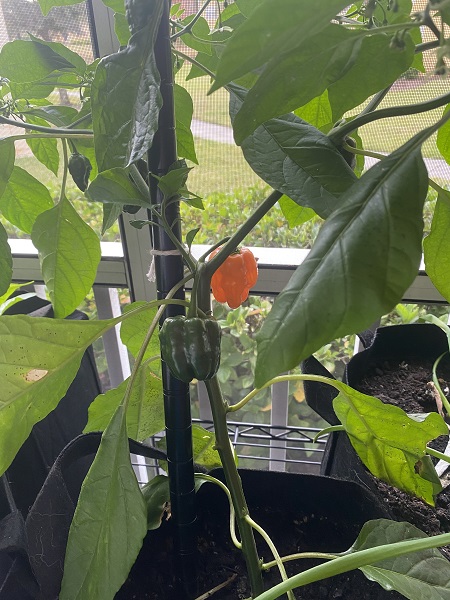 So impressive! We'll be getting back to other plant protection set-ups in future threads.
Gardens of and Puttering By The Horde
I stepped on a toad "sheltering" by the front door this week. Don't think I hurt it.
From Illiniwek:
Worst of this winter is here, single digits. Not much to contribute to the garden community lately, but birds are fun.

I like the interaction here ...challenger -defender - observer --
bluejays are near the top of the pecking order ... the red-bellied woodpeckers are at the top (not counting an occasional hawk swoop).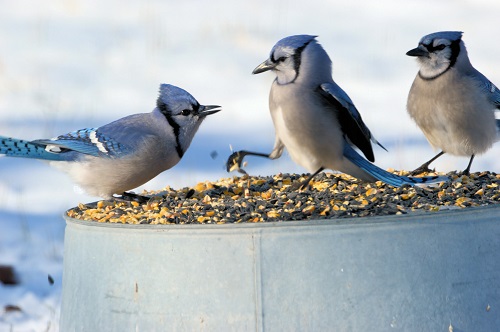 More:
Jupiter the barn cat did get one junco, but mostly hangs out there and gives up after several minutes, while the birds wait in the trees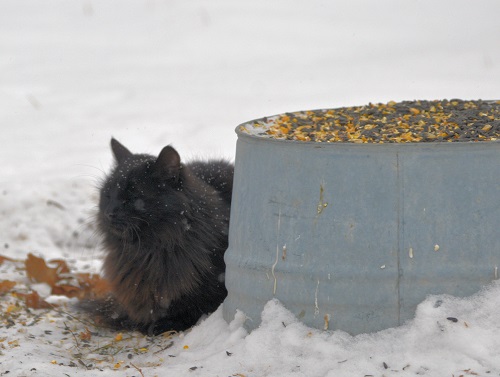 I've counted as many as 22 cardinals at once when the cat's away ... they are more sociable with other birds than the jays.

Juncos and pine siskins are in abundance.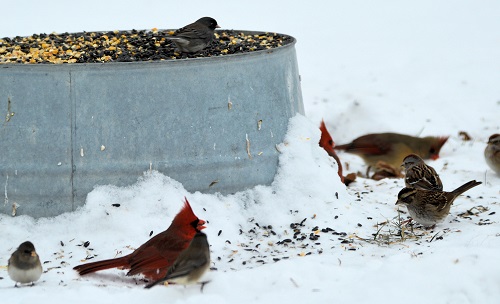 If you would like to send information and/or photos for the Saturday Gardening Thread, the address is:
ktinthegarden
at that g mail dot com place
Include the nic by which you wish to be known when you comment at AoSHQ,
unless you want to remain a lurker.

posted by Open Blogger at
01:29 PM
|
Access Comments