« Mid-Morning Art Thread [Kris]
|
Main
|
"Climate Czar" John Kerry Took a Carbon-Producing Private Plane to Iceland to Pick Up Climate Award; Says That Flying Private Is "the Only Choice for Someone Like Me" »
February 03, 2021
The Morning Rant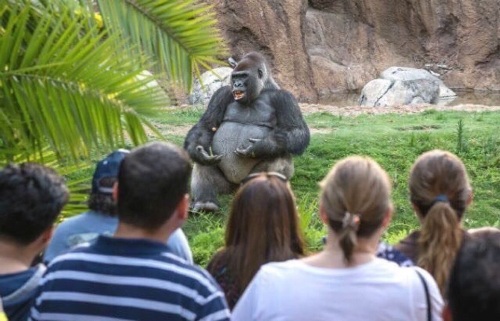 I would guess many of you miss the old-school conservatism like I sometimes do. I'm talking about stuff like this:
"I have little interest in streamlining government or in making it more efficient, for I mean to reduce its size. I do not undertake to promote welfare, for I propose to extend freedom. My aim is not to pass laws, but to repeal them. It is not to inaugurate new programs, but to cancel old ones that do violence to the Constitution or that have failed their purpose, or that impose on the people an unwarranted financial burden. I will not attempt to discover whether legislation is 'needed' before I have first determined whether it is constitutionally permissible. And if I should later be attacked for neglecting my constituents' 'interests', I shall reply that I was informed that their main interest is liberty and that in that cause I am doing the very best I can."

--Barry Goldwater
Remember the good old days when we could have serious discussions about the constitutional limits of government, and if the myriad government programs we have put in place actually met the constitutional requirement? And how much we would be able to reduce the size and scope of government, and how the first priority of the government was to protect the freedoms and liberty of American citizens?
Yeah, me neither. That is to say, I would dearly like to get back to the point where we could talk about things like this, but we are far beyond this. In fact, we are not even within shouting distance of it. Our disagreements with progressives are not over the size and scope of government, but down lower, way lower, down at some basic, fundamental level where questions about the very nature of men and things must be resolved.
Well, that and them wanting us dead. That has to be resolved, too.
------------------------
The SpaceX vehicle SN9 went up yesterday and came down a bit too hard. No doubt this part of the wiki entry has been scrubbed, unfortunately: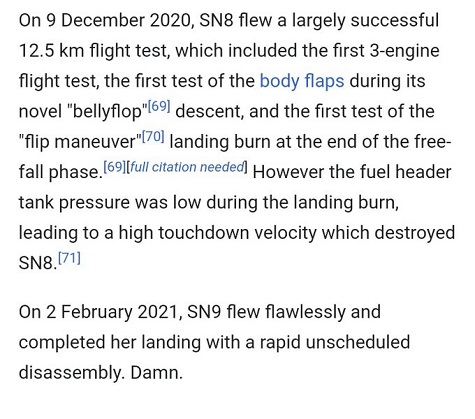 Heh. "Rapid unscheduled disassembly." That's funny.
Hey, I got your rapid unscheduled disassembly right here. (link is to YouTube).
---------------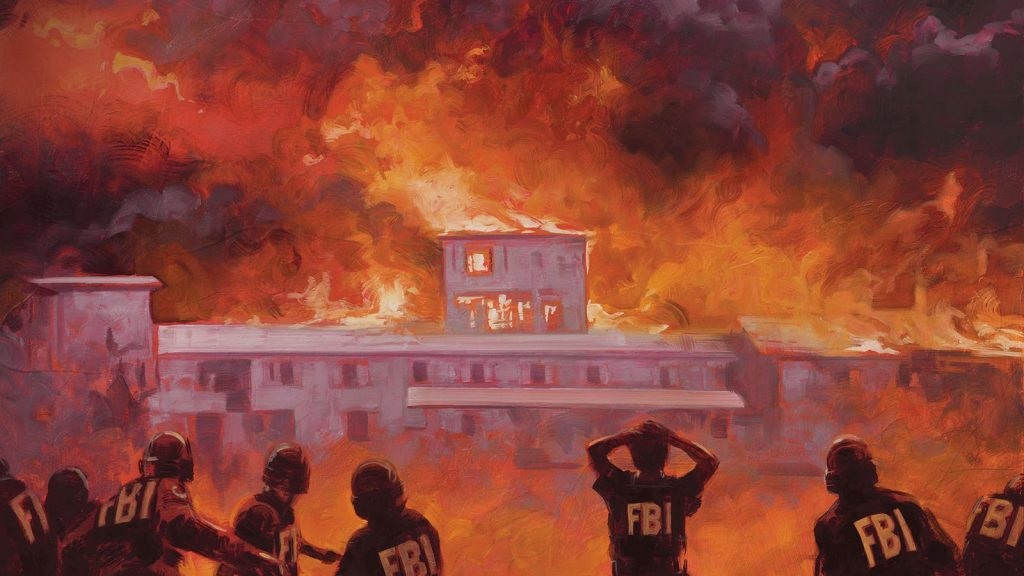 "Elected officials who are complaining about being traumatized by citizens showing up to the Capitol may wish to consider that it could never be as bad as the experience of citizens getting a visit at home by representatives of the federal government."
(h/t Seattle Independent)

Greetings, Fellow Racists:
Perhaps JJ Sefton linked to this already, but it's worth noting:
One of the last acts of the Trump Administration was the release on Monday of the "1776 Report"—a 45-page document by the President's Advisory 1776 Commission "summarizing the principles of the American Founding and how those principles have shaped our country."

Sounds straightforward enough. But as a rebuke of the New York Times' false and misleading "1619 Project," the commission's work to promote patriotic education was bound to stoke controversy. Sure enough, the report was immediately blasted by the press and left-wing academics as "biased" and "racist," among other smears.
Naturally, one of the first acts of the Biden administration was to abolish the 1776 Commission (one of his early EOs), because shut up, that's why. This means that it's now going to be all Critical Race Theory all the time. Yeah, baby!
And of course, Biden's diligently minions scrubbed the 1776 Commission's final report from the White House site, but it is still archived at the Trump White House site, which apparently is required by law.
You can download the 1776 Commission's final report as a pdf document at this link.


Our Two-Tiered Justice System: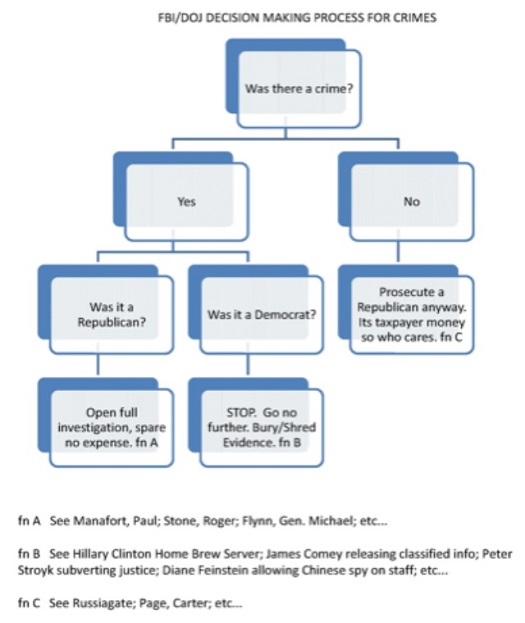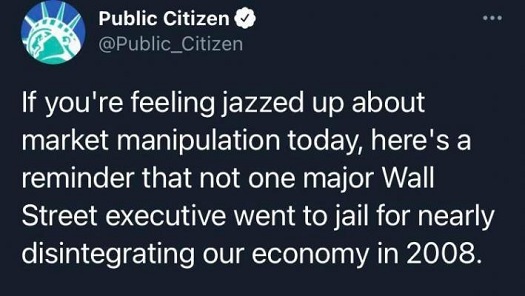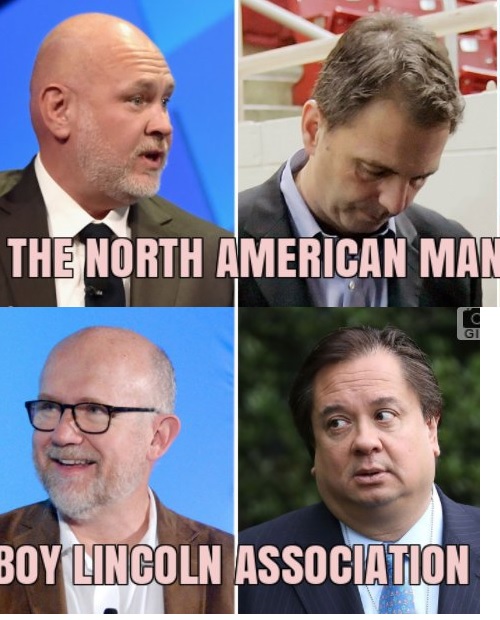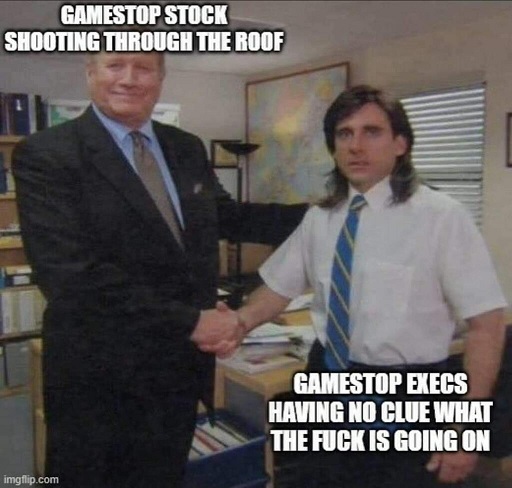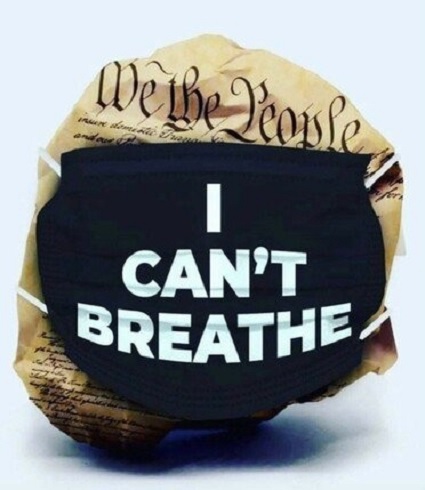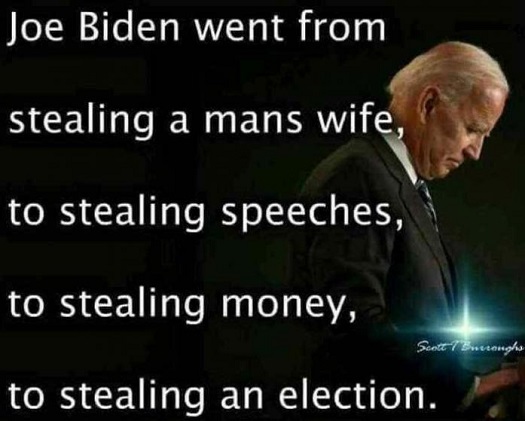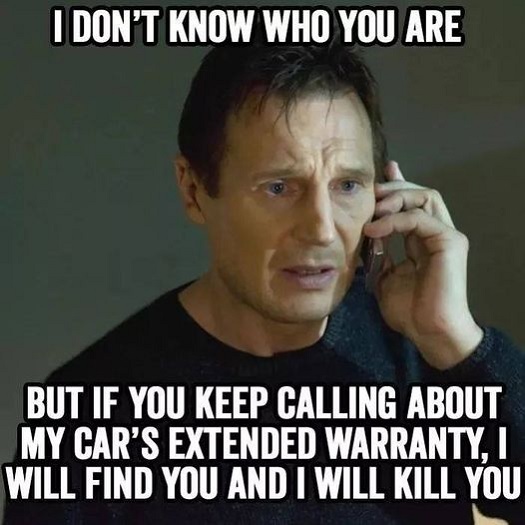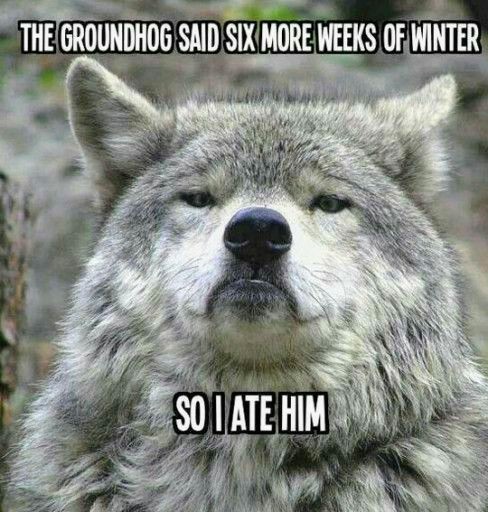 AoSHQ Weekly Prayer List
Please submit any prayer requests to "Annie's Stew" at apaslo atsign hotmail dot com.
Prayer Requests:

12/2 – Sgt. Mom is asking for prayers for her daughter and unborn grandson, Jamie. The Daughter Unit is 40, this is her first pregnancy, and because of her age, this is considered a high-risk pregnancy, with an elevated chance of Downs' Syndrome for Jamie. They had an ultrasound this week and an amniocentesis is scheduled for the week of Christmas. The Daughter Unit will carry on with the pregnancy regardless – but prayers for a healthy, normal child are humbly requested.
1/6 Update – Sgt. Mom sends her gratitude for the prayers, and they found out yesterday that her unborn grandson is healthy and developing normally. No spina bifida, and no trisomy disorders were found!

12/9 – Roxxee asks for prayers for her daughter, who has developed a severe addiction to prescription Adderall, and is now in deep psychosis. She has cut herself off from family and friends and will not respond to any of them. Praying for a Christmas miracle that she wakes up from her psychosis and gets help.
1/4 Update – Roxxee reports: God works in mysterious ways. On the Tuesday before Christmas, her daughter's mental health tragically deteriorated. However, this event enabled them to get her in a treatment facility where she is finally getting the intensive help she needs. Roxxee asks for continued prayers that the doctors help her and she is able to make a full recovery.

12/12 – Katya, the designated driver sends an update that she was in the ER with shortness of breath last weekend, and has found she has a blood clot in her lung now. The blood thinner she was on for the clot in her leg wasn't doing the job, so she is giving herself injections twice a day of enoxaparin sodium. She feels good, mostly. She sends her thanks for prayers and support through her chemo treatments.
12/29 Update: Last week was her last chemo treatment. She still has 4 infusion treatments of Keytruda, which is the immunotherapy drug that is still in clinical trials in the US. She has an appointment on Wednesday with the surgeon to scheduler her mastectomy. She sends thanks for continued prayers and support.
1/19 Update – Katya's surgery was pushed back to the 28th because she has pneumonia.

12/22 – Homer's Donuts asks for prayers for work. He was laid off on 12/22 with only a few days of notice, and it feels horrible not knowing when the next paycheck is going to come.
1/11 Update – Homer's Donuts has an interview on 1/13 that is well suited to his career experience. Please pray for that to work out well!

12/29 – NavyMom requests prayers for her family. Their daughter decided to cut NavyMom and her husband out of her life and her children's lives. NavyMom's husband is having lunch with her daughter's fiancé on Wednesday, so prayers for the right words and hearts to be softened.
12/30 Update – NavyMom reports that the lunch went well, and they are hopeful that the divide can be healed. The next step will be lunch with their daughter. Prayers are still needed for hearts to continue to be softened. NavyMom sends her thanks!

12/30 – Prayers of healing are needed for Tikvah, who had part of her foot amputated today and requests prayers. She needs to stay totally off it for 6 weeks to heal.

12/30 – Fox2! requests prayers for his niece, VM, who is pregnant at a relatively high age for being prima (first birth).

1/6 – NaughtyPine has several requests: For the family and friends of Art, who they lost suddenly in late November. The tears come and he's missed terribly. For the family of Russ, especially his children who are currently estranged from each other. Family healing would make it easier on everyone. For Michele, who lost her ailing father on New Year's Day. Her "baby" brother died suddenly last March. She is now the sole survivor of her immediate family.

1/8 – Captain Whitebread requests the means to get an eye exam and some new glasses. His current glasses are 4 years old, and he can see distances fine, but his up-close work is blurry. Since he works around computer screens all day, that's a big problem. His side jobs have all shut down due to Covid, so he's barely getting the bills paid now; there is nothing to spare.

1/18 – Pollywog the 'Ette requests prayers for "Thing From Snowy Mountain". His sister just passed away from Covid caught due to a suppressed immune system from chemo. His mom is in her 80s and also caught it, leading to hospitalization and was put on a ventilator (although she has been allowed to remain conscious). He needs comfort, physical endurance/strength, and positive human interaction. Prayers for provision and a better job would also be helpful.

1/20 – Washington Nearsider requests prayers for his mental and financial stability as he leaves his marital home after several years of debating the issue back and forth. Nearly all of the familial debt is in his name, and he is moving into a one-bedroom apartment with only a mattress and computer. Prayers for his wife that she finds peace and grace, and for his two children (ages six and four) that they come through this difficult time with resiliency, maintaining their joy, and exuberance for life.

2/1 – Hrothgar requests prayers for an upcoming, non-optional, non-trivial surgery on Thursday (2/4/2021), followed by several days in the hospital for follow-up. His original cancer diagnosis (from back in November) remains confirmed, but the follow-up biopsy shows clear margins as of today, for which he is thanking God. He'd also like a prayer for DaughterH as she strives to keep everything on an even keel for him!

2/1 – Tonypete asks for prayers for his buddies Jenny and John, who were moved to hospice care this week. Pray for a peaceful and easy transition to their final rewards. Jenny has been suffering for years from cancer and John found out 6 weeks ago he had giloblastoma. He declined remarkably quickly.


For Healing:

12/21 – Toad-O requests prayers for his mother, who has just tested positive for covid-19. She is 88 years old and in a nursing home.
1/18 Update – Toad-O reports that his mother was released from quarantine and is back in her old room. She never did have any Covid symptoms. Prayers answered.

1/10 – Annie's Stew requests prayers for healing and protection for a sweet young family, expecting their first baby. The mom-to-be has many health issues, and now the dad-to-be just found out that he has lymphoma.

1/13 - Coelacanth asks for prayers for a friend's son who was snowboarding and had an accident. He was undergoing spinal surgery last night, and it is feared he may never walk again. His name is Gavin.

For submission guidelines and other relevant info, please contact Annie's Stew, who is managing the prayer list. You can contact her at apaslo at-sign hotmail dot com.
If you see a prayer request posted in a thread comment, feel free to copy and paste it and e-mail it to Annie's Stew. She tries to keep up with the requests in the threads, but she's not here all of the time, so she may not see it unless you e-mail it to her.
Please note: Prayer requests are generally removed after five weeks or so unless we receive an update.
Please remember the Prayer of St. Francis:
http://www.prayerguide.org.uk/stfrancis.htm
Keep calm and pray on!


Who Dis: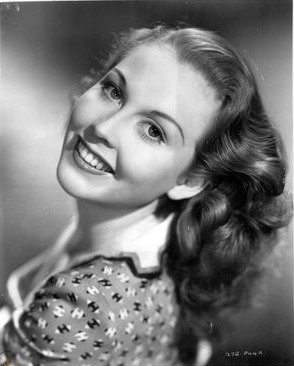 Photo 2
Photo 3
Photo 4
Photo 5
Photo 6
Photo 7


For the 'Ettes: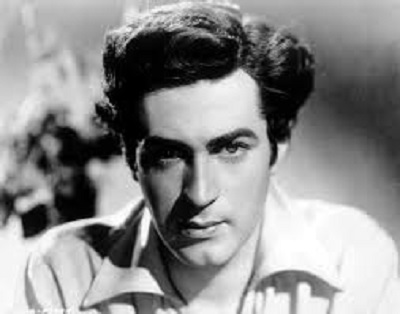 Photo 2
Photo 3
Photo 4


Monday Who Dis: On addition to her acting career Alicia Witt is quite an accomplished singer/songwriter and she has been performing her original piano-driven rock all across the world. I did not know that Jared Leto is also musically talented: he does lead vocals, rhythm guitar, and writes songs for the band Thirty Seconds to Mars. Both Leto and Ms. Witt starred in the 1998 film Urban Legend.


Today's Edition Of The Morning Rant Is Brought To You Bacon Double Cheeseburger: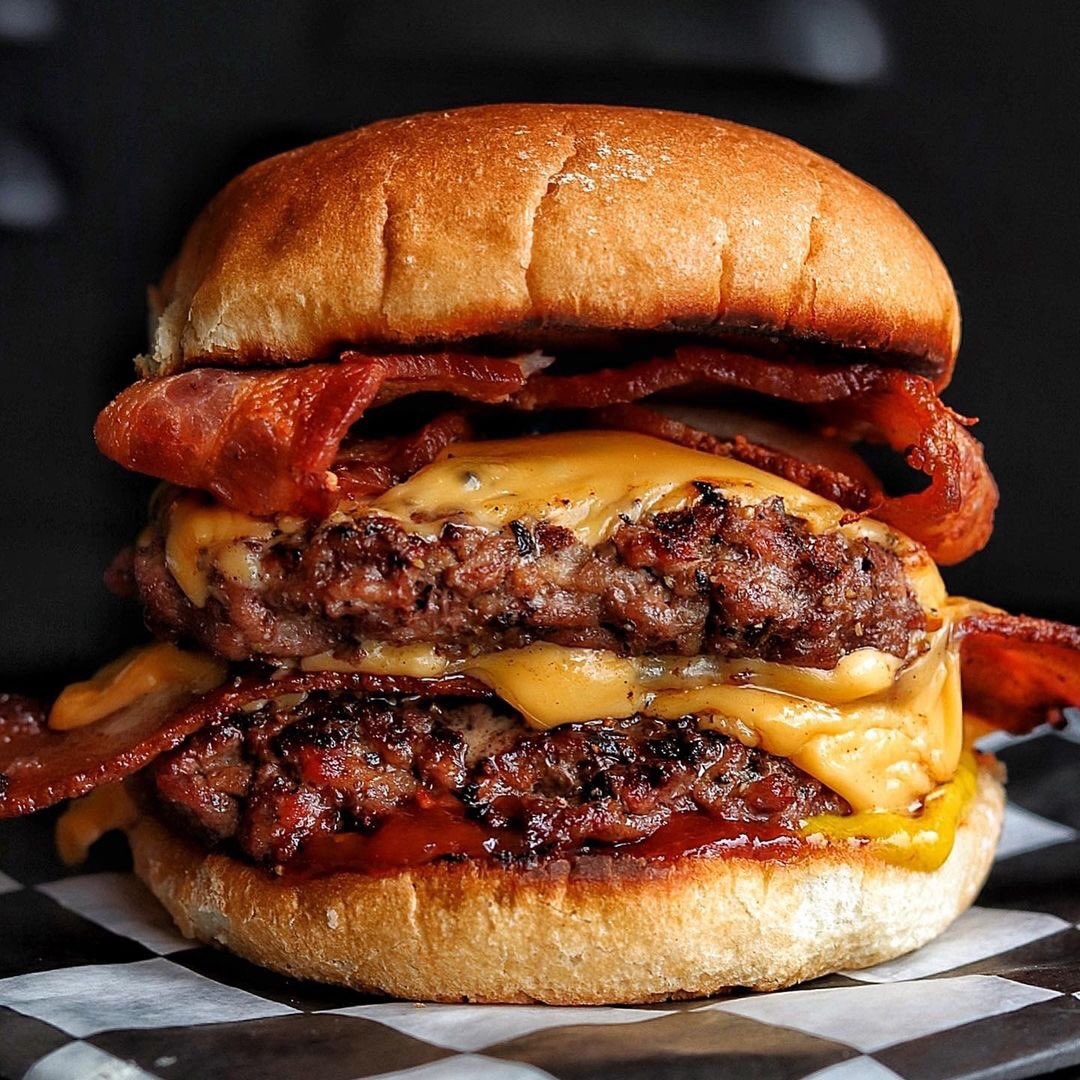 "A heart attack in a bun!"

posted by OregonMuse at
11:15 AM
|
Access Comments