« Food Thread: Saucy Meats...Pro And Con
|
Main
|
Sunday Overnight Open Thread (1/3/21) »
January 03, 2021
Gun Thread: Happy New Year Edition! [Weasel]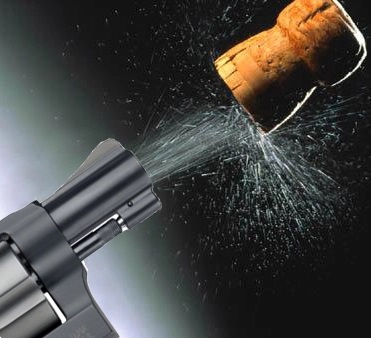 Well howdy, y'all and Happy New Year! I have to say I'm not too sorry to see the old year in the rearview mirror, though quite frankly, I'm not altogether convinced the new year is going to be much different than the last. About all we can really do is take each day as it comes and make the best of it. Living in a perpetual state of angst gets old really fast, for everyone. Make it a habit to stay positive and don't waste the your days being miserable. 'Kay?
I didn't make it to the farm again this week which is a bummer. Work has been kicking my butt lately but that should be over in a couple of weeks. I'm keeping my fingers and toes crossed, and am really looking forward to getting back down there for a nice long visit, and to shoot some video!
Did you make a New Year's resolution, and if so, does it involve guns 'n ammo?
Speaking of which, let's jump right into the Gun Thread below, shall we?
Gun sales continue to set records as people decide they need a means of defending themselves, and this has placed tremendous demand on the supply of guns and ammunition. Last week we talked about buying used guns, specifically revolvers, as an alternative to buying new. I think the days of finding a great deal on a used handgun are history, but you can still find a fair deal on a used gun and save a few dollars in the process, compared to buying new. The same rule applies to used guns as it does to a used anything; buyer beware. This week lets take a look at some things to look for when buying a used pistol.
Is that an exhaustive course in gunsmithing? No. If you are new to gun ownership, take someone knowledgeable shopping with you, and ask questions. If you cannot do that, educate yourself on the basic mechanics of pistol operation, and ask the salesperson to disclose any problems they see with the firearm. Write down their name and take notes. Once you make a purchase, sign up for a class in basic marksmanship! It's a great way to become familiar with the basics, and make some new friends. I cannot overemphasize this enough. Have a network. Shooters are a very friendly bunch, and you can learn a lot (for free) from others.
Here are links to a couple of reference articles on buying used firearms from used guns in general from Pew Pew Tactical and Gun Digest.
Here is another video on inspecting used revolvers from Larry Potterfield at MidwayUSA:
***
I know we started talking about pistols, but I ran across this video on .38 cal snubby revolvers.
Does any of the stuff this guy is saying sound familiar? Holy shit! It's pretty much everything I have been saying here on a number of topics for the last two years!
These smaller guns used to be widely available, and often represented a bargain. Now, lots of people have been buying them because they've realized they are easily concealable and make good self-defense guns. Here's an early Weasel Acres video I did on a Smith & Wesson Model 64 I purchased used. It's hard to tell from the video, but I was shooting at about 20 or 25 feet. There is nothing wrong with the accuracy of these guns or the .38 Special cartridge as a self-defense round.
So the point I'm making is do not be hesitant to buy a used firearm, just use common sense. If it's all beat to shit, then perhaps keep looking, but the fact is that firearms are generally fairly durable. If you find a snubby revolver in .38 Special, don't be too quick to pass it up!
******
First up, our pal CK sends a range report on a new rifle and caliber.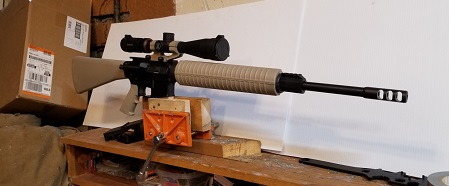 ARC barrel just arrived and I have another one on the way. Now I think I'll have to do a 6.5 Creedmoor, ha. I already have 3 rifle length AR10's, I'll re-barrel one of them and life is easy. All I'll need is a barrel, a die set, another powder drop and another 4 hole plate for my turret press. Life is good. I think I'll be able to get up to the range tomorrow and sat to get it sighted in. We have weather on the way and the range could be down for a while. Now I'm thinking that I'll join the range out in Wendover also, I can make the 120 mile drive once a month or so and shoot out to 1000.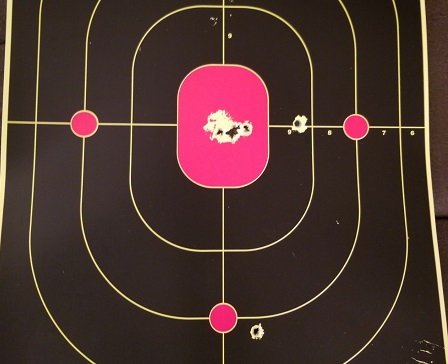 Here's the first 6 shots out of the ARC. I put this target out about 55 or 60 yards and had the chrono set up. It was a very productive 6 shots!! Man that Hornady Black is consistent, 2742 fps with a spread of 4 fps!! I built the rifle on an old DPMS Oracle, come to find out that the DPMS mag wells are rather dainty and didn't like my freshly painted ASC mags. I had to jam the mag in and it wouldn't seat properly so I became an honorary bolt gun guy for the day. It was a good day though, I got it out to 500 on that 25 round mag. I brought it home, switched out the lower to a Palmetto and went back today and everything worked out great.
Nice shooting bro! I am very impressed with the performance of the Hornady Black Ammunition. See how flat the group dispersion is? That's the 4 fps talking. For those of you wondering about the 6mm ARC cartridge, here's a little background.
For those of you in the market for a new precision rifle caliber, this might be worth a look!
******
Next up, our pal Neon MadMan does a little retail therapy.
I decided to buy my own Christmas present, a Winchester 1885 High Wall in .30-06 Springfield, with a 28" 8-sided barrel like a good gun should have. This one had been in the library rack at Cabela's for a month or more, and each time I looked at it I had kept my hands in my pockets because even though I really wanted one of these, I was hoping to find the .38-55 chambering, which would be a little easier on the shoulder. Well, that's kind of like picking a winning lottery ticket, this gun was NIB with a small stock scratch, and I have bags of .30-06 brass and a thousand primers so I pulled the wallet out and took it home with me.

It came without sights, and although I could put a tang sight on it, for my old eyes that wouldn't do much good beyond 50 yards. It would look really cool but not be all that practical, and I leave that territory to the wife. I have an old Simmons 8-32 x 44 scope laying around I might give a try, we'll see.
Very nice, Neon MadMan! How does it shoot? Thanks for sending this in!
******
Next up, our pal Anonymous Moron sends in a great story of a family heirloom!
My wife's grandfather served during WW2 in the Navy. I don't know much about his service. He passed away around 14 years ago. He lived a good life. My wife's family attended to matters clearing out his house. It was an amazing lesson in how a Depression-era family kept extras around for the rest of their lives; extra sugar, extra 5 gallon pails, extra thread, and so on. These days, I'm starting to "get it"... ever so little.

When he returned from France, he brought back a small handheld pistol; an early 1900s Le Français. It took me a little digging to find a good online source for the Le Français pistols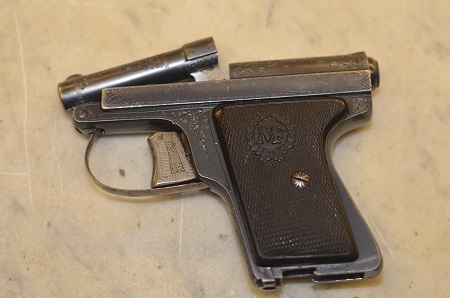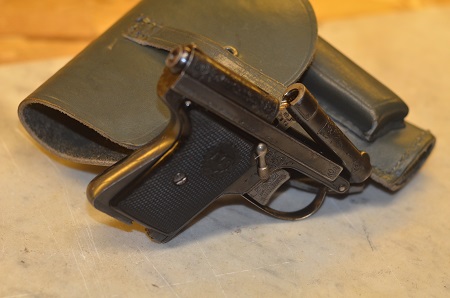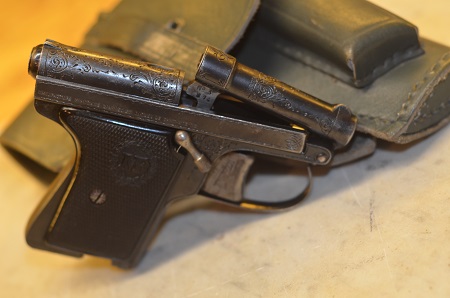 Per the marking on the gun, it's a "No.3 814". I'm still researching more about this particular one as there are many variations. If you know anything more about it, or know where I could find a magazine (it didn't have one), I would be grateful. And yes, the holster came back with him as well. As did some other WW2 era items, most of which fell through the ice into the lake.
Holy crap! How cool is this? Thanks for sending this in! I'm not sure but the 814 is probably the serial number, and the fact it's engraved makes me think it could have been a presentation gun. I think it's absolutely worth researching more, if for no other reason to learn a little more about the family heirloom!
Anyone know of resources for Anonymous Moron? Collector's groups perhaps? How about a source for magazines?
******
Next up, our pal Grapefruit LaCroix bitch-slaps us with some knowledge on proper money management: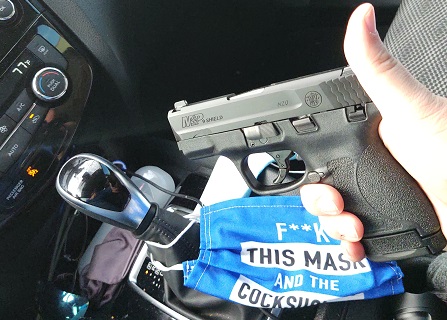 I'm happy to report that I got a little cash for Christmas and used it responsibly.

I bought a new Smith & Wesson MP9 2.0 and 400 rounds of 9mm FMJ, plus 100 rounds of JHP, from my local firearms purveyor. Shopping in Nashville, the day after Christmas, there were some obstacles to overcome. Because of the bombing, the TBI instant background check site was down all weekend, and although I could pay for the new gun, I couldn't pick it up until Monday.

Nope, not infringed at all...

I haven't shot it yet, but I signed up for a refresher course and some range time next week. It will then become my EDC gun.

I'd thought of buying a new 1911, but the cupboards are bare everywhere in Tennessee, but since I needed a new carry gun, I decided on the MP9, mostly because of all the positive reviews. Plus, once I got to the shop and held it, it just felt right. And, with the 8-round single-stack mags, it's the only small-frame gun that my fits my whole hand on the grip. That was the deal closer for me.

But what shocked me was the ammo prices. I used to buy a 50-rd box of .45 ACP every other week for around $16 or $17. Now it's a buck a round, if you can even get it! I used to get 9mm for $12 a box, and now it's all $35 or $40 per box.
Nice choice, Grapefruit LaCroix, and congratulations! Please drop us a note after you have taken the refresher course and had a chance to do some shooting!
******
For those considering a shotgun for self defense, our pal Fungus Boy found this nifty video of a 4 gauge in action.
******
Link-O-Rama
I'm really very seriously not kidding around anymore. Buy Ammo
AmmoSeek - online ammo search tool
GunBot - online ammo search tool
SG Ammo
Palmetto State Armory
Georgia Arms
AmmoMan
Target Sports USA
***Mail Bag***
Our pal Scrood shares a remarkable find at his local gun store. Yum!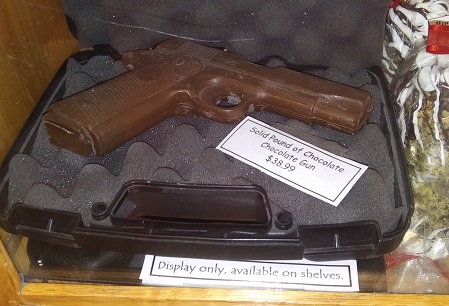 ******
Please note the new and improved gmail account morongunthread at gmail dot com. An informal Gun Thread archive can be found HERE. If you have a question you would like to ask Gun Thread Staff offline, just send us a note and we'll do our best to answer. If you care to share the story of your favorite firearm, send a picture with your nic and tell us what you sadly lost in the tragic canoe accident. If you would like to remain completely anonymous, just say so. Lurkers are always welcome!
That's it for this week - have you been to the range?


posted by Open Blogger at
07:00 PM
|
Access Comments