« "Arbeit Macht Frei," And Other Sayings In Cuomo's Little Red Book
|
Main
|
Gun Thread: Happy New Year Edition! [Weasel] »
January 03, 2021
Food Thread: Saucy Meats...Pro And Con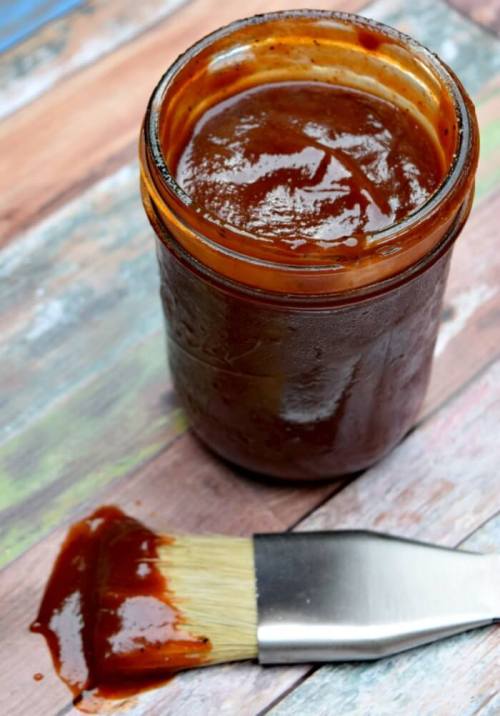 Sometimes commercial sauces are sort of boring and sweet. More like souped-up ketchup than a real sauce. But a lot of them are pretty good, and the variety available is absolutely unbelievable! Hundreds? Thousands? Who knows! Every BBQ joint has its own special one or two or three, and the number of bottled sauces available even in your local market is amazing.
I tend to make my own sauces, mostly because I like recipes for sauces for specific foods. But that may just be an affectation, because I confident that there is a great bottled sauce that is perfect for every single dish I make that requires one. Of course truly great food doesn't require any sauce!
Well, maybe just a dab of a good one....
So, any of you routinely make your own, and if so, just one, or a whole slew of specialty sauces for every occasion?
******
There is a seemingly huge market for high-end meats from boutique ranchers and farmers. You can get anything your gluttonous heart desires, although at a hefty price. $50-$75/pound is nothing in this niche. Hell, I have seen ground beef for $20/pound, and that is just ridiculous.
But the quality is undeniable, and for special occasions, or for people with the scratch and the hunger for great stuff, it is a fine time to be an American. But the market in its infinite wisdom has responded, and as I have mentioned many times, the quality of even mass-market meat is improving every day.
Snake River Farms is probably the most famous of the ultra-high-end meat purveyors, but there are dozens of other ones fulfilling the needs of amateur eaters everywhere.
Here's a selection of a few more. I have used the Hudson Valley Foie Gras company and they are great. I can't vouch for the others, but plenty of people swear by them!
Marx Foods
[Hat Tip: Irishei]
Beeler's Pork
[Hat Tip: commenter redc1c4]

******
Oh man! This looks like a really fun entry in the interminable budget festive dinner contest! Courtesy of Midwest Foodie (I think that is a made-up name). The appetizer is a real winner. Grilled bread is great, and adding fresh ricotta? Well, count me in for two portions.
Appetizer: Grilled bread with ricotta, radicchio, olive oil
Homemade ricotta (1/2 gallon whole milk $1.99, lemon juice, salt)
Radicchio leaves ($3.84) (you can blanch them a bit and then dry them off/cool them if you find them too tough/bitter raw). This works well with Belgian Endive too if you can't find Radicchio.
Grilled Bread ($1.00)

Main course: Crispy braised Italian chicken alla Kenji (See the Food Lab or this link which has a totally different flavor profile but follows the same procedure: https://www.seriouseats.com/recipes/2013/09/crispy-braised-chicken-white-beans-chile-verde-hatch-food-lab-recipe.html)
Fresh chicken leg quarters ($.47/lb! $3.76 total for the meat! Plus olive oil, canned tomatoes, onion, celery, carrot, garlic, chicken broth, lemon juice, S&P from a normal pantry and a splash of red wine, say $.50, and parmigiano-reggiano $2.50)

Sides: Polenta and sauteed brussels sprouts
Polenta ($2.99 for dry, plus a stick of butter, S&P)
Sauteed sliced brussels sprouts ($3.99, plus olive oil, shallot $1.50, S&P, red pepper flakes)

Dessert: Lemon curd with shortbread
Lemon curd (Egg yolks, lemon juice, salt, butter, all from the normal pantry)
Shortbread (Walker's $3.59 or homemade from the pantry: flour, butter, sugar, salt)

That comes to $25.66 plus tax. Not bad for a really good meal! If you want to question/reclassify some of the pantry items, we still come in well under $50. This leaves a good bit of slack to buy a couple or three bottles of Two-Buck Chuck, or even to add a bit of balsamic reduction for the appetizer and a bit of guanciale (or bacon blanched to get rid of extra flavors and then crisped) for the brussels sprouts. Even go to town and add Trader Joe's cocoa truffles $5!
Oh, and just sub GF bread and GF shortbread for a GF meal.

Buon appetito!
******
This is from lurker "Jan." It's classic pork with fruit, but it also uses the fruit to tenderize the meat as well as add a sweet counterpoint to its richness. Pineapple contains bromelain, which is an enzyme that breaks down protein.
Pineapple Juice-Braised Pork Pot Roast
It sounds good, especially since I have now been tasked with making pineapple vodka for my BIL for the rest of my life, so I will have plenty of pineapple to play around with!

******
Here's another recipe for perfect standing rib roast, but this time from a pretty good source. "Food Wishes" is not only entertaining, but also an excellent place to go for solid recipes. Ignore the irritating voice...it's the only way!
Perfect Prime Rib - Easiest Prime Rib Recipe Ever!
I like the addition of compound butter, because butter is always good with beef, and for whatever reason I like my rib roasts to be flavored with...stuff.
But I am going to reserve judgement on the preferred method of cooking. I am suspicious of the sear and then turn off the oven technique, because there ore lots of brands and models of ovens with lots of different amounts and quality of insulation, so the temperature is going to decrease at different rates. That's why I prefer the low and slow method followed by a quick, high-temperature browning.
And many of you will laugh at me because you have had astounding success for years with the first method.!

******
How Aussies are getting food poisoning from takeaways they are buying from home cooks on facebook -- as health authorities issue a warning
Look, I am a big fan of rational food safety regulations. I think that food handling in commercial settings is often good, and sometimes really, really gross and disgusting. But the reality is that we are a pretty tough species and can survive the almost-always-mild cases of food-borne illness that we get from commercially prepared foods and even raw ingredients.
But as usual, government must justify its own existence, and this article is a fine example of that. Notice the glaring lack of any data, other than a government functionary blathering hypotheticals.
Cathy Moir, chair of the health promotion charity said they became aware of the 'illegal' practice in May after noticing a string of 'high-risk' foods were being sold online.

'These unregulated food sales are a considerable food safety risk. There is a real risk of food poisoning, which, in its worst form can have severe health consequences,' Ms Moir said.

'Not only that, it is illegal. Government and local council enforcement agencies are clamping down on these unregistered food businesses, as and when they become aware of them.

'However, new sellers keep popping up and this is putting a considerable strain on our health services.'
Consuming unregulated food "can have severe health consequences," but there are literally no data to back up the charge that unregulated food is more dangerous than regulated food.
Is it? Possibly. Many home cooks prepare perfectly safe food for their families, but probably don't have a firm grasp on storing food for future consumption in a commercial setting. Or not. I don't know, and absent some of those pesky little things called facts, these regulators should shut the fuck up, because they don't know either. But I guarantee that were there any spike in food-borne illness that would have been splashed across the media.
So my guess is...no!

******
Food and cooking tips, Large-breasted Muscovy ducks, young wild pigs, bartenders who use vermouth in Martinis (but not too much), pork belly that doesn't have 5-spice, low-temperature-roast chicken, and good tomatoes that aren't square, pale pink and covered with Mestizo E.coli:
cbd dot aoshq at gmail dot com
. Any advocacy of French Toast with syrup will result in disciplinary action up to and including being
nuked from orbit.
And yes, shaking a Manhattan is blasphemy...it's in the Bible!

posted by CBD at
04:00 PM
|
Access Comments