« Saturday Morning Coffee Break
|
Main
|
Saturday Gardening and Puttering Thread before Christmas [KT] »
December 19, 2020
Where did trust in our institutions go? [KT]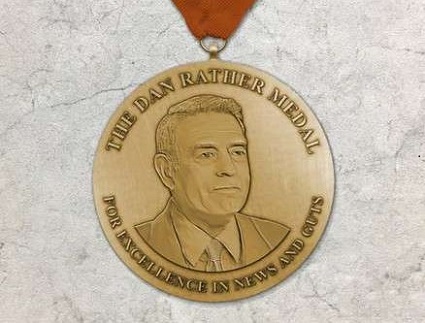 Dan Rather Medals for News and Guts?
Is this university in an alternate universe?
Trust
This week, Sgt. Mom posted a beautifully written piece entitled, Whom Do You trust? at Chicago Boyz.
One by one by one, the people and institutions which I once assumed to be competent, honest, and worthy of my trust and respect have revealed themselves to be corrupt, shallow, incompetent, partisan and cynical users of those ordinary American citizens like me.

In my personal estimation, the national institution that has fallen the farthest and most precipitously has been the FBI.
But several other worthy (or rather, unworthy) entities were named in the piece and in the comments.
"Who were you newly disappointed by, in 2020?"
Trusting Universities
I don't know that I am NEWLY disappointed in universities this year, but the Dan Rather medals put a strain on my already extremely thin support for taxpayers picking up the tab for student loans. As does the "Dr. Jill" kerfuffle. Setting Dr. Jill herself aside, one scary thing about this story is that FOUR Ed.D.s affirmed that they had read her dissertation and found that it met the standards of the institution for an Ed.D.
My eight grade English teacher would never have signed off on that document. My teacher also had a reputation as a very tough grader, but one who knew what she was doing. Who understood math. And even knew some Latin.

There were also three Ph.D.s who approved Dr. Jill's dissertation without reading the introduction, or if they did, they chose to ignore the embarrassing wrong word in it. Never mind the new-age math later in the paper.
Think these kind of standard would be acceptable in China?
Think it is acceptable to ask truck drivers to fund student loans for students who will eventually produce dissertations like this so that they can be called "Doctor"?
Video
Andrew Klavan recently did a show which included some topics highly related to trust in our institutions, and some less related. If you watch on YouTube, after the introduction (the New York Times tackles the issue of Jeffrey Toobin, the media and feminism), you can find as you slide the little red ball across the time counter, whatever it is called, the following topics:
Christmas Joy and Yearning
Christmas and the Celebration of Motherhood
The Homeland Security Election Fraud Hearing
The Press Rigged the Election
The War on Christmas: Controversial Movies
The Homeland Security Election Fraud Hearing gives us a lot of insight into why our institutions are not worthy of our trust. The short segment on how the press rigged the election is especially interesting. It goes far beyond the election season.
One thing we could perhaps learn from Klavan is that loving your enemies does not preclude some dark humor which may include them.
Music
Klavan identified this as his favorite modern Christmas song. It is hopeful, but not cheery.
And this as his favorite old one:
Hope you have a good weekend, with your troubles out of sight, at least for a while.
This is the Thread before the Gardening Thread.
Serving your mid-day open thread needs

posted by Open Blogger at
11:21 AM
|
Access Comments