« Tuesday Overnight Open Thread (11/24/20)
|
Main
|
Mid-Morning Art Thread »
November 25, 2020
The Morning Report - 11/25/20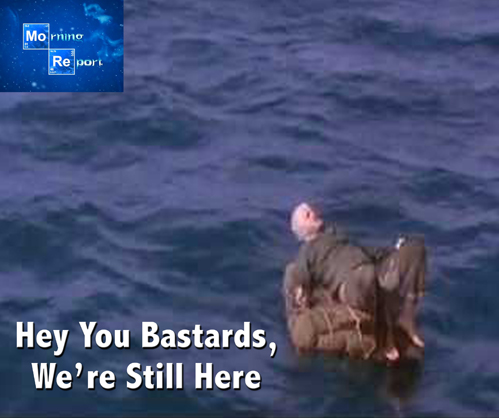 Good morning, kids. Midweek and with the day before Thanksgiving upon us, the news seems to be getting more dispiriting and disheartening as time goes on. No, I'm not giving up hope that somehow Trump will prevail, but the direct political descendants of those who unleashed Kolyma, Birkenau and the Killing Fields are in the ascendancy right here regardless of who is sworn in this coming January 20th. We dodged a bullet to the neck and a tumble into the figurative (and perhaps literal) mass grave four years ago, and had history repeated itself, as it most certainly was going to until a water main break in an Atlanta basement somehow caused six states to vault Polident-Elect Biden into the lead, it only would have bought us maybe four more years of a reprieve. No doubt with double the impeachment hearings, double the foney-Phlu lockdowns and worst of all, double the duplicitousness of an alleged opposition party that is completely dead to me, but a reprieve nonetheless.
Let's face reality; Sinclair Lewis' It Can't Happen Here has happened here. America as founded, as we had imagined or perhaps deluded ourselves into thinking it was, was snuffed out on November 3rd. We can thank President Trump for that, and I'm not at all being sarcastic. In fact, it's probably the greatest achievement of his presidency. By being an outsider and refusing to be subsumed by a sea of corruption and criminality whose purpose was - is - the generational enterprise of dismantling this country and our society and delivering its corpse to a Globalist cabal with Communist China on top, he forced its agents to reveal themselves for who and what they are to a heretofore mostly unaware citizenry. The domestic and foreign policies that he was able to enact, with virtually zero help if not resistance from the late GOP, not only were triumphs but served to underscore what complete and disastrous failures the self-proclaimed Ivy League, Skull and Bones, internationalist "elites" had been strangling us with since the end of the Second World War. And he rubbed their faces in it on Twitter with exclamation points.
Yes, we are not just in a post-Constitutional America but we are on the verge of being in a post-America America. The question therefore is, Trump or no Trump, what are we going to do about it? With virtually every political, legal, academic and cultural institution now thoroughly corrupted, there's nowhere to turn. And as was made abundantly clear three weeks ago, we're not voting our way out of this. I'm sorry if I'm being depressive, especially on the eve of a day when we traditionally give thanks to G-d for both the blessings of our table and for the ability to live in freedom. Well, now that's all shot to hell, isn't it?
As Thomas Paine wrote, "THESE are the times that try men's souls. The summer soldier and the sunshine patriot will, in this crisis, shrink from the service of their country; but he that stands it now, deserves the love and thanks of man and woman.
Tyranny, like hell, is not easily conquered; yet we have this consolation with us, that the harder the conflict, the more glorious the triumph.
What we obtain too cheap, we esteem too lightly: it is dearness only that gives every thing its value. Heaven knows how to put a proper price upon its goods; and it would be strange indeed if so celestial an article as FREEDOM should not be highly rated."
And finally, I'll leave you with Psalm 121: "I will lift up mine eyes unto the hills, from whence cometh my help. My help cometh from the LORD, which made heaven and earth."
Stay strong, have faith and never give up hope. We're still here.


THE 2020 DEMOCRAT ELECTION HEIST
NOTE: The opinions expressed in some links may or may not reflect my own. I include them because of their relevance to the discussion of a particular issue.
ALSO: The Morning Report is cross-posted at CutJibNewsletter.com if you want to continue the conversation all day.
Follow us on Twitter: @CutJibNews
Follow us on Instagram: @Cutjibnewsletter


posted by at
06:46 AM
|
Access Comments