« Food Thread: Sandwiches And Steak, And Great Food Neighborhoods Too!
|
Main
|
Sunday Overnight Open Thread (11/22/20) »
November 22, 2020
Gun Thread: Instinctive Shooting Edition! [Weasel]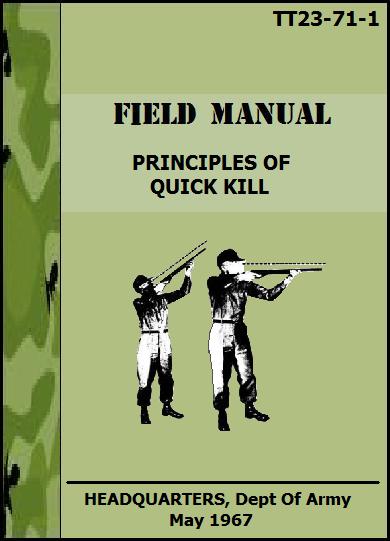 Another week, another Gun Thread!
Looking at the calendar I see I was last at el farmo over six weeks ago. Far, far too long during what is arguably the best time of year to be there, the fall. The temperature and humidity are low, the bugs are off doing other things, and it's simply a great time to sit among a forest of pine trees. It's easy to confuse vigorous organic tree farming with just goofing around, since to the untrained eye the two seem almost identical. Anyhoo - I'm hoping to make a quick trip down this coming week to check on things and perhaps do a little shooting. So stay tuned, we may get a WeaselAcres video out of it!
Now, let's get on with the Gun Thread, shall we?
A week or so ago I was enjoying the Saturday Coffee Break Thread, when our pal Muldoon made a good suggestion; an introduction to something sometimes called instinctive shooting. Great idea, and it fits nicely with a subject we have discussed before, so...
Before we begin, it seems like a good time to drag out and beat the dead horse I like to call static practice. You're all familiar with it; go to the range, set up your shit, stand motionless in your lane, and taking 30 minutes carefully shooting 50 rounds to make the teensiest hole possible in a target 20 feet away. Take that, bad guys! You may wonder why someone with a background in precision shooting is so consistently critical of this all too common method of practice. After all, you're being a precise as humanly possible and making precise little holes! Well, I'm also a realist. If you're competing in a teensiest hole competition, that's great! If you're practicing for self-defense, then perhaps it's not so great or at best not very realistic.
I've read statistics on all sorts of self-defense shooting encounters and will not try and quote them here. Instead, suffice it to say they generally happen a lot more quickly, and at much closer distances, than you might imagine. If you're unfortunate enough to be involved in one, your primary objective is to stop a threat. Period. No one is going to later notice or care what your group looks like. This is defensive shooting where you're attempting to modify someone else's behavior, and there are no style points. Never in any of the statistics I've seen has the shooter been given 10 minutes to precisely set up the shot on a fixed and unmoving target and no one ever scores the hits later.
This is not to say static practice is not without merit. Just being on the range for any live fire exercise is useful in terms of grip mechanics, sight picture, trigger discipline and so forth. What I'm saying is don't make that your only training methodology. Mix it up a little. Shoot strong and weak hand. Practice drawing from concealment if your range allows that. Shoot with both your dominant and weak eye. There are a lot of drills you can incorporate to bring your training up from the level of plinking. In fact, practice without using the sights at all!
Huh? What? Did Weasel just say don't use the sights? C'mon, Man!
That's right. Can you throw a ball without sights? Yup. How about darts - ever throw a dart at a dartboard and hit it without using the dart sights? Pretty sure you can.
In a nutshell, the technique involves focusing on the target and "pointing" the weapon at it, much as you would when throwing a ball, and then shooting. You are not using the sights on the weapon at all. It's an extremely difficult concept to explain, but it's a great technique to employ when a quick shot is required and you don't have time to carefully align the sights on target.
The fact is, there is a whole methodology here, and it's called instinctive or intuitive or point shooting, among other names. The U.S. Army calls it the "Quick Kill" technique. Here's a nice summary of Shooting Without Sights I found and ripped-off from the internet.
If you're interested in the book mentioned in the summary, Kill or Get Killed by Applegate, here is a free download if you don't want to give Amazon $400 for a hardcopy.
But Weasel, reading is hard! Isn't there a video we can watch?
Why yes, as a matter of fact there is!

For those interested in the Army way of training this with BB guns, here's a PDF of TT-23-71-1 Principles of Quick Kill.
Here are a few other videos describing the technique, none of which are anywhere close to being as cool as the Army video.
The audio is terrible in this one, but it's worth watching.
Here is this guy again, and he makes a good argument for this style of shooting:
So the point I'm making is you need to adjust your shooting style to the demands of the application. If you are practicing grip and trigger technique, go ahead and plink away, s l o w l y and precisely. If you are practicing for real-world scenarios, you need to mix it up and become proficient with placing shots on target quickly. There is a difference.
***
So it's nice to know "you people" are talking about guns 'n shit without me, because at nearly the same time as Muldoon's suggestion, I received the following from our pal Cowboyneal.
There was some discussion in the last two days of a point-shooting thread, and I may have some links you'd be interested in. In the mid-late '70s, the little skeet club near here which my dad's partner in pediatrics, "DC", as well as my ex-FIL belonged to, had a guest instructor over a weekend who taught "instinct shooting", apparently very well.

His name was Lucky McDaniel. His methods were simple, yet he could (and did, with DC's novice wife-at-the-time) teach a neophyte to hit a tossed aspirin tablet with a Red Ryder BB gun within an hour or two of their first handling of said gun. He also taught his instinctive shooting to the US Army as "Quick Kill" after a general was blown away (oops) by one of his classes.

Here are a few links you'll find fascinating:

June 1960 Guns Magazine Article - Lucky McDaniel and Instinct Shooting p. 16

Gun Mag - Maintaining and Perfecting Shooting Skills

American Shooting Journal Article - Colt 45 and Point Shooting

The first link, to a 1960 GUNS magazine, is a pdf of the entire issue; you'll enjoy the ads for dirt-cheap surplus guns and you'll note that politicians were no different then than now. There's a great article on McDaniel therein. As I'd imagine you do, I get a big kick out of old outdoors / gun magazines. As a kid I spent a lot of time at DC's house with his three sons; my dad didn't shoot, hunt, or fish, but DC did. Much to my lefty mom's chagrin, DC also was a life member of the NRA and had American Rifleman issues dating back into the early '50s. I remember reading of Lones Wigger (often) and "big, genial Harry Reeves, back from duty with the Marines in China" shooting at Camp Perry (which is about 25 miles east of me and where I once - just once - beat Dave Brunkhorst at skeet)...
Holy Crap, Cowboyneal, that's a great story! I really enjoyed looking through the links, particularly the GUNS magazine. Thank you for sending this in for all of us!
******
Commenter Q & A
A few weeks ago, our pal Diogenes posted the following question in the comments, and later wondered aloud if he should consider adjusting the sights. The responses continue to roll in.
I was enjoying a non-rainy day at the range the other day and after putting about 30 rounds through my Israeli Arms Baby Eagle 9mm, I pulled out my little Ruger Bearcat 22 revolver. I got it from my dad after he passed away years ago. It fits small in my hand but is an easy shooter and fun to plink with.

I fired 50 rounds through it... all old ammo but which had been stored indoors. I found that almost every shot at 30 feet was high and to the left while shooting with my right hand and with the left supporting. By high and left it was easily 6 inches by 6 inches. The groupings were good. The weapon has a blade front sight with no obvious damage, and the rear sight is a small channel along the top of the piece. I tried adjusting my touch on the trigger, slowing the pull, changing the grip, and changing my stance. I even used the side of the shooting lane to steady me which helped a bit, but not much. I thought my sight picture was proper. Top of the front blade even with the tops of the channel so that the blade fills the channel with just a touch of target around the edges. Clearly whatever I am doing, I'm consistent.

Am I missing something aside from the bullseye?
To that, our pal MikeS sent the following response:
I have always recommended that you shoot a handgun at least two ways (left hand, right hand, strong hand with support, weak hand with support, arms on a bag, etc) before you move the sights. Maybe have another shooter try a few rounds and see if they get the same results. I have seen folks 'chase the sights' for hours at the range when it was them causing the problem. Sometimes they have very good groups, but the rounds are not hitting where they think they should be. I had a good friend tell me that his new Glocks (three different models, all with less than 5,000 rounds) all shot low and left. My experience with Glock is they are very well sighted in out of the box. At the range he would shoot five shots low and left in a good group, hand the gun to me and they would go straight in the bull regardless of how I shot them. Because I was running the Personal Protection matches at the club at the time and he trusted my ability, he decided to shoot them some more before he changed anything, and in the couple of weeks they suddenly started hitting the center of the target. This does not mean your gun may not need adjustment, just be sure before you start moving things.
Excellent advice, MikeS! Thanks!
******
Link-O-Rama
I'm really very seriously not kidding around anymore. Buy Ammo
AmmoSeek - online ammo search tool
GunBot - online ammo search tool
SG Ammo
Palmetto State Armory
Georgia Arms
AmmoMan
Target Sports USA
***Mail Bag***
This week's entry comes from our pal Fungus Boy who really likes Bugs and Elmer!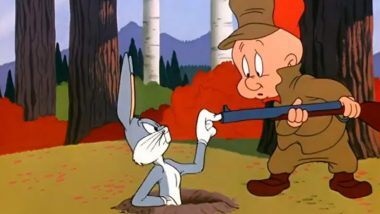 ******
Please note the new and improved gmail account morongunthread at gmail dot com. An informal Gun Thread archive can be found HERE. If you have a question you would like to ask Gun Thread Staff offline, just send us a note and we'll do our best to answer. If you care to share the story of your favorite firearm, send a picture with your nic and tell us what you sadly lost in the tragic canoe accident. If you would like to remain completely anonymous, just say so. Lurkers are always welcome!
That's it for this week - have you been to the range?


posted by Open Blogger at
07:00 PM
|
Access Comments