« First-World Problems...Part тридесет и четири
|
Main
|
Gun Thread: Instinctive Shooting Edition! [Weasel] »
November 22, 2020
Food Thread: Sandwiches And Steak, And Great Food Neighborhoods Too!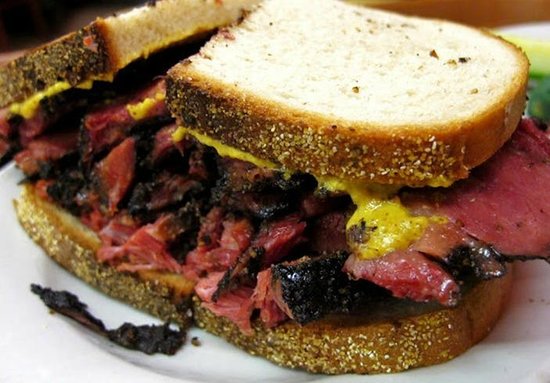 I haven't had a pastrami on rye for a very long time, and that makes me nostalgic for Katz's Deli on Houston in Manhattan, or 2nd Ave. Deli on...you guessed it...2nd Avenue.
It's a simple sandwich, but one that requires the best ingredients. Crappy rye bread is at once gummy and dry, which is a vile combination. And the mustard must be brown deli mustard...no spicy mustards or (shudder) yellow mustard for a classic pastrami sandwich.
The pastrami must...MUST...be fatty. Spare me your whining for lean meat. It just isn't good. Lean pastrami is like a 95-5 hamburger. What's the point?
Pastrami is pretty simple. It is essentially smoked corned beef. But it's that extra pop of flavor that elevates it beyond the sometimes pleasing corned beef sandwich, into the pantheon of great foods.
I would put it in the same class as a Cuban sandwich, an Italian deli mutz with prosciutto and peppers, and as an outlier? The duck confit on Hawaiian roll from The Tattooed Moose in Charleston. But that's a one-off. It's just too distinct and has its own category, though I recommend it to anyone in the Charleston area!
******
This slot is usually a bit of a rant on a serious topic, but today I want to remind us (and myself) of the joys of a good meal, with good friends and good conversation. To me it is the pinnacle of the social experience, and it is a big part of what makes the world such a wonderful place. And when I say "good food," I mean the marinated, seared lamb rib chops with pepper and garlic that we had last night with dear friends, or a couple of brats and a six-pack after a long day of fishing with your buddies, or stepping into a warm pizzeria on a cold day and having a couple of slices with your date or your kids.
It can be a simple or complex pleasure, but a pleasure regardless

******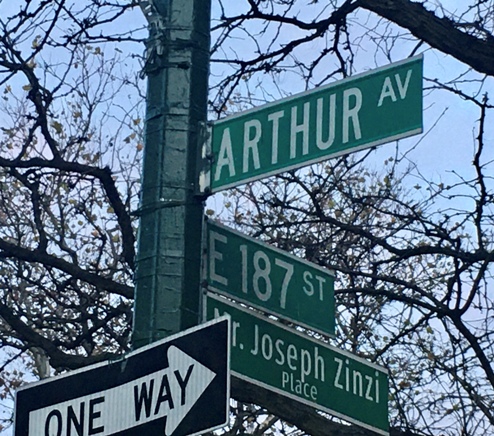 Commenter "IrishEi" took her yearly journey to one of the oldest and most historic Italian neighborhoods in NYC, and has graciously shared some of her photos. Arthur Avenue is just a couple of blocks just south of Fordham Road in The Bronx, but it holds an outsized place in the hearts of many New Yorkers. Plenty of bankers and doctors and cops who never lived anywhere near there visit regularly, because that's where grandma and grandpa bought bread and cheese and their favorite olive oil and fresh pasta. It is hemmed in on all sides, and every year shrinks just a little bit more. But it's still vibrant, and it still brings back wonderful memories...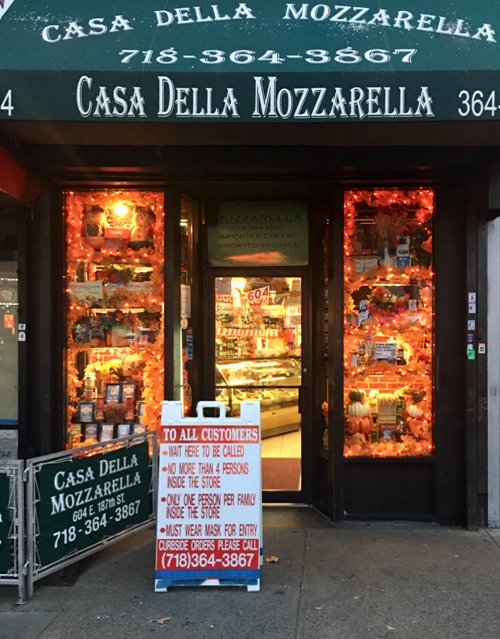 That's where the best mozzarella in NYC can be found, and it has some stiff competition!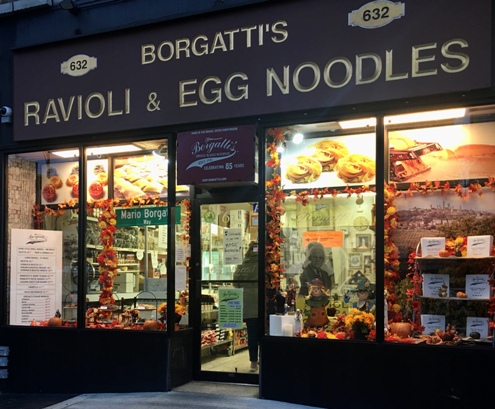 Amazing fresh pasta that is cut to order. it is a blast to wander in and buy some tiny stuffed pastas and a pound or so of plain old spaghetti that manages to be a taste sensation.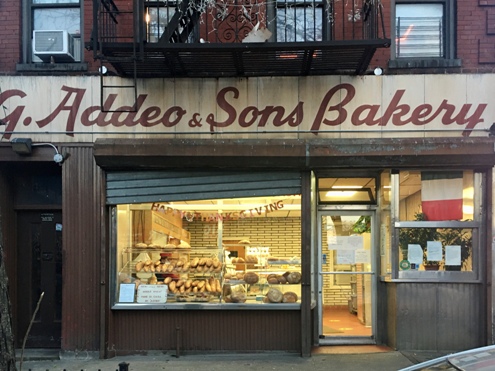 I went to school with one of the Addeos, so whenever we went to Arthur Avenue we bought our Pane de Casa from them...

******
I'll be honest...I don't know what the hell this guy is jabbering on about.
The optimal diet for longevity comes down to this critical factor

This study suggests macronutrient supplies — defined as a country's overall supply of macronutrient rich food — are a strong predictor of age-specific mortality, a finding which held even after the researchers corrected for economic factors.

This is different from macronutrient intake, the absolute amount of specific macronutrients you eat, is what is most important in influencing longevity. The study claims it's the availability of macronutrients that's a strong predictor of mortality patterns, and from there, showed how the ideal balance of supplies for maximizing lifespan changes with age.

First author Alistair Senior is a research fellow at the University of Sydney. He tells Inverse that in future studies he's interested in "trying to nail down the discrepancies between supply and intake."
Maybe just shut up about the minutia of food, and let people eat what they want.
[Hat Tip; Misanthropic Humanitarian]

******
It's a bit long, but worth a watch if beef is your thing.
The history, science and taste of Wagyu beef
I once bought a piece of prime NY Strip from a good local butcher that looked a bit like that Wagyu. It was just dumb luck, but it was also marvelous, and reinforced the rather obvious point that fat is flavor, and there is no way around that!

******
From a recent Food Thread:
So, how do we crowd-fund a restaurant called "Hot Salty Greasy Crunchy"? Just a big room full of serpentine bars, snaking back and forth, serving plates fitting this description, with a great by-the-glass list, great craft cocktails, and 2 dozen great drafts.

Posted by: Thaddeus Rex
******
From commenter "NR Pax" comes another solid entry in the Frugal Holiday Menu Contest. You bastards are making this very difficult to choose a winner!
I've actually made the Plov and had good luck with it.

Appetizer: Balsamic Brochette

Main Course: Plov.
This covers the starch since rice is part of this.

Salad on the side (Spinach, tomatoes, onion, possibly feta cheese)

Dessert:: Blueberry pie

To drink, a pinot or other light red. If you're avoiding alcohol, sparkling water or fruit juice.

******
Food and cooking tips, Large-breasted Muscovy ducks, young wild pigs, bartenders who use vermouth in Martinis (but not too much), pork belly that doesn't have 5-spice, low-temperature-roast chicken, and good tomatoes that aren't square, pale pink and covered with Mestizo E.coli:
cbd dot aoshq at gmail dot com
. Any advocacy of French Toast with syrup will result in disciplinary action up to and including being
nuked from orbit.
And yes, shaking a Manhattan is blasphemy...it's in the Bible!

posted by CBD at
04:05 PM
|
Access Comments