« First-World Problems...Part Trente Deux
|
Main
|
Gun Thread: Post Texas MoMe Discussion and Analysis [Weasel] »
November 01, 2020
Food Thread: Do Not Mess With My Steak! And...Fried Popcorn...Is That A Thing?
Here's the thing. Fried food is good. Really good. And notice I didn't say, "fried oysters," or "fried potatoes," or "fried rutabaga chips."
I mean fried food as a category tastes damned fine. Hot, salty, greasy and crunchy is a foursome that is hard to resist.
When was the last time you had something fried and thought, "Damn, I wish they had boiled this."
Yeah, and that's why diets that deny us satisfying foods are doomed to fail.
I was eating at a restaurant (at the bar!) last night and was told about the special appetizer: fried artichokes. Now, my bet was that they were out of a can, but I also knew from previous delightful experience that their fry cooks are professionals, so...what the hell!
And there was much rejoicing in DildoLand!
So...what fried foods are bad?
And don't throw fried Oreos at me, because I think they are pretty awesome.
******
Two weeks ago commenter Moki asked a good question that morphed into a bit of a
challenge: create a celebratory menu for eight people that is reasonably priced.
And what are the rules? Well, it could get very complicated, but for our purposes how about assuming a typical pantry; no fancy and weird herbs and spices and try to take into account all of the costs: that bag of semisweet chocolate chips wasn't free, so the cookies should take that cost into account.
Oh...and try to avoid slow-cookers and air fryers and such; many people have them, but many people don't.
Appetizer.
Main course.
Two sides (vegetable and starch or two vegetables: your choice).
Dessert (yeah...that's tough).
Try to keep the cost at $50-$80.
Winner (judged by Moki and me) will receive a copy of the world famous cookbook, b>The Deplorable Gourmet.
And there is no second place.
Send the entries to cbd dot aoshq at gee mail dot com.
Make the subject: "Menu Contest."
Last day to submit is November 4th.

******
I am not enamored of extremely sweet and sticky and gooey desserts. I like a little bite of bitterness from dark chocolate, and I prefer the toasted flavors of dark caramel to the sweeter flavors of marshmallow and such. But this does look good, especially since
the chef has a fine sense of humor
and understands that not all of us are trained, and cook in great kitchens.
Mom's Mississippi Mud Cake
seems to be a keeper, at least for one mighty try!
******
Before you say, "WHAT? That shit is disgusting...get it off my computer! Just read the recipe. It does look intriguing.
Steak with anchovy and caper butter
. But not enough to try. Sorry, but steak needs to be treated with respect. I'll adulterate it, but carefully. A squirt of lemon and a dash of excellent olive oil? Yes! The Italians know what they are doing. But this is a Brit magazine, and my recent experience with their cuisine (and I have been there a lot in the last few years) is that they do not know how to cook a steak.
******
Wow. This guy takes his herbs and spices seriously!
Hi, CBD - this is "crisis du jour."

From the Food Thread yesterday:
how about assuming a typical pantry; no fancy and weird herbs and spices

In context, I know this was a line from the four-course-meal-on-a-budget challenge. But still: I come not to bury spices, but to praise them.

I cook mainly comfort food - soups, stews, chilis - but spices are my culinary passion. Tinkering with making different blends or sampling blends that I never would have thought of on my own is, for me, one of life's simple pleasures.

Here's three of my all-time favorite blends, how I usually cook with them, and where to get them if interested:

Bajan Seasoning (Savory Spice Shop) - a Caribbean (Barbadian, actually - shortened to 'Bajan') blend that's usually blindingly hot because of the inclusion of Scotch Bonnet peppers. Savory Spice's blend tones the heat way down so that the pungent and herbaceous notes can take center stage. Main flavors: onion, thyme, marjoram, allspice, anise, and (in Savory's blend) lime. I use this with seafood and with veggie-forward dishes.

Isphahan (La Boîte) - I would never have thought to mix together lemon peel, green cardamom, and cumin ... but the result is wonderful. I used this on a seafood dish recently, and it was revelatory. Great tartness from the lemon combined with earthy tones from the other spices was simply spot on. Isphahan is the creation of Lior Lev Sercarz, an Israeli-born and French-trained chef who owns La Bôite in the Hell's Kitchen neighborhood of NYC, arguably the premier spice shop in the world.

Ras El Hanout (Zamouri Spices) - a go-to spice blend in North African cuisine, Ras El Hanout harkens back to a much earlier time when each village would have someone who blended spices and sold them out of his (usually) house. 'Ras El Hanout' literally means 'the best of the house' or 'the head of the house', what we would now call the 'signature blend' of a spice merchant. One of the results of that history is that there is no standard recipe for what Ras El Hanout should contain. That said, it's usually a complex mix of both 'sweet' spices (cinnamon, nutmeg, and/or allspice) with peppery notes from chilis and earthy tones from cumin and cardamom. In the main, Ras El Hanout is comparable to Indian cuisine's Garam Masala. Closely related to Ras El Hanout are the spice blends Baharat and Rogan Josh, in order of increasing heat. The Ras blend from Zamouri spices is the best one I've tried. I use Ras primarily in lamb dishes, but it's wonderful in any kind of stew as well.

So - live a little and try out some "fancy and weird" herbs and spices. You'll be glad you did. An Asian food store is a good place to sample unusual spice blends if you have one nearby, and there will usually be a small-sized bag of most blends (and even individual herbs or spices) that won't set you back much cash if you end up not liking it.

A couple good websites to get started with spice blends are:
https://www.allrecipes.com/recipes/16328/ingredients/herbs-and-spices/homemade-spice-blends/
and
https://www.epicurious.com/recipes-menus/spice-blends-dry-rubs-and-other-seasoning-mixes-gallery

Here's my own Red Adobo blend, tuned to be what I'd like for a Red Adobo to taste like when I eat out. But - your taste buds may disagree with mine, and that's fine. Good, in fact - because you can tune it to your tastes and end up liking it even better ... and, along the way, discover the joy of spice blending.

Red Adobo



4 tablespoons ground cumin

4 tablespoons Mexican oregano*

3 tablespoons chili powder

2 tablespoons garlic powder

2 tablespoons paprika

1 tablespoon ground turmeric

1/2 tablespoon ground black pepper


Mill the oregano in a spice grinder**
Combine all the ingredients and mix thoroughly.
Makes about a cup.
Seal and store in a cool, dry place.

*Do NOT use Italian oregano! (the kind we usually think of as 'oregano')
** A 'spice grinder' is a coffee grinder that's dedicated wholly to spices.
******
I like his cooking style and I like the recipes he makes and I really like his humor. Too many of these sorts of videos are completely devoid of humor and mistakes.
******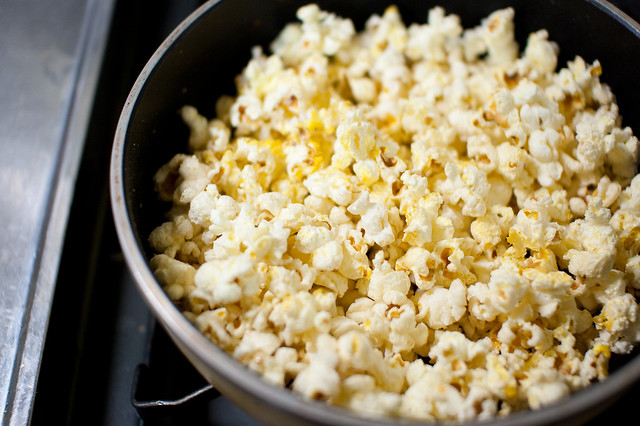 If the text looks a bit oily it's because I made a big batch of popcorn for those in the house who are not slaving over a hot keyboard providing content for you maniacs. And strangely, a bowl of it appeared on my desk. And I proceeded to shovel it into my mouth as fast as I could.
Am I the only one around here who has exactly zero self control around a bowl of popcorn?

******
Food and cooking tips, Large-breasted Muscovy ducks, young wild pigs, bartenders who use vermouth in Martinis (but not too much), pork belly that doesn't have 5-spice, low-temperature-roast chicken, and good tomatoes that aren't square, pale pink and covered with Mestizo E.coli:
cbd dot aoshq at gmail dot com
. Any advocacy of French Toast with syrup will result in disciplinary action up to and including being
nuked from orbit.
And yes, shaking a Manhattan is blasphemy...it's in the Bible!

posted by CBD at
04:00 PM
|
Access Comments