« The Morning Rant: Minimalist Edition
|
Main
|
Tony Bobulinski's Statement in Full: "The Biden family aggressively leveraged the Biden family name to make millions of dollars from foreign entities even though some were from communist controlled China." »
October 22, 2020
Hunter Biden's Business Partner Issues Statement: The Emails, Including the "Smoking Gun" Email Naming Joe Biden as "The Big Guy," Are Real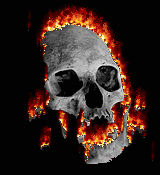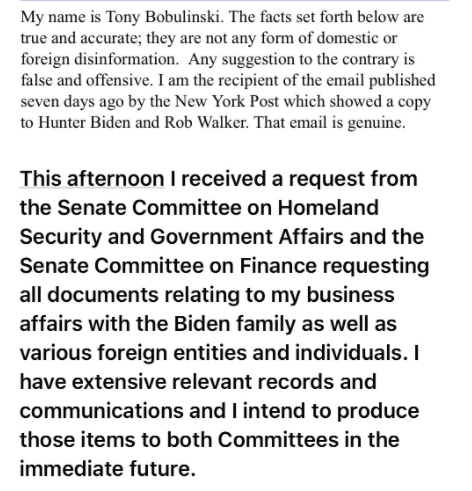 The statement Wednesday night asserting that the former vice president was a willing and eager participant in a family scheme to make millions of dollars by partnering with a shady Chinese Communist firm is a singular event in a presidential race already overflowing with drama and intrigue.

The dynamite assertion, believable because it aligns with earlier information we know to be true, came in a statement by Tony Bobulinski, who describes himself as a former partner of Hunter Biden, Joe Biden and Joe's brother Jim in the China scheme. Bobulinski unloads his bill of accusations in blunt but precise language and detail.

He confirms that he was one of the recipients of the May 13, 2017, email published by The Post eight days ago. That email, from another partner in the group, laid out cash and equity positions and mysteriously included a 10 percent set-aside for "the big guy."

Sources have said the "big guy" was Joe Biden. In a matter-of-fact manner, Bobulinski states that the "email is genuine" and that the former vice president and the man leading in the 2020 race is indeed "the big guy."
The statement also makes clear that he's no Russian Asset. As a friend summarizes: "He's a Democrat. Only donated to Democrats. Well respected Naval career. He's basically unimpeachable as a witness."

The below texts have been released, most likely from Bobulinski, who seems to be a cooperating witness with the government. (How else to explain this sudden forthcomingnesss?)
In the texts, Bobulinski is warned by another Hunter Biden business partner to not mention their contacts with Joe Biden, except "face to face" -- meaning, I take it, only mention that Joe Biden will do favors for their clients in a way that cannot be recorded or intercepted by law enforcement. Don't mention The Don in anything that can be subpeonaed, they mean.