« Look At Who Twitter Suggests I Follow -- 19 Days Before a Very Consequential Presidential Election
|
Main
|
Shocker: Allegedly Unbiased "Journalist," Former Biden Intern, and Would-Be Moderator of Second Debate Admits He... Lied Like Anthony Weiner in Claiming He Was "#HACKED!" »
October 15, 2020
FCC Chairman Ajit Pai: I Intend to Provide a "Clarification" To the Scope of Protections Offered by s.230
Promises, promises.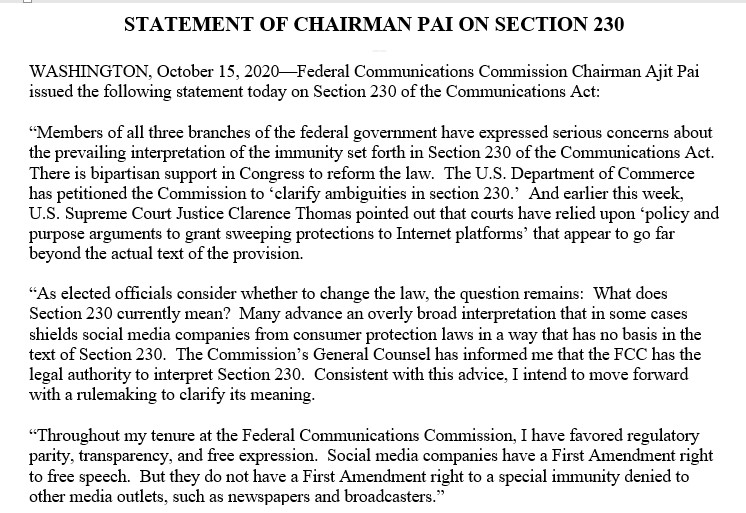 The mention of a consumer protection law is interesting -- suggesting that the monopolies might be amenable to suit for violating terms of service, like promising to be the "free speech wing of the free speech party" and then turning into the most egregious mass-censor the world has ever known.
Also: People and corporations who's spent years building up a twitter followership (whatever that's worth) but who are then banned or suspended can have a lawsuit against the company for violating terms of service and publicly-stated claims about being politically impartial.
Remember, Twitter's claims to Congress that their censorship is not politically motivated are made under oath and therefore can be fairly be read into the terms of service. People can rely on the claims they make to Congress, and sue Twitter for violating those contractual terms.
Even if Twitter disclaims any obligation to treat customers fairly in its actual terms of service, people can justifiably incorporate the very public lies they tell in congressional hearings into those terms of service.

posted by Ace at
03:32 PM
|
Access Comments