« Hunter Biden Emails Reveal How Money Was Laundered To Family Members, Including the Corrupt Joe Biden
|
Main
|
FCC Chairman Ajit Pai: I Intend to Provide a "Clarification" To the Scope of Protections Offered by s.230 »
October 15, 2020
Look At Who Twitter Suggests I Follow -- 19 Days Before a Very Consequential Presidential Election
I signed up for Twitter -- don't worry, it's just to be able to read stuff more easily.
This is who they recommended I follow -- 19 days before an important presidential election.
Not a single conservative politician, not even the very popular Donald J. Trump, although, of course, Barack Obama, Michelle Obama, Bernie Sanders, Joe Biden, Kamala Harris and Hillary Clinton are all recommended.
And Alexandria Donkey-Chompers. And John Kerry. And Michael Bloomberg.

Not a single conservative pundit -- unless you count "David Frum," a liberal who is now all but a declared Democrat (and who only doesn't declare as Democrat to preserve his market value as a "reasonable conservative").
I would include the media accounts it suggested I follow, but it might give away my location. Trust me, they're all leftwing.
And there are conservative media in the area. But Twitter decided not to recommend I follow those.
Twitter is not a media publishers company, supposedly. They are supposedly a social media platform.
Publishers can of course engage in grotesque political bias without being charged with making an in-kind donation to a politician.
They get away with that because they're publishers-- and publishers' can express a viewpoint with First Amendment protection.
But Twitter is not a publisher -- or so they claim.
So if they're not a publisher, just another corporation making a buck, how are they not being sued by the FEC for making enormous in-kind donations to Joe Biden and the Democrat Party, and by refusing to report their in-kind donations, evading donation limits?'
Are they gonna give me the bullshit that it's just MUH ALGORITHM that decided I was a hardcore leftwinger interested in Alexandria Ocasio-Cortez?
By the way, the tweet I was looking at when I decided to get the account was by Noah Bloom -- a Commentary-type pretend-Republican but really an effete urban liberal NeverTrumper.
Now, I think he's a c#ck and a jerkoff. But he's not a Donkey-Chompers fan.
So with Twitter only knowing one thing about me -- that I opened a tweet by Noah Bloom -- how did it get the idea I wanted to follow John Kerry, Michael Bloomberg, Bernie Sanders, AOC, Barack Obama, etc.?
If "Muh Algorithm" were tailoring the recommendations according to what they knew about me (just the Noah Blum tweet), they should have guessed that I was an effete urban liberal Republican and recommended c#ck sites like National Review and c#ck politicians like Mitt Romeny.
But they didn't. They went full leftwing.
(Update: I just realized -- the David Frum recommendation is the one recommendation based off the fact that I was looking at Noah Blum tweet. They're both smug, cucked out cosmopolitan pretend Republican NeverTrumpers. But otherwise, the list is simply leftwing politicians that Twitter wants to promote without disclosing the in-kind contribution.)
This is a deliberate corporate attempt to influence the vote of a client.
"Muh Algorithm" didn't do this -- leftwing Twitter executives did.
And they are breaking federal law by not reporting their in-kind contributions. They have turned their corporation into a free advertising platform for Joe Biden and the Democrat Party, and they refuse to admit this in federal campaign disclosures.
If you don't believe me-- sign up for a dummy account and get an eyeful of the socialists and communists and hardcore Democrat activists (like Chuck Todd) that Twitter helpfully suggests you follow.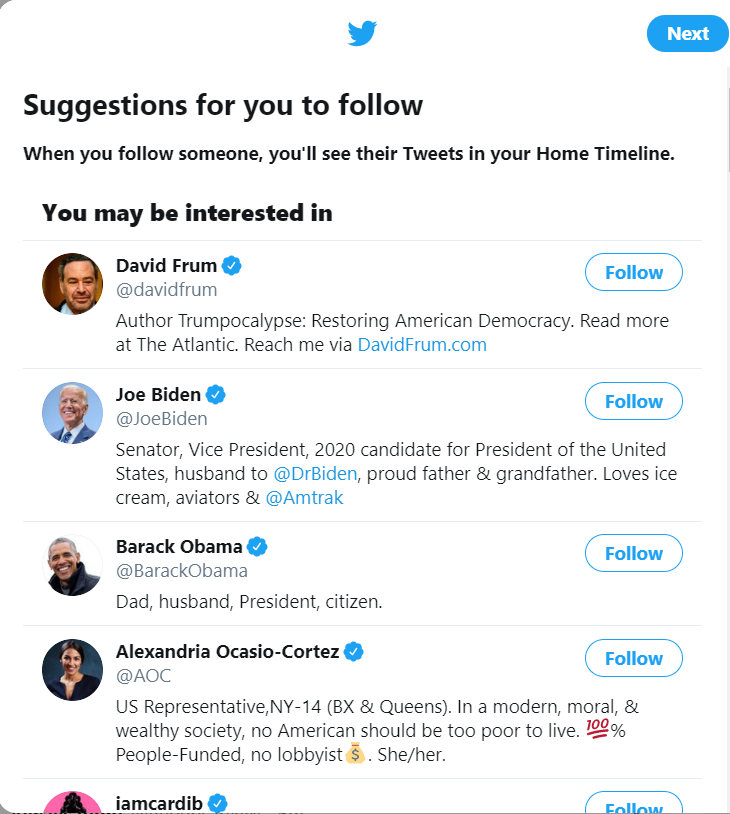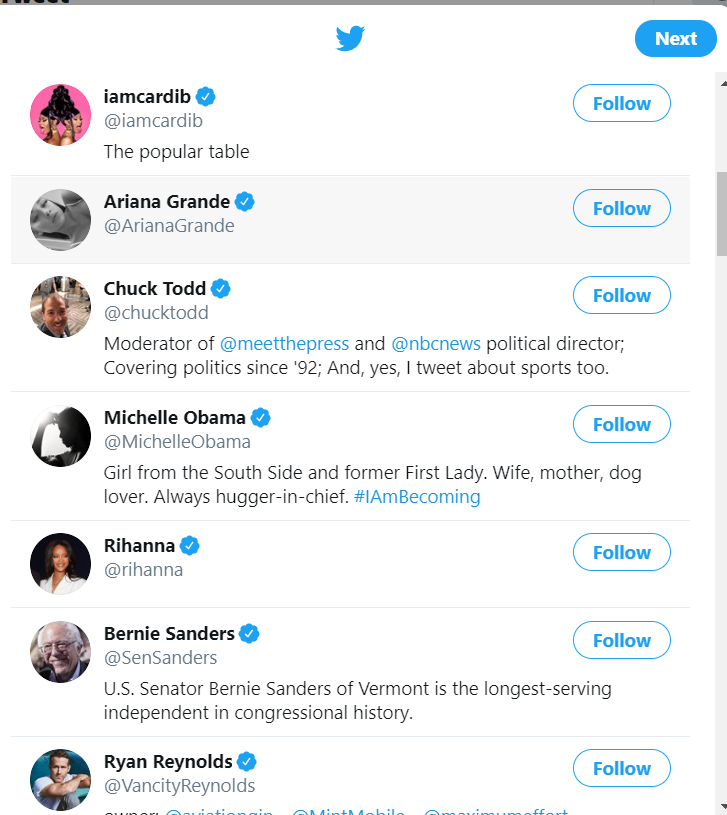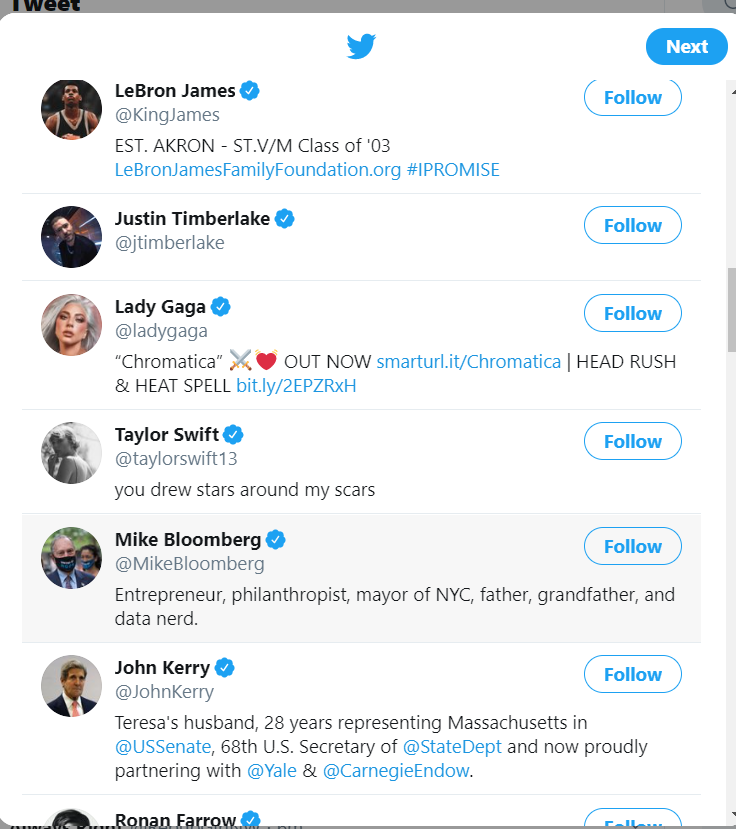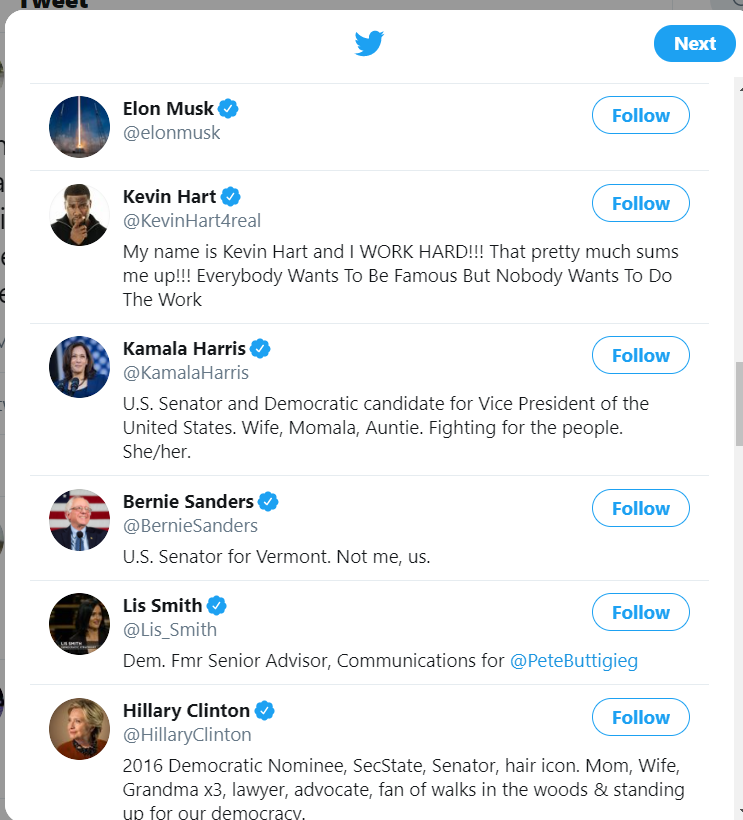 If John Deere tractors, say -- who is also Not a Publisher -- turned its corporate publicity into a 24/7 advertising effort for the GOP, they'd have to disclose their in-kind (meaning: not in money, but in goods and services) donations.
Why doesn't Twitter?
It's also supposedly Not a Publisher.
So which is it, Twitter -- are you Not a Publisher, in which case you have section 230 immunity but not immunity from federal law requiring you to disclose in-kind donations to a candidate, are are you a Publisher, in which case you do not have to disclose in-kind donations, but do not have s.230 immunity to lawsuit?

If anyone is in contact with any Republican representatives who do more than posture on this issue, please forward this post to them.

posted by Ace at
02:25 PM
|
Access Comments