« FCC Chairman Ajit Pai: I Intend to Provide a "Clarification" To the Scope of Protections Offered by s.230
|
Main
|
Twelve Previous Hacks and Illegal Leaks of Confidential Information -- Which Twitter and Facebook Didn't Censor, Because They Were Anti-Trump »
October 15, 2020
Shocker: Allegedly Unbiased "Journalist," Former Biden Intern, and Would-Be Moderator of Second Debate Admits He... Lied Like Anthony Weiner in Claiming He Was "#HACKED!"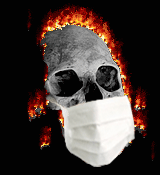 This is my shocked face.
The Brave Firefighters of the media again caught lying every time they get caught in a jam?

The face you are currently looking at? Is one of shock.

Who would have guessed that a leftwing hack would resort to childish lying to get himself out of a jam.
Also: He then took responsibility... by blaming Trump.
Do you see my face? If it seems familiar, it's because you just saw it two seconds ago.
It is my shocked face, this time with an eighth-turn to the left.
I call it Shocked Blue Steel.
Scully said that when he saw his tweet had created a controversy, "I falsely claimed that my Twitter account had been hacked."
Behold, My Face of Shock.
He had been frustrated by Trump's comments and several weeks of criticism on social media and conservative news outlets about his role as moderator, including attacks directed at his family, he said.
This is a lie. He just lied about the hack, now he's lying about the reasons for the hack.
Sarah Jeong, the outrageously anti-white, anti-male racist at the New York Times, similarly claimed that "bad men on the internet made me say racist shit about white people."
Notice they never quote the "attacks" they claim provoked their own bad behavior. But they always describe them as "attacks" (usually meaning "criticism" or "disagreement") or "death threats" (which often means something like "go die in a fire") or "rape threats" (which usually just means "f*** you" or "s*** my d***").
The "attacks" that they say drove them to lie or write dozens of racist attacks against white people must obviously be very serious things, right? So serious that they would surely screenshot it for possible use by the police, should they become involved in the hunt for these Malefactors.
But for some reason, they can never quote or link or provide screencaptures of these possibly-criminal provocations.
That's because they're lying.
Every time.
Every fucking time.
I saw earlier claims that Scully's wife was herself somehow politically connected to the Democrats, and therefore, Scully's own impartiality was in question.
I don't know if those claims are true; I'm unable to find anything online about his wife.
But I remember those claims.
He's now claiming that people talking about his wife's political affiliation constitutes an "attack on my family" which of course then justifies his lying and falsely reporting a crime.
Produce these "attacks," Scully. Let us see these horrible "attacks on your family" so we can judge how serious they were.
Also, Steve, while I've got you: You claimed twice before that you were "#hacked."
Were your claims of prior "#Hacked" situations similarly provoked by "attacks on my family" or nah?
Maybe attacks of alcohol on your brain cells might be more responsible, eh?
"These were both errors in judgement for which I am totally responsible for," Scully said. "I apologize."
Except that Trump was really to blame for calling Scully a partisan (he is) and some internet randos suggesting his wife was connected to Democrat politics (open question on that).
But other than shifting the blame to the people who made him lie -- yeah, he's taking full responsibility.
Any apologies from Chris Wallace, who leaped into claiming that Scully should be presumed to be truthful, mocking those who were skeptical of his bullshit claims as partisan conspiracy theorists?
Any apologies from the partisan Commission on Presidential Debates, which likewise denigrated Scully's critics and skeptics of his tall tale?
No?
Oh, one more question, which no one in the media will ever ask about, and no one at the CPD will ever answer:
What role did the partisan liar Steve Scully have in deciding to turn the second debate into a Biden-friendly "virtual" basement debate?
By the way: C-SPAN has already announced that after a brief time-out, Scully will return to being a liar on their platform, suffering no penalty at all.
Remember when Brian Williams lied, and he had to take a year off? And then he was right back at anchor, and we were kind of shocked how lightly the media punishes proven liars in an occupation supposedly all about Truth-Telling?
Well, now the punishment for falsely reporting a crime is down to a couple of weeks, just until after the election.
That's how seriously the media takes lying when the lies are told by its own members.

posted by Ace at
04:21 PM
|
Access Comments