« Why does Joe Biden think Polish people are stupid? [KT]
|
Main
|
Ace of Spades Pet Thread »
October 17, 2020
Saturday Gardening and Puttering Thread, October 17, 2020 [KT]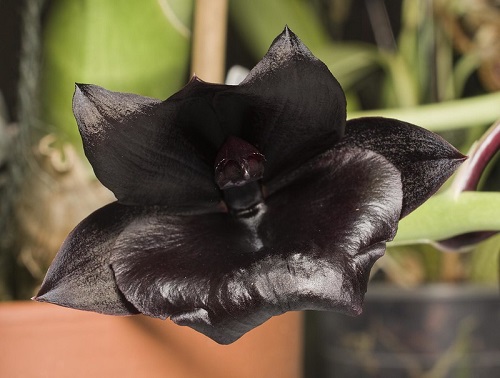 Greetings, everybody! Thought about Halloween at all this year? Or has the entire year made Halloween seem rather ordinary? Hope you see something to interest you in the thread today.
Don in Kansas went to an orchid show not long ago. Some of the flowers he photographed were a little Halloween-ish. Others were strikingly beautiful. Take a look at the link. About the flower above:
There were . . . a few Catasetinae with dark flowers. The darkest was the multigeneric hybrid Monnierara Millennium Magic "Witchcraft", above, which is such a deep burgundy-maroon that it can be called black. . . (It's a recent hybrid, and probably not the source of Basil St. John's black orchid serum. My best guess is that his orchid was an obscure Dendrobium.)
The orchid (below) is a form of Habenaria Jiaho Yellow Bird. Evidently the color is variable. I photographed it at the monthly orchid society meeting this week.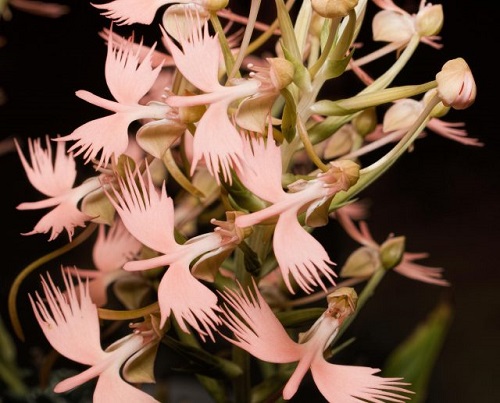 I like the helmets on those little birds.
Here's another orchid that I thought looked sort of Halloween-ish.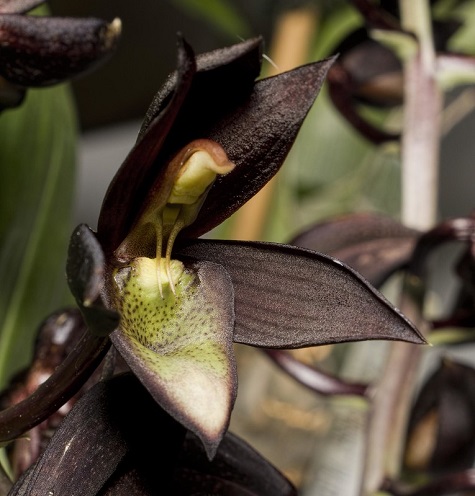 And here is a Hoya carnosa. Not an orchid. Kind of a Halloween-ish name. I like the fuzzy flowers.
Next week, some actual carnivorous plants.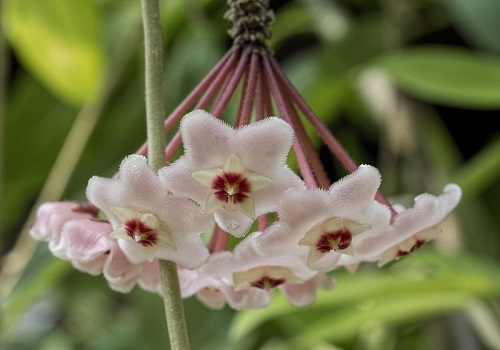 Don also had a cactus bloom at home. You'll have to go to the link for the fancy photography stuff:
I wasn't expecting much action from my cacti until things warm up again in the spring, but the Turbinicarpus roseiflorus that I started from seed a few years ago popped out a couple of flowers this week. It's a small plant, slightly over an inch in diameter, exclusive of spines.

Both photos are stacked-focus, the one above compiled from 40 separate images. As usual, click the pictures to see them larger and with better color. Open in a new window for maximum detail.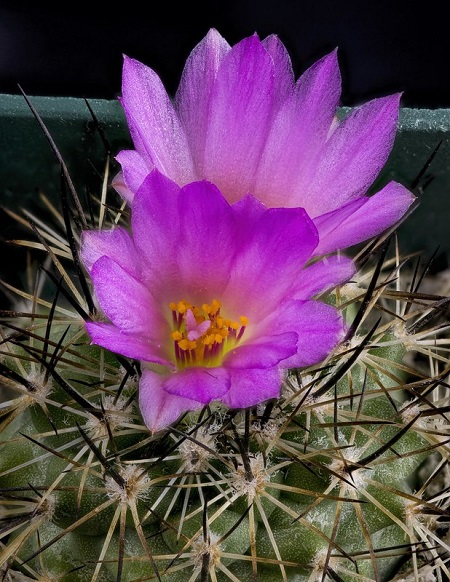 Halloween
Four small projects. Anybody know where to get a plastic rat? Don't forget about drainage.
Think you could manage one of these projects?
Know anybody who needs a googly-eyed bat quilt?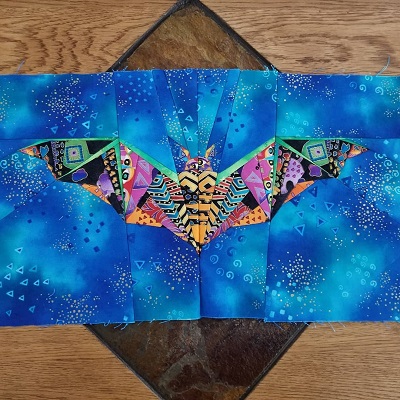 You could whip one up in your spare puttering time this week, couldn't you?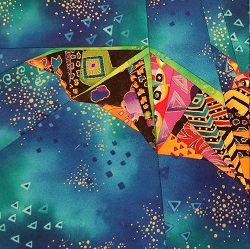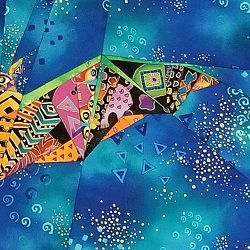 The Edible Garden
The famous Pat*'s Chile harvest:
All the poblano peppers from 4 large and 2 small plants. I'm busy making pre-made chiles rellenos and freezing them, the cutting the rest up for a casserole version.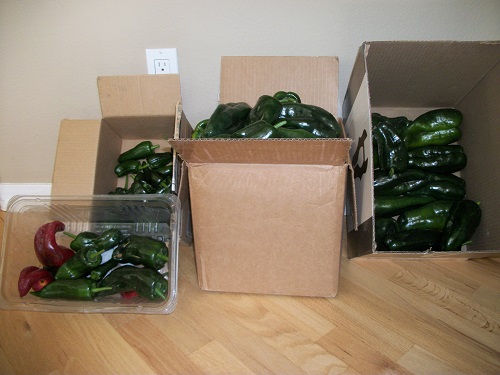 My favorites.
We had just one Anaheim pepper plant, but it was productive, and ripened almost all its peppers. I'll try chiles rellenos with these as well.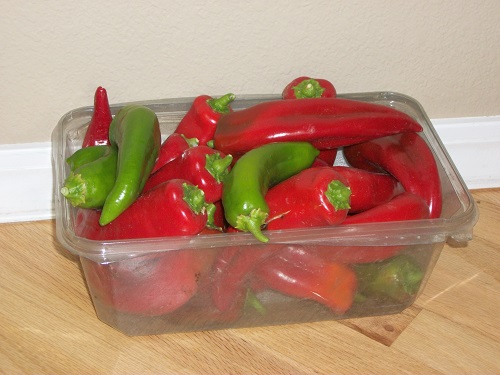 These, when ripe and dried, are the Chile California often sold whole in bags for pozole and menudo.
Gardens of The Horde
Here are some interesting details about Mr. Jimm's goldfish pond:
We used to have some koi, but they grow SO large SO quickly they're hard to keep alive over the winter, but the 15 goldfish you see in the picture have survived at least 7 winters outdoors (& maybe many more with the previous homeowners). Our neighborhood is chock-full of raccoons, opossums & skunks, but we've never lost a fish yet.

Note the Canna Lilies in the upper right (red) and lower left (yellow) corners of the pond; you can buy them in pots almost anywhere, rinse the dirt off the roots and just plop them in the water in a spot where they'll get some good sun. They suck up all the, ah, 'fertilizer' the fish produce and will triple in size between May & September, producing nice foliage and beautiful flowers. You can try to store them over the winter indoors, but for $7 apiece it might not be worth the hassle.

Love your column, BTW; been following all of Ace's various thread-editors for too many years to count now.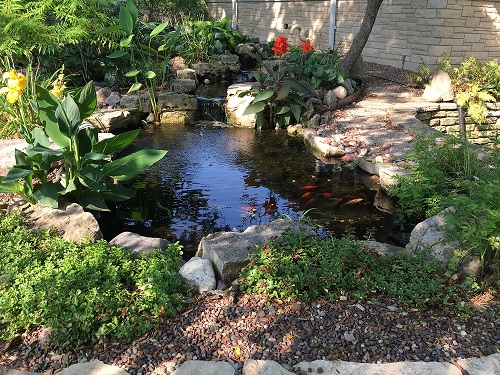 From Wee Kreek Farm Girl:
My Carrion cactus has loads of blooms on it and is ready to start stinking the place up. It sits in front of where we keep our garbage, so I can never tell if it is flowers or stinky trash.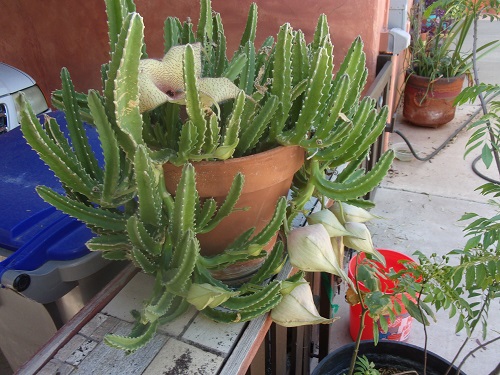 What amazing flowers!
If you would like to send information and/or photos for the Saturday Gardening Thread, the address is:
ktinthegarden
at that g mail dot com place
Include your nic unless you want to remain a lurker.

posted by Open Blogger at
01:03 PM
|
Access Comments