« Saturday Gardening and Puttering Thread, October 17, 2020 [KT]
|
Main
|
Saturday Afternoon Chess thread 10-17-2020 »
October 17, 2020
Ace of Spades Pet Thread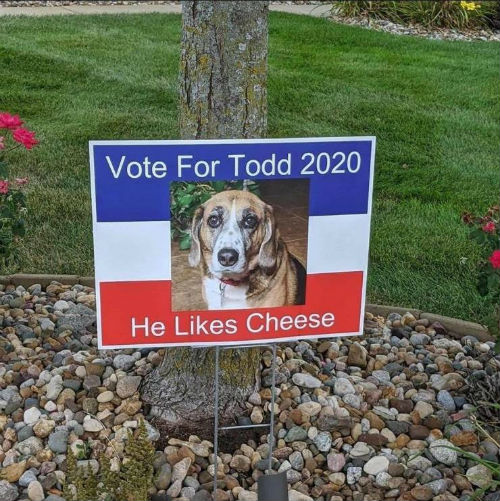 (H/T ALH)
***

Good afternoon and welcome to the almost world famous Ace of Spades Pet Thread. Sure it's the middle of Saturday afternoon, but kick back and enjoy the world of animals.
Please leave current events at the front door. Thank you.
***
A Little of This. A Little of That.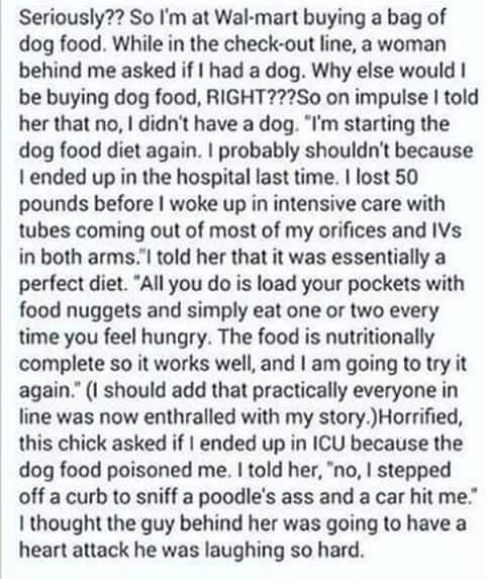 ***
From our pal JT, here's a cute photo.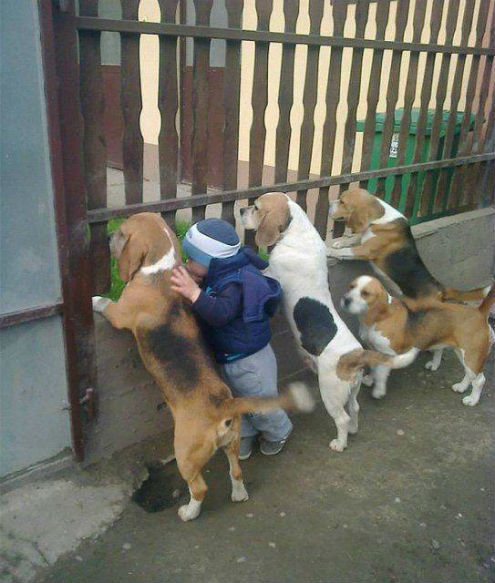 Every kid should grow up with at least one pet.
***
A funny video sent to us by Tami. Obviously this dog has trouble paying attention.
***
Silly cats. H/T Shibumi
Meet The PetMorons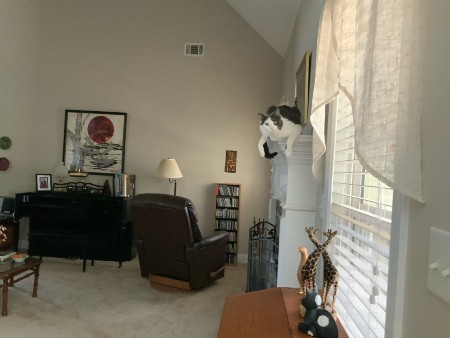 This adorable little shit is "Chesty Puller." Like the eponymous Marine, Chesty is a veteran of sorts. About ten years ago, Chesty was taken into the rescue I foster for (the Director is a retired Marine) after being shot by a police officer during an apparent drug raid. Chesty was subsequently nursed back to health, trained and socialized, and adopted out about 8 years ago.

Fast forward to the present year, and his adoptive human - having since relocated to California to start his own rescue - is being extradited to Ohio on three dozen felony charges (conspiracy, tax evasion, narcotics, etc). We took legal action to get Chesty back, flew out to California, and drove the old man back to Ohio and into my care.

Chesty will not be adopted out again. He will stay within the rescue, living out his golden years with people who will love and protect this sweet little guy.

Regards, Longtime reader; almost never poster "rabid squirrel"

Good Lord, what an uphill battle Chesty has had. A happy looking pooch, hopefully he will live his last years dreaming of squirrels and being a couch hog. Thanks for all that you have done for animals.
***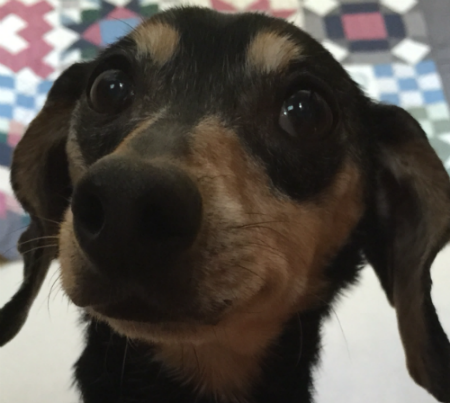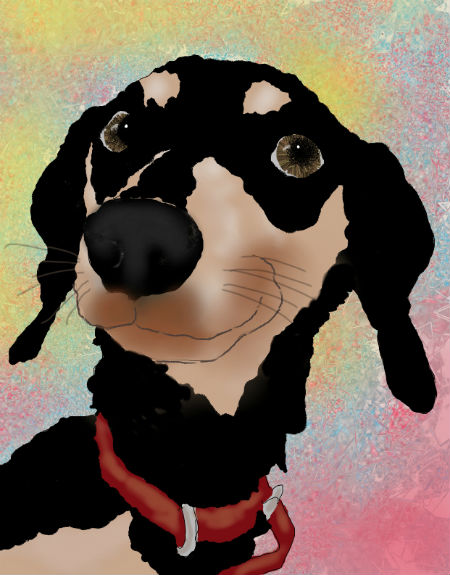 MisHum,

Thank you for everything you do on the blog! I'm a fairly infrequent poster
with screen name "Fritz (not Fritz)" and I especially appreciate the Pet
Thread and the ONT.

This month marks the 5th anniversary of the passing of our dear sweet Mitzi
and what would have been her 20th birthday. Bending the rules with two
images, but I wanted to include a favorite picture of her and then a piece
of art a friend of ours created from it. Prints of the artwork hang in our
house and the apartments of each of our four children. She was both as
sweet and naughty as mini-doxies are destined to be and is greatly missed!
Well Fritz (not Fritz) with such a warm greeting how could we say "No" to two pics of Mitzi. She must have made quite an impression on you and your family. Thanks for sharing.
***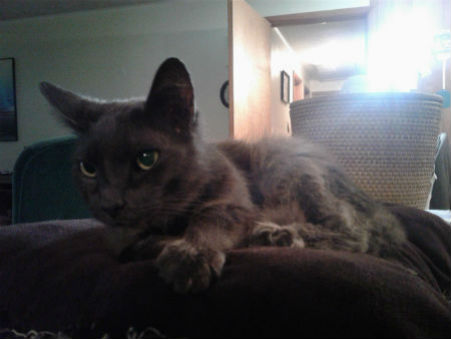 I had a grey kitten show up, she was skin and bones and clearly been on the street for a while.

I got her flea dope and wormed her and she is putting weight on. she is clearly a stray and not a feral.
I plan to get her into the vet's to look for a chip and get a found kitty notice out.

She has giant paws, I thought she was a six toed cat to begin with. - Kindltot
What a big heart you have. The modern day Good Samaritan. That kitty owes you a big thanks or two. Nice story. Please keep us informed if you find an owner or if you adopt her.
***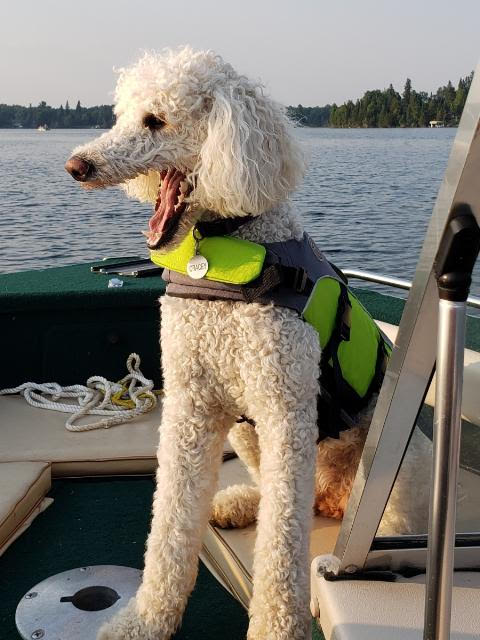 Here is Cracey, our 2-year old standard poodle. She is a hunting and retrieving machine, which earns me plenty of odd looks from the Spaniel/Setter/Labrador tribes, but she's made believers of them all. She's got her alligator mouth on full display here. - jackcoke
Cracey looks quite at home in the boat. She is only the 2nd hunting poodle I've ever heard of. I know you're not pulling my leg. Thanks for sharing today.
***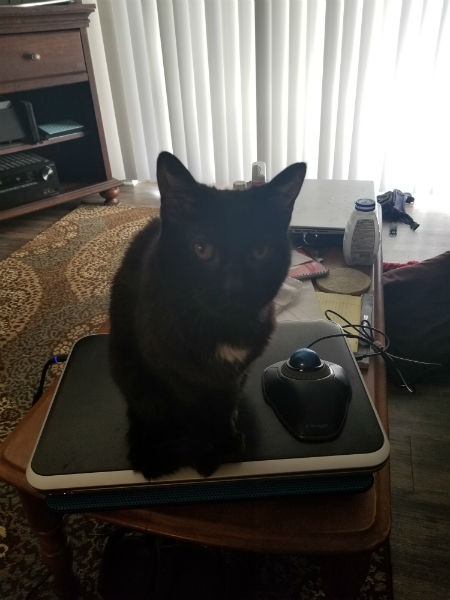 Hello again. You featured my two fur-bearing varmints Rally and Angus in the thread almost two years ago. I wish this was a happier update, but we had to say goodbye to Rally this weekend after fifteen years. She had been struggling with kidney issues for a long while, and took a sharp downturn last week.

Rally was such a great cat. She was shy and not especially affectionate in her younger years but turned into a fine lap cat and a proper Mistress of All She Surveyed as she went on. She was the only cat I've ever met who could actually mutter snarkily, which she often did if you dared tell her to wait while you dished up the food. It broke my heart to see her go, but I know right now she's probably hogging all the best warm spots and teasing my parents' old dog again. And sooner or later Angus and I will catch her up, at which point she'll break out that old fire-alarm yowl which means "the food bowl is empty, my head isn't being scratched and what are you going to do about it?"

Thank you, Ace and the Horde at large for letting me share her memory with you. - Stephen
Dayum, so sorry to hear of your pal's demise. After all these years it still amazes me how a little bundle of fur can get into your heart and soul. Condolences.
***
Hi MisHum,

Three years ago my cat Powder was featured on the world-famous pet thread, along with her friends Teddi the Dog and Abbott the Rabbit, who are my mom's furbabies. We all shared a cramped house during mom's convalescence from a serious car accident.

Three years later and much has changed. Mom is completely healed, I got married, and Powder passed over the Rainbow Bridge December 2018. My beautiful and awesome new bride had never had a pet before, and I've rarely been without one. So when one of her co-workers announced that she was giving away her cat…

Anyways, one week after getting hitched, we welcomed a new addition to our family- Salem. Perfectly timed for Halloween, Salem has already been completely spoiled by the two of us. Wife doesn't know how to say "no" to the treat begging, and I never even tried resisting it with Powder, so why start now? He's explored every part of our apartment, got stuck in a bathroom drawer, and is getting used to sitting on or next to us. But what he loves most is playing with a catnip-stuffed mouse that used to be Powder's.

Wife didn't know how much fun pets could be. She's not a Trump fan, but doesn't like Biden at all, so hopefully I'm slowly converting her into a Pet Moron. Salem is definitely a Trump fan; sometimes you can just tell.

Thanks to you and the other Pet Morons for always brightening up my Saturdays.

[Please don't use my name; thanks!]
Moron with name withheld, sorry to hear about Powder's passing. But congratulations on your marriage and the acquisition of another PetMoron in the making. Gorgeous cat. Thank you for your kind words. Good luck with your new life.
***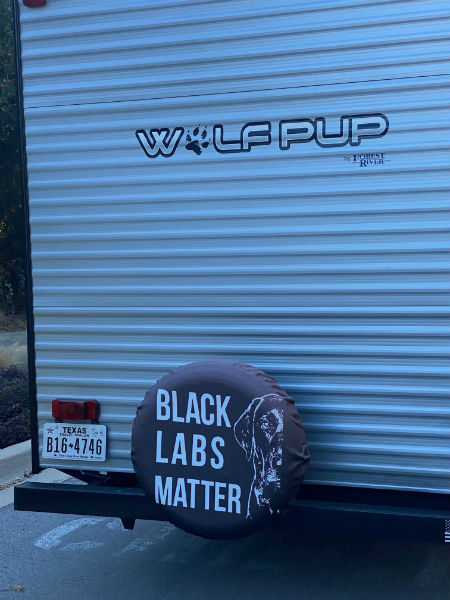 At a campground near you!! - Larry
I can't argue with that sentiment. One of my best friends has a sweetheart of a Black Lab. Dynamic dog. Loving and humorous. Thanks for thinking of us today with your contribution.
***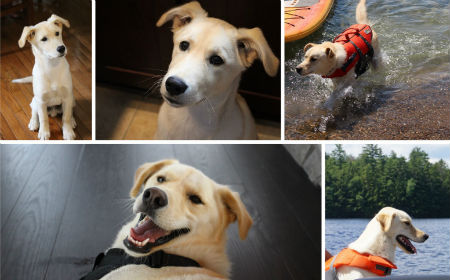 Reading the Pet Thread every week, gradually wore down my resistance
towards getting a dog, so I got my first one at 52 years old. We didn't
choose a beginner's dog, we got one who is quite the challenge but also
brings a great deal of joy.

Here's what my 10 year old son Eddie wrote:

Leo the Goberian (Golden Retriever/Siberian Husky) was a very energetic
puppy when we first got him at 3 months old. Leo loves all people and
can go very crazy when they arrive. Leo loves to play, walk and run and
he has a big smile on his face whenever he does any of these
activities. Now at 1 year and 9 months old, Leo is more calm and a
little less hyper. - Andrew and Eddie in Canada
You definitely are a brave man. A first time pet owner at 52. Brave, indeed. So the Pet Thread was a catalyst? I'm sure the Horde will get a kick out of this. Cute puppy now a gorgeous dog. Thank you for sharing!
***

Thanks for the great links and the wonderful pet photos and stories. You folks really make this thread work here at the AoSHQ. Thank you again.
If you would like to share something with us, please feel free to contact us at petmorons at gmail dot com.
Until next Saturday, God wiling and the creeks don't rise, have a great week!

posted by Misanthropic Humanitarian at
03:00 PM
|
Access Comments