« Saturday Morning Coffee Break
|
Main
|
Saturday Gardening and Puttering Thread, October 17, 2020 [KT] »
October 17, 2020
Why does Joe Biden think Polish people are stupid? [KT]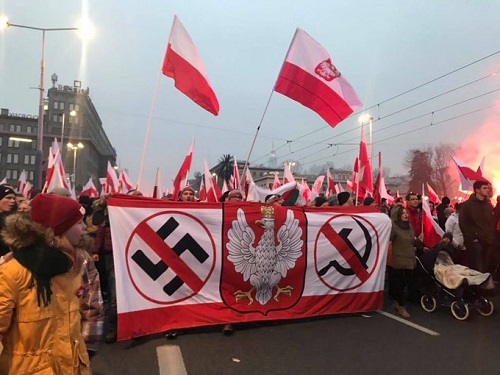 Poland understands this better than Biden does
David Foster posted an interesting piece yesterday relating to the Party of Identity Politics:
In an interview which has received surprisingly little attention, Joe Biden talked about the Democratic Party's political strategy:

Well, look what's happened. Look what started to seep in, beginning and probably even with candidates during our administration. We stopped showing up at the Polish American club. We stopped showing up, and we all went to you, the really smart people. We had a new kind of coalition we were putting together. College-educated women and college men and boom, boom, boom and so on.

One could conclude from this that Biden doesn't see people of Polish descent as being among the 'really smart people'. I guess he probably never heard of Frederick Chopin, Marie Curie, Nicolaus Copernicus, Stanislaus Ulam, or the Polish cryptologists who made the first breakthroughs in deciphering the Enigma code. And Biden's remark is another example at the way he jumps at the categorization of people...furthermore, he wants to ensure that people stay within expected roles of the categories into which he assigns them. ("If you have a problem figuring out whether you're for me or Trump, then you ain't Black.") And this kind of categorization-obsession is characteristic of today's entire Democratic Party.
Lesson from History?
Back in 2011, I quoted AJP Taylor on the combination of the ethnic divisions and excessive centralization in the Austro-Hungarian Empire:

The Austrian state suffered from its strength: it had never had its range of activity cut down during a successful period of laissez-faire, and therefore the openings for a national conflict were far greater. There were no private schools or hospitals, no independent universities; and the state, in its infinite paternalism, performed a variety of services from veterinary surgery to the inspecting of buildings. The appointment of every school teacher, of every railway porter, of every hospital doctor, of every tax-collector, was a signal for national struggle. Besides, private industry looked to the state for aid from tariffs and subsidies; these, in every country, produce 'log-rolling,' and nationalism offered an added lever with which to shift the logs. German industries demanded state aid to preserve their privileged position; Czech industries demanded state aid to redress the inequalities of the past. The first generation of national rivals had been the products of universities and fought for appointment at the highest professional level: their disputes concerned only a few hundred state jobs. The generation which followed them was the result of universal elementary education and fought for the trivial state employment which existed in every village; hence the more popular national conflicts at the turn of the century.

The combination of the Dems' categorization and their drive for government control would likely push the United States in the same direction-and already has, to some extent-although with even more fragmentation and resulting harm than with the case in Austria-Hungary.
More Identity Politics, More History
Joe Biden, white guy, also said this about white guys:


All white guys are just basically, they don't give a damn about women.
Read the whole thing for commentary on how this relates to the way that "Progressive" Democrats put people in demographic buckets, plus some analysis of U.S. election history.
Which demographic bucket do you think the Democrats put you in?
Do you think they think you are as unintelligent as, say, Polish Americans?
Music
Chopin loved Poland.
Looking for something a little more relaxing?
Hope you have a good weekend.
This is the Thread before the Gardening Thread

Serving your mid-day open thread needs

posted by Open Blogger at
11:18 AM
|
Access Comments