« Saturday Morning Coffee Break
|
Main
|
Saturday Gardening and Puttering Thread, September 26, 2020 [KT] »
September 26, 2020
The Woke Step Back - Just a Little [KT]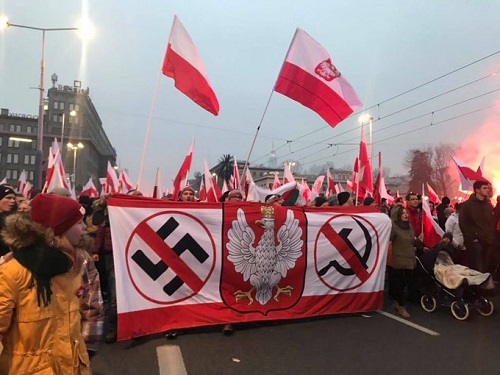 Poland's got this right.
Yesterday, we discussed the President's campaign against Critical Race Theory. He has also specifically attacked the New York Times' 1619 Project, but Nikole Hannah-Jones is still busy trying to bury her project, so we can discuss that phenomenon later. Right now, we need to recognize that the President has actually set the Woke Establishment back some. THIS IS REMARKABLE. But they will be looking for new areas in which to channel their activism. Especially schools. SPECIAL HEADS UP IF YOU ARE IN CALIFORNIA, below.
After the President's first Executive Order and his Constitution Day speech but before his latest Executive Order prohibiting CRT training in a wide range of organizations, representatives of the NYT's "1619 Project" started backtracking on the extent to which they were trying to change American history. And BLM scrubbed its website of much of its Marxist, anti-American content. This was a new and amazing phenomenon:
Of course, the national BLM organization is now swimming in money.
Don't let them revert to the Gramscian Long March!
Meanwhile, some local chapters seem as radical as ever. And there are some rumblings of increasing an emphasis on violence. When you consider white silence to be violence, this isn't hard, I guess. Interesting thread if you are into understanding how these people justify their actions.
Makes it easier when Kamala Harris says that civic unrest is necessary for change, too.
Swords up.
On to the schools
James Lindsay suggests that a lot of out-of-work diversity experts will be converging on schools. Be prepared. Could be coming to a school near you.
Even Titania McGrath is contributing:
California Schools are implementing Titania's Vision - and more!
Comment Period Ends September 30
Kids may not be learning much about history, but:
In California, where "wokeness" supersedes godliness as an admired attribute in some circles, it's coming down to crunch time for the embattled Ethnic Studies Model Curriculum (ESMC). As I wrote last month, the 2020 adaptation of the guidelines is somewhat better than last year's version, but there are still many problems with it. The ESMC is still advising that students study "modern day movements and intersectional struggles for social Justice like the Immigrant Rights Movement, The Black Lives Matter Movement, the Environmental Justice Movements, Feminist Movements, LGBTQIA Queer Movements, and others." Also, kids will learn about "strategies and approaches of these movements and apply them to problem solving struggles, challenges, or problems that we identify in our communities. . . .

So not only is there an obvious far left slant to the curriculum, students are directed to become social justice warriors.
One group is especially concerned:


The Alliance for Constructive Ethnic Studies, "a grassroots group of parents, teachers, students and immigrants representing all backgrounds, races, ethnicities and political affiliations," is on the case. Its press release quotes Vera Hartford, a lawyer and political refugee from communist Czechoslovakia. "For those of us that grew up in Soviet bloc countries, the ESMC is like deja vu. We are dumbfounded by a curriculum that consistently elevates Socialism, Marxism, and Communism as the way students are encouraged to become socially responsible. We are familiar with an educational system that proselytizes this specific political dogma that is proven to be unworkable and discriminatory in itself. It grooms and conditions impressionable minds to an ideology in service of a political agenda. Intolerance, bullying, and loss of freedom inevitably follow.
Time to take action. Time to find out if something like this is happening in your state if you are not in California.
Special Commentary
I don't know how many people saw this comment, which came late in a thread earlier this month. I think it is worth remembering:
"Reason says the president has no power to endorse a 1776 project."

Reagan says the president does:

"Finally, there is a great tradition of warnings in Presidential farewells, and I've got one that's been on my mind for some time. But oddly enough, it starts with one of the things I'm proudest of in the past 8 years: the resurgence of national pride that I called the new patriotism. This national feeling is good, but it won't count for much, and it won't last unless it's grounded in thoughtfulness and knowledge.
An informed patriotism is what we want. And are we doing a good enough job teaching our children what America is and what she represents in the long history of the world? Those of us who are over 35 or so years of age grew up in a different America. We were taught, very directly, what it means to be an American. And we absorbed, almost in the air, a love of country and an appreciation of its institutions. If you didn't get these things from your family, you got them from the neighborhood, from the father down the street who fought in Korea or the family who lost someone at Anzio. Or you could get a sense of patriotism from school. And if all else failed, you could get a sense of patriotism from the popular culture. The movies celebrated democratic values and implicitly reinforced the idea that America was special. TV was like that, too, through the mid-sixties.

But now, we're about to enter the nineties, and some things have changed. Younger parents aren't sure that an unambivalent appreciation of America is the right thing to teach modern children. And as for those who create the popular culture, well-grounded patriotism is no longer the style. Our spirit is back, but we haven't reinstitutionalized it. We've got to do a better job of getting across that America is freedom--freedom of speech, freedom of religion, freedom of enterprise. And freedom is special and rare. It's fragile; it needs protection.
So, we've got to teach history based not on what's in fashion but what's important--why the Pilgrims came here, who Jimmy Doolittle was, and what those 30 seconds over Tokyo meant. You know, 4 years ago on the 40th anniversary of D-Day, I read a letter from a young woman writing to her late father, who'd fought on Omaha Beach. Her name was Lisa Zanatta Henn, and she said, "We will always remember, we will never forget what the boys of Normandy did." Well, let's help her keep her word. If we forget what we did, we won't know who we are. I'm warning of an eradication of the American memory that could result, ultimately, in an erosion of the American spirit. Let's start with some basics: more attention to American history and a greater emphasis on civic ritual.
And let me offer lesson number one about America: All great change in America begins at the dinner table. So, tomorrow night in the kitchen, I hope the talking begins. And children, if your parents haven't been teaching you what it means to be an American, let 'em know and nail 'em on it. That would be a very American thing to do.

--Farewell Address, 1989
Posted by: The Gipper Lives at September 19, 2020 08:00 PM
American Dance
American Music
Meant for dancing, too.
Hope you have a good weekend.
This is the Thread before the Gardening Thread
Serving your mid-day open thread needs

posted by Open Blogger at
11:15 AM
|
Access Comments