« The Woke Step Back - Just a Little [KT]
|
Main
|
Amy Coney Barrett and Family Get All Dressed Up and Go On a Trip to Somewhere »
September 26, 2020
Saturday Gardening and Puttering Thread, September 26, 2020 [KT]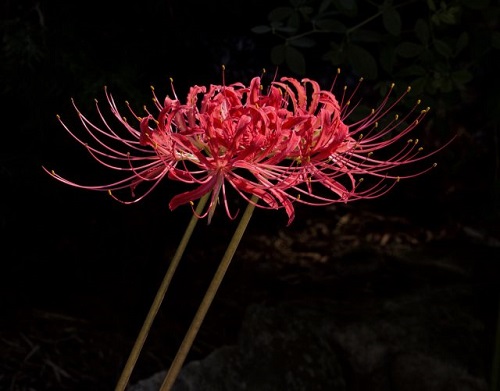 Don in Kansas posted the lovely photo above with the text below, in August.
The botanical garden requires masks only when you are inside the buildings, not when you are in the gardens themselves, so I was able to grab a few pictures there without suffocating this week. While the naked ladies (Lycoris squamigera) are past their prime, the closely-related Lycoris radiata is just getting started. L. radiata has all kinds of significance in Japanese culture (if you see it in an anime, you're probably in a graveyard), which I'm too lazy to summarize.
For one thing, they are known as the flower of the autumn equinox. See the article linked at Don's site.
HAPPY FALL, EVERYONE!
Edible Gardening
Here's a piece on some of the last commercial pole-ripened tomatoes being grown in California, near San Diego. With growing and storing tips for the rest of us. As these kinds of growers are disappearing.
Maybe you should grow your own next year. This is Cherokee Purple. It is a determinate variety that could be grown on poles. There are some similar varieties that are better in certain climates. Maybe we could help you choose one.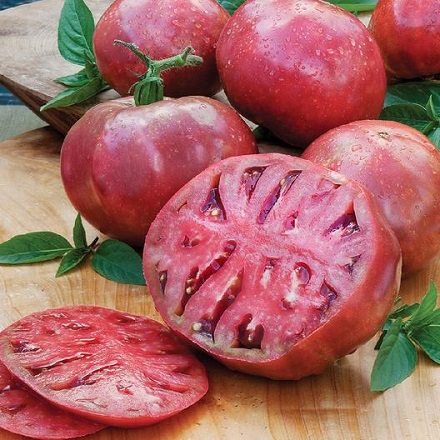 We had some interesting comments come in late in the thread last week. Here is part of the comment from The Famous Pat*, who was at a smallbore rifle event last weekend.
Soybeans were a test crop. We recently stripped the plants, took the worst pods and ate their beans, took the best pods to cook and freeze. We'll taste-test those later to see if *we* can actually preserve this crop in its pods (we know Trader Joe's does), in which case we'll grow more next year.

Husband has a 3-D printer, and found a pattern for a gizmo to set melons on, to keep them off the ground. We found one cantaloupe had been hit by both voles and millipedes (ick), so put these gizmos under all the other cantaloupes (not that they'll deter the voles, but it should work for millipedes).

Under puttering, we've brewed a batch of chocolate milk-stout, for winter consumption. And we've cleaned out another section of the gutter and put up screens - this gets challenging in sections where we have barberry bushes (pointy!) with crushed stone underneath.

Does filling the pantry count as puttering (through the grocery store)? I've been stuffing the larder, in preparation for Election Day - and especially for whatever may follow...
Some of the melons with soft skins are grown mostly in the deserts because it is hard to grow them where they touch the ground.
Interesting information about the soybeans! What variety did you plant in Idaho?
Here's an inspiring post from Shanks for the memory, who is putting in a fall garden.
I'm planting the usual leafy greens for juicing, chard, spinach, dragon kale, mustard greens. Asian greens for stir frying and kimchi; tatsoi, white & green bok choy, and Napa cabbage, Japanese daikon and Korean radishes and garlic. Kohlrabi, turnips. Atomic red, a carrot that worked well last year, and Park's Rainbow beet mix for greens and beets. I usually sow some Detroit reds too cuz they always produce well.

Mixed Lettuces, Mizuna, and Park Seed's Italian salad mix, Gai-lan, Broccolini, a non heading cauliflower "Fioretto", and Brussel sprouts. Snap and snow peas, green onions, shallots and Italian parsley. I'm hoping to get a crop of dill and fennel in before a freeze.

We have raised beds of Washington and Jersey Giant asparagus...and artichokes so we'll be good there.

A couple of years ago we changed our garden over to all 4x2x10' raised beds with heavy duty hardware cloth in the bottom to thwart gophers so I added brackets to hold white PVC for hoops over the beds...works great for shade or frost cloth...a tip...buy the really big bulldog clips at the Dollar store...they are perfect to clamp cloth on any structure...especially PVC hoops...easy to remove/peel back to access the bed and keeps the cloth nice and tight without sandbags or weights.

And you? anything new or unusual?
You doing anything in the garden this fall?
Comments on the wonderful garden above: Tatsoi is the cutest thing ever. A miniature Asian green with leaves that stand up or lie flat depending on the weather.
This is the type of kale known as "dragon kale". Italian. Hearty.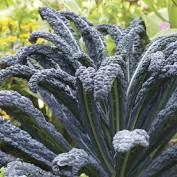 I like Red Russian better raw. It is tender and milder. Different species. Wilts after picking. Also called "Ragged Jack".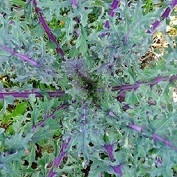 If you can grow beets in the fall, you can probably grow "Just Right" turnips. No summer turnips, though.
Martha Stewart has a piece on a Resurrected Colorado Apple. Will it make Colorado apples famous?
Critters
F2000 sent in the missing photos from last week, plus an oppossum from August, to make up for sending no additional raccoon photos.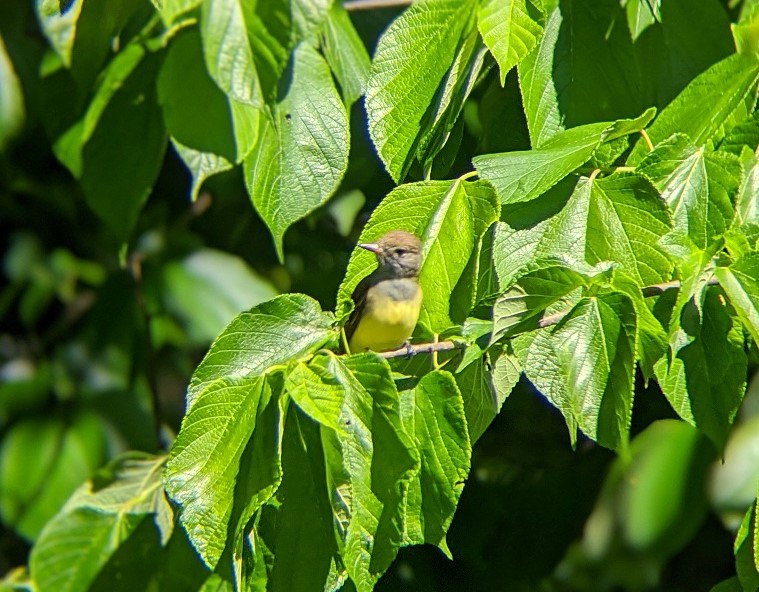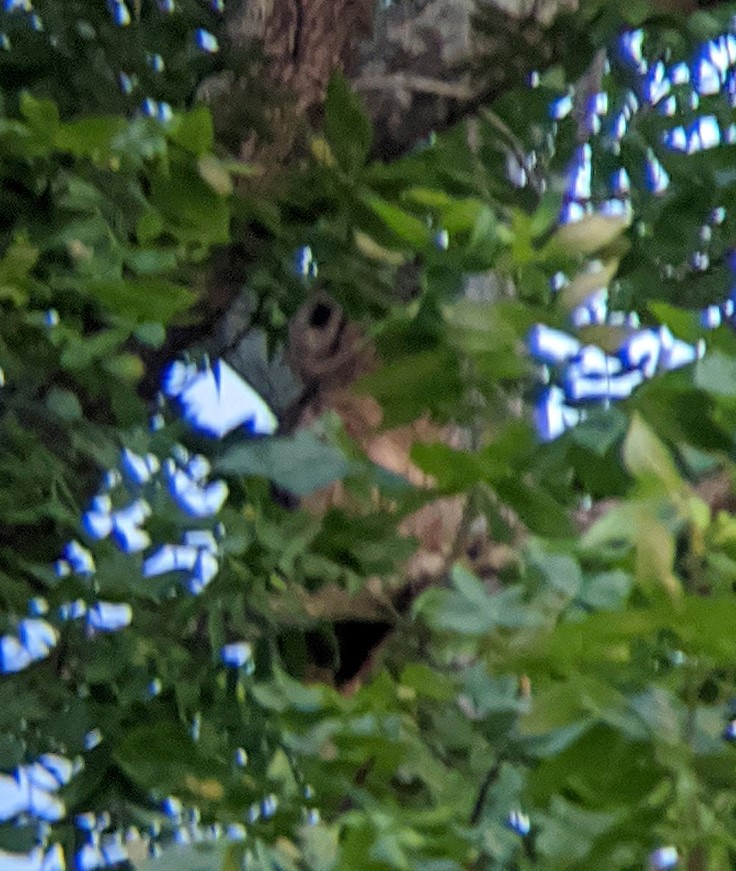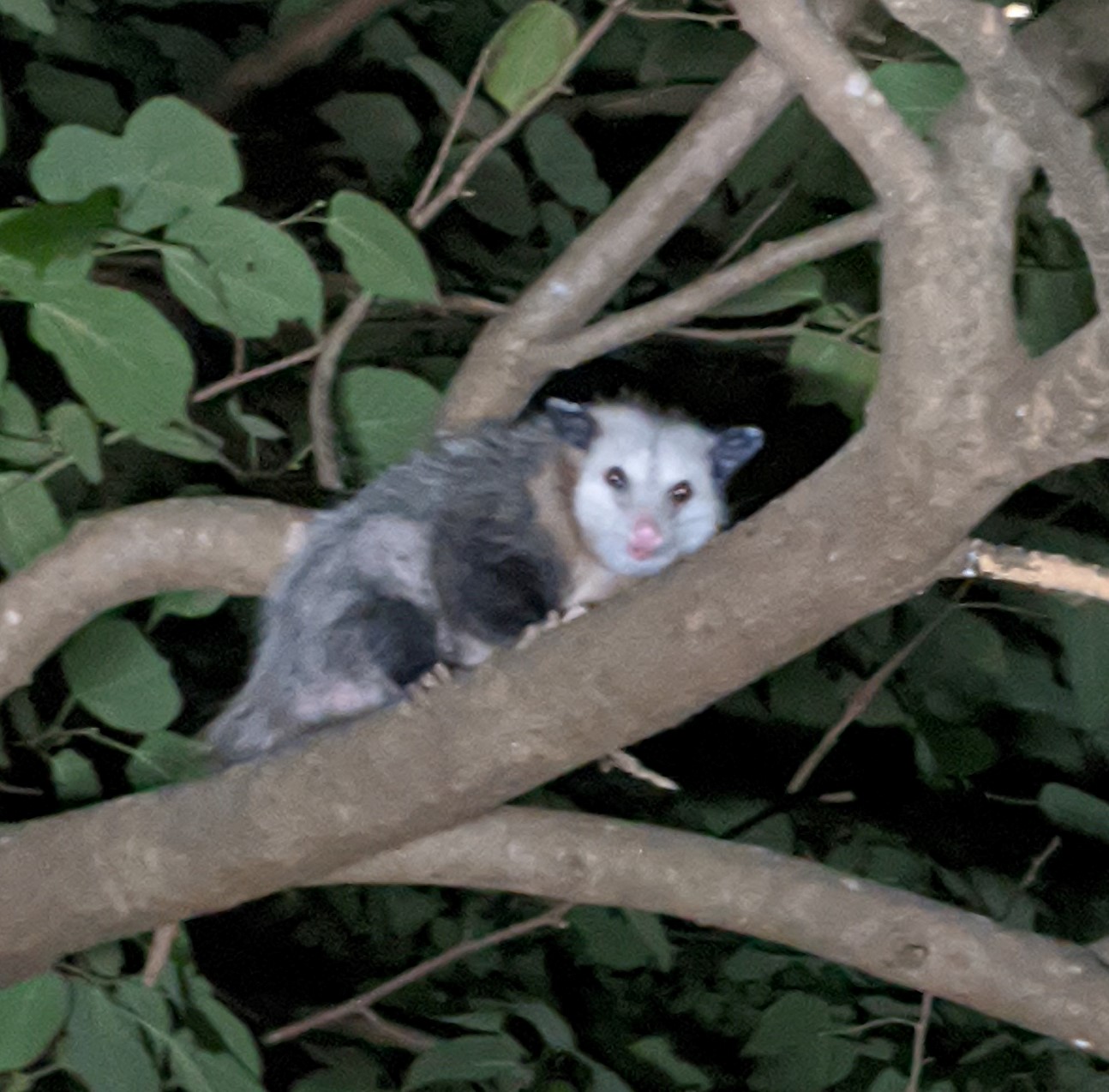 Interesting tree the possum is in, too.
Weasel sent in the following owl photo. Not as camouflaged as the one above.
Here is a regular nighttime visitor to WeaselAcres.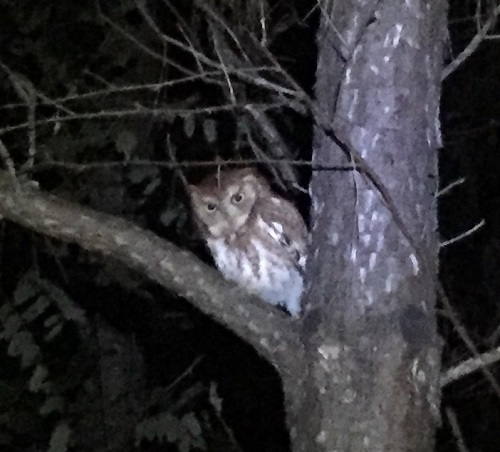 Wonder if it would get along with the possum?
Below, the wild turkey "Kevin" in my cousin's neighborhood. She was named "Kevin" after a bird in the movie UP who turns out to be a girl. Kevin stays by the side of cars when people drive home because she thinks she is going to be fed. Sometimes chases people, hoping to be fed.
There was a turkey just like Kevin in Columbia, Missouri. He got hit by a car. It made the front page of the news paper because everyone was so devastated.
Other reports of gangs of turkeys rumbling with peacocks.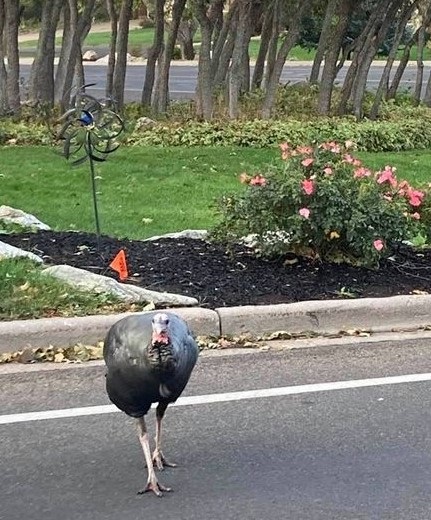 Gardens of The Horde
I had technical difficulties with the photo at first, then I lost track of it. Hope the beautiful garden was productive:
I enjoy lurking the thread mostly, in fact I lurk the site regularly - posting only occasionally as JEM1.

Especially this year the gardening thread has been a great place for a respite from all the craziness. And now in my part of the woods in north central Indiana the trees are about ready to explode, new life, and hope for the spring and summer.

The weather has been warm and dry enough to actually get the soil worked and some things planted. I've enclosed a picture of my entire vegetable, fruit and herb gardening spread - I jokingly call it my farm. Getting radishes and lettuce in was great, especially after how wet the last two springs were. Combine that with all the tomatoes, herbs and peppers I have started in doors I am looking forward to everything it will give. And this year I promise not to complain about processing the harvest!

The attached picture doesn't have much color to it right now - from left to right the raised beds for herbs, the major pepper and tomato garden for salsas in particular, the strawberry bed, the fenced garden for leafy plants - beans, radish, lettuce, etc, a raised bed for asparagus (they are outstanding pickled), and finally a raspberry and blackberry patch I am trying to establish. The blackberries made it and will be trellised this spring, the raspberries didn't make their first winter, so replacements are on the way.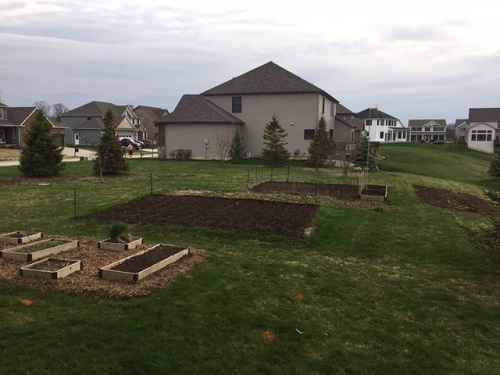 Puttering
Larro went to fly a kite at Puppy Point. Well, he actually flew four of them. Said it was a pain. I think these are three of them.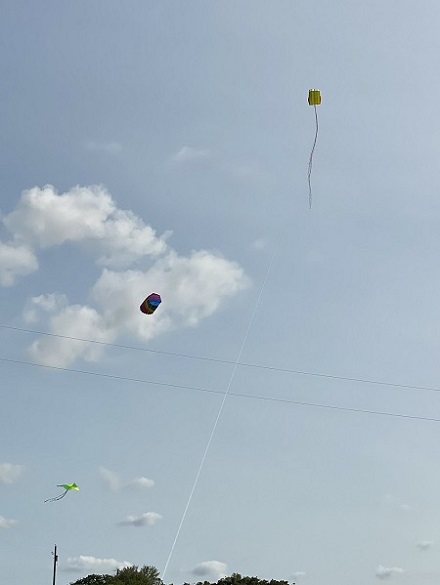 Details: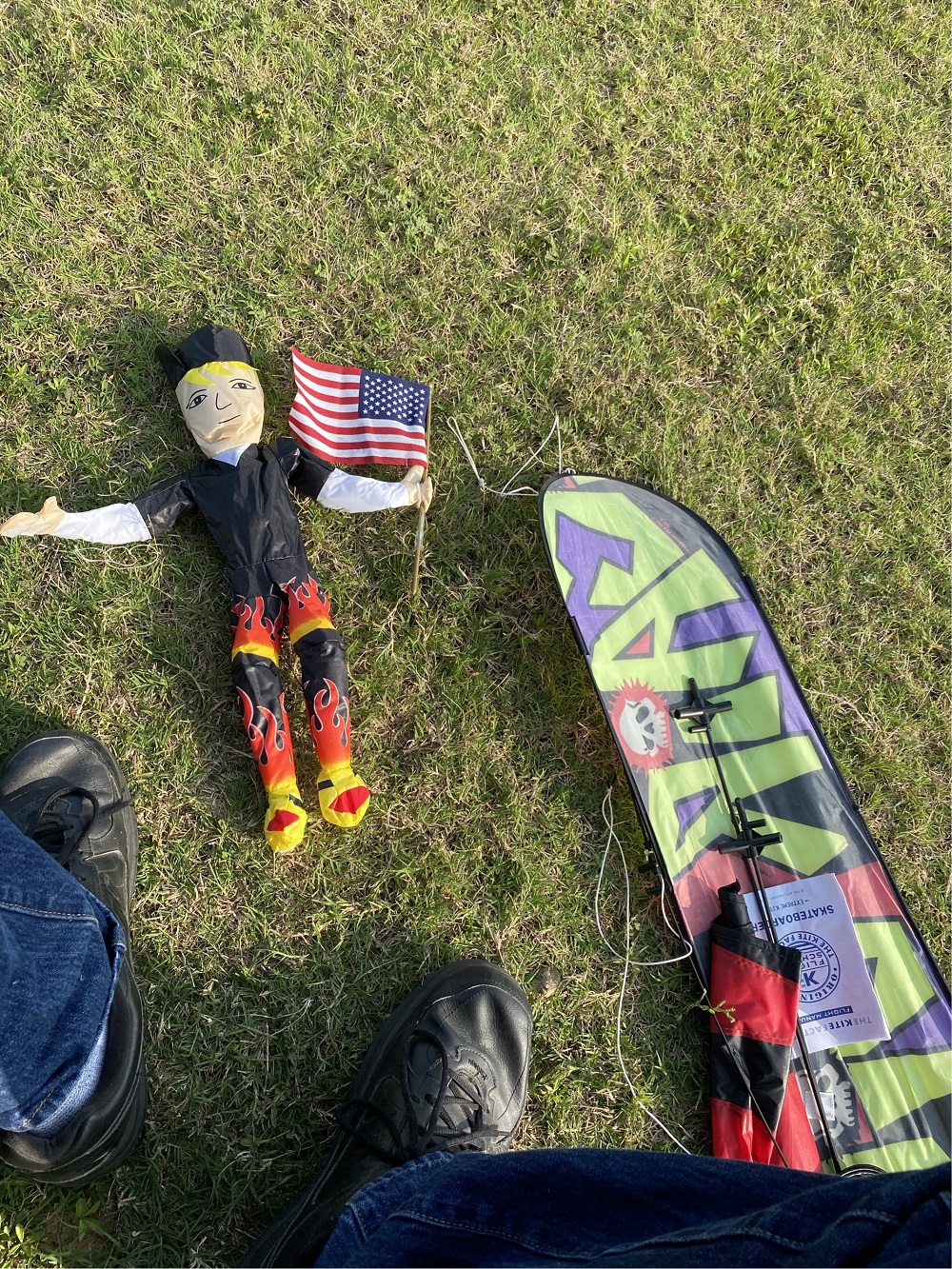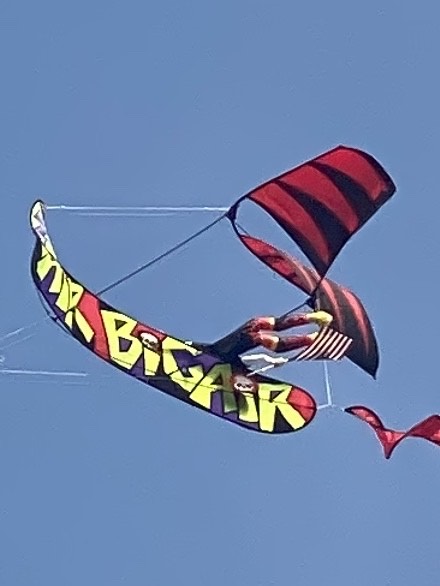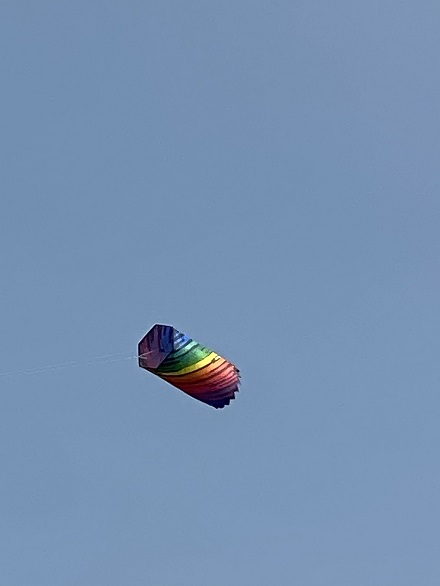 And here's a challenge: How would you landscape this?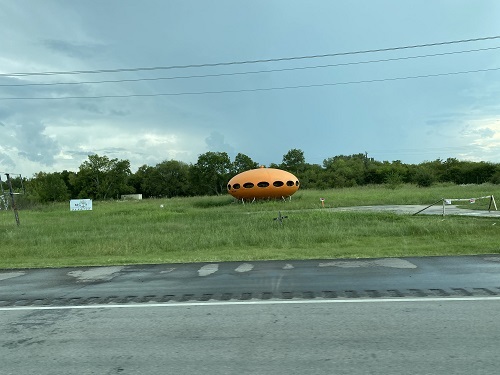 The UFO House, Royse City, TX, USA Strange, Weird, Wonderful And Cool

It's just a strange thing to see on side of highway heading NE out of Dallas.
Larro notes that there are more of these. Maybe you could get a house like this.

If you would like to send information and/or photos for the Saturday Gardening Thread, the address is:
ktinthegarden
at that g mail dot com place
Include your nic unless you want to remain a lurker.

posted by Open Blogger at
01:19 PM
|
Access Comments