« Food Thread: A Burger Without A Bun Is Like A Day Without Sunshine
|
Main
|
Sunday Overnight Open Thread (9/13/20) »
September 13, 2020
Gun Thread: Miscellaneous Stuff Edition! [Weasel]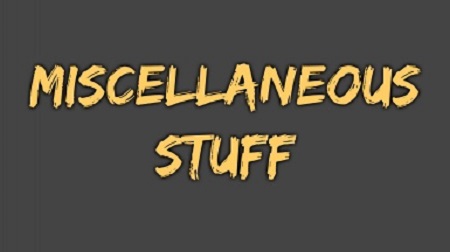 Is it Sunday again already? Welp, here we are so it must be Sunday. It's a rainy weekend here, and I'm watching the grass seed I didn't put down, not grow. I also didn't go down to the farm given the weather forecast, so I'm at home goofing around with video cameras and microphones and lights. I have to say WeaselCat v2, WeaselDog and Little Joe are getting a little tired of being my video test subjects.
Anyhoo, enough stalling, let's get to the gun stuff below, shall we?
Parallax
So today let's discuss something I have been meaning to explain for a while, and that's the concept of parallax in scopes. Parallax is sort of a simple concept once you get it, but it's also just complicated enough to have achieved some sort of mythical status among shooters. This is due mostly, I think, to poor explanations of what causes parallax in the first place. Allow me to hopefully not make that worse.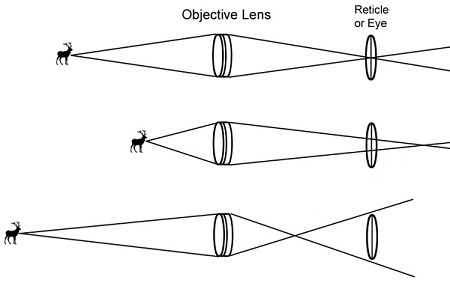 So the picture above is one many of us are familiar with in discussions of parallax. The short explanation is parallax occurs when the target is on a different focal plane than the reticle. OK. What the hell does that mean? Well, it's really not as complicated as it sounds. Try the following experiment:
Choose a "target" about an arm's length away, and hold your thumb up as the scope reticle about a foot from your nose. Now move your head up and down and right and left. See how the "reticle" moves in relation to the target based on your eye position? Now extend your arm to full length and repeat the process. See how your thumb remains over the target despite changes in your eye position?
This is parallax. In the first example, your thumb and the target are on different focal planes. In the second example, the reticle has been moved onto the same focal plane as the target. That's it. Why is it bad? Well, unless you have a perfectly consistent cheek weld and eye position behind the scope, every time you take a shot the apparent position of the reticle, and thereby the bore axis of the barrel, has changed. In other words, you are no longer pointed at the target. That's why it's bad.
Many rifle scopes have what a lot of shooters think is a focus knob. Sometimes it's on the scope body near the elevation and windage dials, and sometimes it's on the objective lens, and will have reference marks for different distances. These aren't focus knobs, but rather are for parallax adjustments. The distance markings on the scope are simply there for reference. In order to eliminate parallax, each time the distance to the target changes, you must check for parallax. Turn the dial until head and eye movement behind the scope do not cause changes in the reticle position in relation to the target. Don't just rely on the indicated range marks. 'kay?
At the risk of messing up my excellent explanation, here's a good video from Shooting USA on the topic for you visual learners.
I hope this takes a little of the mystery out of the concept of parallax and how to adjust for it. Remember, a scope with uncorrected parallax is just as bad, if not worse, than a scope that hasn't been zeroed. If you have wandering bullet impacts, check for parallax!
******
Last week we had a question from our pal Larro on non-lethal deterrents.
We retired, sold our home, and now RV around the country. Let's say we are rolling down the interstate and there's a protest up ahead trying to stop traffic. My rig is really big; a fifth wheel pulled by a crew cab dually. I don't have luxury of turning around or backing to Birmingham...

So how about a discussion on non lethal deterrent system? I saw some recent use of mace, but it didn't look that deterring.
And here is what your ol' pal Weasel had to say in soliciting comments:
Great question, Larro! My first response would be not to stop. You are behind the wheel of an enormous rolling deterrent, and you might very well have to use it as such. Personally, I would also have a lethal form of self-defense with me at all times, but that might be problematic when travelling from state to state each with different gun laws. I have never been a huge fan of non-lethal systems, but if absolutely pressed, I'd look for some kind of bear spray or even cans of wasp and hornet stuff that sprays a stream about 20 feet, but you need to have a plan if those don't work.
The next day I had the following great point in the Gun Thread email from our pal Sam Adams in response to my suggestion to use bug spray.
On the Sunday Night Gun Thread, Larro was asking what non-lethal deterrents he could use in the event he and his wife are trapped by an angry mob while traveling in their motor home. One of you guys suggested wasp or hornet spray. This is bad advice. It could get Larro prosecuted with a variety of nasty charges, and could also lead to him getting sued. I would strongly recommend seeking out an attorney's advice on matters like this, and Larro needs to join a group providing legal protection and advice to firearms owners and travelers.

Wasp sprays are poisonous, and can act as nerve agents. Their intended use is not as a self-defense item for humans, with temporary side effects. Using them as such is going to get you slapped in handcuffs, and most likely sued. I've heard this discussed on self-defense forums on at least two different talk radio shows, and in both instances, lawyers were quite vociferous in their opposition to good people using wasp spray/insecticide on the street in self-defense situations. Again, I would talk to a lawyer to clarify the matter.
Way to bitch-slap me with some knowledge, Sam Adams! When you think about it, this makes perfect sense, and I very much appreciate your taking the time to send this in. If you're going to employ a non-lethal deterrent, then you shouldn't be using something that can cause permanent damage and subject yourself to uncertain legal consequences. If you want to cause permanent damage, use a gun.
******
Next up our pal JT sends in the following AR15 aftermarket trigger comparison video, and some popular models are reviewed including; Hiperfire, Elftmann, Geissele, Rise Armament and Triggertech. The video is longish at almost 22 minutes, so you might want to bookmark it for later.
What do you think? Is it sort of a beans in chili vs. no beans in chili thing? How many of you have replaced the stock trigger in your AR15? It's not hard to do! What trigger are you using?
******
Here's a nice video of a Hornady factory tour. I was sort of surprised to learn they manufactured their reloading gear in the same plant as their ammunition.
I was particularly impressed with their QC checks. How many of you use Hornady ammunition or reloading gear?
******
And speaking of factory tours, here's a great look at the machine work necessary to make AR components from Palmetto State Armory. [h/t JT]
Nice! Thanks JT!
******
Stabby Things
This week we have a nice bayonet example from or pal OrangeENT, along with a question.
I bought a nice WWI era 16" bayonet a few years ago. Now, I'm no expert and have no military background, but I'm pretty sure the thing shouldn't be sharpened. I'm thinking the previous owner did it. My question is how to dull the edge down so I don't slice myself open handling the thing. Do you have any ideas that would work without ruining the bayonet? Other than scraping it against the bodies of commies, that is.

First pic is of the govt stamp, the second is a closer view of the blade where it's sharpened. the third is a complete pic.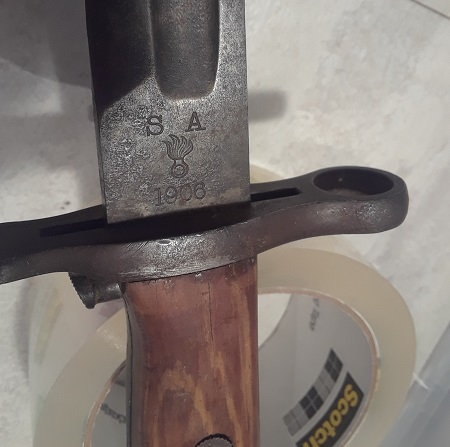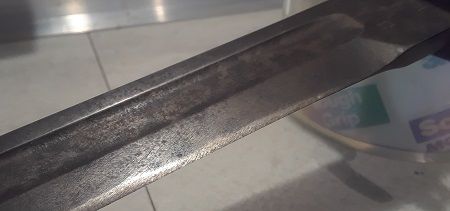 Great bayonet and stabby thing, OrangeENT! Thanks for sending it in. Also a very good question, so how about it guys and gals? What's the consensus on sharpening and un-sharpening?
******
Next we have an outstanding find by our pal long time anonymous lurker who has figured out what Facebook is good for.


I am a fan of the Old Guard 3rd US Infantry and receive updates on Facebook from them. One of the few things that Facebook as actually good for. Anyway, I did not know this and found it beautiful.
Soldiers of the Tomb of the Unknown - 3d U.S. Infantry Regiment (The Old Guard) | Facebook
Soldiers of the Tomb of the Unknown Soldier, 3d U.S. Infantry Regiment (The Old Guard), utilize four unique ceremonial M17 Pistols during their solemn duty. The four pistols bear the names of Silence, Respect, Dignity and Perseverance. Dignity and Perseverance represent Line 5 of the Sentinel's Creed.
I'm at Arlington National Cemetery not infrequently and try to stop by the Tomb of the Unknown Soldier whenever I'm there. If you are ever in Washington, D.C. you owe it to yourself to visit this Hallowed Ground. The ceremonial Changing of the Guard is something everyone should see at least once.
Many thanks to long time anonymous lurker for sending this in!
******
Texas MoMe
It's next month! There will be a lot of shooting opportunities for everyone, and we are exploring the feasibility of a Gun Stuff Swap Meet on Friday and Saturday. If you have items you're no longer using, why not give your fellow Morons first crack at them? You're welcome to buy, sell or trade your stuff so if you're interested, bring a small table to setup, and plan to stay with your stuff. This is a very informal opportunity, and the main objective is to not have it become a pain in the ass for our gracious organizers and hosts.
******
Link-O-Rama
I'm really very seriously not kidding around anymore. Buy Ammo
AmmoSeek - online ammo search tool
GunBot - online ammo search tool
SG Ammo
Palmetto State Armory
Georgia Arms
AmmoMan
Target Sports USA
***Mail Bag***
In place of the regular Mailbag entry, I'd like to take a minute to remember our pal ibguy who recently passed away. Henry, or Hank to his friends, was a consistent contributor to the Gun Thread in general, and the Mailbag feature in particular. Although I never met Hank in person, I corresponded with him often enough over the last couple of years to know he was someone I both liked immediately and looked forward to meeting someday. Now that this is no longer possible, I'll simply remember him fondly as I prepare this section each week.
Rest in Peace, Amigo.
******
Please note the new and improved gmail account morongunthread at gmail dot com. An informal Gun Thread archive can be found HERE. If you have a question you would like to ask Gun Thread Staff offline, just send us a note and we'll do our best to answer. If you care to share the story of your favorite firearm, send a picture with your nic and tell us what you sadly lost in the tragic canoe accident. If you would like to remain completely anonymous, just say so. Lurkers are always welcome!
That's it for this week - have you been to the range?


posted by Open Blogger at
07:00 PM
|
Access Comments