« First-World Problems...Part [I Have Lost Count]
|
Main
|
Gun Thread: Miscellaneous Stuff Edition! [Weasel] »
September 13, 2020
Food Thread: A Burger Without A Bun Is Like A Day Without Sunshine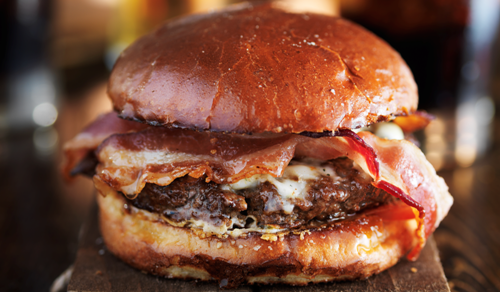 Last weekend I made a custom grind for burgers, and it turned out quite well. Hanger steak, NY strip (on sale) and some beef shank, complete with the marrow. Nice and beefy and fatty and juicy. I ground it only once, so it was pretty rustic, and that's how I like it. I think lots of commercial beef is ground twice or ground too fine, and it makes it far too easy to compact the burgers too much. That makes for a tough cheeseburger (of course cheese. I am not a savage), and I can't abide that.
And the brioche buns I served the burgers with were perfect. I think it may be the Platonic ideal for buns, or maybe it's in the bible. Who knows, but they are the perfect combination of structure and flavor and absorbability.
But a few days later I made the last two for dinner, and since we are mostly no-carb, I didn't bother to get more buns. And while the burger was delicious...overflowing juice and marvelous beef flavor and great texture...it was diminished by its lack of a burger's perfect partner.
And I'll admit; I love eating with my hands, which is why ribs and fried chicken and burgers are high on my list of comfort foods. I can absolutely destroy a roast chicken with a fork and knife; I will go toe-to-to (or fork-to-fork) with anyone, but damn...there's nothing quite like the visceral pleasure of grabbing your dinner and chowing down!

******
From commenter "John Juan"
I cook professionally and did a Monkfish Saltimbocca last weekend. Despite not seeing your video, I imagine the process is identical to the one I use.That being said, your response to Mishdog's inquiry regarding the prosciutto wrapped halibut, is spot on. Halibut, despite living in cold water, is not as fatty as it *should be*, hence it's a quick cooker. My only recommendation would be to sear in oil completely, and once you reduce the heat, add room temp butter. Spooning the hot butter over the fish as it cooks will help the process and eliminate the need for an oven.

[...] I sometimes forget that home cooking has advanced as far as it has. People understand technique, know terminology, and have realized they don't need to spend a fortune to make great food.
That's a great point about cooking technique, and the internet and YouTube has a lot to do with it. Every clever professional cooking technique can be learned via on-line videos and recipes, and even their fancy and arcane equipment is now readily available to anyone with a credit card. Hell, Sous Vide was pretty much unknown five years ago, and now all the cool kids and food bloggers can't shut up about it!
******
Trying to categorize American barbecue is an exercise in futility, because the boundaries aren't nearly as clear as some think, and because it has become even more popular than ever, we can get all sorts of styles pretty much anywhere in the country. But this is a pretty good basic explanation, and it's sort of fun to try to figure out what one's favorite is.
A Guide to the Essential Regional American Barbecue Sauces
Personally, my favorite is the one in front of me. I don't think that I have ever had bad barbecue because of style. Quality is a different issue, and I have had plenty of mediocre, overcooked, dry crap that I ate anyway because I am a glutton.

******
Speaking of barbecue...
I have done ribs in the oven and I think they can be fantasitc. And for those of you who say that using liquid smoke is inauthentic? Yes, you are correct. So?
I'll still eat it if it tastes good!

******
It's amazing that we have arrived at a point in our society that simply washing our hands requires instruction.
I was tought how to wash my hands by my parents. Just like everyone else out there! It isn't that difficult. Hot soapy water and some effort and time. It's not rocket surgery.
Proper handwashing requires proper tools: Soap vs. COVID-19
My father was rarely intimidated, but he told me that the scrub nurse who taught him how to wash his hands during his surgery rotation was one of the few people who could daunt him. One of her many teaching points was that each finger had for surfaces, and each was to be scrubbed thoroughly!
Yeah...I don't do that.

******
Did I post this before? I don't think so, and even if I did, it looks good enough to repeat. I have it saved in my recipe file, and I feel stupid not to have made it. But according to the Farmer's Almanac, we are in for a long and cold winter, so this is just perfect for one of those blustery winter weekends.
Pot-roasted Shoulder of Pork with Chilli and Beer
I apologize, but the units are European kickball, so civilized people will have to translate.

******
I love, love, LOVE that the "Cook's Illustrated" technique is the worst one! They are too fussy by half, and while I enjoy reading some of their stuff, it's just too irritating to follow their picky and pompous instructions.
The Best Method for Making Bacon
I use a variation of the top-rated technique, but I think I will try their high temperature version instead of my 350 degrees for 25-30 minutes.
[Hat Tip: Hrothgar]

******
Chutney
. What an odd and fun word! I don't know much about it, have never made it, and definitely never bought any. I see it occasionally on restaurant menus as an accompaniment with...everything!
Here's a recipe from our resident mad-skillz chef, artisanal'ette.
Green Tomato Chutney From "Sauces" by James Peterson

Yields 3 Cups

Onion, finely chopped, 1 large
Olive oil, 1 / 4 cup
Green tomatoes, 2 pounds
Garam masala or good quality mild curry, 1 ounce/25 grams
Sugar, 6 Tablespoons
Vinegar, 1 / 4 cup (I used White Wine Vinegar)
Salt and Pepper to taste

1. Gently sweat the onion in olive oil for 20 minutes. Do not allow it to brown.
2. Peel the tomatoes by blanching, then plunging in cold water. (I skipped this.) Then, cut them up coarsely, squeezing out seeds.
3. Add the garam masala to the onions and cook for 1 minute.
4. Add the chopped tomatoes, the sugar and the vinegar to the mixture and cook for about 30 minutes, until it thickens.
5. Taste and adjust seasonings, the sugar, and the vinegar (adding salt and pepper to taste).

Allow to cool.

******
Food and cooking tips, Large-breasted Muscovy ducks, young wild pigs, bartenders who use vermouth in Martinis (but not too much), pork belly that doesn't have 5-spice, low-temperature-roast chicken, and good tomatoes that aren't square, pale pink and covered with Mestizo E.coli:
cbd dot aoshq at gmail dot com
. Any advocacy of French Toast with syrup will result in disciplinary action up to and including being
nuked from orbit.
And yes, shaking a Manhattan is blasphemy...it's in the Bible!

posted by CBD at
04:00 PM
|
Access Comments