« First-World Problems...Part Viginti
|
Main
|
Gun Thread: Back To Basics Edition! [Weasel] »
August 16, 2020
Food Thread: Smoked Pork Chops...They're not Just For Breakfast!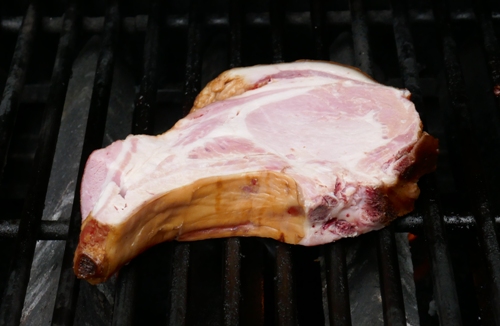 I was waiting for my order of plain old American hot dogs (with casing) at the butcher shop about which I have raved and bored you silly, when the guy next in line ordered a couple of smoked pork chops. Well, my ears perked up, and I asked what they were like. He looked at me like I was a retard..."Uh...they are like pork chops, only smoked."
Not exactly...he said that he finishes them on the grill and they taste sort of like a cross between a really good chop and thick cut bacon. Needless to say, I am all in on something like that.
So last night I gave it a shot, and his description was spot-on! Fantastic. the fat on the outside of the chop was sort of crispy...more like pork belly than bacon, and the lean meat in the middle was just great. Lightly smoked and nicely seasoned with salt, which is vital on pork. I had never seen or heard of anything like it, and I will be back for more. I will also nag my ex-bartender friend who is currently a therapist (wow...that's a step down in life) and smoking aficionado to look into this idea.
The butcher shop smoked the whole loin, which I think is the way to do it instead of smoking individual chops, because they will get too smoky. The big question is how much of a cure do they get; a few days in salt and maybe pepper, or a full bacon cure?
Any thoughts? anyone ever do this?
******
Dipsomaniac and regular commenter "bitter clinger" asks a good question; and while I don't agree completely with his answer, I think that by and large cheapo liquor is best with...um...how does one say this politely...unsubtle uses of alcohol.
Bloody Marys, fruity drinks, vodka martinis, even G&Ts don't really need top-shelf booze. But it has its place, especially when your third cousin with the hollow leg and no taste comes over for a barbecue.
Do you like generic liquor?

Yeah, me neither. It pretty much sucks and gives you a rocking hangover at worst, or in the best of situations winds up being nondescript with no character or nuance.

Still, I get it. Sometimes the wallet is a little light and you take what you can get. If you are just gonna mix up fruity drinks by the pool and get sloshed all weekend, a bottle of Kirkland's Gooderest Generic Booze may just do the trick.

My only real issue with generic liquor is at places like Total Wine, where there shelf ratings and employee favorites are always the house brands that miraculously score a 90 by the "experts".

What the f*ck ever dude. Just put a couple of rows of black stars on the label and tell me it's Cost Cutter brand. I'm a big boy, I can bear the shame at the register. Shit, they already know me by name when I come in and are full aware I'm a sot.

In any event, I stopped by Total Wine the other day and picked up a bottle of Hammock Bay 7 year Rum, one of their house brands, and it actually didn't suck all that bad. So decent it was, that it inspired my own version of a previously named drink with a half dozen varying recipes.
Without further bloviation, I present to you Bitter Clinger's version of the Banana Hammock.
Banana Hammock:
1.5 oz Hammock Bay 7 yr Rum
1 oz Creme de Banana
.5 oz Bitter Clinger's Homemade Amaretto
2 oz Orange Juice
2 oz Pineapple Juice
.25 oz Cinnamon/Clove Syrup
Shake the hell out of all of that in your Boston shaker and strain it over fresh ice.
I garnished mine by adorning the rim with caramel syrup and toasted coconut, but you don't really have to be a douche like me by putting a borderline-homo garnish on it.
Though I will say after three of them, I was sloppy drunk and lost all sense of pride and was licking the side of my glass to get the coconut and caramel off of it.
Probably should be slapped for that shit and be told to go sit in the corner.

******
I guess it's better than no food at all...starving in the wasteland after an unscheduled flight goes down in uncharted mountainous terrain.
Gluten Free Chocolate Chip Zucchini Bread
But not much better.
What's the point, aside from using up unused zucchini from the garden?

******
A lurker has some strong feelings about corn! And while I love corn in all of its iterations, grilled really is pretty damned fine eating.
But then he wanders off into some crazy, probably psychotic meanderings about food. After reading it I realized that he is probably a lunatic in some state mental institution that the world has forgotten. He broke into an office and happened upon Ace of Spades, and had to expound on his insanity.

Corn on the grill. Why does everyone strip it before cooking?
Just toss it on the flames/coals as it came from the plant. Silk and husks and all.

Husks dry out and char and add wonderful flavor (if you've never had "cob smoked bacon" you really should), you just keep turning the ears until husks are blackened all the way around.

Best thing is peeling them open. Peel back husks and the silk comes right off with it, you can get fancy and tie the husks making a handle.

Syrup. All depends on the bread and the syrup. Since I'm in NH, I am particular about my maple syrup. Grade A, Dark amber from local trees. Grade B if you can find it is even better. Think of it the way a butcher saves "offcuts" for himself. Add a half teaspoon to a good cup of coffee (I'm a "black and strong" coffee drinker from just about birth. Sometimes just the hint of smoky sweetness from maple syrup makes it better).

French Toast. Add cinnamon and vanilla to the batter. Use good crusty bread. Or really good Rye bread. Do not add powdered sugar or anything when plating, don't put anything except maybe butter (good butter). Treat it like you do a good ribeye: cook it correctly and minimal seasoning.
******
Longtime commenter "Vendette" has a faintly disturbing fascination with vile food, and
Turkey Dinner Candy Corn
fits right in.
Who thinks of these things?

******
Shiv-master Bluebell reminded me of this YouTube channel, and I figured you folks would enjoy it as well, in particular the one about chili!
******
Food and cooking tips, Large-breasted Muscovy ducks, young wild pigs, bartenders who use vermouth in Martinis (but not too much), pork belly that doesn't have 5-spice, low-temperature-roast chicken, and good tomatoes that aren't square, pale pink and covered with Mestizo E.coli:
cbd dot aoshq at gmail dot com
. Any advocacy of French Toast with syrup will result in disciplinary action up to and including being
nuked from orbit.
And yes, shaking a Manhattan is blasphemy...it's in the Bible!

posted by CBD at
04:00 PM
|
Access Comments