« Food Thread: Smoked Pork Chops...They're not Just For Breakfast!
|
Main
|
Sunday Overnight Open Thread (8/16/20) »
August 16, 2020
Gun Thread: Back To Basics Edition! [Weasel]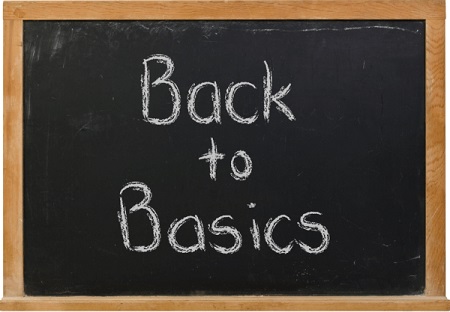 As the apparent interest in shooting increases, and especially with a lot of new gun owners out there, it's sometimes helpful to talk about the basics. Even if you've been shooting for a while, it's always beneficial to review fundamentals, so today I'd like to spend some time on one of the first things every rifle shooter should learn to do and that is to zero their rifle. Sound bueno? Well let's get to that below, shall we?
So what is zeroing a rifle? Simply put, it's adjusting the sights or optical reticle so it aligns exactly with the bullet impact on target at a specific distance with zero wind and elevation. For the purpose of this discussion I will refer from here on out to optics although the concepts are mostly the same with iron sights.
Point 1:
Every single rifle in the galaxy has to be zeroed if you want to stand much of a chance of hitting a target beyond about 100 yards or so. With changes in velocity and bullet weight, it's very easy for the ballistics to vary to such a degree that a non-zeroed rifle will miss even inside that distance. Get used to zeroing your rifle. You don't have to like it, you just have to do it.
Which leads us to:
Point B:
Every single time you change to another ammunition, you must re-zero your rifle. Period. You may get lucky and be somewhere on target close in, but the results will only get uglier the farther out you go. Trust me. A shooter with a non-zeroed rifle stands little chance of hitting a target beyond a couple of hundred yards. It is absolutely essential the scope reticle is pointing to the exact same place as the bullet is going, or you might as well be shooting without any sort of sights at all, and you're probably just wasting your ammunition. What is the point of carefully selecting a target through the scope when your rifle barrel is pointing somewhere else? This is why I spend so much time harping on consistency in ammunition. Inconsistent ammunition, with respect to either velocity or bullet weight, is the same as changing to new ammunition every time you chamber a round. If you know the weight of the bullet and its velocity leaving the barrel you can compute a ballistic trajectory. Alter either variable, and the bullet goes somewhere else. No exceptions. Once again, changing ammo will change the zero. Atmospherics also begin to influence the equation at greater distances, but for now let's stick with the basics.
The good news is that zeroing a rifle is no big deal and is not hard to do. I zero my rifles at 100 yards because I mostly shoot at fixed distances and that keeps the math simple, but it's not uncommon for hunters to zero their rifles at 200 yards or some other distance if that better suits their purpose. Again, all you are doing in the zeroing process is moving the reticle inside the scope so at zero elevation and zero windage indicated, it matches the point of bullet impact at a fixed distance, in this case, 100 yards.
So what is required? A sturdy bench, some sandbags or other shooting rest, a spotting scope and a sighting target. I use pre-printed targets with one-inch grid squares, but that isn't even completely necessary. A blank sheet of paper with an aiming dot will work fine. You can even zero a gun without a bench or sandbags, but you need an absolutely stable platform to work from so small movements in your gear and setup do not affect the point of aim.
The process is simple. With an already fouled barrel, choose a calm day, set up your stuff, and as carefully as possible take a shot at the target. An assistant is helpful to spot impacts landing off the target. Let's say you're lucky and hit the target but the bullet impacts right 3 inches and high 2 inches from the aim point. I like to take a second shot at this point to validate the first. All things being equal, the difference in the two impacts should be small, ideally in the same hole, but at least making some sort of group. For argument's sake, say they're pretty close; almost touching, which tells you your setup and ammo consistency is good. All you need to do now is dial down 2 inches and left 3 inches and you should be in the center. My rifle scopes all use the minute-of-angle (MOA) convention, so at 100 yards it would be down 2 MOA and left 3 MOA. Take a third shot and observe the results. Hopefully you're in the center, but if the impact is wandering around, you need to begin investigating possible causes like goofy ammo or stability and marksmanship problems. Once the bullets are going to where the reticle is pointing, loosen the screws on the scope turrets, turn the caps to read zero for both elevation and windage, tighten them back up and you're done.
See? Easy peasey! Next week we'll take a look at developing range data once the rifle is zeroed.


******
Texas MoMe Rifle Clinic
Which brings us to our next topic, the Texas MoMe! Bluebell won't let us shoot at the NoVaMoMe, citing "rules against that" so we'll have to make do in Texas. As we did last year, we'll again offer a rifle clinic to about a dozen or so shooters on Friday, October 23rd beginning around 8am. The clinic seemed to be well received last year, so we're taking what we learned, tweaking it a little, and applying it to this year. As of now, the plan is to spend a few hours in the morning reviewing some basics, including among other things zeroing rifles, then working on targets between 100 and 500 yards. I'll be there throughout the day to answer questions, lend some encouragement, make funny jokes and discuss more specific and advanced concepts with anyone by then not already tired of my bullshit. The next day, Saturday October 24th, we'll have a rifle range open for those that cannot make the clinic on Friday. We'll probably keep that open until about noon, with targets between 100 and 500 yards, and I'll be around that day too. If you're interested in the Friday clinic, please email Ben Had to reserve your space. Once the slots are filled I will follow up with an email to the participants regarding necessary gear and ammo which will be fairly basic. We had a really good time last year and try to design the clinic so there is something for all levels of shooters. For those mental defectives with handguns only, there will be a lot of opportunities during the TXMoMe for you to shoot too, and I will probably bring a couple of my match rifles for people to try. Stay tuned for details and I hope to see you on the range in October!
******
Last week we had a look at "sweetheart grips" from WWII, and our pal WTM looked into them a little more and forwarded some additional information on the subject, including their manufacture from the wreckage of downed planes.
In a hurry and cannot find a crashed Messerschmitt? Just order a set!
WTM also sent this great pic of vintage powder cannisters. They're collectable, as WTM points out:
All circa 1981, these 4-5 lb canisters cost $50 each. Today around $200 each.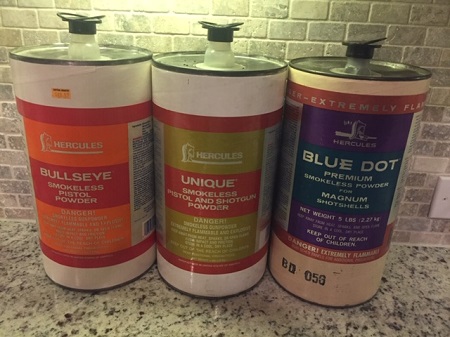 These should all be easily recognizable to reloaders today. I realize the value of these are in the cannisters, but what precautions should you take when reloading with older powder?
HINT: Start at the low end of of recommended powder range and work up. Smokeless powder composition is changed over time by the manufacturer. When in doubt, use new powder and updated reloading manuals!
******
Next up we have an entry from our pal Usually Lurking Feynmangroupie who sends us a pic of the ever popular chainsaw AR.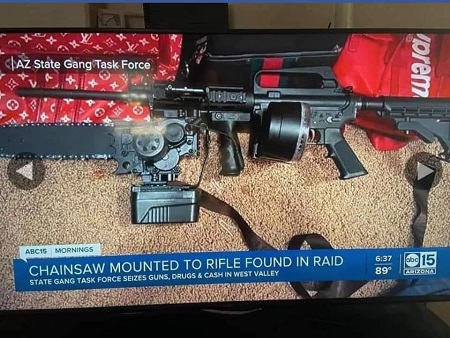 Did someone really make this thing?
******
Next we have an interesting entry from our pal JT who sends in an article on the GAU-5A Aircrew Mini Rifle. Have to say I kind of like it, but I'm not sure I'd want to sit on it during a long combat flight against the Jap Zeros.
Thanks JT!
******
Thanks to our pal ibguy we have a follow up to a CCI Mini Mag 22 test featured here in the Ol' Gun Thread some time ago.
In addition to the interesting results using ballistic gel, how many of you paid attention to the mirage in front of and just below the target? If so, did you also notice the correlation between the mirage and the dust kicked up on the berm with the first couple of misses to the left? This is exactly the sort of thing you should be looking for on the rifle range to estimate wind speed and direction. Go back, watch again and see if you notice changes throughout the video in the mirage condition. With practice, you can become very good at wind estimation using mirage.

You may find it easier to see the mirage if you watch the video at YouTube.
******
Our pal RI Red sends us a picture of his range with the following note:
You can see the yellow chevrons showing side limits on either side. There are probably 50 metal targets at all different ranges starting at about 315 yards.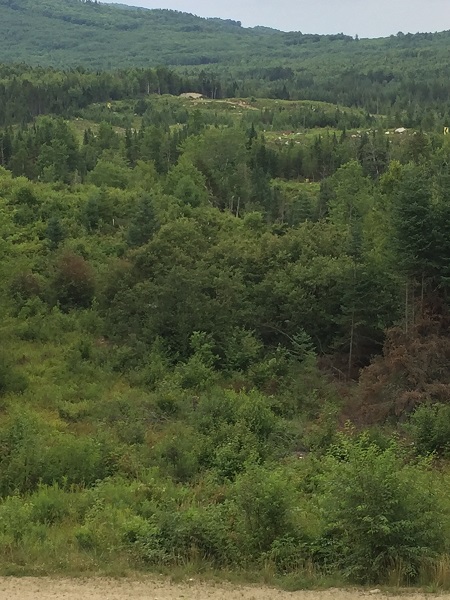 When you look at the picture, what sort of windage problems might result from the varied terrain? Updrafts? Downdrafts? Sidedrafts? All of the above? How about the trees and bushes? With no other wind indicators in evidence, how much reliance would you put on the varied foliage to indicate wind speed and direction along the bullet's path to the target? How would you compensate for multiple wind vectors?
Great shot, RI Red. Thanks for sending this in!
******
Stabby Things
Our pal
Skip
sends in a picture of his vintage Gerber. Thanks Skip!
This is my Gerber Mk II with 6 3/4 inch blade purchased while in England 1979. I took it on many backpacking and camping trips long ago.
.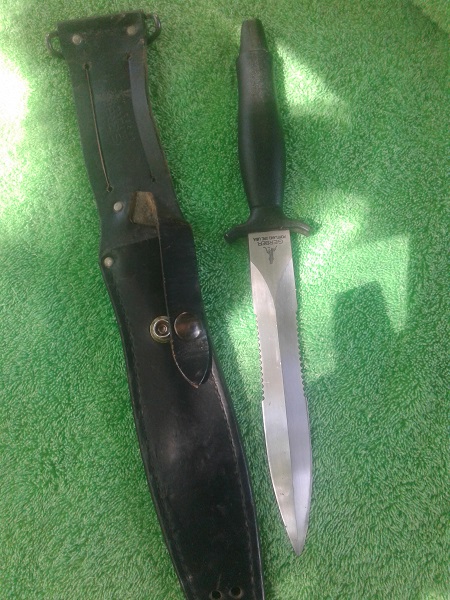 Looks like it's still in great shape. Thanks for sending this in, Skip!
******
ATTENTION NoVaMoMe 2020!!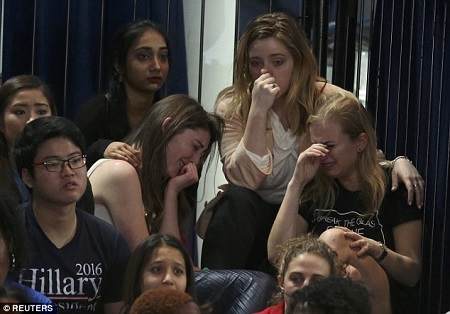 Sad people who cannot make the new NoVaMoMe date of August 29th
Due the Chinese Cooties hysteria in Virginia, the NoVaMoMe 2020 has been postponed until Saturday, August 29th. The time and location remain the same. If you haven't already, please check your email and let the Central Planning Committee know if you are able to make the new date. If not, your registration fee will be refunded and we will open your spot to those on the wait list. Questions? Just email us at NoVaMoMe2020 at gee mail dot com. Thank you!
******
Link-O-Rama
I'm really very seriously not kidding around anymore. Buy Ammo
AmmoSeek - online ammo search tool
GunBot - online ammo search tool
SG Ammo
Palmetto State Armory
Georgia Arms
AmmoMan
Target Sports USA
***Mail Bag***
Once again, our pal ibguy comes through for the Mail Bag. It's a holster and a fashion statement!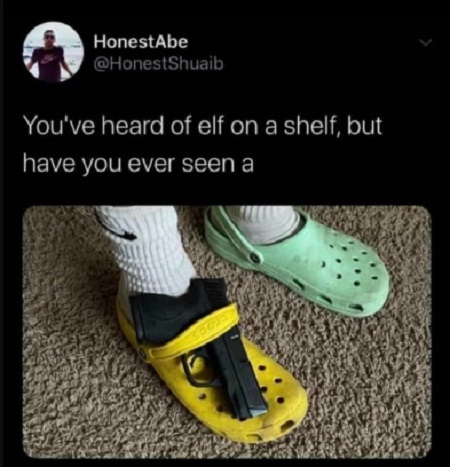 ******
Please note the new and improved gmail account morongunthread at gmail dot com. An informal Gun Thread archive can be found HERE. If you have a question you would like to ask Gun Thread Staff offline, just send us a note and we'll do our best to answer. If you care to share the story of your favorite firearm, send a picture with your nic and tell us what you sadly lost in the tragic canoe accident. If you would like to remain completely anonymous, just say so. Lurkers are always welcome!
That's it for this week - have you been to the range?


posted by Open Blogger at
07:00 PM
|
Access Comments