« Saturday Gardening and Puttering Thread, August 8, 2020 [KT]
|
Main
|
Saturday Afternoon Chess thread 08-08-2020 »
August 08, 2020
Ace of Spades Pet Thread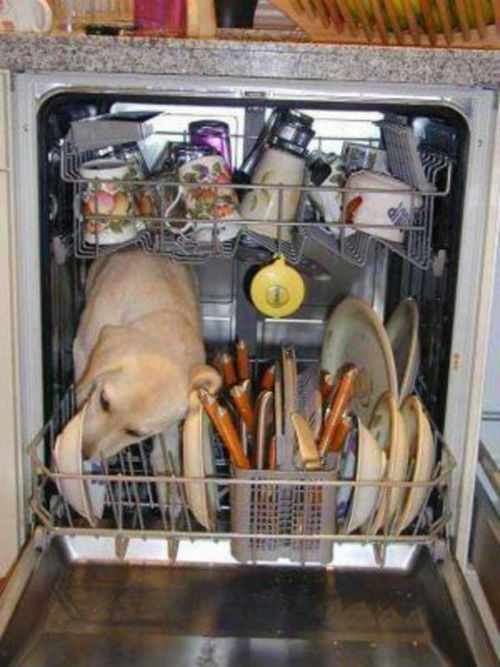 (Jeesh, that looks familar, not to mention any names, right Izzy?)

Good afternoon and welcome to the almost world famous Ace of Spades Pet Thread, where animals rules and libs drool. Kick back and enjoy the world of animals.
***
A Little of This. A Little of That.

15 useful tips and tricks pertaining to pets.
***


What's wrong with those cats? Fun submission from Shibumi.
***

This dog has it right. H/T redc1c4
***
Meet The PetMorons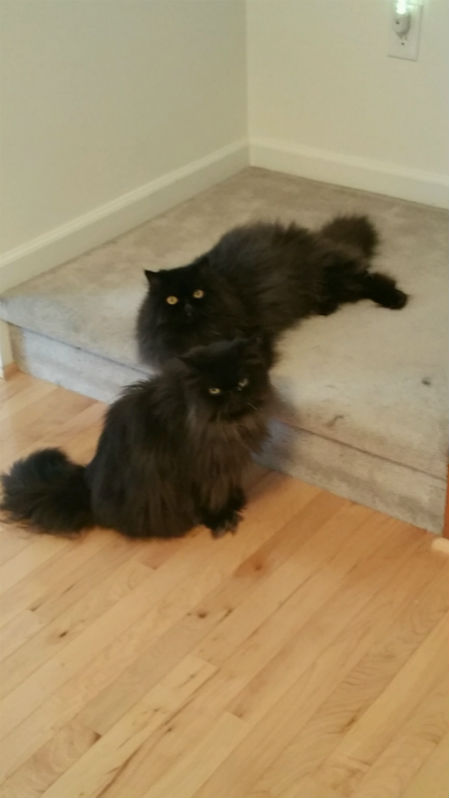 Hi there,

These are sisters kittuhs. Casper and Laura. The picture of them on the steps is about 5 years old. Casper is looking at the camera with his big Lemur eyes. Laura is being coy. The other 2 are recent. Both cats are 14 years old now. Casper is now blind and has health issues. Laura is stubborn and will live forever. - Uncle Puddleglum luvs his niece and nephew kittuhs!

A proud uncle. All of the spoiling and none of the pet rearing. Nice move and thanks for sharing.
***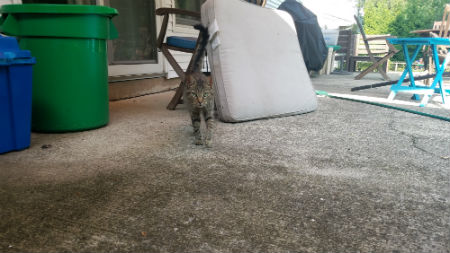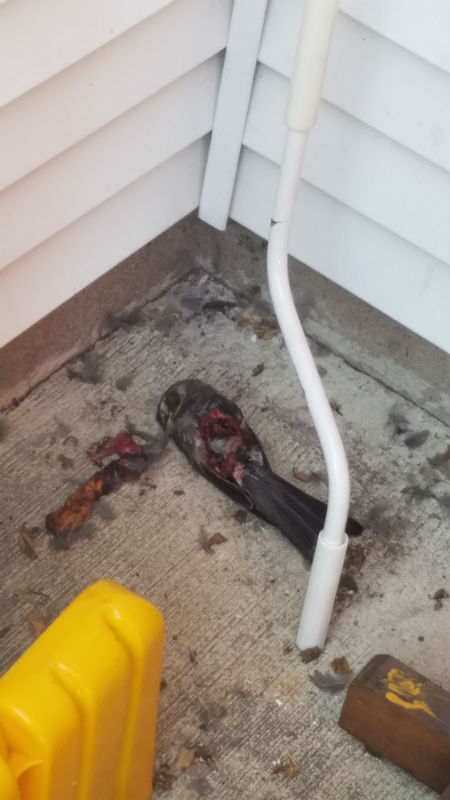 Love the HQ's Pet Thread and finally have something to contribute...

I have the honor of a "Christmas in July" birthday, July twenty-five. My cat (I believe) understood when I said, "Let's steam some crabs for dinner.." that or she knew it was my birthday...
And to think that at one time, I regretted finding her and feeling compelled to take on the dependency of yet another life...
I feel loved.
Good kitty my Lucky.
Outdoor female cats rock....mostly.- Diane

Oh my, Lucky needs to learn about the animal kingdom. I hate to see what she brings back when you order steak. Thanks for sharing.
***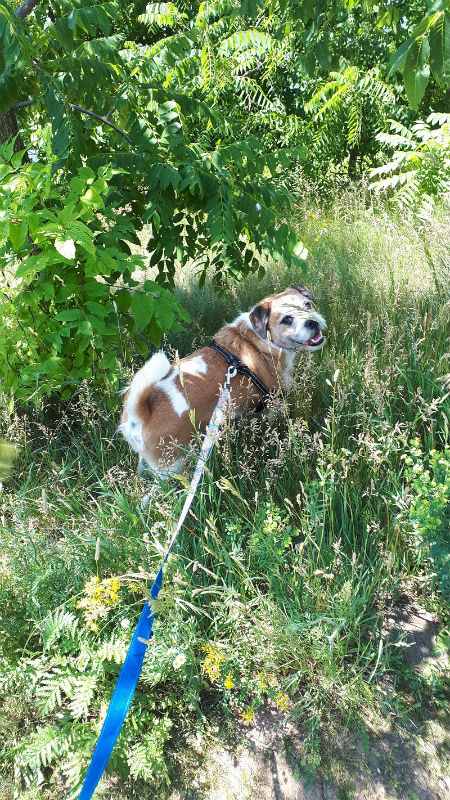 Hello!

Just wanted to send along a photo of Toby. Some here may recognize my nick; in the past, I've been a little, shall we say, negative about dogs and dog owners after the ex used her dogs and their feces as weapons to end our marriage and cover for her cheating. The healing process has been hard, what with our culture telling me at every turn that I'm evil and all that. We all know the drill. But a huge step for me came recently in first babysitting a friend's dog for a few days over several weeks. Liking having the dog around, I considered adopting my own. Met a few awkward candidates, then met Toby -- and the connection was instant. Our backstories are similar, but I won't bore you with that - neither matter now, really. Driving home from the humane society, we stopped at a light. Toby stood on the back seat, the leaned forward and rested his head on my shoulder and pressed the side of his head to mine. In that instant, the last two years of purgatory and the years of hell before that almost evaporated. I wept. And I still do when I think of that moment. It's hard to describe, and hard to recall.

Anyway - here's Toby on the trail along the river beside our home.

Be well -- Lickmuffin
A story with a happy ending for both man and dog. There is a reason dogs are known as "Man's best friend." Thanks for your contribution.
***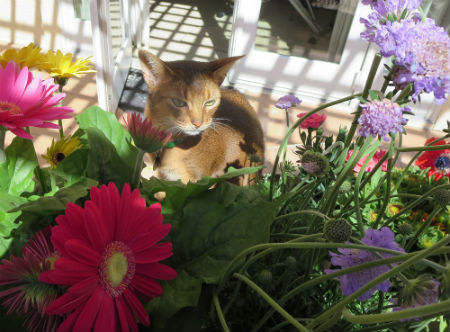 When we were first locked down here in California (before this second infinite lock-down) the DH decided to replant all the pots on the back patio and brought home a ton of flowers. Our Abyssinian cat, Gizmo, immediately had to check these out.

Lately there has been a spell of below-average weather, with heavy fog in the mornings. A cold house means Miz Gizmo sogs out in her heated Kat Kup until the sun comes out in the afternoon, whereupon she transfers over to a patio chair or the nice sunny window shelf. She is super spoiled!

Thanks for the pet thread, I look forward to it every Saturday!-- Tankascribe
Beautiful flowers. Gorgeous cat. Quite the photograph you shot there. Thanks for sharing and your kind words.
***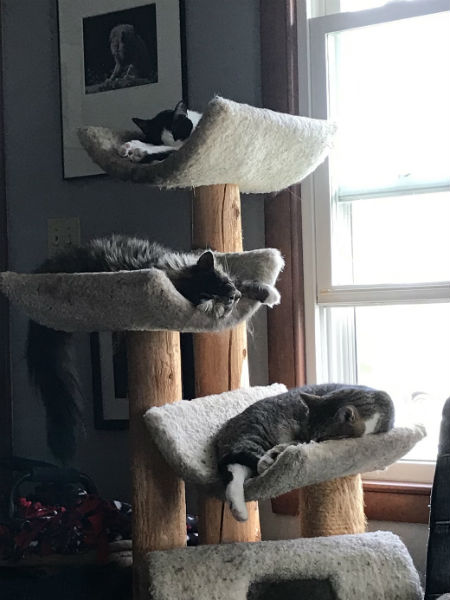 Working from home, discovered my co-workers all sacked out together. Top to bottom, Selma, black and white shorthair with one wonky eye, Claire, Maine Coonish beauty queen, Hank, neurotic big boy who loves his mommy. Never miss the Pet Blog, keep up the good work. - Leonard
Co-workers? They look like adorable slackers to me!! Quite the crew if they do decide to perform labor. Thanks for the contribution today.
***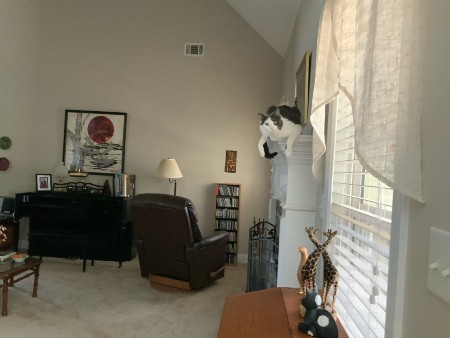 Long time fan here and love the pet thread. We lost our little Charlie a few weeks ago, passing away in our back yard on a blanket under our apple tree. She was 13.5 years old and was the best little dog ever, such a sweet and gentle girl. I will miss her following me around the house everywhere and our long walks around the neighborhood. We have a big hole in our hearts now. - Scott
Condolences on your loss. Such small creatures can leave such a big hole in our hearts and lives. She was a cutie. Thank you for sharing today.
***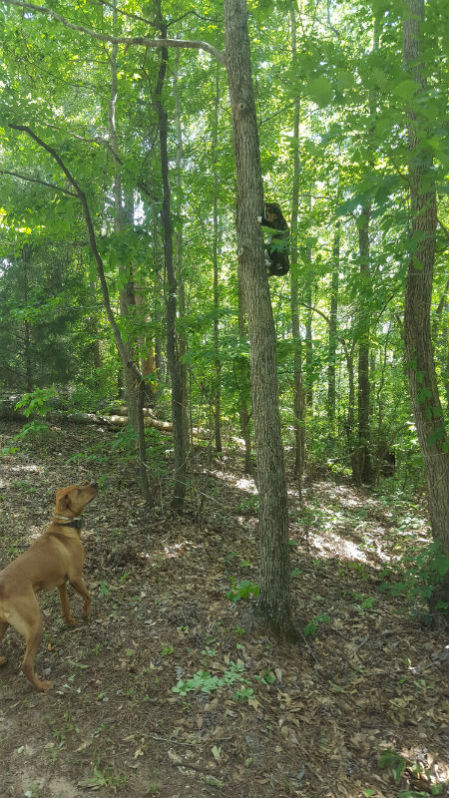 Long time reader.

This is our two rescues. Dixie Skynyrd (2 1/2 years old) & BC (Barn cat,
Blacksmith cat B&$%h cat, maybe 3? years old). Note Dixie did not chase
the cat she just walked over to say hello and BC felt that would be
unnatural. The shelter has a program where they catch, fix and give away
feral cats to people who want a barn cat here in Alabama. She is a
ferocious hunter who has cured my problems with mice, chipmunks and
squirrels. Dixie is a great companion dog who just loves to run and is
just looking for another friend in the wrong place. She feels that it is
cheating to climb trees or be able to fly. - Brian
That's a really cool snap shot. I don't recall having a photo like this submitted to the Pet Thread. Dixie & Barn Cat seem to keep you on your toes. Thanks.
***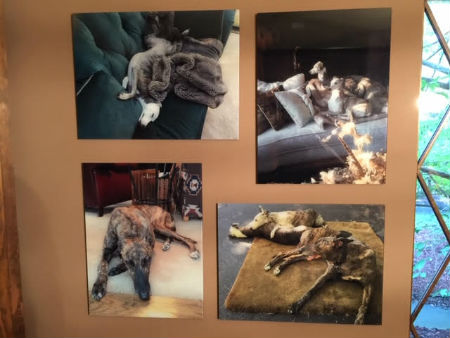 Two hardcore pet morons here:Mark and Patrick.

Over the past 49 years our home has been blessed by thirteen pet angles:six Yorkies,three whippets, three rescue greyhounds and one cat. Pictured top left is our whippet Hannah chillin'on her back - her signature position. Hannah passed on to Doggie Heaven in May at the age of thirteen years five months.Top right shows Hannah with our other whippet Sophie.They were best buddies and Sophie misses Hannah terribly. Bottom right shows the whippets catching some rays with their big "little" sister Dazzle a ten year old rescue greyhound.Dazzle is pictured in a resting mode bottom left. Dazzle is a happy happy party animal.She is constantly poking her nose into her toy box to find the perfect prize to toss around while doing her tornadic pirouettes.Hannah was somewhat of a loner constantly going off on her own to hide under a chair only to appear whenever she thought it was time for some more food which was about forty-seven times a day.Sophie is a lap dog who constantly craves human contact and attention. She is not happy unless she has a daddy's lap to curl up in.

Everyone in our home is a senior citizen now so we will not be getting any more pets.There is no guarantee either of us will live long enough to care for a new adoptee.But for the past five decades our home has been filled with joy and love thanks to these thirteen wonderful critters.
First off, sorry to hear about your pet Hannah's passing. The key to your story is that your pets have filled your life with joy and love. That is what is all about. May everyone in your household have a long and healthy life.
***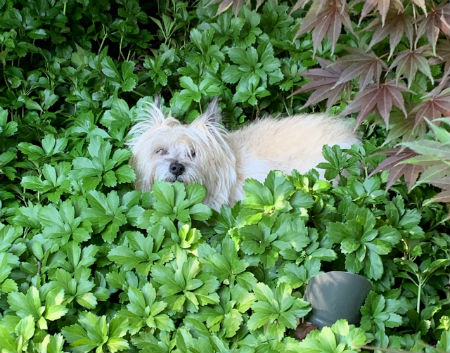 Hi,

Long time lurker here. If I did post it would be under the name Mrs. X.
This is our Lucy, also lurking in this photo, taken last summer when she was a spry 14 years old. She was a character, who loved treats, children and Mr. X far more than she loved me.
She was a hardy soul. She had cancer, which she survived, and kidney failure, which she didn't. Our hearts are broken.
Well Mrs. X thank you for being a lurker and sharing Lucy's story. I'm sorry to hear that she has passed. May your memories always be fond of her.
***

Such great pets. Such great folks. Thank you all for being here today.
If you have something to share you can reach us at petmorons at gmail dot com.

Have a great week!!!


posted by Misanthropic Humanitarian at
03:00 PM
|
Access Comments