« Saturday Afternoon Chess thread 06-27-2020
|
Main
|
Saturday Overnight Open Thread (6/20/20) Not Much Of An ONT Edition »
June 27, 2020
Saturday Evening Movie Thread 06-27-2020 [TheJamesMadison]
Child Actors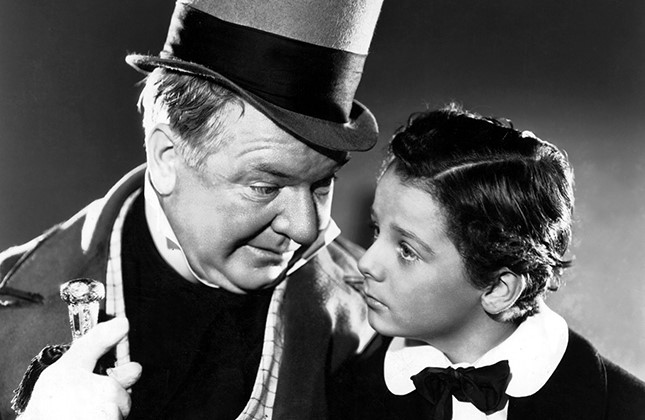 One of the long held maxims of Hollywood (originated by WC Fields) is that people should never work with animals or children in the movies, and based on what I've read about productions with child actors, it makes a lot of sense. For all the problems that actors have (emotional immaturity, big egos, and difficult personalities), most are actually professionals that are there for a job. Children have the added problem of being less controllable so that even if you get them into the right space, you still can't sit back and let them act.
In general, there seem to be three major techniques to dealing with child actors. The first is mosaic, where the director grabs small moments with the camera and then stitches them together to create something that looks like a performance when looked at from a distance. The second is the run them down method, working them constantly until they actually give the line reading the director wants. The third is capture, where you don't hire a child to act but to be themselves. They all have their advantages and disadvantages, and I have examples of all three.
Beasts of the Southern Wild

This 2012 movie is about a young girl living in squalid poverty outside of New Orleans and the devastating effects a flood has on her life. It was praised roundly for the central performance by the five year old Quvenzhane Wallis. To editorialize a small bit, I was not at all impressed, and it's all because I could see the very obvious seems in the performance.

In all of her acting moments, there's rarely a shot that last for more than a couple of seconds.


That's one of her big moments, and it's chopped to nothing. There are other moments that I can't find clips of online where her entire performance is made from moments that obviously don't match. Her emotions chop from one extreme to the next with a quick cut in between. I never understood the praise the movie received, especially for young Wallis' performance. It wasn't just that her performance was made of small moments, but that the moments cut together didn't make a whole. It felt very disjointed.
It was like a mosaic where the picture was supposed to be one thing, but it only vaguely looked like that thing. I don't think that this is a particularly good way of making a performance.
Paper Moon
The 1973 film
Paper Moon
by Peter Bogdonavich is about a con artist who takes a young girl under his wing during the Depression. It was met with high praise upon its release, especially for the performance of Tatum O'Neil who played Addie, the young girl, opposite her own father Ryan O'Neil who played Moses, the con artist.
"Tatum O'Neal creates a character out of thin air, makes us watch her every moment and literally makes the movie work (in the sense that this key role had to be well played)."
-Roger Ebert
"Tatum O'Neal makes a sensational screen debut."
-Variety
Critics were over themselves with praise for the young Tatum, only 8 years old when she tried out for the part, and the Academy followed suit by awarding her the Best Supporting Actress Oscar that year, making her the youngest winner of a competitive Oscar ever.
Here's how Bogdonavich talked about working with her: "one of the most miserable experiences of my life."
He made that performance by working with little Tatum repeatedly, by having her do take after take (sometimes as often as 50) just to get her to say the lines right. It takes a lot of work on the part of a director and the entire crew to get that kind of a performance from an actor who's not naturally inclined to do it. So, yes, in many ways it is a manufactured performance, as some contemporary critics alleged, but it's no more manufactured than anything else in a movie. It feels far less choppy than what we saw from
Beasts of the Southern Wild
.
For all the work that Bodgonavich had to put into Tatum's performance, it ended up paying off. That's just not the sort of work that many directors want to put in. Just ask George Lucas about Jake Lloyd.
Kes
Kes
is my favorite of the three films in this thread. It's an independent British film from the late 60s about a young boy, Billy Casper, who lives in the small Yorkshire community of Barnsley that survives on the coal mine in town. That's all that Billy has to look forward to later in life in between the petty tyrants that surround him in the form of his older brother, employer, and teachers. On a walk one day, he finds a kestrel nest and takes one of the chicks home to raise. The small hawk becomes his escape and we watch him train the bird, which he calls Kes.
One of the absolute joys of this film is the fact that it's extremely obvious that David Bradley is actually doing everything his character is doing. From the training of the bird to his explanation of how to raise it to his class, the movie is touched by a genuineness that's hard to replicate.
And a large part of that has to do with the fact that David Bradley does very little actual acting in the film.
Like all but a single member of the cast (the English teacher), David Bradley was a local of Barnsley that Ken Loach talked into appearing in the film. Essentially, Billy Casper is just a slightly fictionalized version of David Bradley's real self. He wasn't asked to become someone he's not. He was given a bird (three actually), told to train it, and then put into scenes where he had to act as himself. There's a nice little scene, filmed guerilla style, where Billy goes into the library to ask about a book on falconry, and the interaction with the librarian is completely adlibbed.
In terms of performance, I imagine professional actors would think less of Bradley's work because there's so little acting involved, but in terms of its use in the movie, Bradley's presence is one of the biggest things that makes the film work as well as it does.
In Conclusion
Child performances are hard to capture. Children simply aren't emotionally mature enough to, on their own, shed themselves on the outside and convey another person through them, not to mention remembering dialogue. A director needs to either put in a lot of work to craft a performance, or a director needs to find a child who is simply the perfect fit for the role already.
The kind of child performance that is actually convincing is rare.
Movies of Today
Opening in Theaters:
Nothin'. There's a virus, dontcha know.
Next in my Netflix Queue:
Tiefland
Movies I Saw This Fortnight:
1917
(Rating 4/4)
Full Review
"My brain was firing on every cylinder as this movie progressed. It was about the halfway point when I realized I was watching something truly special, something more than just another great movie but something that stood out from the rest of the crowd." [Personal Collection]
Sweeney Todd: The Demon Barber of Fleet Street
(Rating 4/4)
Full Review
"I absolutely love this movie in all its macabre glory. I love Sondheim's music. I love the look of the film from costumes to set design to the special effects. I love the performances. I love the story. I love how everything weaves together in a complete package." [Personal Collection]
The 39 Steps
(Rating 4/4)
Full Review
"The whole experience is a wonderful adventure, well told, and with a winning pair of central characters to carry the audience through with. It's easily Hitchcock's best movie up to this point, where the technical and narrative elements came together and meshed perfectly. It's a great time at the movies." [Personal Collection]
Aquaman
(Rating 1/4)
Full Review
"I really did not like this movie. It's thin with little focus and an almost complete inability to tell a story. I imagine it's not going to age particularly well for those who were blown away by it on their first viewing." [HBO Max]
Rebecca
(Rating 4/4)
Full Review
"This is a sort of greatness that Hitchcock, up to this point, hadn't really been working towards." [Personal Collection]
Suspicion
(Rating 3.5/4)
Full Review
"In the end, though, the movie's an intricately built, really well realized story of, well, suspicion." [Youtube]
Van Helsing
(Rating 2/4)
Full Review
"It's a guilty pleasure, and I have no real problem admitting that." [Personal Collection]
Secret Agent
(Rating 2/4)
Full Review
"It's a mixed bag. There's some basically entertaining stuff, mostly deriving from Peter Lorre and the chase sequences, but the mix of genres doesn't work and Elsa is not really a good character." [Youtube]
Contact
Email any suggestions or questions to thejamesmadison.aos at symbol gmail dot com.
Follow me on
Twitter
.
I've also archived all the old posts
here
, by request. I'll add new posts a week after they originally post at the HQ.

posted by Open Blogger at
07:52 PM
|
Access Comments