« Saturday Morning Coffee Break
|
Main
|
Saturday Gardening and Puttering Thread, June 13, 2020 [KT] »
June 13, 2020
Historical Perspective in the Time of Autonomous Zones [KT]
Via Moonbattery, June 11
Man, it is hard to keep your perspective when so much is changing every day: statues being toppled, TV shows and movies being pulled from circulation, Autonomous Zones appearing. The Left has been extraordinarily effective in the use of a simple phrase, "Black Lives Matter" (if taken by white people or cops) to agitate for a variety of unrelated changes. Any attempt to add nuance to the meaning of that phrase can send someone off to the gulags. That phrase is repeated incessantly.
Conservative ideas are generally not so easy to put into simple phrases. But before history slips away, perhaps we need to remember the value of repeating messages. And maybe we can remind people that there are historical precedents for much of what is happening today.
Before CHAZ, what was Capitol Hill in Seattle Like?
Gerard Van der Leun has posted a piece on the banality of sedition, written in what is now CHAZ, in 2006:
Capitol Hill is one of those neighborhoods in Seattle that compiles a mainstream lifestyle out of alternatives. Even though it is indeed a hill, it has suspended the normal laws of gravity and everything loose in Seattle rolls up to the top of it. That includes, on this evening, me.

I'm stepping out of your "one-every-block" Seattle espresso slop shop with my machiatto when I notice the odd couple at the table just outside the door. That's not too odd since odd couples, like spiked bright blue hair, are pretty much the norm on Capitol Hill. I notice them at first because the youngest is wearing a Motorhead t-shirt with the mantra "Everything Louder Than Everything Else" on it in that faux German Black gothic font that got old when Auschwitz was in flower, and so had to be made new again back when heavy-metal was a fresh idea.

Glancing over Motorhead's shoulder I note that the man across from him is giving him an ideological lap-dance complete with a whole raft of tracts, papers and books being brought out and waved about and placed, with a muffled thwang, one after the other on the thin black metal of the table: Trotsky's "Marxism and Terrorism," (thwang!); the ever-popular Marx and Engels "Communist Manifesto," (thwang!); Lenin's greatest hit "What Is To Be Done?," (thwang!), Gramsci's "Prison Notebooks," (thunk!), Zinn's "People's History of the United States,"(clunk!).

One by one, they come out of the worn back pack and pile up on the table. All in all, a larger pile of ideological dung would be hard to imagine, and harder to handle even with meat hooks and thick rubber gloves. . . .
Fascinating. You may want to read the whole thing.
CHAZ Now
Christopher F. Rufo, reporting on the West Coast, has a following on Facebook now. He wrote this about CHAZ for City Journal a couple of days ago. It is notable for its calm tone. Suitable for sharing with those who might not agree with your thinking about this event. Activists claim first territory in Seattle.
A couple of days later, he posted this: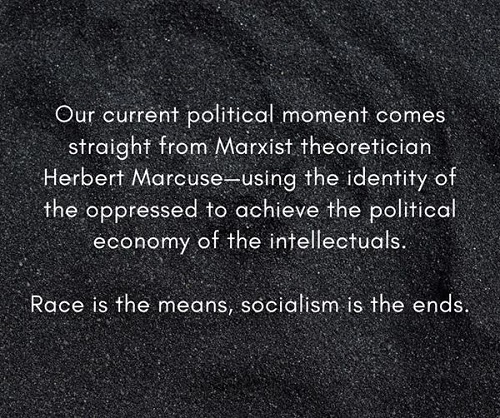 Maybe Black People Can Say Some Things Better
Via Instapundit, Roger L. Simon describes some of the current madness and sees some hopeful signs of the emergence of a "new silent majority", more sophisticated than the last one, with black conservatives leading the pack.
These are the real thought leaders, folks whose courage has also "popped up" and are providing examples for those hidden in their foxholes to come out and speak up.

Among those to come to the fore in recent days are the Hodge Twins, two talented African American brothers with an antic sense of humor and the smarts to back it up. They have produced some clever videos, based on actual research, to dispel the myth that most cops are racist. Indeed, they show when it comes to those rare dirty cops, whites are just as much at risk as blacks.
Ace put up some videos by the Hodge Twins recently. Worth reviewing. Back to Roger:
Not surprisingly, black conservatives lead the pack in this emerging silent majority, none more importantly than Shelby Steele, whose aptly-titled classic White Guilt does more to explain that madness around us than any work in recent memory

Steele is suddenly "popping up" all over television. We are listening.
I don't watch TV much. Have you seen him? For sharing with friends who are not too far gone over to the dark side, and who are fairly serious about ideas, I still like Steele's submission for the 1776 Initiative. Excerpts posted May 30. I have shut down one "whitesplaining" complaint with it so far.
Back to Roger:
The redoubtable Thomas Sowell also is an inspiration. He tweeted this morsel of clarity yesterday: "Have we reached the ultimate stage of absurdity where some people are held responsible for things that happened before they were born, while other people are not held responsible for what they themselves are doing today?"
See the sidebar.
This little clip from a longer interview gets to me because of Sowell's descriptions of Harlem when it was safer than it is now, and his statistics about a time when black students did better in certain school systems than they do today. Worth remembering.
And here is his written argument against Kristof's piece, mentioned in the video above. A Legacy of Liberalism. Not a pretty legacy. Do your friends need to see this as BLM is agitating for more social programs?
I am not sure that blacks have to be entirely conservative to be effective. It helps if they are not leftists and if they will talk to conservatives and libertarians. Here, John McWhorter, who works in the Belly of the Beast, talks about how anti-racism, as currently configured, hurts black people. A white person could not say something like this. Starts out talking about police killings involving blacks and whites. At about 5:50, anti-racism as a religion.
Share away.
Hope you have a good weekend.

This is the Thread before the Gardening Thread.
Serving your mid-day open thread needs

posted by Open Blogger at
11:19 AM
|
Access Comments